Giraffe Manor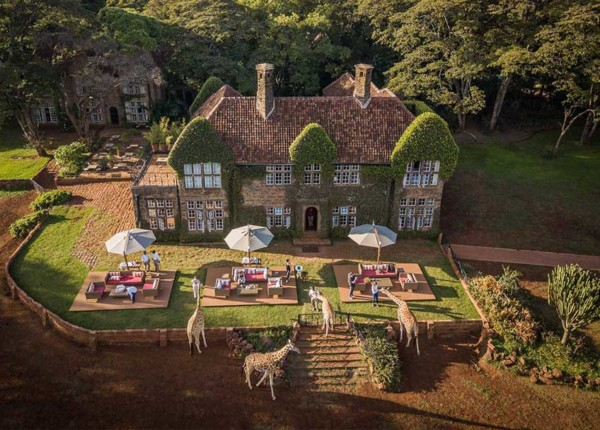 Giraffe Manor is an exclusive boutique hotel, owned by The Safari Collection and often referred to as one of the most instagrammed properties in the world. This elegant manor house has resident giraffe that casually roam the gardens – and often pop their heads into the breakfast room.
Giraffe Manor is one of Nairobi's most iconic buildings set in 12 acres of private land. The historic manor house has extraordinary appeal, that harks back to the 1930s when visitors first flocked to East Africa to enjoy safaris. Guests often remark that it's like walking into the film Out of Africa, with its stately façade, elegant interior, sunny terraces, tranquil courtyards and flourishing lush green gardens.
This stately home is a sanctuary for a herd of endangered Rothschild giraffe, which have free reign to stroll right up to the manor from the Giraffe Centre next door. The giraffes are often found poking their long necks into the windows in the hope of a treat, before retreating to their forest sanctuary – You could even wake to a giraffe peering into your bedroom window. The staff at the manor know the giraffe by name and they are incredibly well looked after.
The manor itself is a 1930s ivy-clad brick building, with homely touches like oversized fireplaces and hand-picked oil paintings. 12 individually designed rooms are all beautifully classic with Art Deco features, housed either in the original manor house or newer garden manor. Some rooms have four-poster beds while others have a fireplace or roof terrace.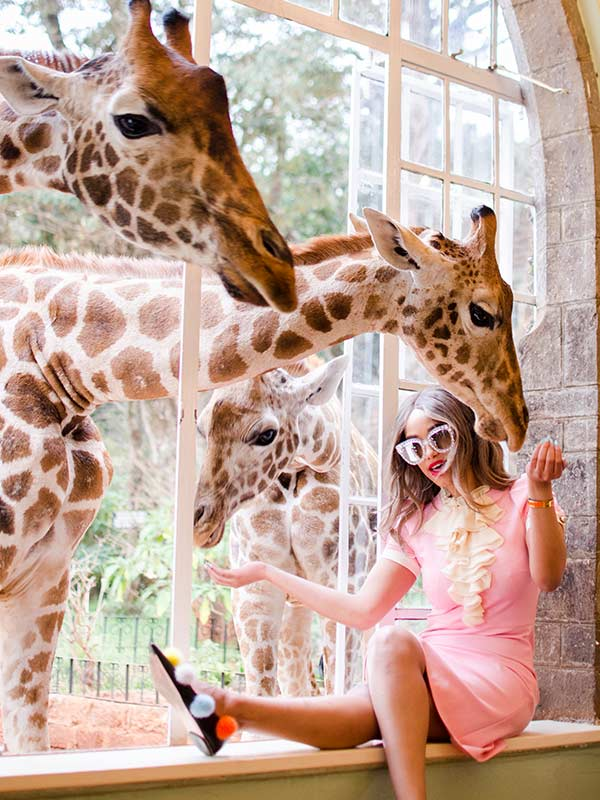 Built in 1932, Giraffe Manor is the oldest of The Safari Collection's properties and was modelled on a Scottish hunting lodge. The elegant long-legged giraffes have roamed its lawns since the 1970s when Jock and Betty Leslie-Melville first adopted an orphaned Rothschild's giraffe called Daisy. Tanya and Mikey Carr-Hartley bought the manor in April 2009. Since then, it has become a globally recognised hotel.
At a Glance Giraffe Maonor Offers:
• Free WIFI.
• 12 Lavish rooms / 29 Guests.
• Full Board.
• Most Drinks are Included.
• Children are welcome.
• Massage Therapist on site.
• Sightseeing vehicles – subject to availability.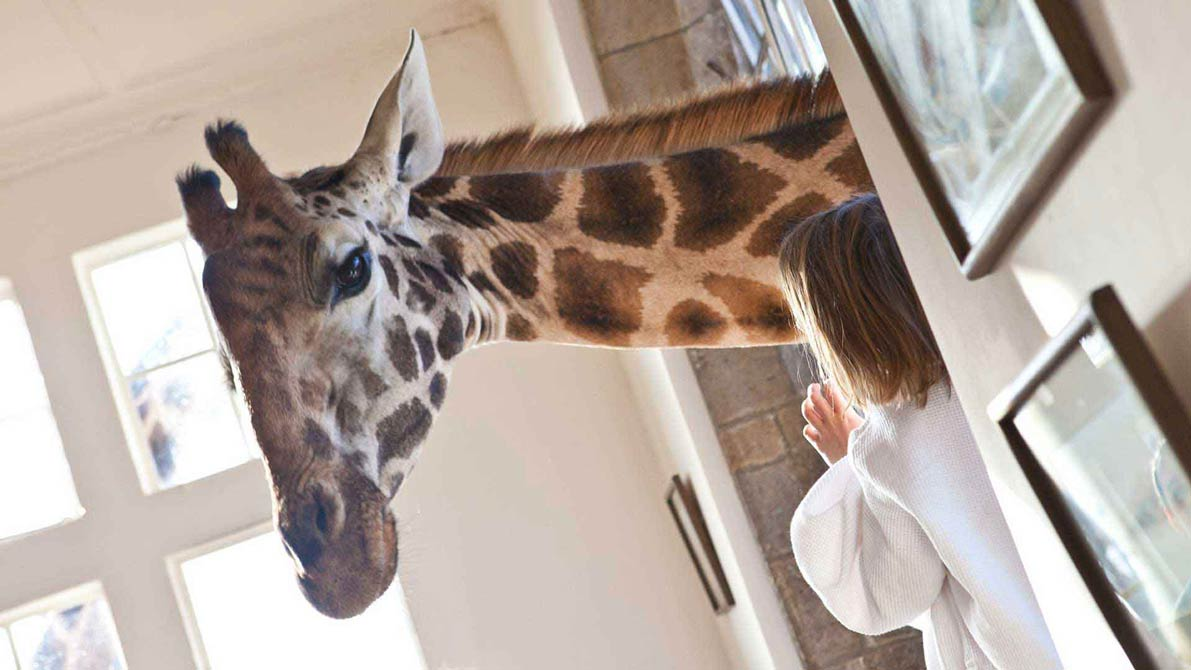 All guests enjoy full board during their stay, which includes all meals and most drinks (house wines, spirits, beers and soft drinks, excluding champagne and specially imported wines and spirits). Complimentary chauffeured vehicles are available for sightseeing and airport transfers (Approx. 40 minutes from Nairobi airport and 15 minutes from Wilson airport). However, guests may need to share vehicles depending on demand and availability: From encounters with the world's tallest mammal to exploring local culture, there is plenty to keep you entertained during your stay, both within the manor's grounds and in the local area.
When to travel:
At 5,889ft above sea level, Nairobi is cool at night and warm in the day, with two rainy seasons March to May and mid-October to December. Situated close to the equator, seasonal differences are minimal, however in June, July and August, temperatures can be very low (35˚F/2˚C) but best to be prepared for all seasons.
**Giraffe Manor closes in May for maintenance**
It is a privileged opportunity to stay in the comforts of a gorgeous private manor house and to interact with giraffe. Just by staying at Giraffe Manor you are contributing to the conservation of these gentle giants which are becoming highly endangered across much of Africa.
Ask us for more details..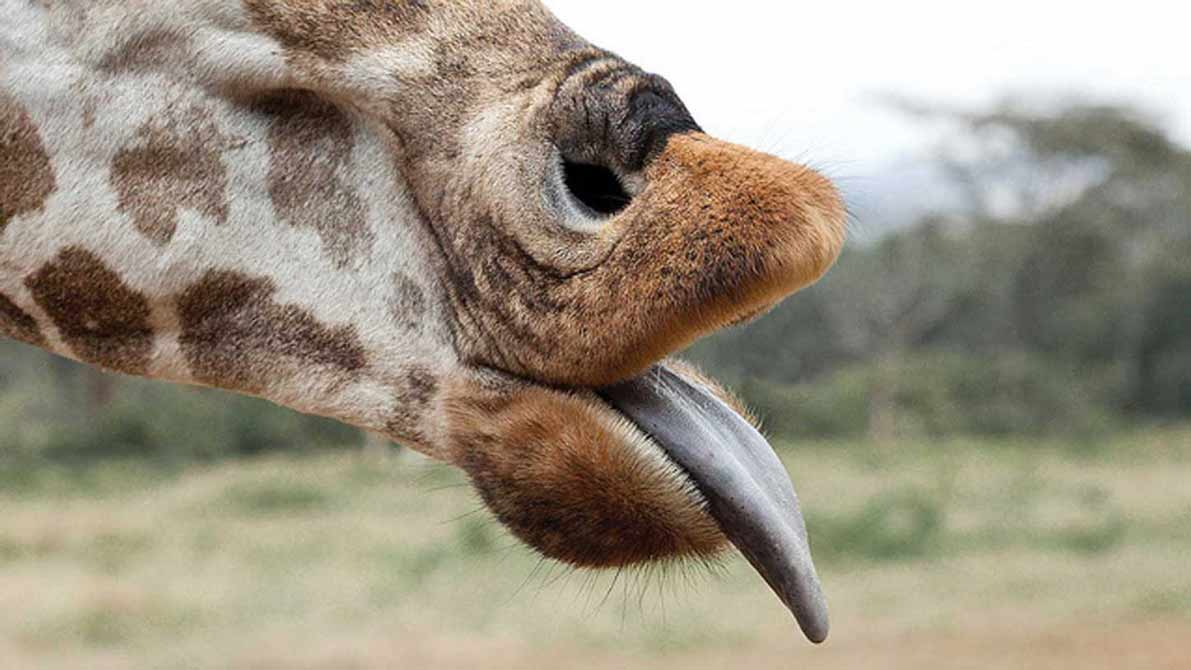 What do the clients say:
A Bucket list experience
'Tea on the lawn in the company of a wild herd of giraffes who come up from the forest sanctuary for treats, is an experience that one will never forget… From our window we could see if the giraffe had arrived for breakfast. A top tip would be to dress well for breakfast, the photos will stay with you forever.'
Once in a lifetime stay
'An amazing two days! Period charm just 40 minutes from the hustle and bustle of Nairobi. Impeccable service, delicious food, amazing surroundings… and breakfast with Giraffes of course! A wonderful, once in a lifetime experience.'
All you've ever read and more
'You've probably seen this on the TV or at least read many of the reviews. Let me tell you that they're exactly right. This is a once-in-a-lifetime experience that, should you be lucky enough to have the cash, you should definitely try…'