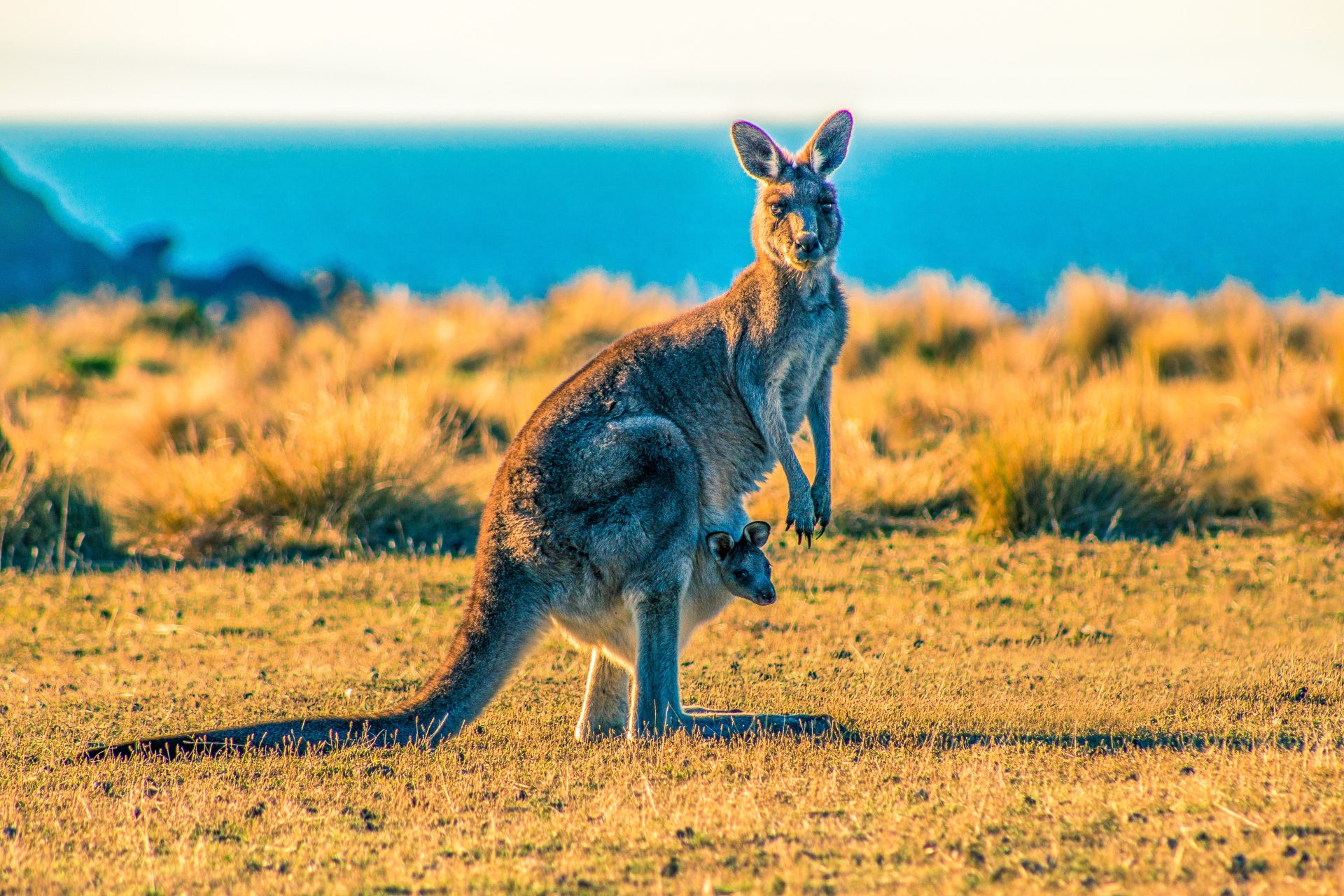 Despite England's defeat in the recent Ashes series, the good news is that Australia has announced the reopening of its borders to vaccinated tourists!  Now's the time to plan to visit this wonderful land down under and get to see some of the best wildlife parks you can experience. Seeing the beautiful kangaroos in Australia various prime locations is a must do – you probably know that kangaroos move by hopping, but did you know they also swim……but they can't hop backwards!
Kangaroo Island
Yes, the name is true. Kangaroo Island is home to plenty of kangaroos. Located off the coast of Adelaide in South Australia, one-third of Kangaroo Island is protected by national parks, conservation parks, and reserves. This means there's a lot of open spaces for kangaroos to roam free, including Lathami Conservation Park, Flinders Chase National Park, and Grassdale in Kelly Hill Conservation Park. Due to the number of kangaroos being hit by cars (an unfortunately common occurrence across Australia), many hire car companies won't allow visitors to drive their vehicles on Kangaroo Island between dusk and dawn.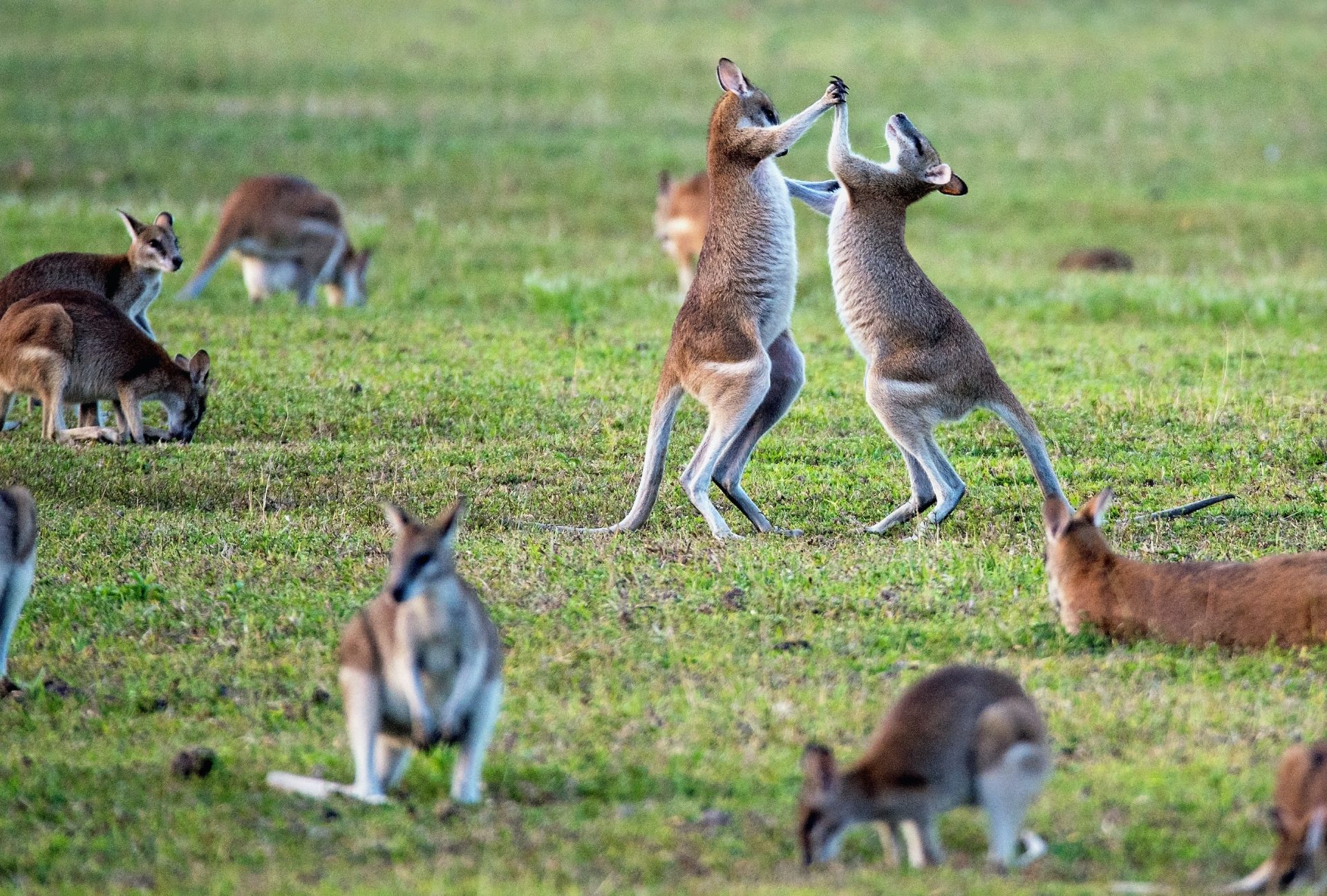 Canberra
Australia's capital city has the country's highest concentration of kangaroos. This means that if you want a guaranteed sighting of a kangaroo in Australia, head to Canberra. The top locations around the city and within Australian Capital Territory to spot kangaroos include Mount Ainslie, Namadgi National Park, Tidbinbilla National Park, and the Governor General's house. Government House is set on 54 hectares of parkland, so kangaroos love it there.
Bonorong Wildlife Sanctuary
Bonorong Wildlife Sanctuary is located just outside of Hobart in Tasmania. They operate Tasmania's largest 24/7 Wildlife Rescue Service, and their aim is to get all healthy animals back into the wild. At Bonorong, your entry fee is going right back into helping these animals. The best part about Bonorong is you can walk amongst the kangaroos in their large outdoor home. Visitors can also buy food and feed the kangaroos directly, which is an unforgettable experience.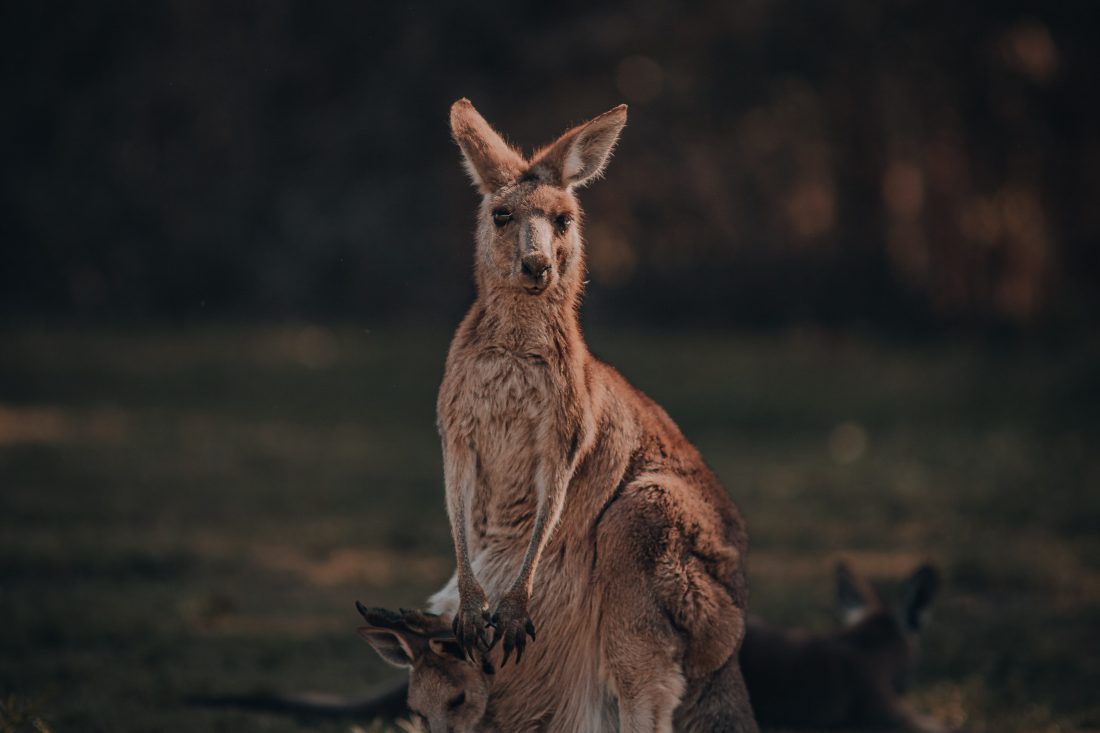 Currumbin Wildlife Sanctuary
A similar wildlife sanctuary to Bonorong, Currumbin Wildlife Sanctuary is located on Queensland's Gold Coast. It's home to a large population of both red and grey kangaroos, as well as several wallaby species. Visitors can buy food to give to the kangaroos at Currumbin Wildlife Sanctuary too. The Currumbin Wildlife Hospital is one of the world's busiest wildlife hospitals; admitting over 10,000 animals annually.
Lucky Bay
Lucky Bay is located within Cape Le Grand National Park near Esperance, on Western Australia's south coast. This region is known for having some of Australia's best beaches, and Lucky Bay is one of them. Its turquoise waters and white sand are inviting for both humans and animals. Western grey kangaroos enjoy lazing on the beach, which stretches for five kilometres (3.1 miles). Visitors can also spot migrating whales throughout the year from the coastal walks surrounding Lucky Bay.
This is just a few of the amazing tours we can offer at wildlife escapes so be sure to start planning your Australia holiday with us soon!