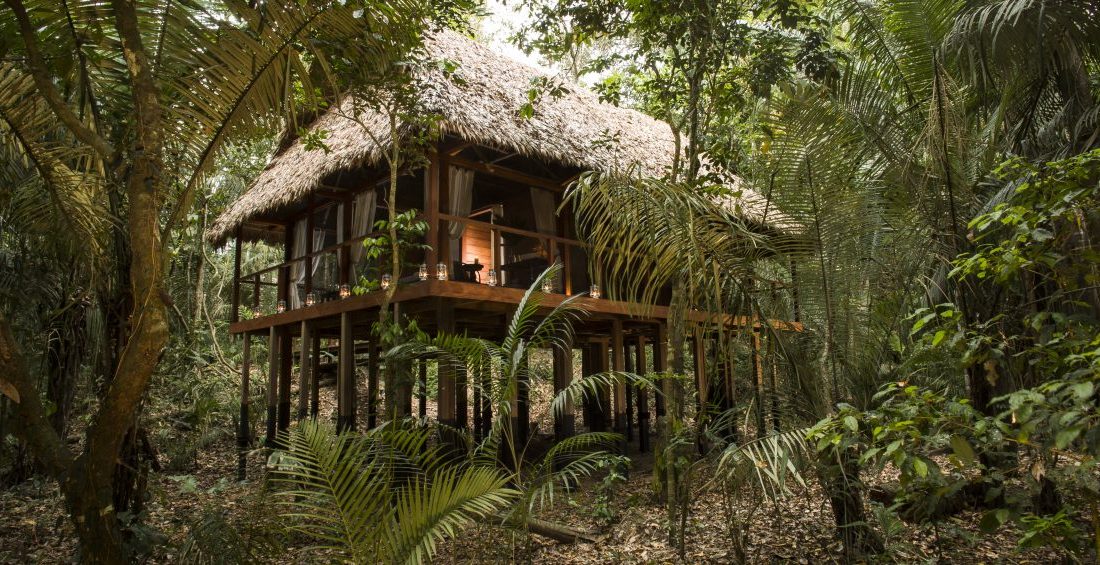 Hotels Inkaterra Hacienda Concepción is an immersive ecolodge located just off Peru's majestic Madre de Dios River, inside a 29,650-acre private nature reserve.  Access to this quality Amazonian ecolodge is gained 20-minute river journey in comfortable, outboard dugout canoes. Gravel pathways take you from the riverbank through the rainforest to 24 private thatched-roof cabanas built on raised platforms in local Amazonian style. A breezy open-air main building and Casa Grande (with 6 additional rooms) and dining room nestle into the jungle on one side, and a natural pond borders the other.  Hacienda Concepción offers a rich wildlife experience sharing its grounds with howler and squirrel monkeys, caiman, and many tropical insects. Accompanied by expert local guides, guests will explore rainforest flora and fauna on guided hikes and canoe trips to wildlife-rich lakes and along the Canopy Walkway, a series of 7 hanging bridges suspended nearly 100 feet (30 metres) above the ground.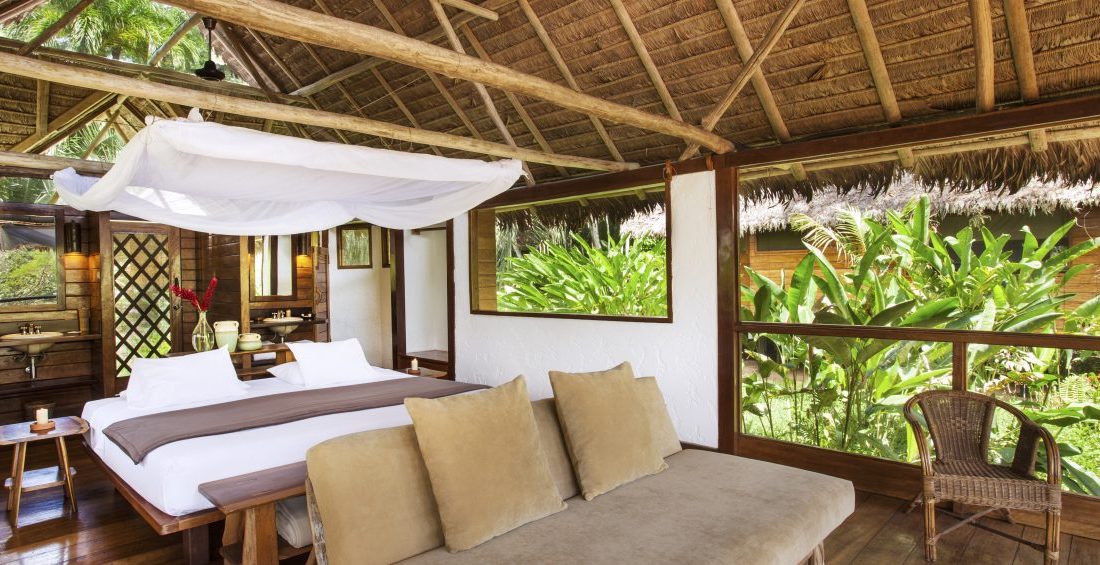 Located only 8 kilometres down river from Puerto Maldonado, Hacienda Concepción can only be reached by taking a scenic canoe ride from the town. It is built from a former rubber plantation on the grounds of an amazon catholic medical mission centre and located in a lush 819 hectares of protected natural rainforest. This beautiful property is nestled between Tambopata National Park Reserve and the shores of the vast Madre de Dios river.
The cabanas are equipped with two twin or one king bed, mosquito net, curtains, 100% cotton sheets, 2 hypoallergenic pillows per guest, hypoallergenic comforters, cotton bathrobes, hot water, natural essence toiletries. Every cabaña has a view to the forest or to the cocha. It also has two main social areas in the Casa Grande with the first floor having sixteen dining tables and a bar to relax in. The second floor has a scenic lounge overlooking the jungle and in terms of food, all meals come prepared with organic and local farm products with a luxury regional seasoning.
The lodge offers an astonishing selection of activities led by local explorer guides, offering first-hand knowledge of the Peruvian Amazon so there will always be something to do.. Excursions include a visit to Lake Sandoval, a water mirror inhabited by Howler monkeys, caimans, giant river otters and more.
Put simply, this place is a remote ecological marvel with enough beauty and enjoyment to keep you occupied for days and is rightly featured as one of our little gems!