About the Galapagos | Galápagos Island Hopping | Expedition Cruise | Catamaran Cruise | 3 night Catamaran | 4 night Catamaran cruise | 7 night cruise Catamaran cruise | 7 night yacht cruise | Why We Love The Galápagos | Top Tips | Best Time to visit Galápagos Wildlife: Month-by-Month | Animal Tips
The Galápagos Islands are extraordinary, and a 'must see' destination for any wildlife enthusiast. The islands are located on both sides of the equator, giving it a strange mix of tropical and temperate climates, and diverse wildlife that makes it one of the most desired places to visit.
The environmental conditions make the Galápagos a unique island ecosystem, and perhaps one of the most important too, with such a wealth of diverse plants and wildlife. The islands are home to many creatures that are endemic species (found nowhere else in the world) such as: Galápagos Tortoise, Marine Iguanas, Galápagos Finches, Flightless Cormorant, Galápagos Fur Seal, and The Galápagos penguin (the only penguin species to live in the Northern Hemisphere). They have all been isolated for so long that the Galápagos wildlife has never developed a fear of humans.
You don't have to be an ornithologist, an evolutionary, or marine biologist, to appreciate one of the few places left on the planet where the human footprint has been kept to a minimum. The Galápagos have taken on an almost-mythological status, as a showcase of biodiversity. Unlike any other safari or trekking holiday experience, in the Galápagos you need to watch your step, or you may inadvertently tread on native wildlife!
About The Galápagos
The Galápagos Islands are a cluster of islands in the eastern Pacific Ocean. They are part of Ecuador, in South America, and lie just under 1000 kilometres (approx. 600 miles) off the Ecuadorian coast.
There are thirteen major islands, and a handful of smaller islands, that make up the Galápagos archipelago. The largest of the islands is called Isabela (approx. 130 kilometres/80 miles long). For most of their history, the islands have been extremely isolated. Repeated volcanic eruptions helped to form the rugged mountain landscape of the Islands, and the combination of factors created a laboratory for the evolution of an unusual mix of plant and animal species.
Charles Darwin may be the most influential scientist to have visited the Galápagos Islands as his observations of wildlife here inspired his theory of evolution by natural selection.
Facts about some of the endemic species of the Galápagos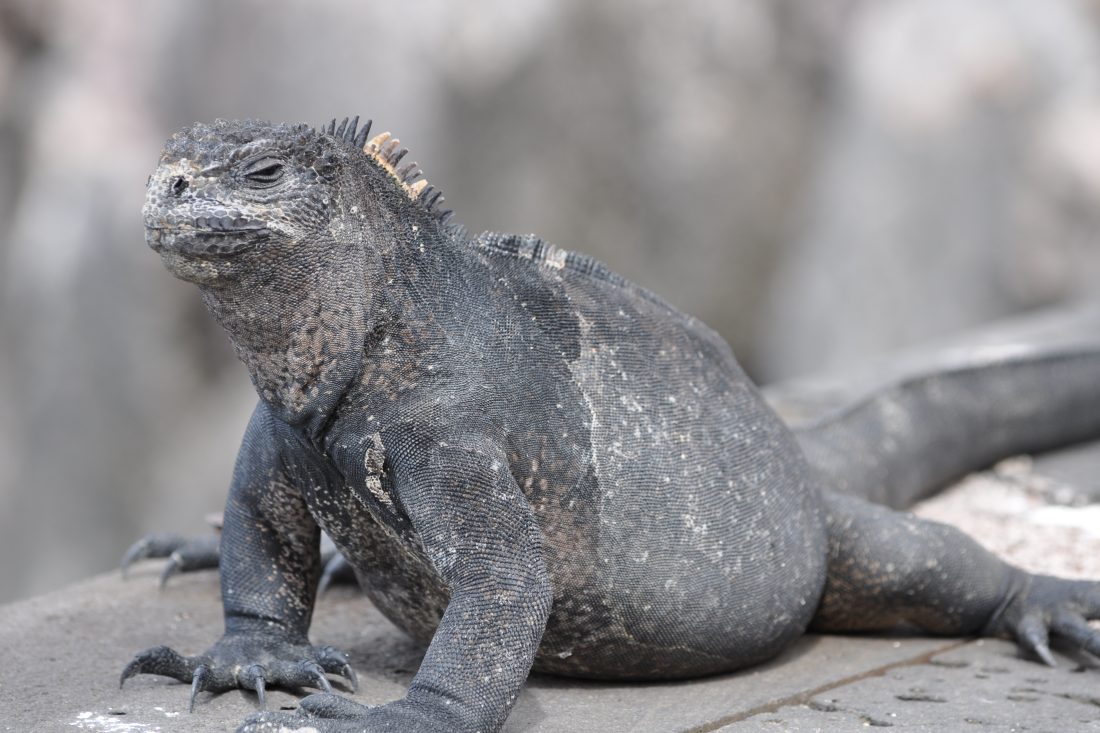 Marine Iguana
It is true that marine iguanas are not very pretty, with their dark grey colouring, short, blunt snouts, spiky doral scales, salt-encrusted heads and smashed-in faces. Charles Darwin described them as "hideous-looking" and "most disgusting, clumsy lizards." But what these unusual creatures lack in looks they make up for with their unique ecological adaptations.
They look fierce but are gentle herbivores. They survive exclusively on underwater algae and seaweed which they scrape off the rocks using their small razor-sharp teeth. Their claws are long and sharp for clinging to rocks on shore or underwater in heavy currents and they move crocodile-like through the water with their laterally flattened tails.
It is thought that land-dwelling iguanas drifted out to sea millions of years ago from South America on logs or other debris and eventually landed on the Galápagos. They evolved into a host of marine iguanas' species; all unique sizes, shapes and colours and spread to nearly all the islands.
Population Vulnerable
COMMON NAME: Marine Iguana
SCIENTIFIC NAME: Amblyrhynchus cristatus
TYPE: Reptile
DIET: Herbivore
AVERAGE LIFE SPAN IN CAPTIVITY: 5 to 12 years
SIZE: 4 to 5 feet
WEIGHT: 1 to 3.3 pounds
Galápagos Tortoise
The Spanish word for tortoise is galápago and it was the Spanish sailors who discovered the archipelago in 1535 who named the islands after these abundant reptiles.
The giant Galápagos tortoise is as its namesake implies, the world's largest tortoise. Some specimens have been known to exceed 5 feet in length and reach in the region of 550 pounds. Giant tortoises are also the longest-lived of all vertebrates. They average over 100 years, with the oldest on record having lived to be 152.
Galápagos tortoises lead a very uncomplicated life. They nap for nearly 16 hours per day, whilst basking in the sun and when they are active, they graze on grass, leaves and cactus. They have an incredibly slow metabolism and large internal stores of water which mean they can survive up to a year without eating or drinking.
There are approximately 10 types of giant tortoises left in the Galápagos now. This is down from 15 when Charles Darwin arrived caused by man hunting them for many years in the past or other indigenous species being a general threat to their food. Many of the tortoise's subspecies are now listed as endangered or critically endangered. However, they have been strictly protected by the Ecuadorian government since 1970 and captive breeding efforts by the Charles Darwin Research Station are having positive effects to their future existence – well worth a visit!
Population Vulnerable
COMMON NAME: Galápagos Tortoise
SCIENTIFIC NAME: Chelonoidis nigra
TYPE: Reptile
DIET: Herbivore
AVERAGE LIFE SPAN IN CAPTIVITY: Up to 100 years
SIZE: 4 feet
WEIGHT: 475 pounds
---
Galápagos Fur Seal
Galapagos fur seals are among the smallest of the Otariidae family (eared seal) and found primarily on the Galapagos Islands or in the waters of the Pacific Ocean near the islands. They are non-migratory and during the breeding seasons, populations can be observed in both the northern and western parts of the Galapagos Islands.
Fur seals have small ears and are distinguishable by their short, pointed muzzle and small, button-like nose. They have longer guard hairs and male fur seals have a mane of slightly longer hairs from the top of the head to their shoulders. Fur seals are light tan on the stomach with the rest of the fur being a grey, brown colour. They have very sharp eyesight and extremely keen hearing. They are much more closely related to sea lions than true seals and share with them external ears, relatively long and muscular fore flippers and can walk on all fours.
Galapagos fur seals are nocturnal foragers and feed when their prey migrates closer to the surface of the water at a depth the seals can reach them. Seals do breathe air but are most at home in the water. These seals may swim by themselves or gather in small groups but often stay at sea for weeks at a time eating fish, squid, birds, and tiny shrimp-like krill. Female fur seals, or cows, give birth during this breeding season, then mate again just a few days later. The following year they will return to give birth to a single pup after a nearly yearlong pregnancy, and mate once again to continue the cycle.
The Galapagos fur seal is listed as endangered and were put under the protection of the Ecuadorian law in the 20th century because they were almost hunted to extinction by sealers for their fur but now, they face additional threats from climate change and overfishing, which can limit their prey.
Population Stable
COMMON NAME: Galapgos Fur Seals
SCIENTIFIC NAME: Arctocephalus Galapagoensis
TYPE: Mammal
DIET: Carnivore
GROUP NAME: Colony
AVERAGE LIFE SPAN IN THE WILD: 12 to 30 years
SIZE: 4 to 5 feet
WEIGHT: Up to 150 pounds
Blue-Footed Booby
Blue-footed boobies are iconic birds that live off the western coasts of Central and South America. Half of all breeding pairs of blue-footed boobies can be found in the Galapagos. The booby species take their name from the Spanish word "bobo." which means "stupid". It is believed this derived from their clumsy and unwary behaviour when viewed on land.
Blue-footed boobies are aptly named and males take great pride in their fabulous feet. During mating rituals, male birds show off their feet to prospective mates with a high-stepping strut. The bluer the feet, the more attractive the mate. They also use their webbed feet to cover their young and keep them warm. When a typical brood of one to three chicks' hatches, both parents feed and care for them.
Blue-foots nest on land at night and during day light they take to the air in search of seafood. They are well-adapted aquatic hunters and often fly far out to sea using their binocular vision to find small fish. They use their long-hooked beaks for snaring fish and their nostrils are permanently closed due to the frequency with which they dive headlong into the ocean. They fold their long wings back around their streamlined bodies and plunge into the water from as high as 80 feet. Blue-footed boobies can also dive from a sitting position on the water's surface.
The blue-footed booby is a favourite of many visitors to Galapagos and their brightly coloured feet make them one of the easiest birds to identify.
Population Stable
COMMON NAME: Blue-Footed Booby
SCIENTIFIC NAME: Sula nebouxii
TYPE: Birds
DIET: Carnivore
GROUP NAME: Flock
AVERAGE LIFE SPAN IN THE WILD: 17 years
SIZE: 32 to 34 inches; wingspan: nearly 5 feet
WEIGHT: 3.25 pounds
Galápagos Land Based Holiday Schedule
ACCOMMODATION
DESTINATION
DURATION
BASIS
Daylight Travel
Flight
1 night
Casa Gangtena
Quito
2 night
B&B
Casa Opuntia
San Cristobal
2 nights
B&B
Hotel La Isla
Santa Cruz
1 nights
B&B
Volcano Hotel
Isabela Island
2 nights
B&B
Wyndham
Guyaquil
1 night
B&B
Overnight Travel
1 nights
B&B
Alternative Accommodation
Golden Bay
San Cristobal
2/3 nights
B&B
Finch Bay
Santa Cruz
2/3 nights
B&B
Galapgos Safari Camp
Santa Cruz
2/3 nights
B&B
Finch Bay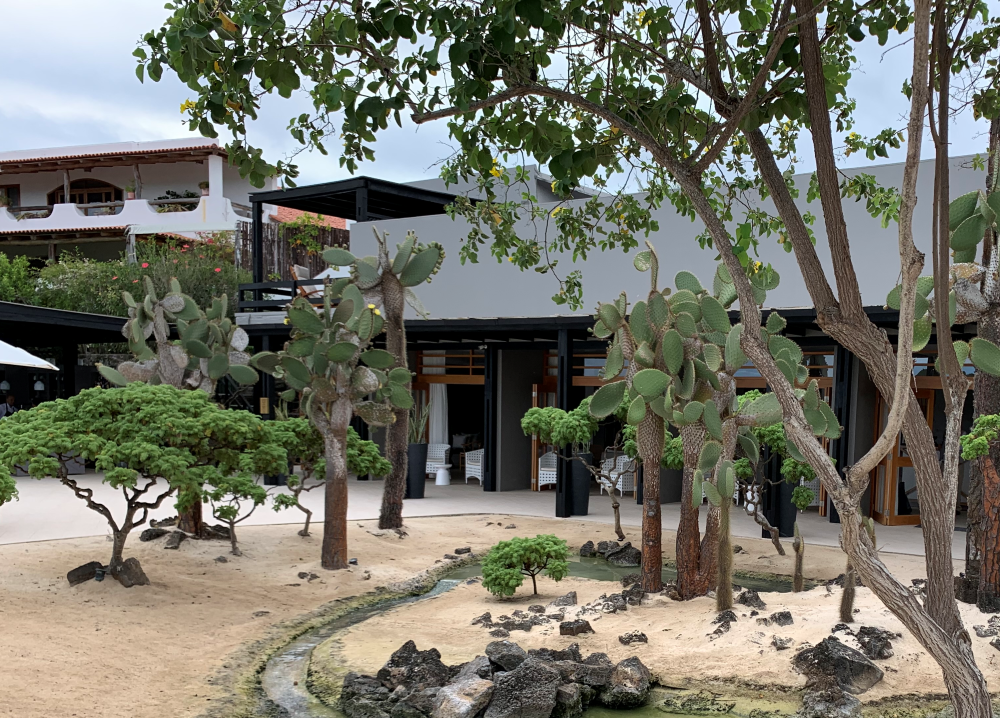 Galapgos Safari Camp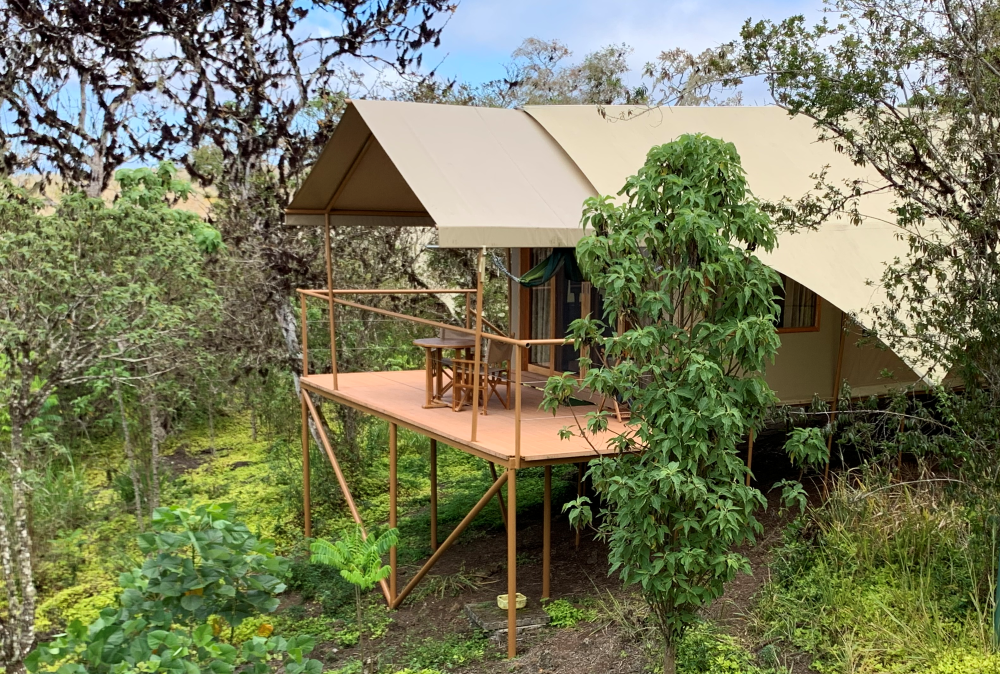 Galápagos Island Hopping Holiday Schedule 6 Days (5 nights) Three Islands
DAY 1 QUITO – SAN CRISTOBAL
Your guide will be waiting for you at San Cristobal airport. You will start your tour with a visit to the Interpretation Centre. Here you will learn about the islands, evolution of species, fauna, migration, and how humans came to live on the islands. Continue to playa Carola for a water activity before heading to your hotel.
Accommodation in Hotel Casa Opuntia or similar.
DAY 2 KICKER ROCK
After breakfast, head to the sought-after Kicker Rock, also known as León Dormido. Here are the remains of a volcanic cone, eroded by the sea across hundreds of years into the shape of a sleeping lion which earned it the name, Leon Dormido. Above the water, the monolithic rock formation towers over 500 feet above the Pacific Ocean and is home to various Blue-Footed Boobies, Frigatebirds, California Sea Lions, Red-billed Tropicbirds. Its location and unique ecosystem make it an underwater paradise.
Accommodation in Hotel Casa Opuntia or similar.
DAY 3 PUERTO AYORA – CHARLES DARWIN STATION – SANTA CRUZ ISLAND HIGHLANDS
Any early start today to catch the 07:00 AM public speedboat from San Cristobal to Puerto Ayora (approximately 2.5 hours). You will have a breakfast either before you leave or at a local restaurant on arrival before transferring to the Highlands of Santa Cruz to make closer contact with the Giant Galapagos Tortoises. Here you will spend time with them in their natural habitat and be surrounded all the endemic vegetation of the Galapagos. After lunch you will be drive to visit the Charles Darwin Research Station, where you can see the memorial site for the last living Galapagos tortoise of its species. Accommodation in Hotel La Isla or similar.
DAY 4 MORNING AT LEISURE – ISABELA ISLAND – FLAMINGO LAGOON
You have the morning at leisure and it is suggested you visit Las Grietas. Las Grietas is a great place to swim in the ocean between two tall cliffs where the earth has opened up like a crack or crevasse. Around 1:30 PM, you will take a public speedboat to Isabela Island, which takes approximately 2.5 hours. Upon arrival in Isabela, you will visit the Flamingo Lagoon. This place is the largest coastal lagoon found in the Galapagos and is one of the main reproductive sites for the majority of flamingos. Accommodation in Hotel Volcano or similar.
DAY 5 LOS TUNELES SNORKELING
After breakfast, your guide will take you to what is said to be one of the best snorkelling places in the world, Los Tuneles. The water is shallow, calm and very clear – a sea sanctuary. A series of lava flows have produced unique geological formations, a series of arcs and tunnels underneath and above the water- a habitat for many local Galapagos Species. You will grab some lunch and then return to Puerto Villamil. Accommodation in Hotel Volcano or similar.
DAY 6 TRANSFER OUT TO BALTRA AIRPORT
At 6:00 AM you take the public speedboat to Puerto Ayora (2,5 hours), meet at the pier by a local representative that will take you to the airport (about 40 minutes). Ferry from Itabaca Channel and Transportation in Baltra are included, the driver will help you check in at the airport
Prices from £1575 per person based on two adults sharing a lead in room for various dates in 2022. Cost excludes all flights and permits
Galápagos Island Hopping Holiday Schedule 8 Days (7 nights) Three Islands
If you have time to extend your stay, then we suggest adding 2 nights in Santa Cruz and taking one or more of the following full-day adventures: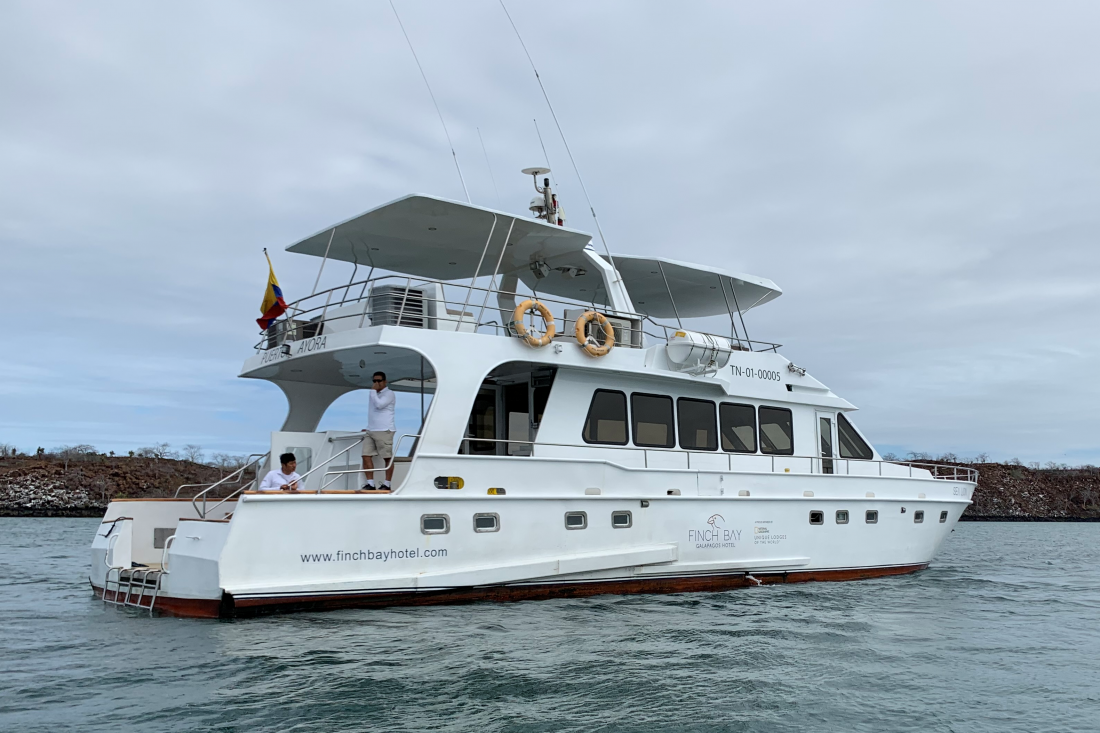 North Seymour
After breakfast you will head to the Itabaca Channel. You'll board the Finch Bay's Sea Lion Yacht. Your day will include a dry landing and a 1.5 km/1 mi walk over a mixture of sand and rounded boulders. Experience a live biology lesson with land and marine iguanas, Nazca- and blue-footed boobies, frigates, sea lions and fur seals. Lunch will be had aboard the Promesa Yacht or similar. The other highlight here is Las Bachas, a stunning white beach with dreamy and small brackish lagoons, which are home to various waders, such as plovers, stilts and flamingos. You will have the chance to swim and/or snorkel here.
Santa Fe.
After breakfast, you will have a short transfer to board the Promesa Yacht. The yacht cruises over to Santa Fe, an impressive volcanic island 17 nautical miles away from Puerto Ayora. After a wet landing on a fantastic white and sandy beach that is filled with basking sea lions. Your guide will walk along rocky terrain with you to find the island's highlight: the endemic Santa Fe land iguana, patiently waiting under the enormous and giant cacti for falling fruits and pads. Other species you can expect to see on this day are pelicans, boobies and the archipelago's top predator, the Galapagos hawk. Return to the yacht and enjoy one of the best Galapagos snorkeling sites. After lunch aboard the Yacht, you cruise back to Puerto Ayora, whilst scaning the sea surface for pelagic birds and whales.
Bartolome
After buffet breakfast, you'll board the Finch Bay's Promesa Yacht or similar. A 21-nautical mile sailing stretch is well worth its length, as dolphins or whales are often seen in these waters. A dry landing marks the start of our 1.5 km/1 mi walk. Much of the trail is over a wooden boardwalk and up a staircase that consists of 366 steps. There are several observation platforms on the way up to the summit of Bartolome (150 meters/490 feet above sea level). Once up top, you will get to enjoy one of the Galapagos' most famous views: the tilted Pinnacle Rock, the golden beach of Bartolome and the impressive lava fields of Santiago Island. Upon descending back to the coast, you will have a chance to scan the volcanic shore, in search of flashy Sally Lightfoot crabs and Galapagos penguins, before enjoying a soothing dip at the beach. After lunch aboard the Yacht, you will have a brief exploration of nearby Sullivan Bay before sailing back to the Itabaca Channel and then a transfer back to the hotel.
South Plaza
After breakfast, you will board the Promesa Yacht or similar (depending on the day, it might be moored in Itabaca Channel or another bay. This day includes 2 highlights: One of them will involve snorkelling/swimming at beautiful Punta Carrion and South Plaza Island. This second site impresses visitors in particular with the vast volume of amazing wildlife that greets them right upon arrival: dozens of frolicking sea lion pups, patrolling alpha male sea lions, basking marine and land iguanas, stunning red crabs and various Darwin's finches. The trail is over 1.5 km/1 mi long walking over rounded boulders. Lunch will be on aboard the Yacht or similar before heading back.
Sierra Negra
After breakfast, you head to the Sierra Negra Volcano: Walk along the rim of Galapagos' largest caldera – one of the largest in the world in fact – and see recent volcanic activity and the resulting fascinating formations. Wildlife will focus on Darwin's finches, flycatchers, mockingbirds, and occasionally the Galapagos hawk. After lunch you can go snorkeling or swimming at Concha Perla where you can observe wide variety of underwater life before heading back to your hotel.
GALÁPAGOS ISLANDS CRUISE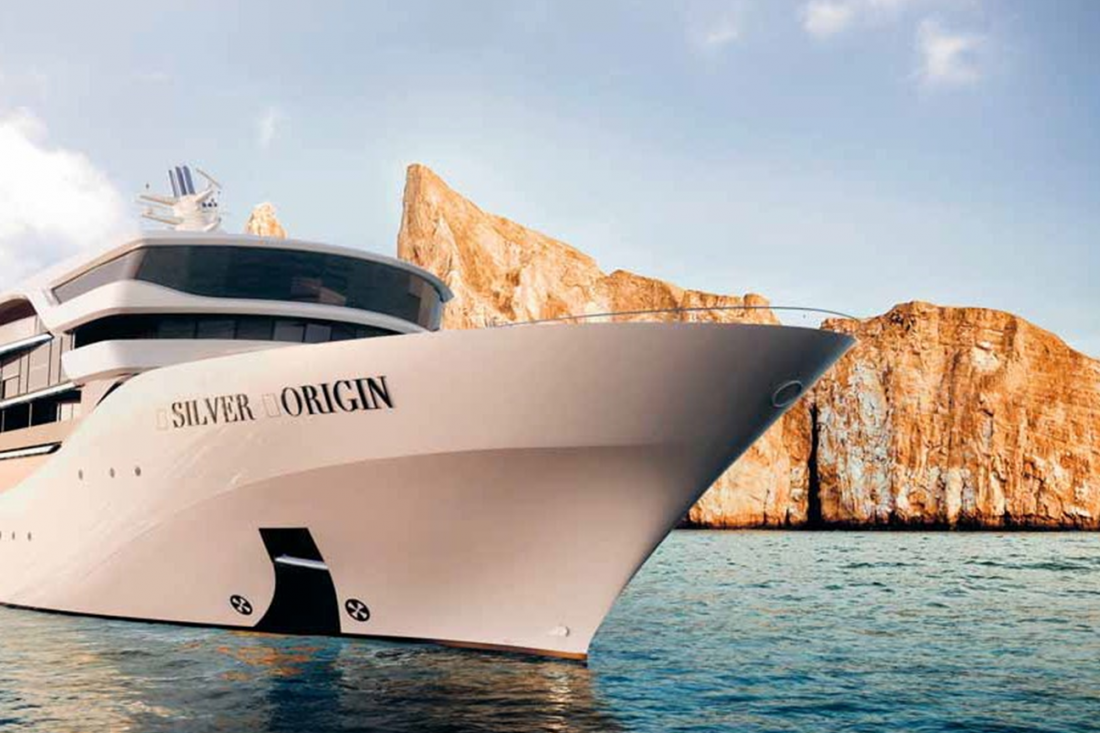 San Cristobal to Baltra
Various Dates throughout 2022 for 7 days on Silver origin
Prices from £9570 per person based on two adults sharing a lead in suite for various dates in 2022. Cost includes all flights in economy from the UK.
OFFERS MAY VARY BUT 10% EARLY BOOKING BONUS MAY BE AVAILABLE AND ECONOMY CLASS FLIGHTS ARE INCLUDED
Classic Veranda Suite
Stylish and sophisticated, the Classic Veranda is a haven of peace at the end of a busy day of discovery. A private veranda brings your destination even closer to home. Full butler service completes this suite.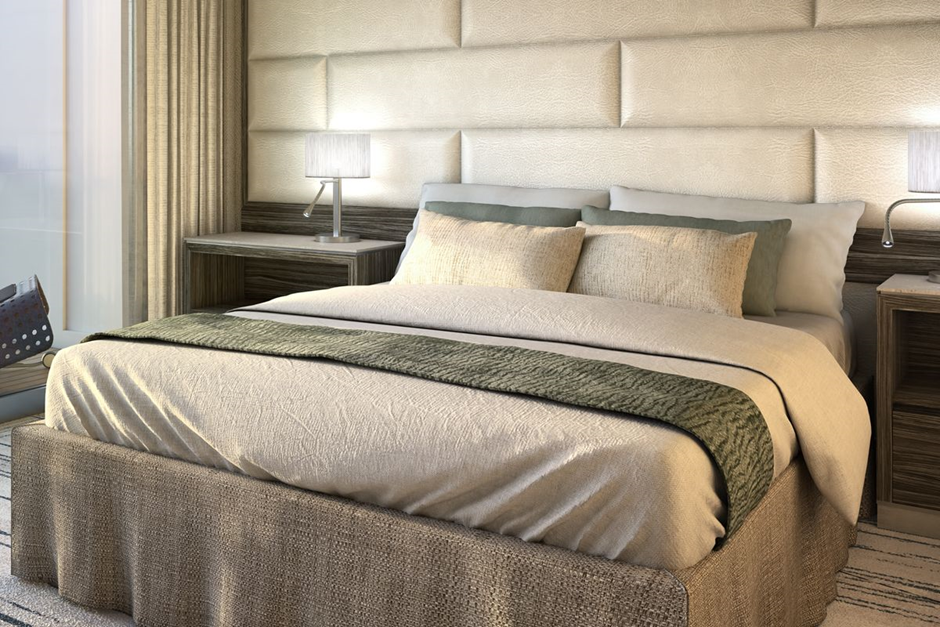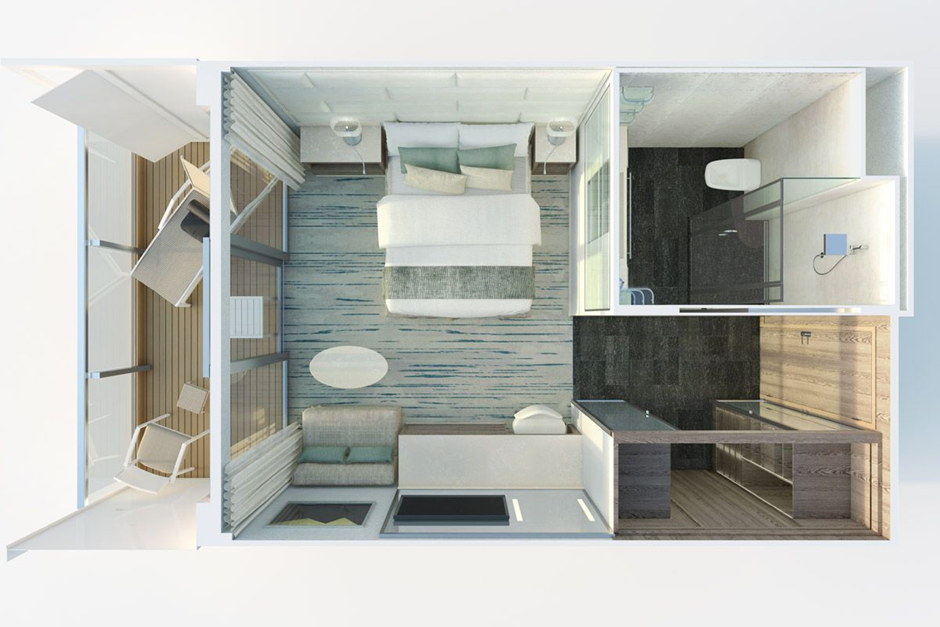 Images are intended as a general reference. Features, materials, finishes and layout may be different than shown.
One bedroom: 325 ft² / 30 m² including veranda (72 ft² / 7 m²)
Classic Veranda Suite
SUITE FEATURES
Dedicated butler
Floor to ceiling sliding doors with veranda
Sitting area
Refrigerator and bar setup stocked with your preferences
In-suite fresh water purification systems and refill stations
Twin beds or queen-sized bed
A choice of pillows
Bathroom with large vanity and walk-in shower
Plush robes and slippers
Eco-friendly bath amenities
Walk-in wardrobe(s) with personal safe
Hair dryer
Writing desk
1 large flat screen TV with Interactive Media Library
Unlimited Standard Wifi
110/220 volt and USB outlets
Direct-dial telephone(s)
Complimentary expedition gear (waterproof backpack, raincoat and premium metallic water
Cruise Itinerary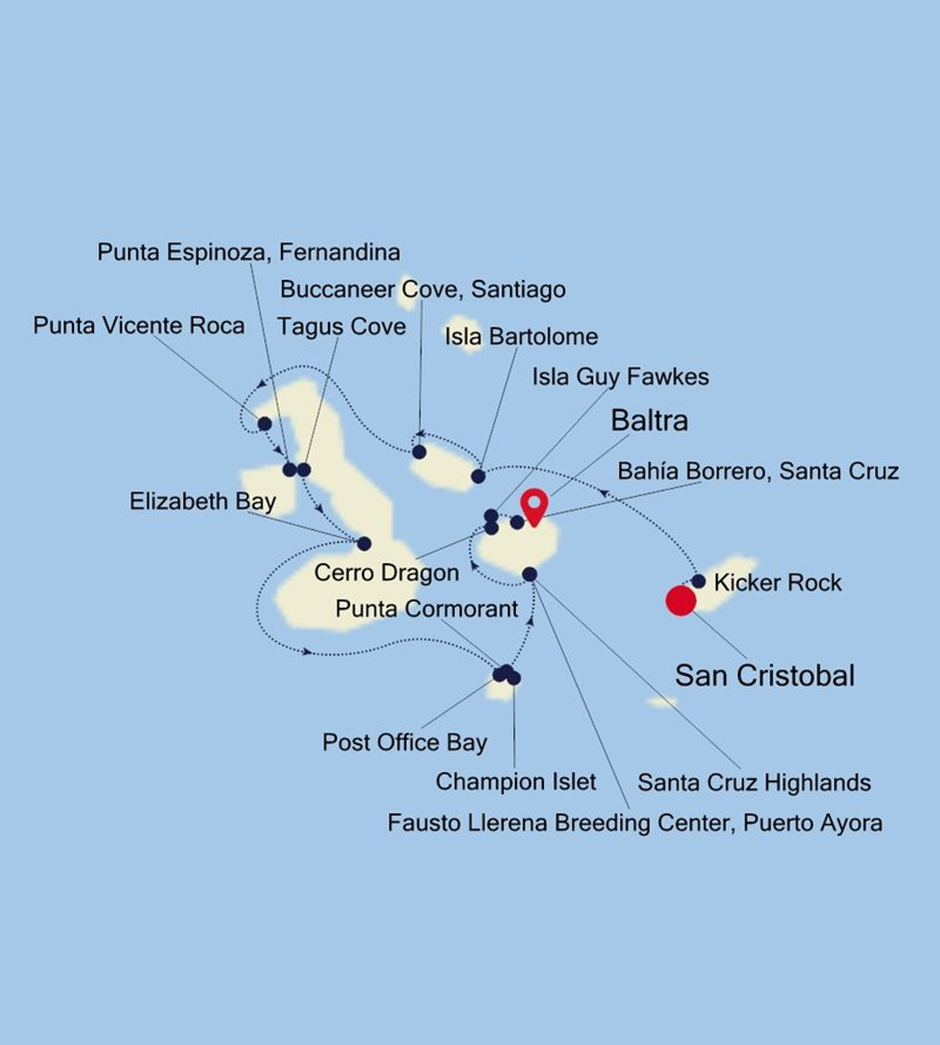 Like other archipelagos, the Galapagos is stunning. It is also fragile and packed so full of natural wonders that you won't know where to look. An astonishing 9,000 species of flora and fauna call the archipelago home, many of which are endemic. Expect to be amazed by the birds, reptiles, marine wildlife and mammals that have roamed the sea, land and sky for centuries. Join us and enjoy the surreal world where it is humans that are the endangered species!
Day 1 San Cristóbal, San Cristóbal
Like so many of the islands in the Galapagos, San Cristobal is formed by dormant volcanoes. It lies to the east of the archipelago and is one of the oldest islands in the group. Approximately 6,000 people live on the island, making their living from tourism, fishing, in government offices, or off the rich volcanic soils with some limited farming existing in the highlands. Puerto Baquerizo Moreno on the southwestern tip of the island is the capital city of the Galapagos Islands. A statue of Charles Darwin graces the harbor, marking one of the first places he likely stepped ashore in the 1830s.
Kicker Rock
Kicker Rock is the vertical remnant of a former tuff cone less than 5 kilometers to the west of San Cristobal. Both its Spanish name "Leon Dormido" (Sleeping Lion) and English name Kicker Rock imply that it is one rock only -when in fact it is a larger one 300 meters long by 100 meters wide with a maximum height of approximately 150 meters and next to it an obelisk-like rock separated by a narrow channel some 20 meters deep. When approaching Kicker Rock, Blue-footed Boobies, Nazca Boobies and frigatebirds can be observed in the air, while sea lions can be seen along the shore. Snorkelers and divers have reported manta rays, hammerhead sharks and turtles. The Spanish name implies that the geological formation seen from the south resembles a sleeping lion. An interesting explanation for the English name suggests that James Colnett in 1794 likened it to famous landmarks in Portsmouth.
Day 2 Isla Bartolome
The ship anchors in sight of the volcanic moonscape of Isla Bartolomé, at Sullivan Bay. Zodiacs takes guests ashore to ascend a boardwalk of 388 steps. Passing through the arid volcanic landscape provides a chance to watch for lava lizards, Galapagos Hawks, and Blue-footed Boobies. However, the climber's ultimate reward is one of the most beautiful panoramas in all the Galapagos Islands – the view towards Pinnacle Rock with black, volcanic cones of Baltra, Daphne Major and Daphne Minor in the distance. On the way down watch how the sunlight catches the green of pioneering plant species in stark contrast against dark volcanic rock and look forward to time swimming and snorkeling from the golden beach at Bahia Dorada.
Buccaneer Cove, Santiago
Buccaneer Cove is a colourful inlet on Santiago or James Island. It owes its name to some of the first visitors to the area: pirates. They came searching for water, tortoises, and some people say even places to hide their treasures. We don't know about any pirate's gold, but the area's landscape is a treasure. The geology combines some tuff red cones with impressive basalt lava dikes and sills. The erosion has carved caves and shaped some rocks into unique forms such as the Bishop's Rock. Palo Santo trees and some giant Prickly pear cactus cover the area, and at a distance, you can observe the impressive volcanos of Isabela Island. You will explore the area from our Zodiacs, searching for sea birds such as Nazca Boobies, Blue Footed Boobies, and Swallow-tailed Gulls. There are often sea turtles and even reef sharks found here. Also, in Buccaneer Cove, you can observe the two sea lion species: the Galapagos sea lion basking on the beaches and the fur seal looking for shade on the collapsed rocks along the coast.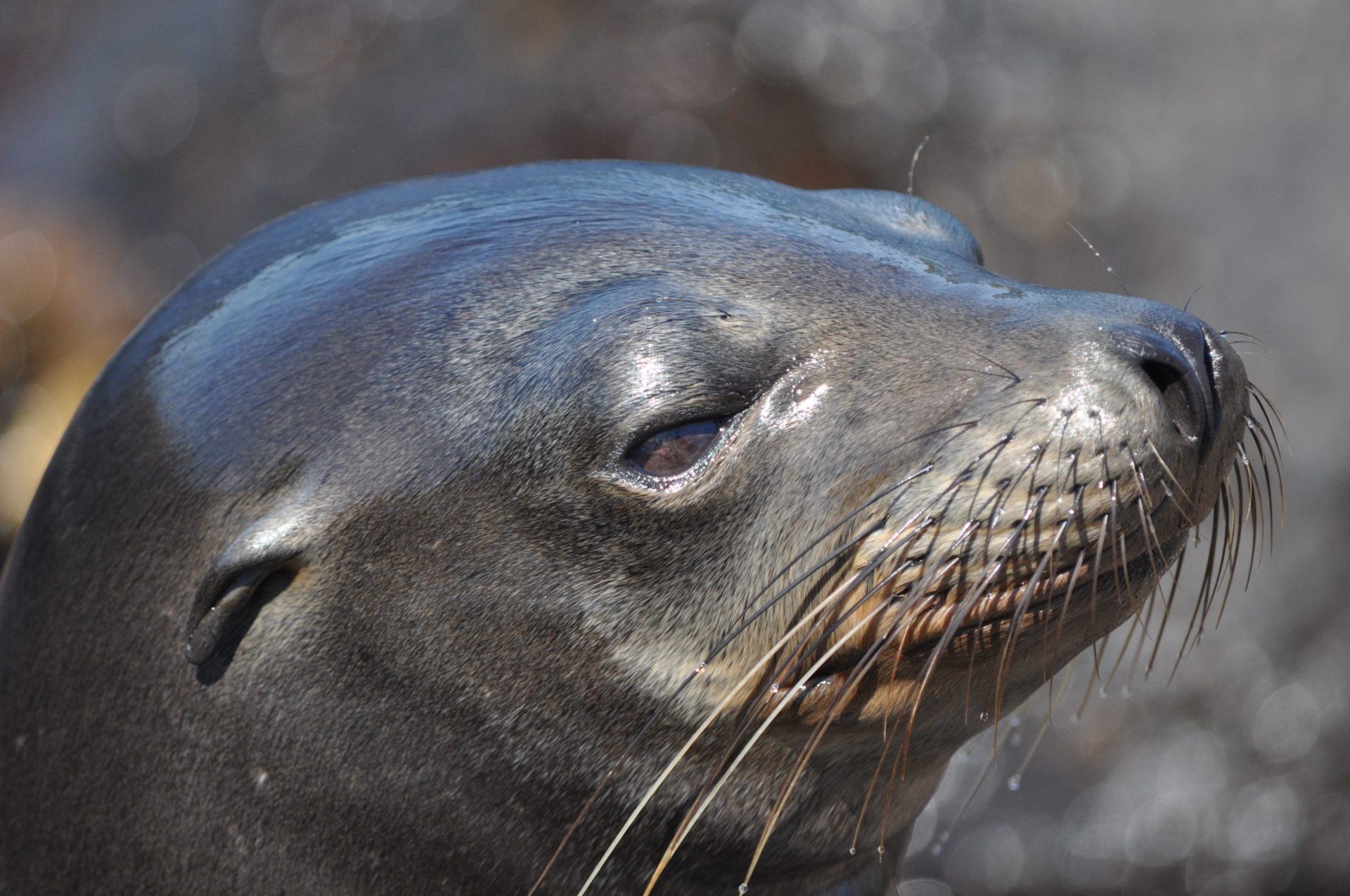 Day 3 Punta Vicente Roca (Isabela)
Punta Vicente Roca is one of the marine sites Isabela Island has to offer. On the southern side of Ecuador Volcano, the tip of land on the western end of Isabela is named after Vicente Ramon Roca, President of Ecuador from 1845-49, who as Prefect of Guayas had proposed the Ecuadorian annexation of the Galapagos Islands in 1831. The geological formations, the underwater caves and lava tubes offer fascinating views of the coastline. The South Equatorial Countercurrent hits this part of the archipelago from the west and the water offers abundant food sources for different marine life and seabirds. It is normal to see Pacific green turtles, but sharks, rays, whales and dolphins can also be expected, apart from a small colony of fur seals. Blue-footed Boobies, Nazca Boobies, Brown Noddies and other seabirds nest in the cliffs and both the endemic Galapagos Penguins and Flightless Cormorants have established small colonies nearby. Marine iguanas also like this area because of the rich variety of seaweeds growing underwater along the western coast of Isabela. As a marine site, deepwater snorkeling is also possible at Punta Vicente Roca.
Punta Espinoza, Fernandina
With the gentle slopes of La Cumbre volcano in the distance, the low, lava-forged coast of Punta Espinoza on Fernandina Island is a spectacular sight. Hundreds of marine iguanas rest on the black rock of recent lava flows absorbing heat from the stone and defending their territories against one another. Galapagos sea lions and their pups also take shelter here, resting on the beach and playing in the shallow tide pools sprinkled along the coast. Walk past high sandy areas where marine iguanas lay their eggs and along low, shallow mangrove ponds ringed with bright red Sally Lightfoot crabs and Flightless Cormorants drying their stubby wings in the sunshine.
Day 4 Tagus Cove (Isabela)
Tagus Cove is bordered by a steep rocky coastline and has for centuries offered shelter for ships and yachts. The cove is named after the British frigate HMS Tagus visiting the Galapagos in 1814. Already by the 1830s other ships had their visits recorded by painting or scratching their name onto the rocks. On approach Galapagos Penguins and Flightless Cormorants –both birds mainly found on Isabela's west coast and neighboring Fernandina- are often seen. From the landing a trail through an incense tree forest leads past Darwin Lake to a viewpoint on top of a splatter cone. During the hike several land birds including Medium Ground-Finches, Galapagos Hawks, Yellow Warblers as well as Large-billed and Vermilion Flycatchers are often present. Brown Noddies and Blue-footed Boobies prefer the rocks along the shore.
Elizabeth Bay (Isabela)
Elizabeth Bay is one of the marine sites on Isabela's west coast. South of Alcedo Volcano and north of Sierra Negra, Elizabeth Bay is found at Isabela's narrowest east-west extension where the lava flows of these two volcanoes have connected each other. Elizabeth Bay's shores show mangroves and specifically the easternmost part, a cove which can only be entered via a narrow channel, has red, white and black mangroves. Different animals prefer different parts of Elizabeth Bay. Las Marielas, three rocks at the entrance to the bay, are favored by Blue-footed Boobies, Flightless Cormorants and Galapagos Penguins as a resting place, while the mangrove area is preferred by Great Blue Herons for hunting or the Magnificent Frigatebirds for perching. The bay is used by turtles, rays and even sharks for feeding or resting. The shallow water and the root system of the mangroves in the small inlet allow smaller fish to hide from bigger predators.
Day 5 Post Office Bay (Floreana)
Floreana's Post Office Bay has received its name as the site was used to leave mail for retrieval by others who were thought to stop at the Galapagos Islands or might be heading for the addressee's direction. First mentioned by Porter in 1813 as "Hathaway's Postoffice", HMS Beagle's captain FitzRoy stated that it was not in use in 1835 as the island was already settled at that time. Floreana had been the first island to be settled by Ecuadorians in 1832. Today a barrel instead of the original box is used by visitors who leave their own postcards and retrieve mail for hand-delivery. Apart from the beach and mail barrel the bay offers good swimming and snorkeling. The area holds remains of a failed Norwegian fish canning plant and settlement dating back to the 1920s. A lava tube in the vicinity can also be explored. Although Floreana is inhabited, the number of residents is reduced because of the difficult access to water. A track from Post Office Bay connects with the only road from Puerto Velazco Ibarra on the west coast to a spring in the highlands.
Champion Islet (Floreana)
Champion Islet is a small islet some 700 meters off the northeast coast of Floreana. It is one of four marine sites surrounding Floreana and offers excellent deepwater snorkeling opportunities. Curious sea lions approach the snorkelers while turtles slowly swim by and sharks, sting rays, and a high diversity of colorful fishes can usually be seen. During a Zodiac cruise around Champion Islet not only seabirds such as Nazca Boobies, Swallow-tailed Gulls, or Red-billed Tropicbirds will be seen, it is also possible to spot the rare Floreana Mockingbird.
Punta Cormorant (Floreana)
Floreana Island's northernmost point is called Punta Cormorant – named after the British naval vessel HMS Cormorant and dating back to the late 19th century. From the landing beach a short track leads to a shallow lagoon that is famous for its flamingos. The brilliantly pink birds skim the salty waters for shrimp and tend to chicks on the nest. The trail then scales a low hillside through scattered Palo Santo trees to reveal an idyllic white-sand beach on the other side of the point. Standing at the edge of the lapping waves, you might spot mammoth female sea turtles hauling themselves out of the sea to lay eggs in the sugar sand dunes that lay high above the tide line. Before returning to the landing site your guides may also point out White-cheeked Pintails, Blue-footed Boobies, Yellow Warblers, and Medium and Small Ground Finches.
Day 6 Santa Cruz Highlands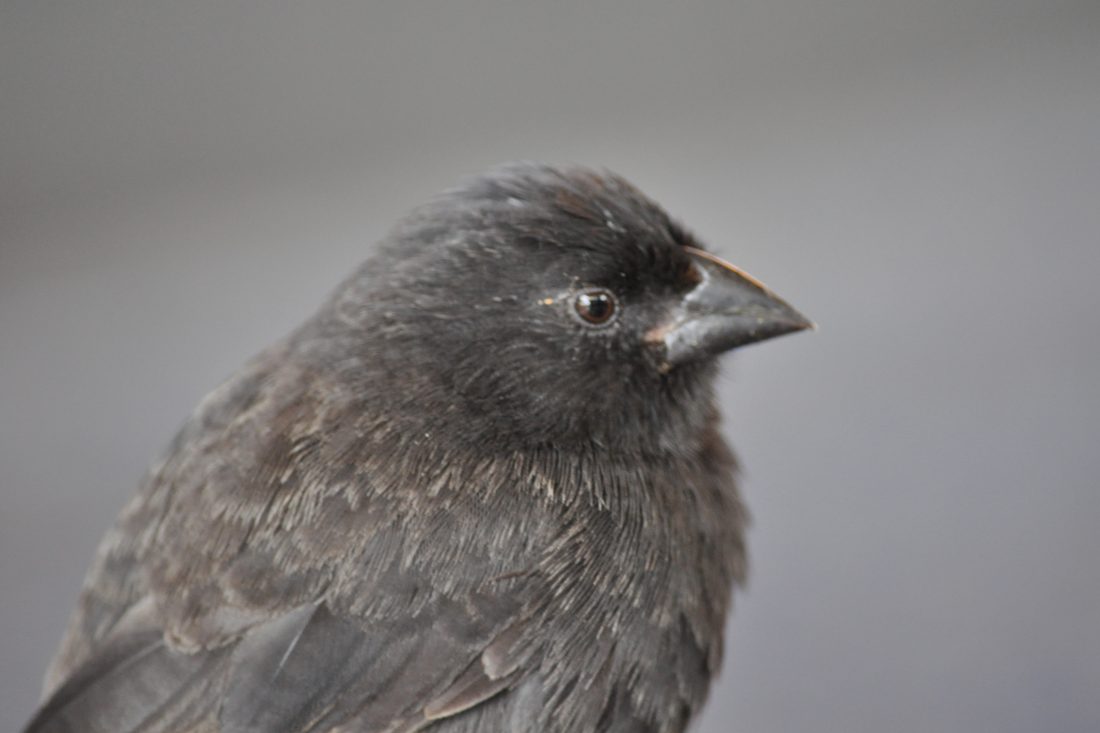 Los Gemelos (The Twins) is a visitor site in the Santa Cruz highlands. Found some 15 kilometers northwest of Puerto Ayora, the road leading from Puerto Ayora in the south of Santa Cruz to Itabaca in the north dissects the twin pit craters. Pit craters are formed when the roof of an underground void collapses. The smaller pit crater is on the eastern side of the road, while the larger one is on the western side. See from above, the two openings in the ground are not at all identical. Their layout might imply an elongated magma chamber or a lava tube leading further west and the larger twin having formerly been two small pit craters whose connecting wall collapsed as well. Trails through a Scalesia forest not only give access to good views of the pit craters, but also permit to observe some of the smaller land birds. Vermilion Flycatchers, Yellow Warblers, Galapagos Doves, Medium Ground Finches and several other finch species can often be seen there.
Fausto Llerena Breeding Center, Puerto Ayora (Santa Cruz)
Silver Origin will anchor in front of Puerto Ayora, Santa Cruz, where the prestigious Charles Darwin Research Station is located. The station also houses the Fausto Llerena Breeding Center for giant tortoises and land iguanas where guides interpret the centre's captive breeding and reintroduction programs. In addition to these star species, throughout the station there are huge prickly pear cactus trees being fed upon by the pretty Galapagos Cactus Finch. To round out the stay in Puerto Ayora, enjoy free time in town where local artists have created charming art galleries and corner cafés.
Day 7 Cerro Dragon (Santa Cruz)
Cerro Dragón's land iguanas once played an important part in a conservation program headed by the Charles Darwin Foundation and the Galapagos National Park. When the reptiles' numbers declined in the 1970s, some animals were taken to breed in captivity and were released back into undeveloped areas. Today, it is an honor to see the success of this program firsthand at Cerro Dragón. Walk inland on a trail past small saltwater lagoons that periodically feature flamingos, to see the reintroduced animals. In a periodic local phenomenon, during rainier times the salinity in the lagoons drops with the inflow of freshwater. As a consequence, crustacean populations decline, which in turn means the shorebirds become scarce.
Isla Guy Fawkes
Guy Fawkes is a group of four islets situated on the north western side of Santa Cruz Island. They are satellite cones, surrounded by deep waters. As they rise from the deep, they intercept with the strong sea currents making the area a place full of life. These small islets have beautiful underwater cliffs covered with all sorts of marine invertebrates such as sponges, corals, sea stars, urchins — making it a very colourful place for deep water snorkelling. Due to the conditions mentioned above, it results in some immense aggregations of fish, and, due to the depth of the water, it is not unusual to find Sharks or Manta Rays. Guy Fawkes is one of the most exciting places to deep water snorkel. You never know what you will find.
Bahía Borrero, Santa Cruz
In the northern area of Santa Cruz Island, Bahía Borrero is a beautiful white coralline beach used as a nesting site by Green Sea turtles. Behind the dunes, we have a forest of typical vegetation from the arid zone: Palo Santo, Leather leaf, and Salty bushes. This vegetation welcomes Yellow Warblers, and some of the most characteristic species of Darwin Finches, such as the Common Cactus Finch or the Small Ground Finch. This extinct volcano, due to its altitude, shows all the different zones of vegetation, changing from the littoral to the arid, and then with more moisture into the humid zone, to end in the dry pampa zone. It is an impressive landscape to enjoy while you swim in the turquoise waters of the bay or have a nice relaxing walk along the beach.
Day 8 Baltra
Baltra Island, also known as South Seymour, is truly the entrance to the Galapagos Islands. Despite not being considered as part of the National Park proper, Baltra definitely offers a taste of the weird and wonderful nature that thrives on the islands. The island is in the central part of the archipelago. At just eight sq. mi it is one of smallest islands, yet its flat, volcanic rock surface and central location in the archipelago makes it an ideal place for one of the islands' two airports. The airport was built by the US Air Force, who used it as an army base during WWII. As a travel destination it offers few attractions, and all travellers who come here are just passing through, either on either way to or from the islands. There is no tourism infrastructure (save a few agencies that offer tours of the islands) or shops on Baltra and any purchases that you might wish to make should be done at the airport if they can. However, land iguanas and Galapagos finches are popular sights, and the iguanas are often seen running across the runway itself. As you cross the Itabaca Channel to or from Santa Cruz, be on the lookout for some other Galapagian locals: giant turtles and playful sea lions completely oblivious to the humans around.
When travelling in remote regions tide, wind, ice and weather conditions determine the details of our itinerary. While Silversea do their best to maintain all suggested activities, some of these may be subject to change. Come with an open mind and a great sense of adventure, together we can turn any voyage into a wonderful Expedition.
GALÁPAGOS BOUTIQUE CATAMARAN CRUISE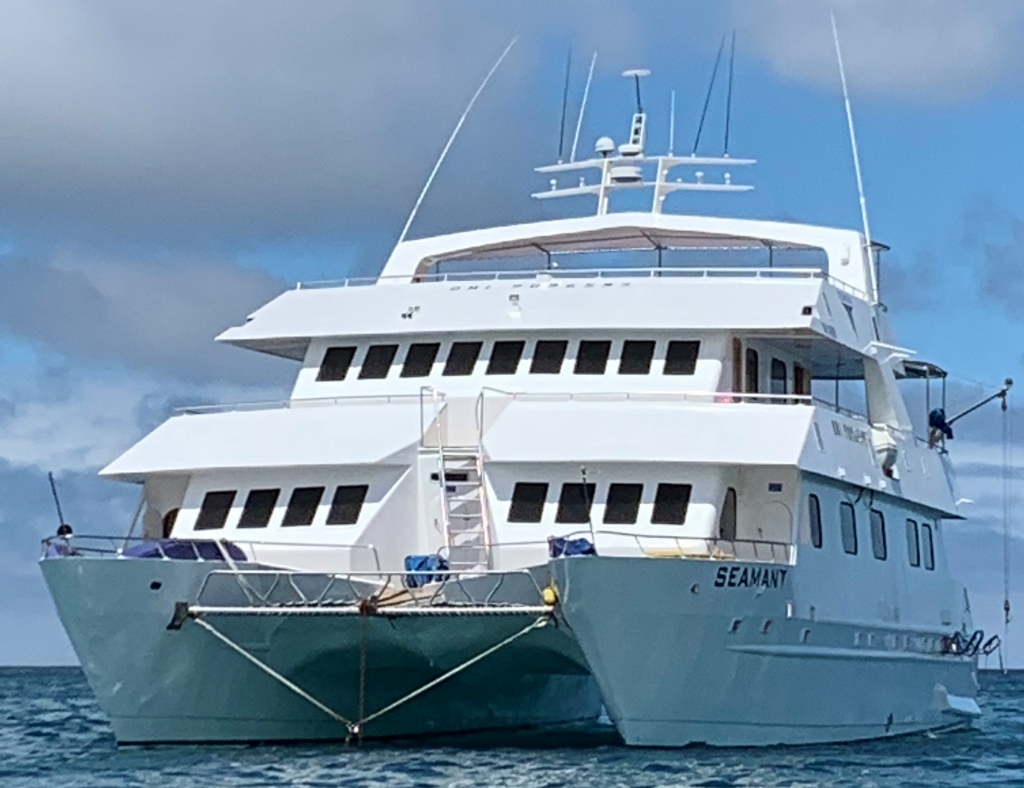 About the Galapagos Seaman Journey
M/C Galapagos Seaman Journey is a first-class catamaran that began sailing the Galapagos Islands in January 2008. It is a Boutique Yacht Catamaran offering superior comfort, size, style, and stability. The Galapagos Seaman Journey makes it possible to enjoy several cruises in the Galapagos with different itineraries that include amazing land tours on most of the Galapagos Islands. During these Galapagos Cruises, guests encounter many endemic species like Galapagos Giant Tortoises, Penguins, Land and Marine Iguana´s, Frigate Birds, Blue Footed Boobies, and much more!
During one of the cruises each guest can enjoy the well-furnished areas offering comfort and privacy. Galapagos Seaman Journey has a maximum capacity of 16 passengers allowing both intimacy and camaraderie at the same time. There are several resting areas for those who are looking for a quiet place to relax during their Galapagos trip with family and friends in the lazy mid-afternoon sun, or likewise after a busy day of swimming, snorkelling, kayaking, or walking on one of the Galapagos Islands.
Guests can spend time on the spacious sundecks admiring the views, relaxing in the sun, or watching the gorgeous sunsets over the Galapagos Islands The sundecks is undoubtedly the best place to watch the world go by over a cocktail or two.
Main Deck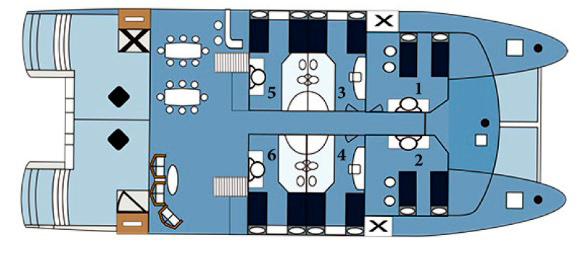 Upper Deck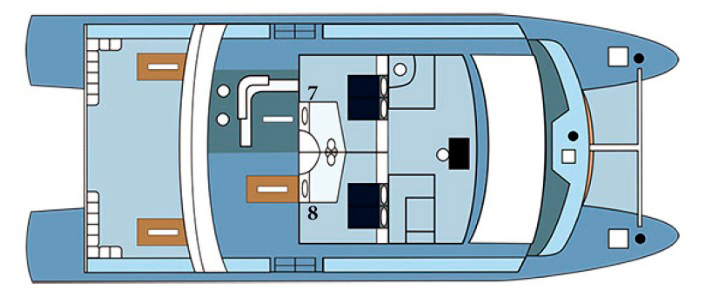 Lower Deck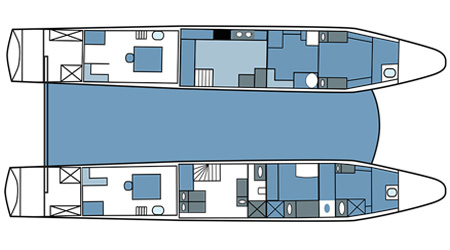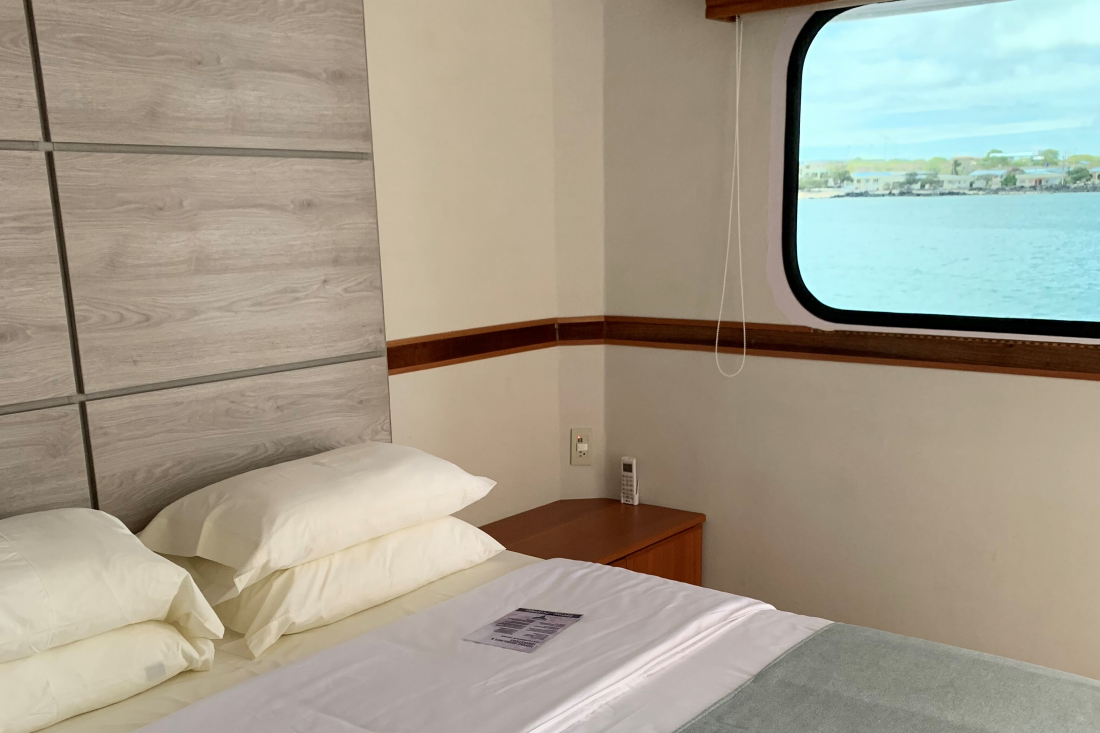 Fine Dining & Cuisine
Each meal on board is a treat for the taste buds as our chef prepares the finest international and local dishes using fresh ingredients of the highest quality. All meals include the choice of meat, poultry or seafood. Menus can be adapted if you have food allergy requirements.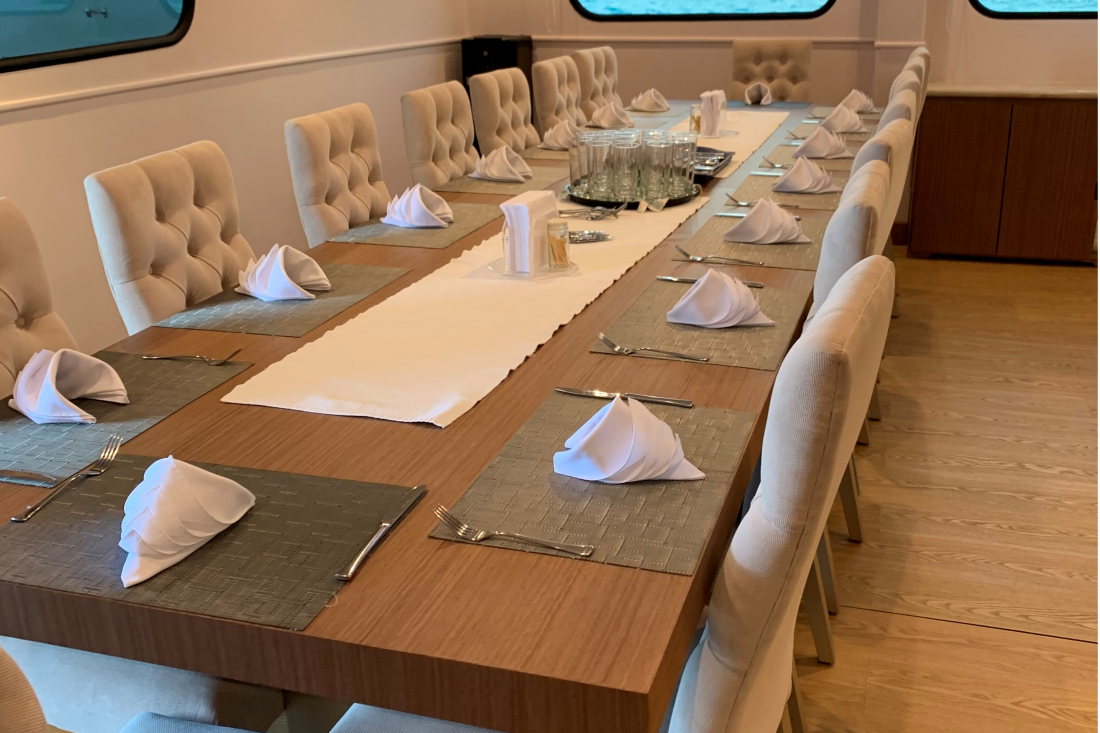 Nature Lectures
After a full day of visits, you will get to learn a little more about the sights you visited and will be able to ask your guide specific questions about the wildlife, geology, marine life, biology, and other topics. The certified naturalist guide speaks English and has many years' experience on the Galapagos Island.
Well Planned Itineraries
The key to a great itinerary is variety and therefore the M/C Galapagos Seaman Journey visits several types of ecosystems within the Galapagos Island.
Great Shore Excursions
Shore excursions are packed full of several activities and lots of fun. A typical visit to a landing site includes a nature hike, zodiac ride, snorkeling or kayaking and of course time out to relax on the beach.
GALÁPAGOS SEAMAN JOURNEY ITINERARY A – 3 NIGHTS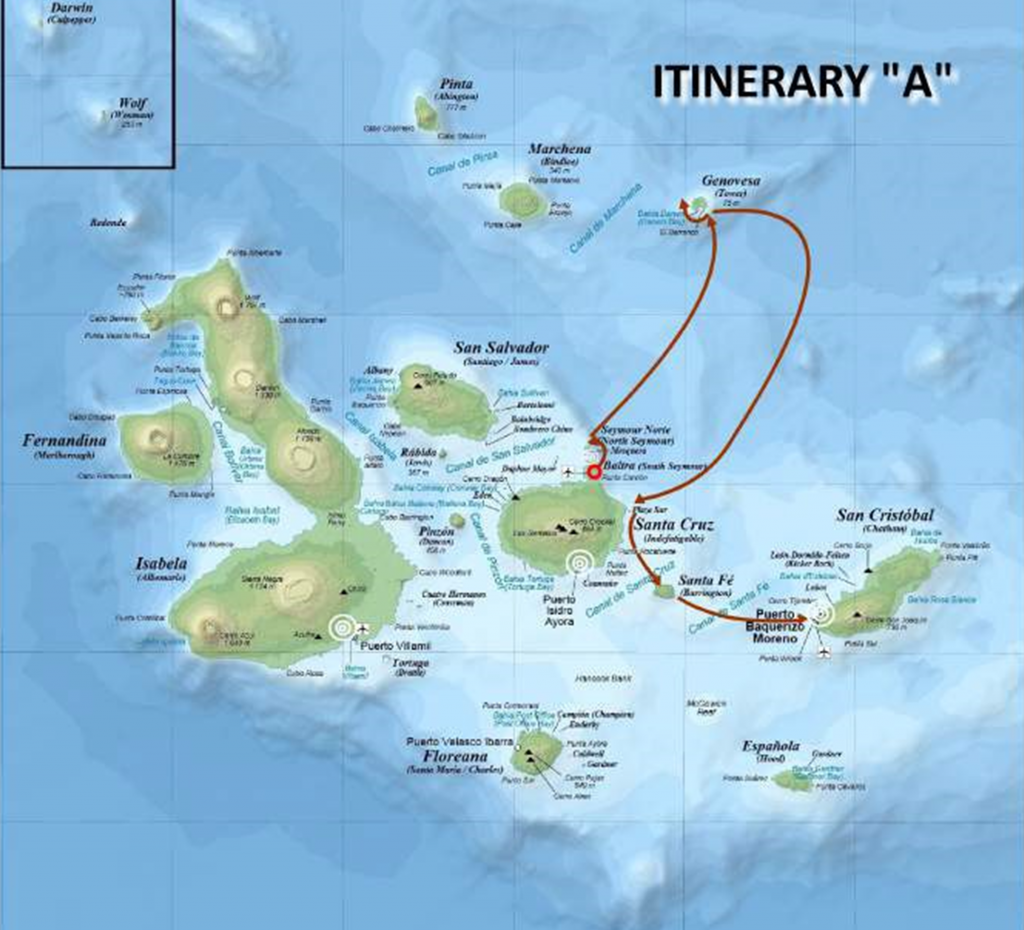 Day 1
AM: Flight to Galapagos
This day you will fly from Quito, Ecuador to the Galapagos. Due to the Galapagos Government, a fee of 20 USD must be paid for the migration control card. Afterwards, you will enjoy a 4-hour flight, with a quick stop at Guayaquil.
Once in Santa Cruz, passengers must go through an inspection point at the airport to make sure that no foreign plants or animals are being introduced to the archipelago. Also, this inspection point is where passengers must pay for the entrance to the Galapagos National Park under the following parameters: Passengers Foreigners $100 and Children $50 (under 12 years old).
Later on, the guide will meet guest and carry the luggage to the bus from the port that transports passengers to the Catamaran Seaman Journey on a motorized boat called panga.
PM: North Seymour
North Seymour is an uplifted (as opposed to volcanic) island. Therefore, it is generally flat and strewn with boulders. There are good nesting sites here for a large population of magnificent frigate birds. Blue-footed boobies perform their courtship dance in the more open areas and swallow-tailed gulls perch on the cliff edges.
Despite the tremendous surf that can pound the outer shore, sea lions haul out onto the beach and can be found bodysurfing.
Day 2
AM: Genovesa Island, El Barranco
The visitor site of El Barranco is in the southern part of Darwin Bay from Genovesa Island. The trail is on volcanic rock, consists of 1.5 km and can be done in about 2 hours. The youngest area of the island, from a geological point of view, lies on this area. The cliff is in the south, are composed of very fragile lava. The natural erosion in these lava flows has become the ideal place for nesting Storm Petrels. You can see two species of petrels that nest in cavities and holes in the lava.
One of its main predators is the short-eared owl. The red-footed booby nests only in the outer islands of the archipelago, Punta Pitt, Gardner (Floreana), Wolf, Darwin and Genovesa. Also present on this island is the masked booby. During the "panga rides" along the cliffs, fur sea lions and several species of seabirds can be seen.
PM: Darwin Bay
This bay has its origin when the crater of this island collapsed below sea level. The wet landing is on a beautiful white coral sandy beach. This is a favourite island for birdwatchers that allow the following species to be seen: red footed-booby, masked boobies, wandering tattlers, lava gulls, whimbrels, yellow-crowned, and black-crowned lava herons, and yellow warblers.
Continuing the trail, visitors climb gradually to the edge of the cliff seeing Red-Foots nesting in the Mangrove trees below. Bird watching includes sightings of sharp-beaked finches, large cactus and ground finches, Galapagos doves, and swallow-tailed gulls. Reaching the end of the trail, at the cliff's edge an incredible view of the island and the many birds living there can be observed.
Day 3
AM: Plazas, Santa Cruz
Plazas is located at the east of Santa Cruz Island, and forms part of two islands known as Islas Plazas. Despite its small size, some of the most interesting and outstanding species of the Galapagos are found here. The Plazas land iguanas are smaller than its relatives found at other islands.
Throughout the island are several hybrid iguanas, a result of crossing a male marine iguana and a female land iguana, they are unique, recognisable at first glance by their black/grey colour, with a land iguana's crest, but face and tail of the marine iguana. The big population of iguanas is due to the presence of tunas, their favourite food. Swallow tailed gulls nesting in the rugged cliffs are seen along with other seabirds as: Audubon shearwaters, red-billed tropicbirds, frigate birds, and brown pelicans.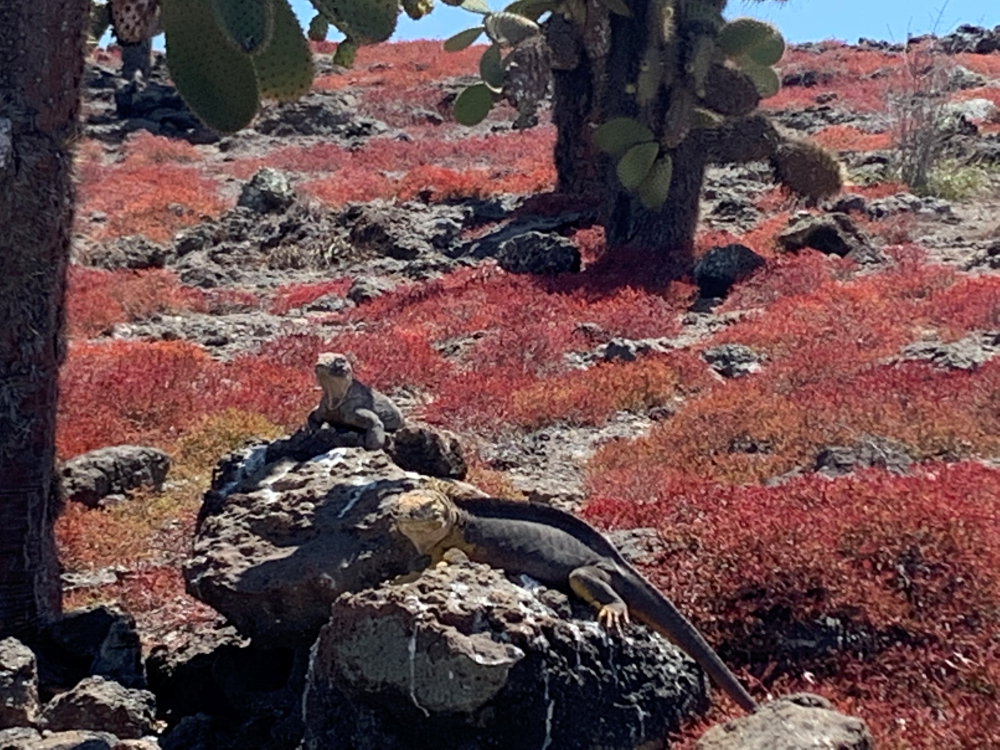 PM: Santa Fe Island
Located in the south eastern part of the Galapagos, this island was formed from an uplift instead than a volcanic origin, therefore it is mostly flat. There are some theories which assure this could be the oldest island in the Archipelago. Santa Fe is the home of several endemic species like the Galapagos hawk, Galapagos snake, Galapagos mockingbird, rice rats, and one of the two species of land Iguanas of the islands.
After disembarking in the beautiful and clear waters you will be in contact with one of the many sea lion colonies. Along the trail many salt bushes are found as well giant Prickly pear cactus: gigantism is a characteristic of oceanic islands. There are great possibilities of snorkeling with playful sea lions and tropical fish.
Day 4
AM: Jacinto Gordillo Breeding Centre
In 2004 the Breeding and Rearing Centre for young tortoises Jacinto Gordillo, named after a famous settler, was in Cerro Colorado, San Cristobal Island, to take care of young tortoises. In 2008 an assisted reproduction program started on the island with due to the birth of a little turtle in captivity. All of this will be learnt at the Jacinto Breeding Centre. One can not only learn about breeding processes but as well get engaged and experience why they this breeding centre does what it does.
After the morning excursion you will be taken to the airport for your flight to the mainland.
Prices from £2292 per person based on two adults sharing a lead in cabin for various dates in 2022. Cost excludes all flights and permits
GALÁPAGOS SEAMAN JOURNEY ITINERARY B – 4 NIGHTS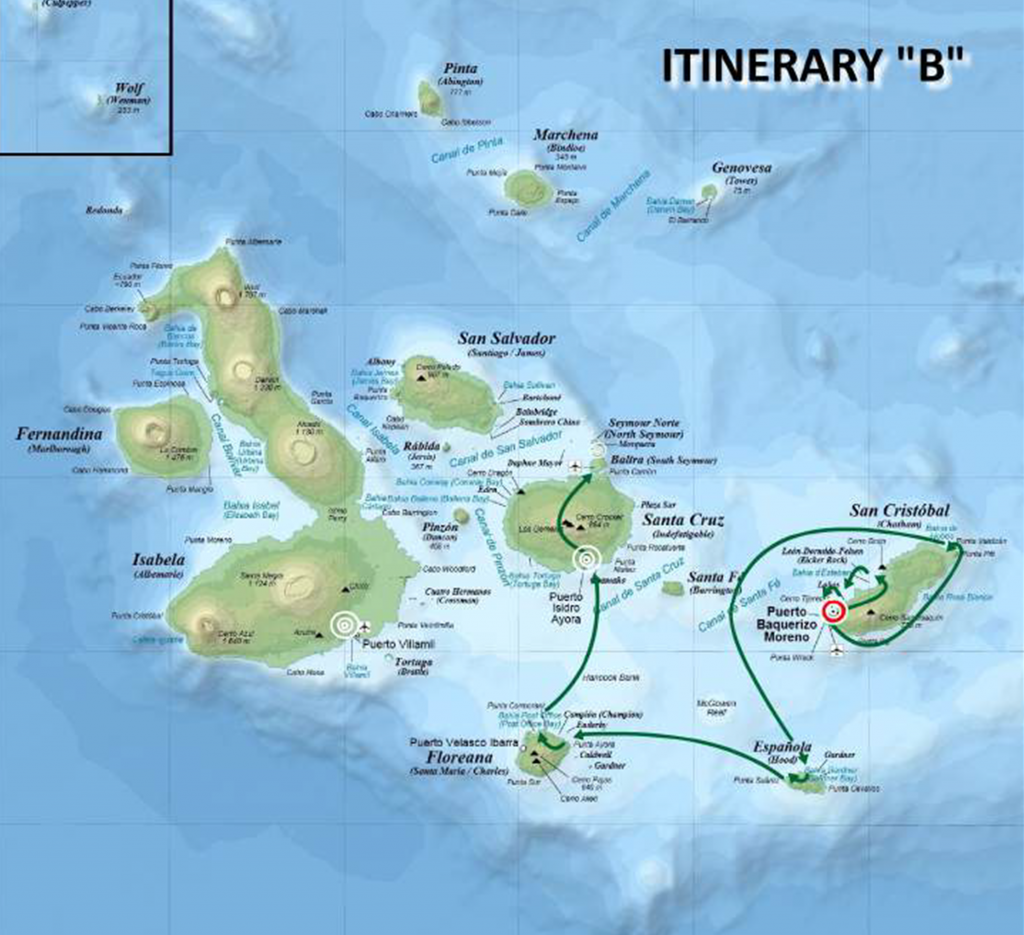 Day 1
AM: Flight to Galapagos
This day you will fly from Quito, Ecuador to the Galapagos. Due to the Galapagos Government, a fee of 20 USD must be paid for the migration control card. Afterwards, you will enjoy a quick 4-hour flight, with a quick stop at Guayaquil.
Once in San Cristobal, passengers must go through an inspection point at the airport to make sure that no foreign plants or animals are being introduced to the archipelago. Also, this inspection point is where passengers must pay for the entrance to the Galapagos National Park under the following parameters: Adult Passengers $100 and Children $50 (under 12 years old)
Later, your guide will pick you up and carry the luggage to the bus from the port that transports guests to the Seaman Journey Catamaran on a motorised boat called panga.
PM: Interpretation centre
This is an interpretation centre with exuberant gardens and stunning ocean views. Visitors at the interpretation centre can learn a lot from the geological and human history of the islands, conservation facts and natural history. This is the oldest museum of Natural History in the Galapagos Islands which attempts to preserve the archipelago. It is indeed inspiring and motivating to watch and learn all their research and attempts.
Day 2
AM: San Cristobal Island, Galapaguera
A short visit will take place at the Galapaguera, a good place to observe Galapagos tortoises in its natural habitat.
San Cristobal island has endemic species such as: The Mockingbird Nesomimus melanotis, lava lizard (Microlophus bivittatus), Chatham Leaf-toed Gecko (Phyllodactylus leei) and the tortoises. All of these species can be observed in this place, the beach is really big and it works as a nesting zone for marine tortoises. Between January and May, it is common to find the footprints of the female tortoises who have climbed to the sand dunes to deposit their eggs! This truly a worth experience to be part of.
PM: Cerro Brujo, San Cristobal Island
Cerro Brujo is a beautiful white coral beach where you can swim and watch birds and sea lions, plus you can snorkel.
This is the first coast where Charles Darwin walked on, in 1835. In this marvellous lava landscape, you can watch seabirds like blue-footed boobies, Nazca boobies, herons, frigate birds and shore birds. The protected bay is well known for its young tortoises which like to swim around.
The pools with salty water behind the sand dunes were used by the fishermen as a salt mine to preserve food for the local population.
Among the fauna you can observe the Chatham Mockingbird and the San Cristobal Lava Lizard, both species are endemic to the island and unique to the area.
Furthermore, you will see the Galapagos turtles and with luck, the little bird known as the Pájaro Brujo in Spanish, an endemic species in San Cristobal Island. The vegetation covers all the route, where you can find species like the candelabrum cactus and carob trees. Located on the north coast of Isla San Cristobal it is a peaceful place with white sand and crystal water, a perfect combination for an incredible stay.
Day 3
AM: Española Island, Gardner Bay
Located on the north-eastern coast of Hood, Gardner Bay offers an excellent beach to relax, swim and even kayak, plus the opportunity to observe sea lions (Zalophus wollebaki),. Here we can also observe sharks in the crystal-clear ocean waters.
At this place one can see three species of Darwin's finches: A subspecies of the large-billed cactus finch (Geospiza fuliginosa), which is like the large-billed terrestrial finch; The small-beaked ground finch (Geospiza fuliginosa and the singing finch (Certhidea Olivacea) which is another endemic subspecies. Both resident and migratory birds are observed.
It is worth to notice that this zone is important for marine tortoises nesting, specially the (Chelonia mydas).
PM: Suarez Point
This area is great for spotting blue-footed boobies, albatrosses and Nazca boobies. A beautiful site on the oceanfront, the large, waved albatrosses use the cliff as a launching pad. The famous attraction is the magnificent blowhole, spurting water high into the air at least from 50 to 75 meters high. This site presents wonderful photograph opportunities.
Day 4
AM: Cormorant Point, Floreana Island
This site offers probably the best flamingo lagoon in the Galapagos; it is also one of the largest in the islands. It's situated between two tuff lava cones that give the area a special atmosphere.
There are various species of shorebirds to observe besides flamingos; the most frequent are common stilts, white-checked pintail ducks, and other migratory birds. It is very interesting to see the two distinct beaches: "The Green Beach" (due to its high percentage of olivine crystals in the sand) and the "Flour Sand Beach" which is made up of coral.
PM: Post Office Bay & Baroness Lookout
Historically, this site is the location of a wooden barrel that was placed in the 18th century by the crew of a whaling ship. It has been used since this time by marines and tourists as a post office. The idea is to carry letters or postcards to their destination by hand. Besides, this site was the landing area for some of the first colonists. We will continue to the north of the island and proceed to an elevated slope to enjoy a beautiful view at the Baroness lookout. It is said that Baroness Eloisa Von Wagner loved this place and spent several hours watching the horizon. Within walking distance (30 m) are the ruins of what is known as her house. From this lookout, the landscape covers the coastline from the Enderby islet to Post Office Bay, as well as Cerro Pajas, the pool of flamingos and wide forest of Palo Santo.
Day 5
AM: Charles Darwin Station
Although the great majority of Galapagos visitors come here to observe and appreciate natural wonders, it is also interesting to learn how the protection and conservation of the islands are carried out. One of the main attractions are the National Park information centre, the Van Straelen Exhibition Hall, the Breeding and Rearing Centre for young tortoises, the famous lonesome George, the last of his kind was cared for in this place and adult Galapagos tortoises in captivity.
After the morning excursion you will be taken to the airport for your flight to the mainland. Transfer to Baltra airport.
Prices from £2837 per person based on two adults sharing a lead in cabin for various dates in 2022. Cost excludes all flights and permits
GALÁPAGOS SEAMAN JOURNEY ITINERARY C – 7 NIGHTS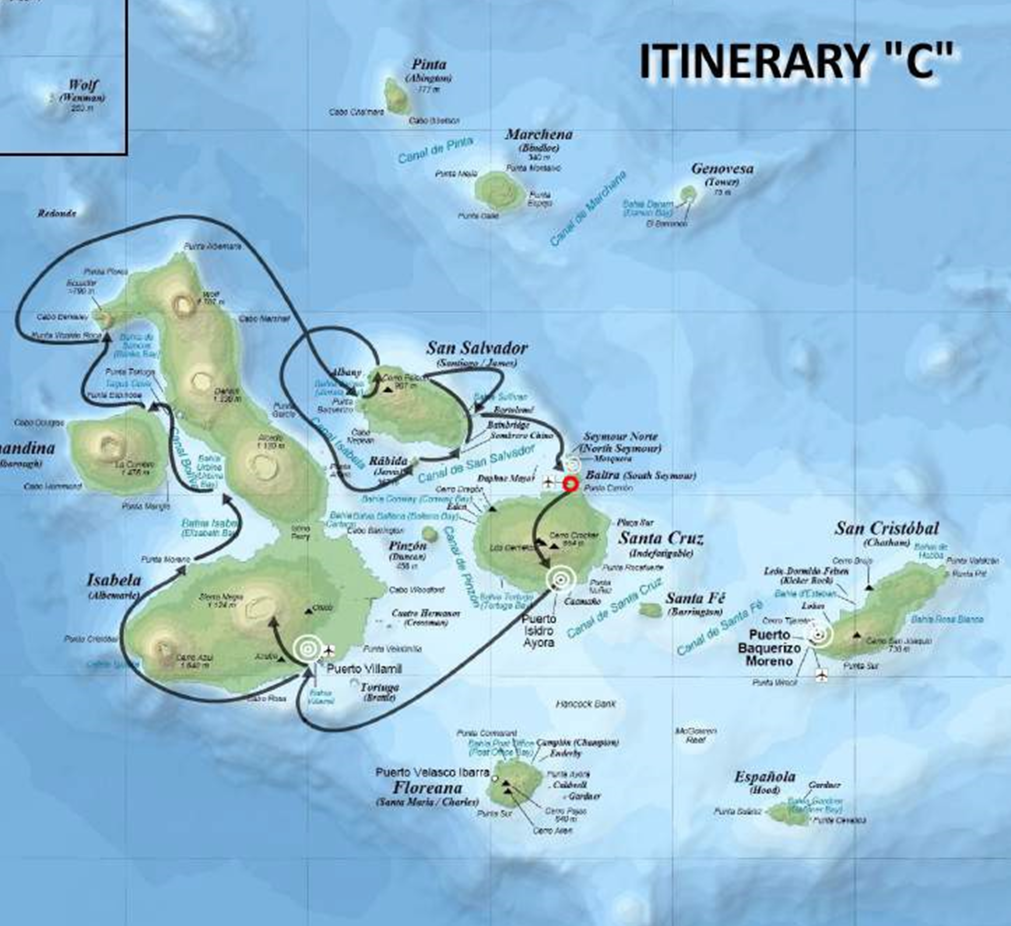 DAY 1
AM: Flight to Galapagos
This day you will fly from Quito, Ecuador to the Galapagos. Due to the Galapagos Government, a fee of 20 USD must be paid for the migration control card. Afterwards, you will enjoy a quick 4-hour flight, with a quick stop at Guayaquil.
Once in Santa Cruz, passengers must go through an inspection point at the airport to make sure that no foreign plants or animals are being introduced to the archipelago. Also, this inspection point is where passengers must pay for the entrance to the Galapagos National Park under the following parameters: Adult Passengers $100 and Children $50 (under 12 years old)
Your guide will pick you up and carry your luggage to the bus that transports guests to the ferries to cross the Itabaca Channel. After this, passengers will be taken by another bus to the first visit to Ranch Manzanillo where visitors must wear comfortable walking shoes, light clothing and a waterproof jacket, sunblock lotion, a camera and repellent for the first activity. The visit to Ranch Manzanillo includes a picnic lunch and a short walk before boarding the Motor Catamaran. It is important to follow these instructions to accomplish this itinerary properly. Please be aware that passenger´s luggage will be sent directly to the Seaman Journey yacht.
PM: Santa Cruz Highlands
Journeying across Santa Cruz into the highlands visitors are delighted by the island's variety of life and geology. Beginning at the coast and traveling across Santa Cruz the road departs from Puerto Ayora climbing through the agricultural lands and into the mist covered forests. Santa Cruz possesses all the various life zones present in the archipelago. Birds will surround you across this path. Whether it's the bright red feathers of a vermillion flycatcher or one of Darwin's Finch almost every bird present in the islands can be found here.
Santa Cruz offers excellent opportunities to observe the wild Galapagos Tortoises. Tracking tortoises is not the only exciting activity to be found in the highlands. There are also plenty of lava tubes, sinkholes and craters ready to be explored. After this visit they moved to the M / C Seaman Journey.
DAY 2
AM: Mangle Point, Fernandina Island
Off the eastern coast of Fernandina, Mangle Point can be found, a superior snorkeling site and a beautiful location for riding in a panga or zodiac through a grove of mangrove trees. A hike of about 1/2 miles is possible. While you are on your ride, you are likely to see sea lions, tortoises, pelicans, rays and birds too numerous to name them all.
PM: Punta Moreno
Punta Moreno is located on the north coast of Isabela Island between the volcano Sierra Negra and Cerro Azul volcano. The trail runs along a lava flow Pahohoe (solidified lava in the form of corrugated or an accordion) into a complex of coastal lagoons, where several species of birds which can be found around this lakes and mangroves.
Day 3
AM: Urbina Bay, Isabela Island
Urbina Bay is located at the base of Alcedo Volcano on the west coast, between Tagus Cove and Elizabeth Bay. This area experienced a major uplift in 1954, which caused the land to rise over 16 feet. The coast expanded half a mile out, leaving marine life stranded on the new shore. This area is also a great place to snorkel. Urbina Bay is a path that starts off with a wet landing. The course is approximately 3200m, and made up of sand, pumice, lava, coral and vegetation where one can observe iguana burrows. It is an ideal place to see red and blue lobster!
In Bahia Urbina you can see Darwin's finches. Its main attraction is the land iguanas, which are larger than in places like South Plaza Island and Galapagos tortoises also in the wild, sometimes even out of season they are on the bottom of the islands.
A large amount of vegetation can be observed such as chamomile and Rosewood, but among all these plants, the beautiful flowers of cotton Darwin, endemic to the Galapagos Islands stand out.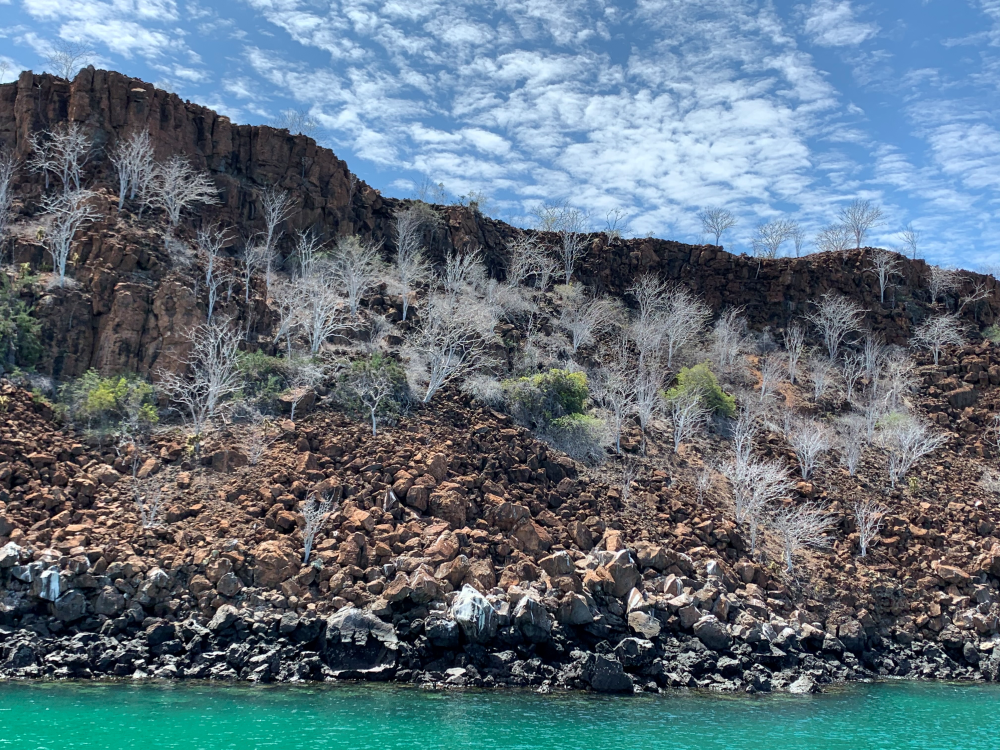 PM: Tagus Cove
Tagus Cove is located west of Darwin Volcano on Isabela Island. This was a favourite spot for pirates and whalers, and it was them who started the following tradition: the inscription of the names of boats. At the beginning of the trail, you will see a small cave where you will find inscriptions dating to the 1800s.
Its name originated from a British warship that went across the islands in 1814 looking for Galapagos Tortoise for food.
Due to former eruptions, the substrate has many volcanic rocks of different sizes, among the most common are little balls of nearly spherical shape known as the "lapilli" or petrified rain.
Day 4
AM: Espinoza Point, Fernandina Island
Espinoza Point is a famous place known for its large colonies of marine iguanas and as the habitat of unique species like the flightless cormorant, Galapagos penguin, Galapagos hawk, and Galapagos snake.
PM: Punta Vicente Roca
One of the most impressive and spectacular places of the enchanted Galapagos Islands; with high cliffs and tuff stone, ash and lava formations give this area a majestic touch, is Punta Vicente Roca. It is in the north-western coast of the island; comprises two distinct islets. This large bay has a spectacular marine life.
Here, you can see seahorses, sea turtles and the strange yet fascinating Mola-mola or sunfish. This bay is a great place to practice Panga Ride and Snorkeling.
We can as well find: Penguins, Blue-footed boobies, Terns, Boobies, Sea lions. Also, you can snorkel and observe sea turtles, stingrays and puffer fishes.
Day 5
AM: Playa Espumilla, Santiago Island
Espumilla beach is located on the northern coast of Santiago Island in James Bay. During the last presence of the El Niño phenomenon, one of the two lagoons in this site, underwent a process of sedimentation, thus causing the disappearance of a representative colony of flamingos. The main attractions are the palosanto forest and the nesting of baby turtles.
PM: Puerto Egas, Santiago Island
It's black beach is located on the west side of the island and is the main attraction of the island. Their volcanic tuff deposits have favored the formation of this special black sand beach.
This site is called Puerto Egas, because there was an attempt to start the exploitation of salt, which failed because the price of salt in the continent was very cheap and did not justify its exploitation in Galapagos. The project was abandoned and the infrastructure was left abandoned.
Day 6
AM: Rabida Island
Rábida Island is unique due to the red colour that colours all rocks and sand. The volcanic material in this island is very porous and external factors as rain, salty water, and sea breeze have acted as an oxidizing agent.
A short walk along a trail leads you to a coastal lagoon behind the beach which permits you to observe the land birds such as finches, doves, yellow warblers, and mockingbirds. At the lagoon there is a colony of flamingos.
PM: Chinese hat
This is a small islet (1 sq km) located just off the south-eastern tip of Santiago Island. It is a recent volcanic cone, shaped like a Chinese hat when seen from the north. On the west you can see lava formations, formed under the sea and raised upwards, this is why coral heads are found on the lava. This is an excellent visit for interpretation of geological features such as lava tubes and lava flows. The landscape is covered by sea lions' colonies, marine iguanas, and Galapagos penguins.
Day 7
AM: Sullivan Bay, Santiago Island
Santiago, also called James, or San Salvador Island, is in the west central part of the Galapagos archipelago. It is the fourth largest island in the archipelago (following Isabela, Fernandina and Santa Cruz). Along with some of the large western volcanoes of Isabela and Fernandina, Santiago is also volcanically active, with many young flows and cones to be seen, particularly along the south, west, and east coasts. These may even be seen from the summit of Darwin Volcano and from space. Several historic eruptions have been reported over the last 2 centuries. Santiago consists of two coalesced volcanoes: a typical shield volcano on the northwest end and a low, linear fissure volcano on the southeast end.
PM: Bartolome Island
Bartolome Island is situated across Sullivan Bay. It has an altitude of 114 meters, from where we can observe one of the most beautiful sceneries of the Galapagos Islands such as: Volcanic cones, lunar – like craters, lava fields, and the famous Toba formed pinnacle eroded by the sea. There is very little vegetation on this island. It has two breath-taking beaches where marine turtles exist and at the base of the pinnacle, as well as a very small colony of Galapagos penguins.
Day 8
AM: Bachas Beach, Santa Cruz Island
These two small beaches are found to the West of Turtle Cove. Their sand is made of decomposed coral, which makes it white and soft, making it a favourite nesting site for sea turtles. Behind one of the beaches there is a small brackish water lagoon, where it is occasionally possible to observe flamingos and other coastal birds, such as black-necked stilts and whimbrels. The other beach is longer, but it has two old barges that were abandoned during the Second World War, when the USA used Baltra Island as a strategically point to protect the Panama Channel.
After the morning excursion you will be taken to the airport for your flight to the mainland.
Prices from £4473 per person based on two adults sharing a lead in cabin for various dates in 2022. Cost excludes all flights and permits
GALÁPAGOS LUXURY YACHT CRUISE – 7 NIGHTS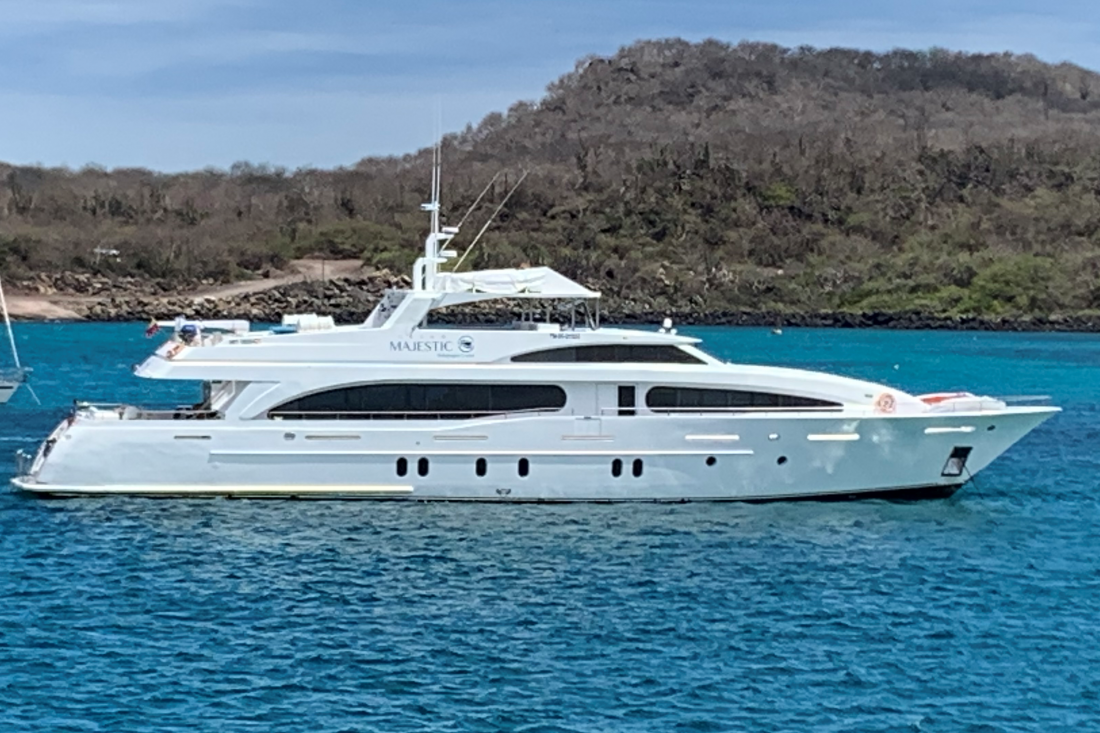 About the Galápagos Majestic Journey
Newly built in 2018, the Grand Majestic liveaboard is one of the fastest yachts offering luxury small-ship cruises in the Galápagos Islands. She is fitted with modern and stylish living areas, including a large sun deck with jacuzzi and al fresco dining. On the main deck is an open plan living, dining and bar area with panoramic windows. On the lower deck are 6 spacious cabins with double or twin beds and porthole windows. Located on the main deck is one double with panoramic windows and the Master Suite with his and her bathrooms, sofa and panoramic windows. All cabins are fitted with AC and private en-suite bathrooms.
Grand Majestic offers four, five and eight-night itineraries year-round, led by a certified bilingual naturalist guide. Get up close with the amazing nature of the Galapagos Islands on this once in a lifetime cruise. Activities include snorkelling with sea-lion pups and a wide variety of marine-life, hiking to viewpoints with access to stunning scenery, and visits to the breeding centre to see Giant Tortoises.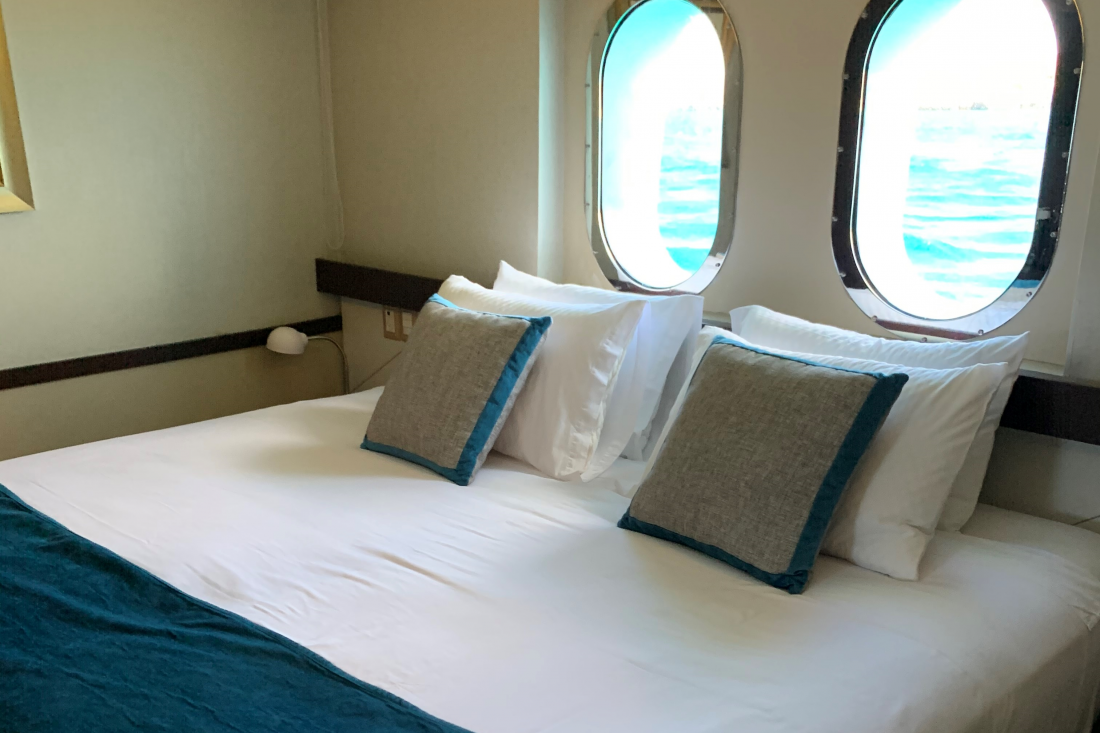 Map plan © Royal Galápagos
Sun Deck

Main Deck

Lower Deck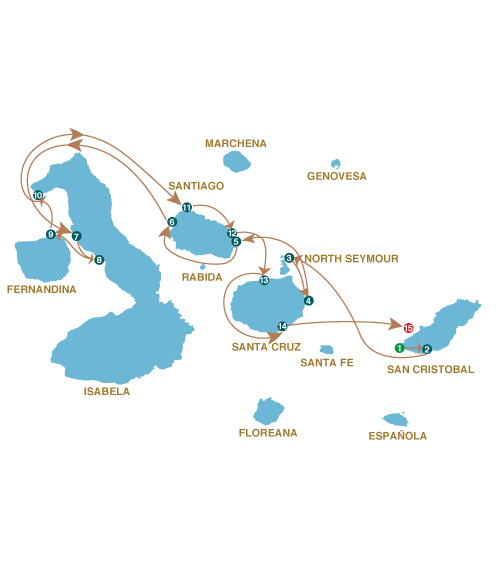 Day 1 San Cristobal Island
Guests are required to book the 10.15 am flight from Quito (UIO) to San Cristobal (SCY) to arrive by 12.40 pm.
In the morning, you will arrive at San Cristobal Island. After going through immigration and baggage claim, you will be met by a Grand Majestic staff member and transferred to the yacht. You will be guided to your cabin where you will have some time to settle in before lunch and a welcome briefing.
In the afternoon, you will visit the Breeding Centre Jacinto Gordillo – "La Galapaguera" in Cerro Colorado. It is a new visitor site in the southeast part of San Cristobal Island and can now be reached in roughly one hour by road from Puerto Baquerizo Moreno. On the trees and shrubs surrounding the site, you may see land birds like warblers, finches, and mockingbirds. Giant tortoises can be observed on the trails. They live there wild but in a protected area to ensure their survival by sealing them off from introduced predators like pigs and goats.
Breeding Centre Jacinto Gordillo (Galapaguera)
Possible Activities:
Short hike (0,6 mi / 1 Km)
Difficulty: Easy /moderate
Type of Landing: Dry landing
Highlights: Giant tortoises, finches, warblers, mockingbirds
Day 2: North Seymour and South Plaza Islands
In North Seymour, you will be able to see Galapagos sea lions, land iguanas, blue-footed boobies, magnificent and great frigate birds that are abundant on this island. North Seymour was formed by a series of submarine lava flows containing layers of sediment that were uplifted by tectonic activity. The island is characterized by its arid vegetation zone.
North Seymour
Possible Activities: Dinghy ride & hiking (1.5 miles / 2.41 km)
Difficulty: Moderate / Difficult
Type of Landing: Dry landing
Highlights & Animals: Land & marine iguanas, frigate birds, blue-footed boobies, sea lions; snorkelling: rays, reef sharks, fish, garden eels.
In the afternoon, you will head to South Plaza Island. This small island with steep cliffs was formed by rising lava and is now covered by Opuntia cacti. It is also home to one of the largest sea lion colonies as well as colourful yellow and bright orange land iguanas. The most characteristic plant is Sesuvium. During the rainy season, its colour is a greenish to yellowish tone and in the dry season (end of June through January) a bright red.
South Plaza Island
Possible Activities: Hike (1,5 miles / 2 ½ km)
Difficulty: Moderate
Type of Landing: Dry landing
Highlights & Animals: Land iguanas, sea lion colony, Audubon's shearwaters, swallow-tailed gulls, Nazca boobies, amazing landscape with cliffs.
Day 3: Bartholomew and Egas Port
In the morning, you will head to Bartholomew Island, home of the famous Pinnacle Rock. Bartholomew consists of an extinct volcano with a variety of red, orange, black and even green volcanic formations.
You take a trail of stairs to the summit of the volcano (about 30 or 40 minutes) where you will enjoy one of the best views of the islands! You will also visit a small, beautiful beach surrounded by the only vegetation found on this barren island. The beach is perfect for snorkeling where you may even see Galapagos penguins.
Bartholomew Island
Possible Activities: Panga ride, snorkeling & hike (1,2 miles / 2 km)
Difficulty: Moderate/ difficult. Walk up to the top of the volcano of 114 meters,
375 wooden steps
Type of Landing: Dry and wet landing
Highlights & Animals: Pinnacle Rock, panoramic view, moon-like landscape, penguins, pioneer plants, lava cactus; snorkeling: penguins, reef sharks,
rays, great colourful fish.
In the afternoon, you will go to Egas Port, also known as James Bay, on Santiago Island which is home to the curious Galapagos hawks and quick-footed Galapagos lava lizards. The trail leads to the coastline with gorgeous tide pools and grottos full of fauna. Here the Galapagos fur sea lions bathing in the sun. This is also a great snorkeling site.
Egas Port
Possible Activities: Snorkeling, hiking (1,2 miles / 2km)
Difficulty: Easy /moderate
Type of Landing: Wet landing
Highlights & Animals: Fur sea lions, Galapagos sea lions, tidal pools and "grottos," Galapagos hawks, oystercatchers, marine iguanas, finches;
snorkeling: reef sharks, turtles, rays, nice underwater formations.
Day 4: Tagus Cove and Urbina Bay
In the morning, you will visit Tagus Cove on Isabela Island, which is located across from Fernandina Island, near the Bolivar Channel dividing the two islands. This spot has been frequented by ships since the 1800s, using the area as an anchorage site. Trails winding by Lake Darwin up to a ridge display wonderful views.
Tagus Cove
Possible Activities: Long hike, snorkeling, panga ride, kayaking (depending on weather conditions and time availability).
Difficulty: Moderate / Difficult
Type of Landing: Dry landing
Highlights & Animals: Penguins, flightless cormorants, Darwin Volcano & Lake
In the afternoon, you will go to Urbina Bay which is located at the base of Alcedo Volcano on the west coast between Tagus Cove and Elizabeth Bay. This area experienced a major uplift in 1954 causing the land to rise over 16 feet. The coast expanded half a mile out leaving marine life stranded on the new shore. This area is also a great place for snorkeling.
Urbina Bay
Possible Activities: Snorkeling and hike (0.6 mi /1 km)
Difficulty: Easy /moderate
Type of Landing: Wet landing
Highlights & Animals: Land iguanas (the biggest in the Galapagos), hawks, giant tortoises. Snorkeling: turtles, rays, tropical fish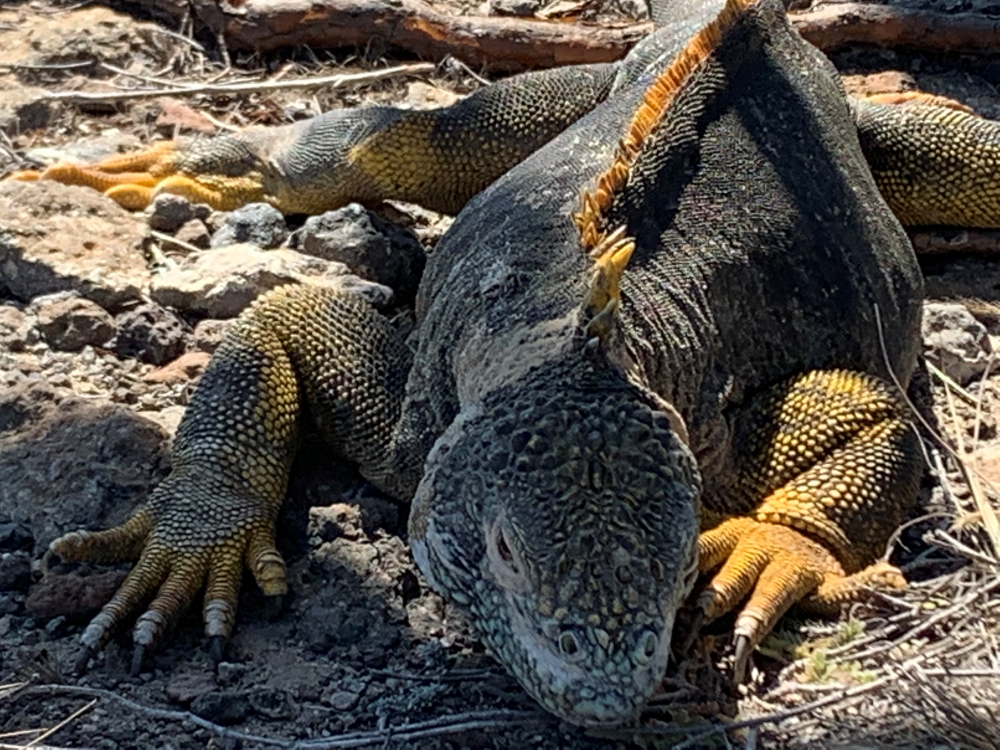 Day 5: Isabela Island and Fernandina Island
In the morning, when crossing the Bolivar Channel that divides Isabela and Fernandina Islands, you will land at Espinosa Point, and after walking past a colony of marine iguanas and a group of sea lions you will reach the island's highlight: the flightless cormorant nesting site (seasonal). This area provides a great opportunity to see the Galapagos hawk.
Espinosa Point
Possible Activities: Hike of approximately (1.2 miles / 2 km)
Difficulty: Moderate
Type of Landing: Dry and slippery at low tide
Highlights & Animals: Flightless cormorant, marine iguanas, 'a'ā lava, sea lions, penguins, active volcano "La Cumbre".
The afternoon visit is to Vicente Roca Point. Comprised of two separate coves, this site is a large bay with spectacular sea life. Keep an eye out for seahorses, sea turtles, and the strange yet fascinating Mola Mola (or sunfish).
Vicente Roca Point
Possible Activities: Snorkeling & panga ride
Difficulty: Easy / moderate
Type of Landing: No landing
Highlights & Animals: Penguins, blue-footed boobies, terns, Nazca boobies, two types of sea lions. sea turtles, rays and pufferfish.
Day 6: Santiago – Espumilla Beach Or Buccaneer Cove & Sullivan Bay
In the morning, the visit is to Espumilla Beach where the marine iguanas lounge and the Sally Lightfoot crabs attract the hunting herons performing the dance of predator and prey right before your eyes. Snorkeling is highly recommended as you could find yourself face to face with an octopus, moray eel, shark and a variety of other species of tropical fish.
Buccaneer Cove / Espumilla Beach
Possible Activities: Snorkeling, beach walk, and swimming
Difficulty: Easy
Type of Landing: Wet landing
Highlights & Animals: Snorkeling
The afternoon visit takes you to Sullivan Bay located on the southeast part of Santiago. This place is interesting for its geology because the area is covered by lava flows. This place has elevations in the form of small volcanoes, formed by the lava flows.
Sullivan Bay
Possible Activities: Hiking (0.9 miles / 1.5 km), snorkeling and swimming
Difficulty: Moderate / Difficult
Type of Landing: Dry landing.
Highlights & Animals: Lava flows, small volcanoes.
Day 7: Santa Cruz Island
In the morning, you will visit Bachas Beach, located on the north shore of Santa Cruz, Bachas is a swimming beach. One of the few remnants of the U.S. World War II presence in the Galapagos, a floating pier, can be seen here. You may see flamingos, Sally Lightfoot crabs, hermit crabs, black-necked stilts, and whimbrels. Sea turtles also nest on the beach.
Bachas Beach
Possible Activities: Hiking and Snorkeling
Difficulty: Easy
Type of Landing: Wet landing
Highlights & Animals: World War II remnants, Sally Lightfoot crabs, hermit crabs, black-necked stilts, whimbrels, sea turtles
In the afternoon, you will visit "Fausto Llerena" Giant land tortoises breeding centre, where giant tortoises are bred in captivity; this is home to tortoises ranging from 3-inches (new hatchlings) to 4-feet long adults. Subspecies of the giant tortoises interact with one another, and many of the older tortoises are accustomed to humans stretching out their heads for a photo opportunity. The babies are kept until they are about four years old and strong enough to survive on their own.
"Fausto Llerena" Giant land tortoises breeding centre
Possible Activities: Walking
Difficulty: Easy
Type of Landing: Dry landing
Highlights & Animals: Giant tortoises in captivity
Day 8: Kicker Rock
In the morning, you will visit Kicker Rock. This striking rock formation is located a couple of hours off the western shore of San Cristobal. Jutting out of the water, the rocks stand vertically at hundreds of feet above the ocean divided by a small channel. Although there are no landing areas, snorkeling allows visitors to spot a variety of marine life.
Kicker Rock
Possible Activities: Dinghy ride
Difficulty: Easy
Type of Landing: No landing
Highlights & Animals: Spectacular rock formations; seabirds: blue-footed boobies, Nazca boobies & frigate birds.
After visiting the Interpretation Centre, you will be transferred to the San Cristobal airport to catch your flight to Guayaquil or Quito on mainland Ecuador.
Prices from £4793 per person based on two adults sharing a lead in cabin for various dates in 2022. Cost excludes all flights and permits
Please note:
Itineraries are unlikely to change significantly but are subject to change. Weather, wildlife breeding, safety concerns, instructions from the Galápagos National Park, specific abilities and interests of passengers as well as operational matters may cause your guide or captain to change the time or nature of visits. Your guide and captain will always endeavour to select the best itinerary within these limits.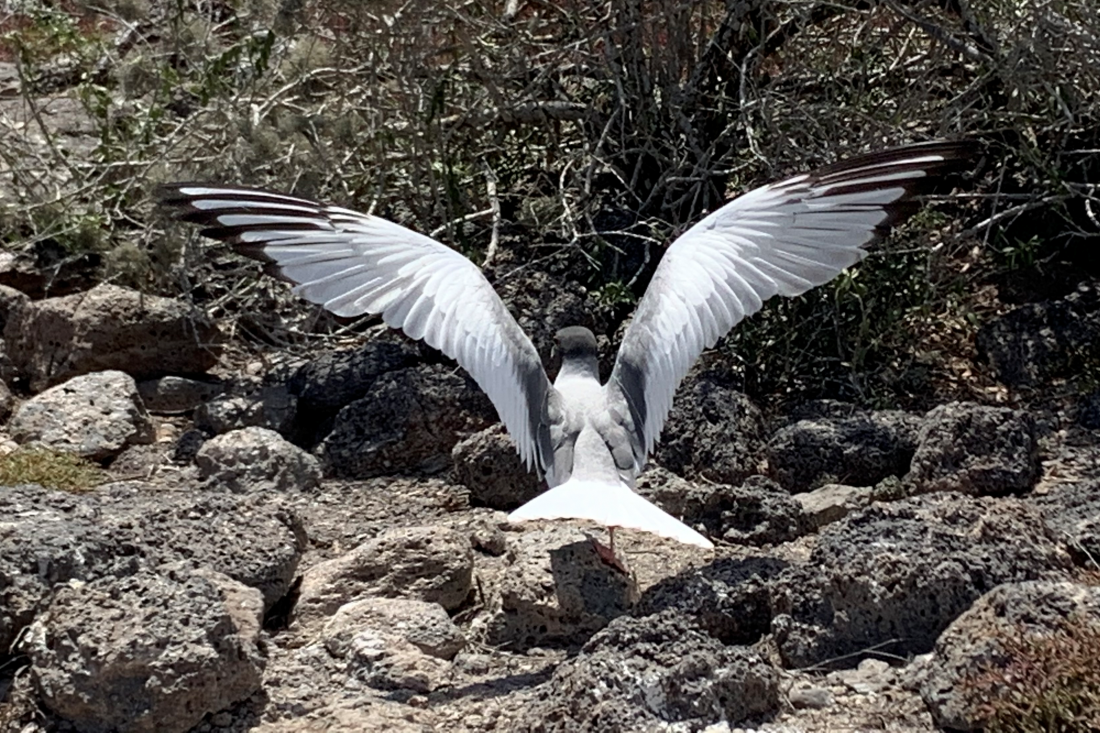 Why We Love the Galápagos
The animals you see in the Galápagos are like nowhere else in the world and it is one of the few places where animals and humans cohabit peacefully. The animals never look at humans as a threat or predator, so you can get up close and personal with them without them being afraid of you.
It is a fabulous destination for snorkeling as you are guaranteed to see something of interest: sea turtles, sharks, sea lions, exotic fish, and in some places, you may even see penguins and dolphins swim close by!
The weather is great 365 days of the year, making it a year-long travel destination. If you are a keen bird watcher and animal lover, you will be in paradise.
Tourism is limited to the Islands; the locals are still excited to see tourists and interact with them unlike in other island destinations that have been over-run with tourism, and they will make you feel immediately at home. What's more, the islands are very safe!
The dollar is the official currency in Ecuador (Galápagos is part of Ecuador) and usually the rate of exchange is in your favour, so it is fairly inexpensive to get around.
If the Galapagos Islands aren't already on your bucket list, then you definitely must add them – it really is a once-in-a-lifetime adventure that you will never forget!
Top Tips
…and things you should know about Galápagos holidays
The Galápagos Archipelago is a UNESCO World Heritage site
There are 19 volcanic islands
The Galápagos islands are 600 miles from the coast of Ecuador
There is a 1 hour time difference between the Ecuador mainland and Galápagos
The Galápagos Islands have Fearless wildlife
It is hot with Intermittent rain between December and May
It is Cooler and overcast with a possible stiff breeze between June and November
Boat cruise durations are 3,4,5, 7, 10 and 14 nights
Land based holidays are possible with excellent hotels on Santa Cruz, San Cristobal and Isabela.
It is recommended that you book at least 9 to 12 months ahead
There are no direct flights from the UK to Ecuador.
Flights to the Galápagos Islands only operate from Quito and Guayaquil
European airlines fly to Quito and Guayaquil on Iberia (via Madrid) or KLM (via Amsterdam).
Latin airlines include LATAM and Air Europa (via Madrid) and Avianca (via Bogota).
American Airlines (via Miami) require an ESTA application when you travel via the USA.
Two nights in Quito or Guayaquil prior to flying to Galápagos is recommended when taking a cruise.
Great to combine Galápagos with Ecuador: the Andes, colonial cities, cloud forests and the Amazon.
A Galápagos holiday also combines well with Peru as a great holiday option
Recommended length of visit:
4 days if you just want a taster and to tick a Galápagos visit off your bucket list
5 to 6 days if you have very limited time but still want a memorable experience
7 to 8 days if you want a good comprehensive Galápagos trip that allows you to experience the diversity of the different islands
9 to 15 days if you want to maximize your experience and really get to know the islands and the wildlife in more depth
Best Time To go to the Galápagos
The beauty of the Galápagos Islands is you can travel all year round. See out month my month guide of what's happening on these islands…
Galápagos Wildlife: Month-by-Month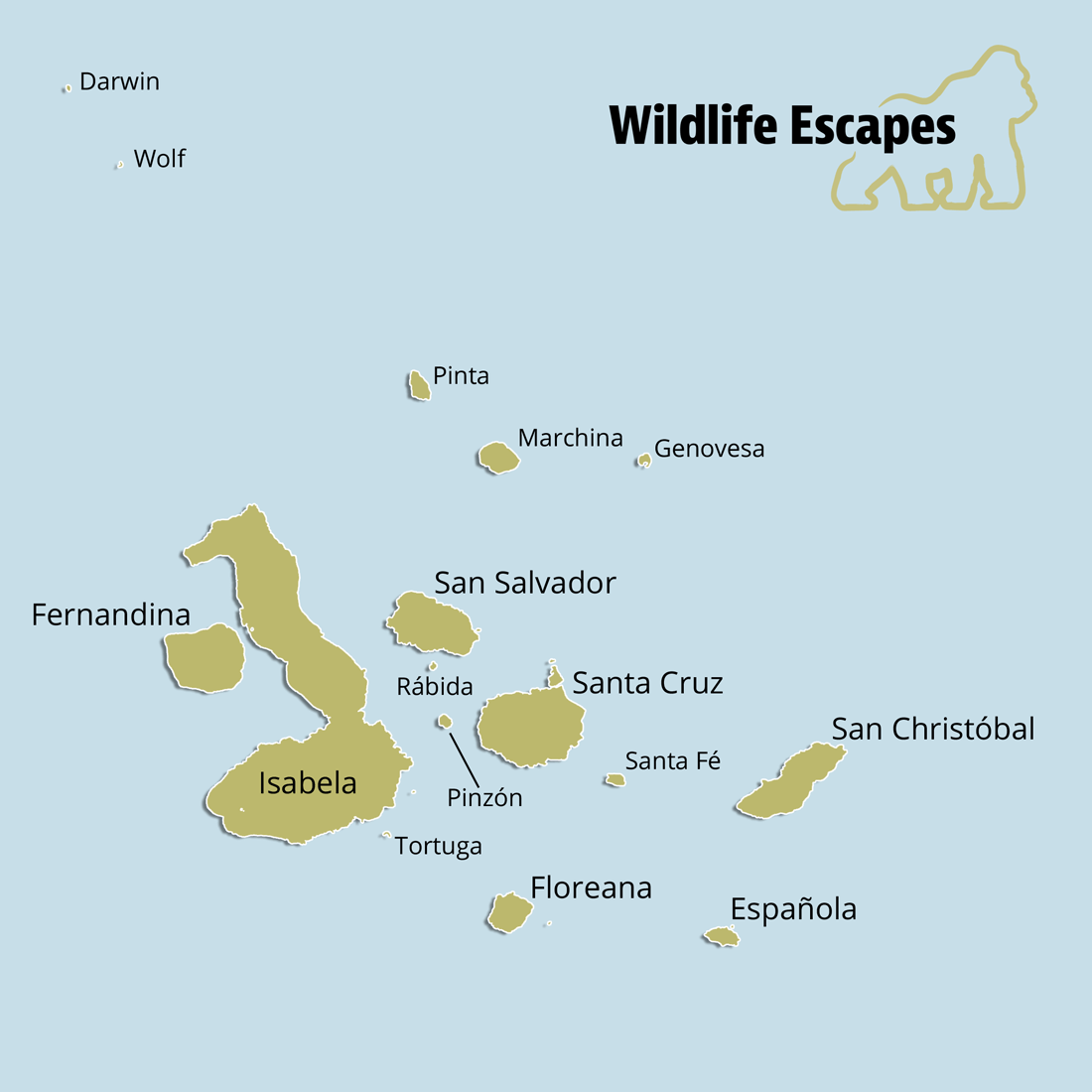 Galápagos Animal Tips
The Galápagos Islands are a haven for wildlife enthusiasts, birdwatchers, scientists, and of course the average tourist. The islands that inspired Darwin's evolution theory, is a living museum where you can observe species that are not found anywhere else on the planet.
You can explore the Galápagos by cruise or by land.
The saturation of colour of the blue footed boobies' feet is indicative of their health – the more vibrant the better – don't miss seeing them!
Look closely for the tiny penguins darting around in packs under the water and resting in lava tubes or cracks among seaside cliffs.
The playful Galápagos sea lion can be found arcing through the water like a gymnast and lounging oceanside at almost every island in the archipelago.
During the 'pupping months' the sea lion pups are everywhere: they are very playful in the water, very curiuous on land and just a delight to watch.
The Giant Galápagos Tortoise is one of the most famous animals of the Islands, with the Archipelago itself being named afterthem. They are huge, often living over 100 years and can weigh up to 550 pounds!
It is interesting that land iguanas look to birds such as finches and mockingbirds to help clean their scaly exterior, creating a symbiotic partnership.
The frigate bird males emblematic inflated red pouch is used to attract female mates and incredible to see.
The Sally light foot crabs name is often linked to a Caribbean dancer, due to their agility in leaping among rocks, running in four directions and scaling vertical walls and fascinating to watch.
Darwin's 13 species of finches were a driving force behind the biologist's theories of evolution – how many can you identify?
The longer you can devote to exploring the archipelago, the more opportunity you'll have to spot the amazing creatures in the Galápagos.
Some of the endemic (only found here) species in the Galápagos include:
the iconic Galápagos land tortoise, of which there are 11 subspecies currently in existence
three species of the Galápagos land iguana
the world's only swimming iguana, the marine iguana
thirteen species of Galápagos finches, also referred to as Darwin's finches
the only penguin living in the wild north of the equator, the small Galapagos penguin
the Galápagos fur seal
the endangered Galápagos hawk
the flightless cormorant, which is the only cormorant in the world that cannot fly
the Galápagos flamingo
7 species of lava lizards
colourful large painted locusts
the Galápagos mockingbird, first bird that Darwin noticed was different on each island
The Galápagos Islands have Fearless wildlife, including:
Giant tortoises
Marine iguanas
Blue and red-footed boobies
Lava lizards
Sea-lions
Snakes
Frigate birds