Situated in the southern reaches of Africa, Botswana is undoubtedly one of Africa's premier safari destinations, with the Okavango Delta, the largest inland Delta in the world and an undisputed highlight. Landlocked, it is a country of diverse and mesmerising landscapes – from the watery byways of the Delta, the sandveld of the Kalahari, (often called 'thirst land' to distinguish it from true desert) and the semi-arid expanses of the Makgadikgadi saltpans, where visitors are privy to massive zebra migrations during the flood season.
Huge areas are protected as national parks or game reserves and it enjoys a rich variety of wildlife including many species of mammals, birds, reptiles, amphibians and fish. This country's focus is on high-end, low-impact tourism, so the properties are all very luxurious and the crowds you see in East Africa are noticeably absent here. It's where to go in Africa for up-close wildlife experiences. The landscape is simply stunning at the Okavango Delta, so instead of traditional game drives by vehicle, you'll be able to go out in mokoros (traditional dug-out canoes), which brings you eye-level with the game. Nothing says safari like being five feet away from a bathing elephant!
Botswana is one of the last true wilderness areas, with vast expanses of diverse terrain and a thriving ecosystem like no other on earth and undoubtedly one of the best safari locations in the world. Holidays to Botswana open the door to some of the most exciting and unforgettable adventures of a lifetime and the natural wonders of Botswana provide a tranquil haven for an abundance of African wildlife to thrive. Botswana safari packages range from exceptional luxury to rugged adventure, specialist safaris for keen photographers and intimate honeymoons. It's a great destination for all wildlife enthusiasts.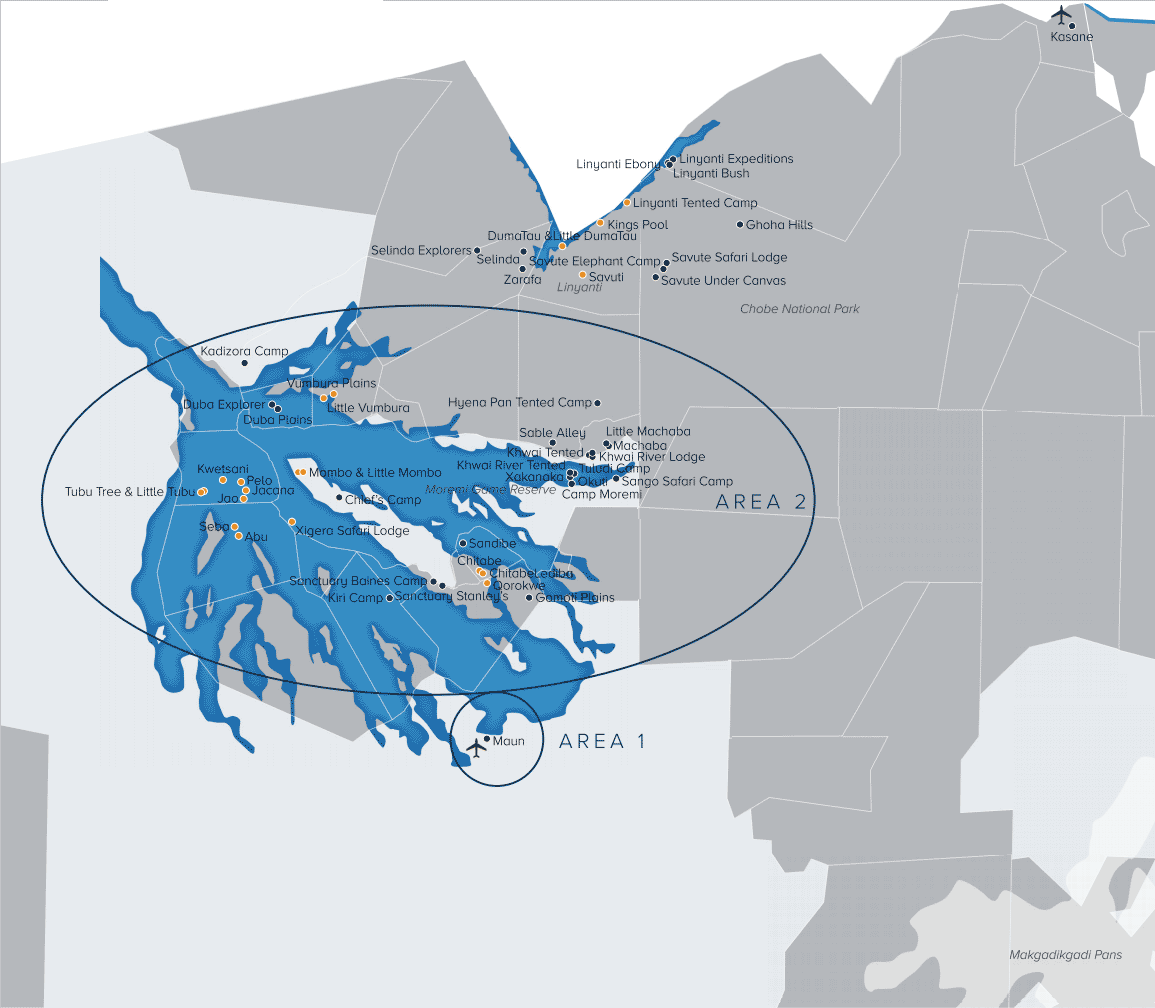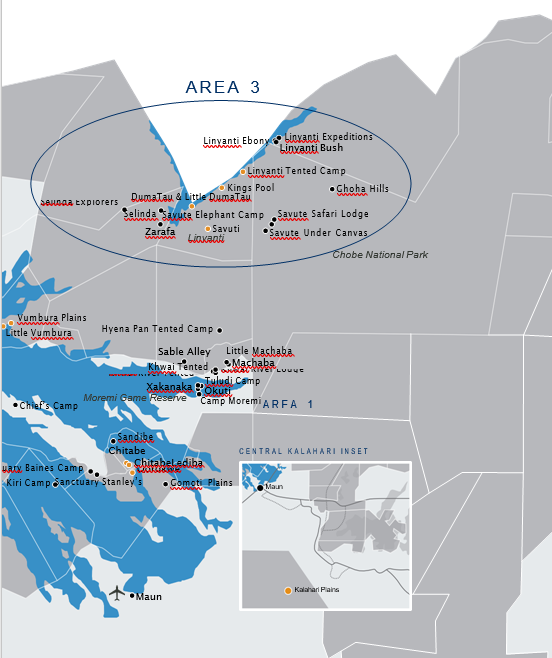 Botswana Wildlife
When travelling to Botswana you will experience a traditional big game wildlife safari in one of Africa's top destinations. The Okavango Delta is the jewel at the heart of Botswana's safari attractions, flanked to the east by the savannah of the Savuti with its prides of lions and the teeming elephant paradise of the Chobe. South of the delta lie the stretches of the Makgadikgadi saltpans and the semi-desert grasslands of the Kalahari. You can take game drives, nature walks, river cruises, canoe trips or explore on horseback to make the most of Botswana's legendary wildlife. Chobe is home to Africa's largest elephant population as well as huge herds of buffalo, zebra and many antelope species. With such abundant plains game, Botswana has plenty of Africa's top predators – lion, leopard, hyenas and rare wild dogs. Even the bird watching is exceptional.
The saltpans and Kalahari scrubland also south of the delta are home to unique experiences like quad biking safaris and authentic cultural encounters with the 'San' – Africa's first people. This is also the setting for Botswana's green season migration, which happens between January and March (depending on seasonal rainfall). After the summer rains fill the desert waterholes, thousands of zebra and antelope migrate into the area to feast on the new grasses. This in turn leads to dramatic predator-prey interactions as the resident lion prides make the most of the visiting herds.
Bostwana Safaris Holidays
We are aware that whilst some guests enjoy a more sociable experience when they travel, others prefer a more private experience. Therefore, there are several options available when planning a safari holiday in Botswana including small group tours, independent/private tailor-made safari, or fly-in safaris.
Botswana Small escorted group safaris
Small group safaris offer a relaxed experience with insightful local driver/guides and quality accommodation. Your vehicle is exclusively for your group and usually has a maximum of six guests, all guaranteed a window seat. Mileages are quite long and road conditions can be poor on occasion, but you'll get to see much more of the country and soak up the scenery.
If you like the look of one of our small group safaris but would prefer to have your own driver/guide, you can opt to follow the same itinerary on a private basis. You can also upgrade to a 4 x 4 vehicle which are more comfortable than a minibus and are able to cross rivers more easily, which is particularly beneficial in the green season.
Botswana Independent/Private tailor-made safari.
On a tailor-made or independent safari, you can choose your own camps and lodges and we'll create a bespoke itinerary on a private basis, just for you! We will be able to make recommendations based on your preferences and requirements and your budget. Please be aware that you may be travelling with like-minded guests on light aircraft flights as well as some game drives, unless you take the vehicle on a private basis.
Botswana Fly-in Safari
A fly-in safari makes use of light aircraft to transfer you between locations within Kenya, saving you time moving between parks and gives you more time to relax. You also gain an aerial overview of the landscapes that you will explore on the ground.
A fly-in option is sometimes available as part of a small group itinerary but is mainly arranged on a private basis. However, you may be travelling with other guest on these flights and possibly staying in some of the same camps or lodges.
Our Most Popular Botswana Safari Holidays
We offer an exceptional choice of safari experiences from mobile camps, tented accommodation and luxury lodges visiting Kenya's iconic parks as well as some of the lesser-known gems. Whether you are looking for a short fly-in safari, a full week's circuit safari, a safari and beach combination, a balloon experience or you would like to extend your time to visit a neighbouring country we can help make this happen.
Our favourite Botswana safari
IMAGINE BOTSWANA
Kalahari, Okavango Delta, Linyanti & Victoria Falls
Itinerary
This diverse itinerary showcases some truly spectacular safari regions in Botswana. Witness the dazzling zebra migration in the arid wilderness of Nxai Pan National Park, drift down the glistening waterways of the Okavango Delta by mokoro and get your fix of African wild dogs on exhilarating game drives through the lush wetlands of Linyanti. Experience the best of Botswana with a plethora of wildlife and activities before visiting the iconic Victoria Falls.
| | | | |
| --- | --- | --- | --- |
| Destination | Accomodation | Duration | Basis |
| Kalahari, Botswana | Nxai Pan Camp | 2 Nights | AI |
| Kwara Concession | Splash Camp | 3 Nights | AI |
| Linyanti | Kwando Lagoon Camp | 2 Nights | AI |
| Victoria Falls – the Zim side | Batonka Guest Lodge | 3 Nights | AI |
Days 1-3: Nxai Pans, Makgadikgadi and the Kalahari, Botswana
Upon arrival into Maun, catch your light aircraft flight into Nxai Pan National Park, once part of a 'super lake' that covered Botswana, which is now a fossil lakebed covered in grassland. On landing on the airstrip, your guide will meet you off the plane and game drive you to camp, passing umbrella acacia trees and mopane woodland. You'll arrive at Nxai Pan Camp, your wilderness home for the next two nights. Your days here will be spent exploring this wilderness region on action packed game drives and learning about the enthralling culture of the San Bushmen. Or take a day trip to witness the ancient Baines Baobab trees, scattered along the salt pans. If you travel in the green season, this is when you will witness thousands of zebra congregate in Nxai Pan, which is visually spectacular against the arid backdrop and grasslands.
Accommodation: Nxai Pan Camp (2 nights)
Days 3-6: Kwara Concession
This morning after a final game drive soaking up Nxai Pan, you'll board a light aircraft flight to the heart of the Okavango Delta. As you soar over, watch in awe at the glistening network of waterways. Landing in the Kwara Concession, bordering the Moremi Reserve, your safari continues. Your guide will greet you off the plane and game drive you to camp, passing lush grass teeming with wildlife. Arriving at Splash Camp, your base for the next 3 nights, you'll settle into camp and enjoy a hearty lunch on the deck and enjoy drinks by the pool overlooking the bush before heading out on your first game drive in this untouched wilderness. The Kwara concession has some of the best game viewing in the Delta due to the permanent waterway running through it. Feel your adrenaline racing as you see a cheetah prowling the grasslands for prey and wait in anticipation for her to begin a high-speed hunt, whilst her cubs quietly wait in the tall grass. Observe lion cubs playfully interacting with each other under their mother's watchful eye, with no other vehicles in sight.
As the sky begins to turn a burnt orange hue, your guide will take you to a scenic sundowner spot overlooking the river where you can enjoy a gin and tonic before driving back to camp and watch the nature unfold around you as the sky darkens.
The following days will be spent absorbing this wilderness. Enjoy the high vantage point of a double decker boat through the permanent waterway and observe a herd of jovial elephants crossing the water as you slow down and marvel at these majestic animals. Soak up the peace and tranquillity of the water channels as you lay back and drift along in a mokoro, observing the lush foliage and vibrant colours of carmine bee-eater birds along the way.
Accommodation: Splash Camp (3 nights)
Days 6-8: Linyanti
Today you will board a light aircraft flight, flying north. You will notice the scenery change as you soar over ancient riverbeds crawling through the landscape. Your base for your final 2 nights on safari is Lagoon Camp. Nestled on the banks of Kwando River, this heavily forested area is home to a plethora of birdlife and mammals. The area is abundant with herds of elephants and big cats and the African wild dog, making the region a hive of activity. Follow a pack of wild dogs in your open game vehicle and feel the thrill of these fast paced and highly intelligent canines as they begin to chase their prey. Immerse yourself in the wilderness as you venture out on a walking safari, fully awakening your senses as you listen out for sounds in the bush and identify animal tracks. Experience the wild after dark as spotlights are switched on and game drives expose you to nocturnal sights of rare and elusive species such as aardwolf and leopard and listen to the sound of a clan of hyenas cackling in the distance.
Accommodation: Kwando Lagoon Camp (2 nights)
Days 8-11: Victoria Falls – the Zim side
Finish your Southern Africa sojourn with a visit to the UNESCO world heritage site, the raging Victoria Falls. Spend your final three nights at Batonka Guest Lodge, set in lush green gardens this lodge is a tranquil retreat from the hustle and bustle of vibrant Victoria Falls town. Aside from a walking tour of the falls, spend your days relaxing by the pool, exploring the unique and quirky crafts at Elephant's Walk artists village, or maybe even jump aboard a helicopter or microlight and see the falls from above.
Accommodation: Batonka Guest Lodge (3 nights)
Other Safari
Botswana's Salt Pans Safari
Experience the dramatic skies and beautiful sunsets of the Kalahari Desert, see the desert bloom and come to life as rain falls, walk with the peoples of the Makgadikgadi Pan sand understand their traditional ways of life and don't forget to enjoy Botswana's majestic wildlife.
| | | | |
| --- | --- | --- | --- |
| Destination | Accomodation | Duration | Basis |
| Makgadikgadi Pans | Meno A Kwena | 3 Nights | AI |
| Makgadikgadi Pans | Camp Kalahari | 2 Nights | AI |
| Nxai Pan Nationarl Park | Nxai Pan Nationarl Park | 3 Nights | AI |
Day 1 :Makgadikgadi Pans, Kalahari
On arrival in Maun you will be met and assisted to your light aircraft which will fly you across Botswana toward the Makgadikgadi Pans National Park. Here you will be met by your guide who will drive you to your camp in an open 4×4.
DAY 2: Makgadikgadi Pans, Kalahari
From the camp there are a number of activities with the main one being a guided safari drive into the national park. This is normally done as a full day excursion, stopping for a picnic lunch in the bush, allowing you to see and explore more of the park.
DAY 3: Makgadikgadi Pans, Kalahari
A second day of activities from the camp, which also offers boat safaris, a floating viewing hide on the river, walks with the San People and a village visit. The camp is also a great place to relax with a pool overlooking the Boteti River.
DAY 4: Makgadikgadi Pans, Kalahari
Today you are transferred into the heart of the Makgadikgadi Pans. Here you can further explore and learn about the giant and vast salt pans with your guide, enjoying a stunning sunset and looking for desert adapted wildlife such as aardvarks and the elusive brown hyena.
DAY 5: Makgadikgadi Pans, Kalahari
This morning you will drive to see meerkats that live by the salt pans and can then, in the afternoon, head out on quad bikes across the pans, gaining a true sense of how vast and remote they are. It is also possible to walk with local San People and learn about their fascinating way of life and to visit giant baobab trees.
DAY 6: Nxai Pan National Park
Today you will take a light aircraft flight to the Nxai Pan National Park. You should arrive in time for a game drive. This little-known park centres on a grass-covered fossil lake bed which attracts grazing animals in the green season and then elephant and buffalo, in search of water, in the dry season. Throughout predators lurk, particularly lion and cheetah.
DAY 7: Nxai Pan National Park
You will explore the Nxai Pan National Park on safari and there is the option for a day trip to visit Baines Baobabs: the historical pan and trees made famous by painter Thomas Baines.
DAY 8: Nxai Pan National Park
A second day for activities from the camp. In addition to guided morning and afternoon safaris, one of the trackers can provide a walk with the San People showing you how the San have lived and survived in the Kalahari.
When to go:
The game viewing is probably at its best in the winter, from June through September, after the Okavango Delta floodwaters have started to recede. September is considered peak season.
The rains in Botswana come mostly between December and March when temperatures are low. Some days will still be bright and sunny, while some will have afternoon thunderstorms or just be overcast. Botswana is generally lovely in April and May with clear sky and green landscape. Night temperatures start to drop during these months, especially in the Kalahari.
The night-time temperatures from June to August in drier areas can be close to freezing, but it warms up rapidly during the day, when the sky is usually clear and blue. It's now very much 'peak season' for most safari areas: the land is dry in most areas, so the animals congregate around the few available water sources. This continues into September and October, when temperatures climb again, drying the landscapes and concentrating the game even more. This is the best time for big game safaris – although October can feel very hot, with maximum temperatures sometimes approaching 40°C. November is an interesting month, but difficult to predict. It can sometimes be a continuation of October's heat, but can often be cooled by the first rains.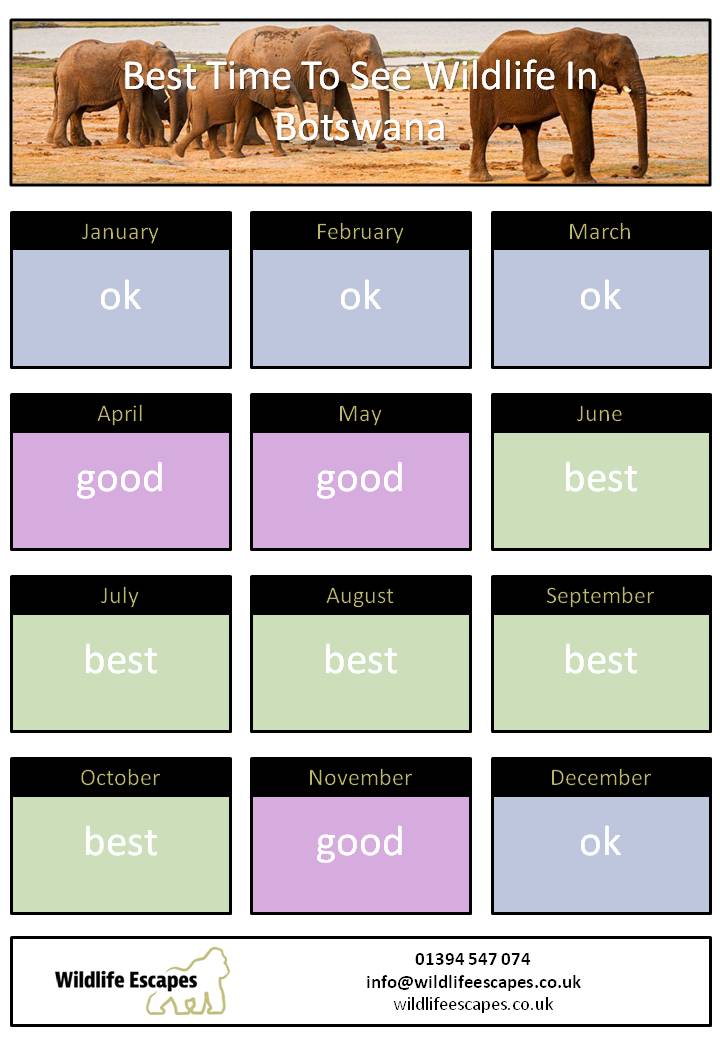 Seeing Mammals and Reptiles
December – January
New-borns start to appear, so it is a great time for predators to do what they do best…prey on the weakest.
Crocodiles are nesting so they are often more visible as protecting their nests on sand banks or in the sides of riverbanks.
December offers good shoulder season rates. It is a beautiful time to travel and still has high quality wildlife viewing and should definitely be considered.
February – April
Having survived the wetter months, most of the grazers have had plenty of greenery to eat over the last few months and are in good condition.
May – June
The large herds start returning to areas such as Chobe.
Shoulder season offers great rates when wildlife viewing is good and getting better every day.
July – August
Leopards are fairly regular at this time of year during the twilight hours as it is still cool enough.
September – October
Huge herds of elephant and buffalo are now forming as water sources are scarce and they congregate around the few permanent water sources that are left. Herds reach into their hundreds which is quite a sight, especially in the Chobe National Park area.
During October leopards wait until later at night to show themselves when it is cooler.
November
Usually still a great time for wildlife viewing as the rains have not quite arrived yet and the wildlife densities are extraordinarily high. Midday temperatures can be high as the rains have not arrived however this does vary year upon year.
Another good time to travel to Botswana to benefit from shoulder season rates.
Birding
February – April
Occasional nesting flamingos in Sua Pan, ostriches on the Pans of the Central Kalahari, a display of breeding plumage from species such as red bishops and yellow billed stalks.
April – June
Young birds are around as they leave their nests.
March – July
Wattled Cranes take advantage of the floods in the Okavango Delta and snap up various drowning reptiles and insects.
August – October
Storks, egrets and herons make the most of dwindling water sources as fish are left stranded.
November
Migrant waders appear and carmine bee-eaters start to reside in riverbanks.
Why We Love Botswana
Botswana is the jewel in the safari crown, home to some of the most beautiful natural landscapes and extraordinary wildlife on the continent. Botswana is undoubtedly one of Africa's premier safari destinations, with the Okavango Delta an undisputed highlight. Botswana is also one of the most sparsely populated countries in the world with just over 2 million people in a country the size of Texas.
Huge areas of the country are protected as National Parks or Game Reserves and it enjoys a rich variety of wildlife including many species of mammals, birds, reptiles, amphibians and fish. Botswana is one of the oldest continuous democracies in Africa and it is known to be safe and welcoming. The landscape is simply stunning and at the Okavango Delta, instead of traditional game drives by vehicle, you'll be able to go out in mokoros (traditional dug-out canoes), which brings you eye-level with the game. Nothing says safari like being five feet away from a bathing elephant.
A Botswana safari is a fantastic choice for seeing the big game of Africa for a number of reasons, but principally because its natural features help to concentrate vast numbers of fauna as the dry season intensifies between June and October and water becomes increasingly scarce. The country's low population and high proportion of protected areas and habitat ensure the sustained health of the populations of lions, leopards, cheetahs, caracals, rhinos, hippopotami, crocodiles, giraffes, zebras, primates, bat-eared foxes, wild dogs and antelope such as the kudu, impala and lechwe. And this is by no means an exhaustive list! During the dry season in particular, you are likely to see plentiful wildlife – though exactly what you see will depend on the specific area you visit. The riverine environments of the Okavango Delta and Chobe National Park tend to attract the biggest number and widest range of wildlife, but the Makgadikgadi Pan and the Kalahari also attract an eclectic cast of beasts and birds. Naturally, luck also plays a part, but the knowledge of our experts on the ground will, of course, help to maximise your chances of seeing the biggest and best wildlife Botswana has to offer.
The range of safaris on offer in Botswana is extensive and can vary from luxury tailor-made holidays hosting private individuals, couples or families, to small groups with fixed dates and departures. The best way to explore the vast wildlife concessions is by small plane or helicopter which can also be booked privately.
Botswana's National Parks
Botswana's national parks are set in a uniquely different backdrop to most other African safari destinations. The parks are focused on the quality of the experience, which really is second to none, rather than quantity. By limiting numbers of clients, particularly in the private concession, means there are fewer lodges and therefore less vehicles on the wildlife sighting. This proves for a wholly unique and high-quality safari experience, but it does mean that Botswana can be more expensive than other Southern Africa Destinations.
Linyanti Wildlife Reserve
Linyanti is a remote concession that is home to some prime game viewing. There is a stable population of red lechwe, kudu, sable, impala, zebra and more. This healthy prey base provides the ultimate hunting ground for resident leopards, lions and spotted hyena.
Linyanti Wildlife Reserve is located on the southern banks of the Linyanti River. The landscape here changes from marshland to lagoons and meandering waterways, to open grassland and riverine forest. This variety of scenery occupies 275,00 acres and lends itself to some awe-inspiring views of the pristine reserve. The Linyanti River itself forms a natural border between Namibia and Botswana.
Linyanti is the most remote and exclusive area of Botswana and you can go boating on the Chobe River (previously known as the Linyanti River).
Large concentrations of wild dog can be found here. July and August are a great time to visit when young pups will emerge from their dens.
Carmine bee-eaters can often be seen nesting on the banks of the river and thousands of birds migrate here during the green season.
Selinda Concession
Selinda is adjacent to Linyanti which also has great game viewing set to the backdrop of some stunning scenery. You will often get sightings of lion, leopard, cheetah and wild dogs, plus some great elephant herds are found here.
Okavango Delta
The Okavango Delta is world-renowned for its fan-shaped network of fertile wetlands, lagoons and islands. Often referred to as the 'jewel of the Kalahari', it seems truly extraordinary that the Okavango exists at all, deep within the arid Kalahari Basin. lt is fed by the third largest river in Southern Africa – the Okavango – and has gradually developed and formed over the millennia by millions of tonnes of sand being carried down the river. Flowing from Angola, it enters Botswana at Mohembo, before spilling into the delta and forming the wildlife rich oasis it is today. The annual floods occur, ironically, just after the rains in Botswana begin to ease, around April or May, at which time the floodwaters of the Okavango gather pace and breathe new life into the delta's unique ecosystem.
Journeying through the delta – from wetland to dry-land – is a truly unforgettable experience. You can enjoy spectacular views from a boat and perhaps spot fish eagles and watch the sun disappear on the horizon with a sundowner. Alternatively, ply through the still waters by mokoro, a dugout canoe traditionally made of wood. The mokoro gently glide and meander through the clear waters, passing papyrus, palm covered islands and dense woodland – the experience is very atmospheric and even more so when you come face to face with a herd of elephants.
A journey into the untouched Okavango Delta is one of jaw-dropping big game viewing, peace and tranquillity. You are likely to witness many of the larger species of animal like water buffalo, red lechwe, warthog, crocodile and hippo and the birdlife is particularly impressive in the summer months, when you may see colourful species like kingfisher and ibis. The delta breathes life into the surrounding lands and forms ideal grazing for herbivores galore…where there are herbivores, there are plenty of predators like the lion and the cheetah!
Chobe National Park
Chobe is a national park rather than a private concession, it is accessible via a variety of camps and lodges, rather than just the camps on the concession itself, hence it attracts larger crowds. The Park is renowned for its diverse and abundant game viewing opportunities, with some great sightings of elephant river crossings at sunset and a good concentration of resident predators. Visitors can look forward to some exciting activities such as: driving along the game-dotted riverbanks in a 4WD; cruising along the river in a motorboat, spotting rare birdlife and for a unique, luxury safari experience, hire a houseboat. Predators include wild dog and cheetah (although not seen regularly), healthy prides of lions and leopards. Night drives are not possible in Chobe due to its National Park status and there are strict hours of opening and game drives are also restricted to the various tracks that access the different corners of the park, but without doubt a worthy consideration when planning your Botswana safari.
The wildlife in the park consists of buffalo, a variety of antelope and grazers including giraffe, impala, duiker, kudu and even eland, sable and roan. Chobe is probably mostly known for its highest concentration of elephants in Africa, estimated at around 70,000. The elephants are Kalahari elephants which are largest in stature with brittle ivory and short tusks.
The rainy season is beautiful here; exotic flowers bloom and the birthing of many young animals occur and if you are looking for something a little different, then you can always stay on a houseboat on the Chobe River.
Kalahari's Makgadikgadi Pans National Park
Makgadikgadi Pans are one of the largest salt pans in the world, a featureless terrain of white sand and salt yet home to some truly remarkable wildlife. A hidden destination within Botswana but one that is definitely worth visiting. This salt pan is part of the Kalahari ecosystem, a seemingly endless lunar expanse that stretches as far as the eye can see. These salt flats cover over 50,000 square kilometres, of which most is inaccessible. Its isolated, pristine landscape gives it such appeal as the area is only seen by only a handful of visitors every year, making it ideal for those looking for a very private and peaceful African safari experience. Dominating the centre of Botswana, the area mostly consists of grass and bushland albeit with shallow river valleys and sand dunes, and is occasionally punctuated with larger trees, like Kalahari apple, acacia, silver Terminalia sand veldt and mopane.
The Central Kalahari is the largest protected area in Africa and the largest sand basin in the world. Largely uninhabited by humans, yet home to Africa's last remaining hunting Bushmen (approximately 5,000). Around 20,000 zebras migrate through these pans as part of the longest big-mammal migration which is a 300-mile journey across Namibia and Botswana. The powerful and elusive black-maned lion and elusive leopards can be found here, but this area is most famous for the large concentrations of meerkats that can be found here – simples!
Khwai Community Reserve
The Khwai Reserve nestles adjacent to the north-eastern border of the Moremi Game Reserve. This is a community-run reserve located on the banks of the Khwai River, spread across 180,000 hectares of land. 400 Babukakhwe (river bushmen) live in the Khwai village and actively participate in eco-tourism and conservation.
The river being the only source of water for miles, is a magnet for wildlife, all of which are drawn to drink from its source, making terrific game viewing. Species you are likely to encounter include red lechwe, hippo and crocodile as well as one of the best areas for spotting leopard. You can also see buffalo, zebra, cheetah, giraffe, hyena and wild dogs are known to den and breed in this area.
Moremi Reserve
Moremi Reserve is in many respects the heart of the Okavango and the first reserve in Africa to be established by local residents. The central section of the delta is surrounded by a series of private concessions and areas that combine to form the Okavango Delta. Each area has its own wildlife highlights, with some areas being better for lion, others for cheetah and/or wild dogs. There are no fixed boundaries so free flowing movement of wildlife operates between areas. This almost creates a natural sanctuary in itself, with one of Africa's greatest wildlife concentrations.
Moremi Reserve provides predominantly land based activities, with Chief's Island representing the main landmass of the delta, framed by a maze of delta waterways and channels in all directions. The reserve is now a Big 5 location due to the reintroduction of both the black and white rhino but no night drives or walking safaris are permitted within the reserve.
Nxai Pan National Park
Similar to Makgadikgadi Pans, Nxai Pan National Park is part of the Kalahari ecosystem, yet so different to the game reserve. The magnificent scenery here is complemented by fantastic game viewing and the area transforms into a true Garden of Eden in the rainy months.
There is only one lodge here – Nxai Pan Camp. Nxai Pan is famous for the Baines' baobabs comprised of 7 baobab trees. You will see large herds of zebra and wildebeest throughout the pans and lion, giraffe, kudu, ostrich and jackal can all be found in the park too.
Botswana Top Tips
Botswana is one of the oldest continuous democracies in Africa and it is therefore known to be safe and welcoming
Safari lodges and camps serve international-style cuisine, generally of an extremely high standard, along with local beer and imported wine and spirits
Safari packages are tailor-made and range from rugged adventure to exceptional luxury and romantic honeymoons. Specialist safaris are available for keen photographers
We recommend a tailor-made tour to get the very best out of Botswana and to visit 2 or 3 camps
You can experience guided game drives, nature walks, river cruises, canoe trips or explore on horseback to make the most of Botswana's legendary wildlife
It is certainly worth a visit in the green season: great for birders and shoulder season offers great value for money
The game viewing gets progressively better in the winter, from June through September, after the Okavango Delta floodwaters have started to recede. September is considered the very best time as the game is more concentrated
Venture across the riverbanks and woodlands of Chobe National Park on a safari, famous for its phenomenal wildlife such as elephants, buffalo, lions, antelopes and hippos
Relax and appreciate the scenery of the Okavango Delta as you peacefully canoe across the crystal-clear water that spreads over the thirst lands of the Kalahari Desert. Explore the unreachable by Helicopter and see Botswana's wild and untamed habitat from up above
Visit the Kalahari Desert and prepare to be awe-struck by this eerie desert of red sand, home to the black-maned Kalahari lions
The saltpans and Kalahari scrubland south of the delta are home to unique quad biking safari experiences, as well as authentic cultural encounters with Africa's first people, the San
The Savute Marsh area of Chobe National Park is an outstanding place to witness sightings of the thousands-strong elephant population rumbling through the lush landscape, as well as lion, warthogs, wildebeest, zebras and hyenas
Baboons and vervet monkeys also range across Chobe and into the Okavango Delta. During the rainy season, the rich birdlife of Botswana comes colourfully to the fore in Chobe and on the Okavango Delta. Nearly 600 different types of bird can be found in Botswana – among them the ostrich, flamingo and the stout white cattle egret with its ginger Mohawk
Flamingos can regularly be seen in the Makgadikgadi salt pan during the rainy season, while during the dry season on the salt pans and in the Kalahari, you may see meerkats, porcupines, black-backed jackals and aardvarks
Don't miss Botswana's green season migration, which happens between January and March (depending on seasonal rainfall). After the summer rains fill the desert waterholes, thousands of zebras and antelope migrate into the area to feast on the sweet, new grasses. This in turn leads to dramatic predator-prey interactions as the resident lion prides make the most of the visiting herds.
For an adventurous experience in the Okavango Delta why not try a canoe or horse-riding safari
Nxai Pan is in fact a fossil lakebed about 40 square km and is home to the millennia-old Baines' Baobabs trees – a special sight of this park
Linyanti Reserve offers the chance to see elephants, hippos and wild dogs
Chobe National Park is Botswana's first national park and is renowned for having a big population of lions which prey on elephants. One of the highlights of Chobe is the boat-based game viewing, which you should not miss. You can get closer to the animals and observe them from a totally different perspective than on land
Try waking up when the sun does, take your time to watch over the savannah during the sunset and be prepared for harsh conditions which will get you out of your comfort zone and sharpen your senses. But it is only to prepare you for its wild beauty
There are major airports in Maun, Kasane and Gaborone, while smaller charter flights are used to get to the other top attractions and camps
Tap water is considered safe to drink, although outside main cities and towns, visitors are advised to check first and sterilise water if in any doubt. Bottled water is available in most tourist centres. Filtered water is available at most camps and shops offer bottled water
A discretionary five-to-ten-percent tip is typical for restaurant bills. In many places, a service charge is automatically added. It is customary to tip the game guide and lodge staff while on safari
Botswana is a fantastic destination for a safari but not really recommended for young children