Malawi is known as the "warm heart of Africa." The country is land locked in the heart of central southern Africa and dominated by lake Malawi which is the third largest lake in Africa. Malawi is not especially known for its big game safaris, but Liwonde National Park and Majete National Park are both re-emerging as very credible big game areas after several years of careful management by the excellent African Parks organisation. Both areas are great for birding, especially along the Shire River which flows through both parks. With big cats re-introduced in recent years and a good concentration of general game, especially elephants on the Shire River in Liwonde, plus you will have the chance of a 'Big 5' experience. But beyond the safaris to see 'big game', birdwatching has to be one of the best in Africa with such a range of species and ease of viewing.
Malawi stretches for about 900 km along the line of the Rift Valley and it is dominated by the namesake lake. Lake Malawi is one of the most impressive and beautiful lakes in the Southern Hemisphere and you'd be forgiven if you think you're on a sub-tropical island with its sandy beaches and palm trees, backed by towering mountains covered in rainforest. The Lake waters are home to hundreds of species of fish and it's one of the best freshwater diving and snorkelling spots as well as a great place to learn how to dive. The visibility is excellent and the water is warm, plus you don't have to go out in a boat to get to nearest coral reef.
Malawi is probably better described as the tiny country with the big heart! Although small compared to other African countries, it is a beautifully unspoilt part of the world which is often the appeal for those looking for a relaxing holiday and it is well-known for its smiling, friendly people.
Malawi Wildlife
When you take a safari in Malawi you really do feel you're looking at a scene from 150 years ago that David Livingstone would recognise. There's a real touch of the Garden of Eden about the parks. The big five (lion, leopard, buffalo, elephant and rhino) can be seen in Malawi. There is also a splendid range of antelope and the smaller cats such as caracal and serval, plus there is an abundance of hippos. A safari in Malawi is about memorable experiences, with plenty of animals in beautiful surroundings and if you are a keen birdwatcher then Malawi is the place for you with over 650 species. As there are relatively few visitors there are less vehicles too, giving everyone the opportunity to experience all types of safaris.
There is a wide choice of safari types. You can use the customary 4×4 vehicle (most of these are open vehicles) for your game drives or you can really get to know the country and its wildlife on a walking safari. In some parks the walking safari focuses on tracking particular animals on foot, especially rhino. Other options include boat safaris along the Shire River when in Liwonde or Majete. This is a wonderful way to see the animals close-up as they seem unperturbed by people in a boat. You will be able to get close to the hundreds of hippos and watch the elephants drink just a few metres away. Canoe safaris are also offered in Nkhotakota Wildlife Reserve. Encounters with animals in the river here are less frequent, but the thick bush either side is rich with wildlife.
Other regions such as Vwaza and the Nyika Plateau are well established and strongholds for particular species of interest, such as roan antelope, whilst lesser-known regions such as Nkhotakota are beginning to develop into reasonable game viewing destinations. In the south of the country, the Zomba Plateau and the highlands around Mount Mulanje are extremely scenic and pleasant regions to tour by road, with opportunities to explore on foot.
The Nyika Plateau is Malawi's largest national park that boasts a stunning afro-montane plateau with plenty of plains game to view. Watch out for zebra, roan antelope, eland and bushpig. In addition, there are 400 species of birds and over 200 orchid species to look out for. This is a truly superb environment for mountain biking in the bush!
Many African countries claim to be a birdwatcher's paradise, but perhaps Malawi steals the prize. Its variety of habitats; from wetlands, to lakes, to forest, to Afro-montane highlands supports a remarkable diversity of birds. It has an astonishing list of 650 bird species, many of which are difficult to see anywhere else in the world. Special birds include Lilian's Lovebird, Brown-breasted Barbet, White-backed Night Heron, Rufous-bellied Heron, Long-toed Lapwing, Bat Hawk, Dickinson's Kestrel, Pel's Fishing Owl, Palmnut Vulture, Osprey, Livingstone's Flycatcher, Fiery-necked and Gabon Nightjars, and calling African Barred Owlets. So, Malawi is certainly worth adding to your bucket list if you are an enthusiastic birder.
Malawi Safaris
Malawi Safaris Holidays
We are aware that whilst some guests enjoy a more sociable experience when they travel, others prefer a more private experience. Therefore, there are several options available when planning a safari holiday in Botswana including small group tours, independent/private tailor-made safari, or fly-in safaris.
Malawi Small escorted group safaris
Small group safaris offer a relaxed experience with insightful local driver/guides and quality accommodation. Your vehicle is exclusively for your group and usually has a maximum of six guests, all guaranteed a window seat. Mileages are quite long and road conditions can be poor on occasion, but you'll get to see much more of the country and soak up the scenery.
If you like the look of one of our small group safaris but would prefer to have your own driver/guide, you can opt to follow the same itinerary on a private basis. You can also upgrade to a 4 x 4 vehicle which are more comfortable than a minibus and are able to cross rivers more easily, which is particularly beneficial in the green season.
Malawi Independent/Private tailor-made safari.
On a tailor-made or independent safari, you can choose your own camps and lodges and we'll create a bespoke itinerary on a private basis, just for you! We will be able to make recommendations based on your preferences and requirements and your budget. Please be aware that you may be travelling with like-minded guests on light aircraft flights as well as some game drives, unless you take the vehicle on a private basis.
Our Most Popular Kenya Safari Holidays
We offer an exceptional choice of safari experiences from mobile camps, tented accommodation and luxury lodges visiting Malawi's iconic parks as well as some of the lesser-known gems. Whether you are looking for a short fly-in safari, a full week's circuit safari, a safari and beach combination, a balloon experience or you would like to extend your time to visit a neighbouring country we can help make this happen.
Holiday Schedules
These itineraries are ones we have arranged for many of our clients and will give you the very best wildlife holiday experiences. Where possible we have included other highlights of the country, to make the most of your precious holiday time, but ultimately everything revolves around the wildlife. However, nothing is cast in stone, as we can tailor-make the perfect wildlife holiday to suit your interests, the time you have, the standard/quality of the accommodation you prefer and of course, your budget. No two people are the same, so we will listen to your individual requirements, find out what your expectations and aspirations are and accordingly make suggestions and recommendations, to give you the most memorable wildlife holiday experience.
Our Favourite Safari
IMAGINE MALAWI
Blantyre, Southern Malawi, Lake Malawi
| | | | | |
| --- | --- | --- | --- | --- |
| Destination | Accomodation | Duration | Basis | |
| Liwonde National Park, Blantyre | Mvuu Lodge | 4 Nights | AI | |
|  Lake Malawi | Mumbo Island Lodge | 5 Nights | AI | |
Nestled discreetly along the banks of a lagoon, Mvuu Wilderness Lodge is an incredible place to observe impressive pods of hippos submerged in the river, as well as warthogs and waterbucks ambling through the lodge. With safari activities based around the Shire River, top this off with a tropical retreat on an island just off Lake Malawi, a playground for adventure seekers.
Days 1-5: Liwonde National Park, Blantyre and southern Malawi, Malawi
On arriving into Lilongwe your driver will meet you and transfer you by road for about 3 and a half hours to the boat barrage at the Shire River, the largest river in Malawi. From here you will glide across the tranquil river by boat to Mvuu Wilderness Lodge in the heart of Liwonde National Park, your home for the next 4 nights. Overlooking a glistening lagoon, the area is a haven for hippos and is top-notch for birding enthusiasts. This afternoon after relishing on a home cooked lunch on the raised deck overlooking the lagoon, you will begin your first safari activity. Drift along the river by boat gazing out across the river as pods of hippos break the still surface of the water as they peep out to look at you. Enjoy a gin and tonic as the sky begins to turn a brilliant orange hue and watch a herd of jovial elephants congregate at the river, with towering palms silhouetted against the sky in the backdrop. Drift back to camp and enjoy drinks around the crackling campfire before being welcomed to dinner by the friendly lodge staff.
The following days here will be spent exploring more of this wilderness on game drives and on boat. You can also feel the thrill of a walking safari as your senses awaken to every detail of the wilderness, as you go in search for wildlife.
Days 5-10: Lake Malawi
This morning after a final activity immersing yourself in the wild, you will be privately transferred to Lake Malawi, where you will check in at Mumbo Island Lodge, your beach retreat for the next 5 nights.
Mumbo has a magical location on a secluded, tropical island surrounded by pristine, crystal-clear water. Your time can be as laidback or as energetic as you wish. Laze in the hammock draped from your thatched chalet, overlooking the lake with a beer in hand. Take to the glistening water on kayak and explore hidden coves and caves. Hike the lush trails of the island and meander through the Miombo forest. Learn to scuba dive and explore the giant granite boulders and array of vibrantly coloured fish. Or sink into serenity on the beach, listening to the sounds of the waves gently lapping the shore. The choice is yours.
Accommodation: Mumbo Island Lodge (5 nights)
Another Safari:
Malawi's highlands & islands
Walk on the stunning Nyika Platea, bird-watch from your romantic log cabin, explore the awe inspiring Likoma Cathedral and even go scuba diving with chichlids in Lake Malawi.
Brief Itinerary:
| | | | |
| --- | --- | --- | --- |
| Destination | Accomodation | Duration | Basis |
| Nyika Plateau | Chelinda Lodge | 3 Nights | AI |
| Likoma Island & Mozambique Lakeshore | Kaya Mawa | 4 Nights | AI |
Day 1: Nyika Plateau
On arrival in Lilongwe you'll be met and assisted to your light aircraft, which will fly you to the Nyika Plateau. Here you'll be met by a private driver who'll take you to your lodge.
DAY 2: Nyika Plateau
You can spend the day exploring the plateau. Activities to choose from include mountain biking, walking and game drives.
DAY 3: Nyika Plateau
Another day to experience the unique surroundings of the Nyika Plateau. You may spot animals such as Burchell's zebra, leopard, hyena and antelope in the grassland, as well as a variety of birdlife.
DAY 4: Likoma Island & Mozambique Lakeshore
This morning you'll take an hour and a half light aircraft transfer from Nyika to Likoma Island on Lake Malawi. You'll then be met by your hosts from Kaya Mawa, who'll drive you to your beautiful lodgings.
DAY 5: Likoma Island & Mozambique Lakeshore
You can choose to spend the day out on the lake, where water sports include snorkelling, kayaking, scuba diving, kite surfing, waterskiing and sailing.
DAY 6: Likoma Island & Mozambique Lakeshore
You may wish to explore the local area today, paying a visit to St Peter's Cathedral, which was built in 1911 and is located in the middle of the island, and visiting local villages and their markets, where women can be seen weaving textiles.
DAY 7: Likoma Island & Mozambique Lakeshore
You could spend your last day on the island relaxing on the beach and dining on delicious meals at Kaya Mawa's restaurant.
Malawi National Parks And Reserves
Malawi's eight national parks and wildlife reserves are the places to go on safari. The diverse landscape and vegetation types enhance the variety of the safaris on offer across the country. With highlands, escarpments, forests, plains, grasslands, lowlands, riverine floodplains and many areas of genuine unspoilt wilderness and the absence of mass tourism means no two locations or safaris give the same experience. There are opportunities to experience Big Five viewing.
Lake Malawi
Lake Malawi occupies a fifth of Malawi's total area. It is the third largest lake in Africa. The surface of the lake is 1550ft (470m) above sea level and up to 2300ft (700m) in depth, plunging well below sea level in places. This reflects the enormity of the natural faulting of the Great Rift Valley which is the origin of the lake itself. Rich in fish the lake plays an important part in the country's economy with fishing villages scattered along the length of the lakeshore.
Liwonde National Park
Liwonde National Park is one of Malawi's best for wildlife. It is located on the Shire River – a tributary of the Zambezi. The river attracts countless hippos and crocodiles and large numbers of elephant as well as antelope including kudu, sable and bushbuck. Recently, black rhino has been reintroduced to the park and both lions and leopards are occasionally seen. The river attracts exceptionally varied birdlife, including fish eagles and weaver birds and Pel's fishing owl can often be seen at dusk along the river's edge.
Majete Wildlife Reserve
The reserve is close to the city of Blantyre in the south, with Majete covering an area of 70,000 hectares and is part of Africa's Great Rift Valley. The reserve is made up of mature miombo woodlands and granite topped hills that contrast with picturesque river valleys and lush riverine forest. The reserve has had a successful conservation project reintroducing more than 3,000 animals from other areas of Malawi and neighbouring countries which included black rhino, elephant, buffalo, eland, kudu, zebra, warthog, sable, waterbuck, impala and Lichtenstein's hartebeest.
Nkhotakota Wildlife Reserve
Nkhotakota Wildlife Reserve is to the east of central Malawi near Lake Malawi. Its vast 700 sq miles (1800 sq km) is of rugged terrain crossed by a number of rivers which cascade down the edge of the escarpment and feed the lake. Most of the reserve is miombo woodland with large patches of tall grasses and occasional areas of rainforest. This true wilderness is difficult to access because there are few roads or driveable tracks, so particularly attracts those who wish to enjoy a walking safari, fishing and climbing. Birdlife is prolific here with giant kingfishers and palm-nut vultures among the 130 recorded species and the range of mammals is as good as anywhere in Malawi.
Nyika National Park
The name, Nyika, means "where the water comes from" and it is one of Malawi's most important catchment areas. Nyika National Park is Malawi's largest park with an area of 3,200 square kms and extends across the great plateau, which is essentially a granitic dome, so its environment is like none other in the whole of Africa. The grasslands of Nyika are rich in wildflowers and in the rainy season over 200 types of orchids bloom. The park has over 400 bird species recorded and includes the rare Denham's bustard, the wattled crane and the red-winged francolin which is endemic to Nyika.
Vwaza Wildlife Reserve
The 1,000 square kms of Vwaza Wildlife Reserve is an area of marsh and plain, with a few rocky outcrops, which lies along the Zambian border north-west of Mzuzu. The reserve has a wonderful mix of vegetation and rich habitat that attracts a superb range of birdlife. There are nearly 300 species of birds recorded here, including stork, heron and the white-faced tree duck. Elephants, sometimes as many as 30 of 40 in a herd, are regularly seen. There are large numbers of hippos as well as buffalo roaming the reserve and plenty of smaller mammals too.
Zomba & Mulanje
Much of south Malawi is dominated by the Shire River which snakes its way southwards from Lake Malawi. On its journey, the Shire drops and crashes over falls and rapids, some 1300ft (400m) before it leisurely stretches though broad plains to a point where it crosses into Mozambique. Mount Mulanje, is where you find Africa's highest peak, which rises to nearly 10,000ft (3,000m). Not far from Mulanje is the region's other great massif, the table-like mountain, Zomba Plateau, standing 6,000ft (1,800m) above sea level.
Best Time To Visit Malawi
Malawi is a year round destination but May to October is the dry season and the best time to visit because it's a cooler time of year, with bright sunshine, fresh evenings, and temperatures anywhere between 18°C and 33°C.
Temperatures start to rise in September and remain in the high twenties and early thirties.
November to April is the rainy season with the heaviest rains often falling in December, January and February.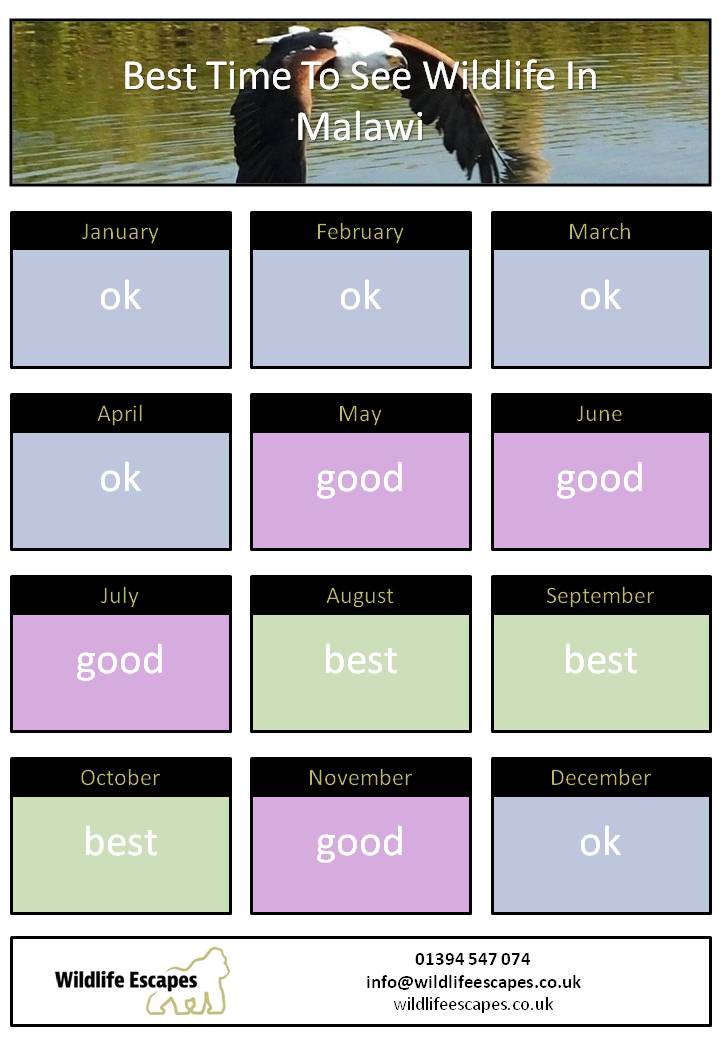 Why We Love Malawi
Malawi is a sliver of a country hemmed in by Zambia, Tanzania, Mozambique and Botswana. It is home to some of the continent's most welcoming people. Malawi is relatively small – which means travelling around isn't too arduous, as distances are never that big – but packed with varied terrain.
Dominating Malawi is 560km-long Lake Malawi, which is lined with some stunning beaches and fascinating villages and offers great snorkelling. Near the southern limits of Lake Malawi is the world's first freshwater national park at Cape Maclear. This is one of Malawi's UNESCO World Heritage Sites and a great site for anyone interested in an aquatic safari.
Though Malawi is not one of the top game-viewing countries in Africa, it still has two or three very attractive game reserves. Namely Liwonde National Park, Majete Game Reserve and the Tongole Wilderness. These offer plentiful sightings of elephant, hippo, crocodile, plenty of water-adapted antelope. And of course, their predators which naturally follow the wildlife. Another plus point is that these game reserves are all easily connected by road. The clear waters and tranquil islands of Lake Malawi provide the perfect, laid-back beach holiday. Whilst Malawi's national parks and wildlife reserves offer activities like game-viewing, hiking, mountain biking, astonishing bird-watching opportunities and more.
Malawi is one of the easiest countries in which to combine 'bush and beach'. Liwonde National Park is approx. three hours by road from the southern lodges along Lake Malawi. Furthermore, there are daily flights from the South Luangwa National Park into Lilongwe and then connecting flights onto Lake Malawi. You can be on safari in South Luangwa in the morning and on the beach at Lake Malawi in the afternoon – a perfect combo!
There are a number of magnificent hiking opportunities in this vast country. The Zomba Plateau, presents relaxed hikes through lush, forested areas. Experience incredible panoramic views and great bird-watching opportunities. Alternatively, Mount Mulanje is a huge granite massif in southern Malawi that provides wonderful hikes with its abundance of streams and peaks to explore. Another option is Nyika Plateau with its beautiful high rolling hills of grasslands dotted with zebra, antelope, orchids and butterflies – a hikers paradise!
Lake Malawi offers sun, sand and relaxation year-round and is the perfect way to end a safari in Malawi or Zambia.
The country's history is rich with towns and memorials bearing references to missionary David Livingstone leaving his mark 150 years ago, but it's Malawi's friendly and peaceful people that make you feel completely welcome and at ease in their beautiful country. Malawi is rightly known as the "warm heart of Africa" for a reason!
Malawi Top Tips
Ride a horse across the rolling landscapes of the Nyika Plateau
Liwonde National Park is a great place to watch herds of elephants and chortling hippos
Malawi is a paradise for those budding artists – learn to paint in Liwonde and on the shores of Lake Malawi
Climb to the summit of Mount Mulanje surrounded by waterfalls and wilderness
Ride the MV Ilala ferry across the length of Lake Malawi
Chill out at the Lake of Stars music festival (October) on the shores of Lake Malawi
Women should dress conservatively, especially away from Lake Malawi's beaches
On safari, dress in neutral-coloured clothing and take a hat to keep the sun off
When shopping in Malawi's markets, don't haggle too hard – this is a poor nation and items are generally a bargain anyway
Malawi combines very well with a big game safari in Zambia, especially the South Luangwa National Park, which is just 45 minutes flying from the capital, Lilongwe.
Other key access routes to Malawi are from South Africa and Kenya. Internal travel around Malawi is mostly by road or by light aircraft transfer.
Malawi has some of Africa's least-sung wildlife hotspots – Liwonde, the beautiful park hugging the Shire River in the country's south, is packed with elephants and other animals, but few tourists.