Namibia is a landscape of striking contrasts: dramatic coastlines; towering sand dunes; majestic canyons; lush, river-fed plains; rugged mountains; and an unforgiving coastline.
Namibia is entirely soul-stirring. Located in southwestern Africa it is dominated by central highlands which split the Atlantic coastal belt from the arid Kalahari basin to the east. Namibia boasts a well-developed infrastructure and an impressive list of breath-taking natural wonders and 'extreme' wilderness. You can explore the capital of Windhoek and discover the lovely coastal town of Swakopmund boasting remnants of the country's German influence. However, to properly appreciate this extraordinary country, we suggest you venture out of the cities to explore the remarkable natural landscapes Namibia has to offer. These include: the vast Etosha National Park teeming with abundant wildlife, such as lions, the Hartmann's mountain zebra and desert-adapted elephants; the impressive Fish River Canyon; the hauntingly beautiful Kalahari Desert; and of course, the Namib Desert stretching for over 1250 miles (2000 km) along the magnificent Atlantic Coast.
Namibia also conveys a compelling human tale with the possibility (and highlight) of meeting the indigenous Himba tribe in north-western Namibia or the Damara, Herero or San tribespeople giving an insight to their noble and ancient wisdom. There are plentiful shipwrecks which frame the Skeleton Coast which speak of lives lost to risk and adventure in bygone days. There is also the uncomfortable history of colonial settlement and oppression, told through the architecture and museums of the towns and cities. In spite of the apparent desolation of some of its extreme landscape, wildlife has evolved to survive this harsh, arid climate, with some of the highlights being the desert-adapted elephant, the rare black rhino, whilst springbok, oryx, kudu and dik-dik run to elude the feline predators.
Often described as 'other-worldly', Namibia is a place for adventure; a place to relish the freedom of the wind in your hair, the sun on your back; and to embrace the journey – an ideal destination for travellers seeking an unforgettable African experience in a uniquely beautiful untamed wilderness.
Wildlife In Namibia
Despite Namibia's rugged, harsh terrain, the wildlife has successfully managed to thrive, in both variety and abundance. The number of animals in this environment is amazing. From the classic African icons such as lion, elephant and giraffe to the smaller hoofed game including many endemic species like the black-faced impala, Namibia's wealth of wildlife is a testament to the ability of the wildlife here to adapt.
Remarkably, there are desert-adapted species that live among the sand dunes of the Namib Desert. Here, whilst on walks and drives in the area, you can see springbok, gemsbok, ostrich, bat-eared fox and aardwolf. The great Etosha salt pan is an ancient bare lakebed with perennial springs that draws prolific wildlife. Regularly observed is the rare desert-adapted black rhino, white rhino, leopard, cheetah, wildebeest and hartebeest, both on day and night game drives.
The Palmwag Concession is a huge, protected area in the northwest of Nambia which is where you can spot the desert-adapted elephants, endemic Hartmann's mountain zebra, giraffe, oryx, and greater kudu. The country's second-largest predator population also thrives here, with lion, cheetah, leopard and hyena. Namibia's birdlife is also abundant, with ostrich, raptors and various southern African endemics. Whilst in the rocky wilderness of Damaraland, where the stark desert is cooled by drifting coastal mists, track desert elephants and look for ostrich, whilst the Southern right whales swim off the Skeleton Coast.
Namibia safaris offer fantastic wildlife viewing. Etosha National Park holds one of the greatest quantities of game. However, wildlife exists throughout the country, including some of the harshest regions such as the Namib Desert, the Skeleton Coast and Damaraland, in particular, is famous for its desert rhino and desert elephant populations.
In addition to the incredible natural scenery and game viewing options, Namibia also offers some amazing cultural experiences, particularly with the traditional Himba people of Kaokoland.
Namibia Safaris Holidays
Safaris in Namibia offer a variety of travel options where most other African destinations do not. Traditionally, safaris in Africa revolve around game drives and being driven from one place to another. Namibia offers the traveller a much more intoxicating choice. Of course, you can have your driver/guide and explore Namibia in comfort, but you can also rent a 4×4 and set off on a self-drive under your own steam stopping at pre-arranged lodges along the way to offer you that break and allow you to sit back and enjoy some comfort as you go. This is one of the prime destinations where self-drives are a good option.
Alternatively, take to the skies with a flying safari; a must when exploring these vast landscapes. Flying safaris afford you even more flexibility than a self-drive as you drop in on camps from the sky, pitch camp in the midst of deserts alone, or hop the Skeleton Coast taking in the shipwrecks as you go. It is unusual for such extreme physical terrain to be so accessible making Namibia's many stunning areas relatively easy to explore.
We are aware that whilst some guests enjoy a more sociable experience when they travel, others prefer a more private experience. Therefore, there are several options available when planning a safari holiday in Namibia including small group tours, independent/private tailor-made safaris, self-drive options or fly-in safaris. Namibia's safari lodges also offer a generous selection from adventure to luxury, offering the ideal camping spots for those self-drive enthusiasts, or the perfect luxury getaways for those wanting a bit more comfort. What you can be assured of however, whatever your choice, is that wherever you stay, you are likely to have never-ending views of vast Namibian landscapes unfolding before your eyes.
Namibia Small Escorted Group Safaris
Small group safaris offer a relaxed experience with insightful local driver/guides and quality accommodation. Your vehicle is exclusively for your group and usually has a maximum of six guests, all guaranteed a window seat. Mileages can be quite long and road conditions can be poor on occasion, but you'll get to see much more of the country and soak up the scenery.
Namibia Independent/Private Tailor-Made Or Self-Drive Safari
On a tailor-made or independent safari, you can choose your own camps and lodges and we can create a bespoke itinerary on a private basis. We will be able to make recommendations based on your preferences and requirements. Please be aware that you may be travelling with like-minded guests on light aircraft flights and some game drives unless you take the vehicle on a private basis. Stay in a luxurious safari lodge in the middle of the wilderness that offers fantastic quality, service and excellent dining.
Namibia Fly-In Safari
A fly-in safari makes use of light aircraft to transfer you between locations within Namibia, saving you time moving between parks and will give you more time to relax. You also gain an aerial overview of the landscapes you will explore on the ground. The scenery in Namibia is absolutely spectacular! A fly-in option is sometimes available as part of a small group itinerary but is mainly arranged on a private basis. However, you may be travelling with other guest on these flights and possibly staying in some of the camps or lodges.
Some of our favourite experiences in Namibia are not luxury-focused, but instead, are motoring around under our own steam, pitching camp, or flying along the dramatic coastlines. Of course, a touch of luxury never goes amiss either…! Wide open spaces, red-coloured sand dunes, and ghostly coastal areas make up Namibia's unique and other-worldly landscapes. In Namibia, you can go from hot, dry desert to the refreshing beaches in a matter of minutes. Each step you take in between is a new opportunity to make memories to last a lifetime.
Our Most Popular Namibia Safari Holidays
These vary depend on how independent you are, what time you have and of course, your budget. We offer an exceptional choice of safari experiences from mobile camps, tented accommodation and luxury lodges visiting Namibia's iconic parks as well as some of the lesser-known little gems.
Why not extend your time to visit a neighbouring country or some time on the beach? We suggest some time in South Africa or perhaps a visit to Victoria Falls. At Wildlife Escapes we can help make this happen.
Our Favourite Safari Holiday In Namibia
Luxury Namibia flying safari
See Namibia's vast and colourful landscapes, travelling by light aircraft between luxury camps, then enjoy expert guiding as you track black rhino on foot and enjoy excellent game viewing in Etosha National Park. Finish it up by climbing the towering dunes of Sossusvlei and experience the stark beauty of Namibia's most dramatic landscapes.
| | | | |
| --- | --- | --- | --- |
| Destination | Accomodation | Duration | Basis |
| Sossusvlei & Sesriem | Kulala Desert Lodge | 2 Nights | AI |
| Damaraland | Desert Rhino Camp | 2 Nights | AI |
| Etosha National Park | Ongava Tented Camp | 3 Nights | AI |
Day 1: Sossusvlei & Sesriem
You will be met on arrival and escorted to your light aircraft for your flight to Sossusvlei. After you land, it's a lovely scenic drive to Kulala Desert Lodge where you'll spend the next two nights.
Day 2: Sossusvlei & Sesriem
Enjoy a day of activities from Kulala Desert Lodge today. Explore the towering dunes of Sossusvlei at sunrise, the stark beauty of Deadvlei and the private Kulala Reserve.
Day 3: Damaraland
Today you will fly from Kulala to Damaraland by light aircraft. You will be staying at the fantastic Desert Rhino Camp where you can track rhino with your expert guides.
Day 4: Damaraland
Today you can enjoy tracking rhino by vehicle and on foot, as well as enjoying game drives and wildlife viewing in the beautiful scenery of Damaraland.
Day 5: Etosha National Park
You will fly from Damaraland to the Ongava Reserve by Etosha, where you will be able to enjoy some great game viewing. This afternoon you can take a game drive on the reserve or into Etosha National Park itself.
Day 6: Etosha National Park
Another day of game viewing on the Ongava Reserve or in Etosha today. The area has superb densities of wildlife including black and white rhino.
Day 7: Etosha National Park
Today is your final full day of game viewing — be sure to tell your guide if there is anything in particular you are still keen to see, so they can take you to the best areas.
Other Safari:
Namibia's wildlife highlights self-drive safari
Enjoy the guided game drives in Etosha National park, watch lion, giraffes and elephants drinking from waterholes important to their survival, admire the ancient rock art at Twyfelfontein which was created up to 10 thousand years ago, spend time on the coast exploring the dune wildlife and experience the wonder of tracking the desert-adapted elephant in the red-rocked Damaraland.
Brief Itinerary:
| | | | |
| --- | --- | --- | --- |
| Destination | Accomodation | Duration | Basis |
| The Central Highlands | Okonjima Plains Camp | 1 Night | AI |
| Etosha National Park | Ongava Lodge | 4 Nights | AI |
| Damaraland | Etendeka Mountain Camp | 2 Nights | AI |
| Swakopmund and Pelican Point | Cornerstone Guesthouse | 3 Nights | AI |
DAY 1: The Central Highlands
On arrival at Windhoek Airport you're met and driven to our representative's offices for your trip briefing. Refreshments and shower facilities are available if you wish to freshen up after your flight. You're given an information pack containing a map, driving directions, a detailed itinerary, a cool box and a mobile phone to take with you on your journey. Your fully insured car is delivered to you here and you can then set off on the three-hour drive to the Okonjima reserve, home to the AfriCat Foundation, in the Central Highlands. Once there and settled in, you can tuck into a tasty meal and enjoy sundowners around the camp fire, surrounded by the open countryside.
DAY 2: Etosha National Park
This morning enjoy a guided cheetah or leopard drive at Okonjima before setting off for Etosha National Park, a journey of around three hours on a good tarmac road. Settle into your room and you enjoy an afternoon game drive. You can choose to head out with a professional guide from the camp onto the reserve or self-drive to explore independently. Alternatively, spend the afternoon relaxing at your camp, looking out for any passing wildlife at the waterhole.
DAY 3: Etosha National Park
Spend the day exploring the eastern side of Etosha National Park, either self-driving or on guided game drives from your camp. Most of the game viewing here is at the various waterholes. Some are busier than others and Twee Palms and Aroe are good options in the east. If self-driving it's a good idea to take a picnic with you to enjoy at lunch (which the lodge can provide).
DAY 4: Etosha National Park
Head west through Etosha National Park today to the central area. Make a day trip of it and along the way stop to see wildlife, often by the road as well as at waterholes, and take in one of the vista points overlooking the giant Etosha salt pan (after which the park is named). Be sure to exit the Andersson's Gate before the park closes at sunset as you are staying on the private Ongava reserve which borders the national park and is entered from just outside the park, right next to the Andersson's Gate.
DAY 5: Etosha National Park
Today you can explore the central area of Etosha, very popular with wildlife, either self-driving or opt to join a guided drive through the lodge. The guided drives at Ongava can be in the National Park or on the reserve which has a range of wildlife from lion to kudu, rhino to giraffe and many more. A guided game drive on the reserve is a great way to avoid any crowds and get off the road for some wonderful wildlife sightings
DAY 6: Damaraland
After breakfast you depart Ongava for Damaraland — an incredible desert landscape of rugged rocks and escarpments. The drive is roughly five hours and the scenery becomes more stunning the deeper you get into Damaraland. Arriving at the edge of the reserve you leave your car in a secure car park and are driven up to camp where, having settled in, you can enjoy a sundowner drink taking in the wonderful views.
DAY 7: Damaraland
At Etendeka activities are included and you normally head out for a guided morning walk, when temperatures are cooler, to explore this fascinating landscape, see the plant and wildlife that survives in this harsh environment and take in some incredible views. In the afternoon, after lunch back at camp, enjoy a guided nature drive to get further afield and track desert adapted elephant.
DAY 8: Swakopmund and Pelican Point
Set off today for the coastal town of Swakopmund, a journey of around six hours, depending on how many stops you make. We recommend visiting Twyfelfontein en route. Here you can see ancient rock art carved and painted by Bushman tribes thousands of years ago, with over 2,500 engravings and paintings found in the area.
DAY 9: Swakopmund and Pelican Point
This morning you will be collected by a guide and taken on a half-day 'Living Desert' tour over the surrounding dunes — looking out for those quirky desert species such as chameleons, scorpions and snakes.
DAY 10: Swakopmund and Pelican Point
Spend your final day further exploring Swakopmund. The nearby sand dunes provide numerous activity options. We suggest joining the Living Desert tour, where a guide shows and teaches you about the smaller wildlife living in the dunes, including geckos, insects and snakes. This can easily be arranged locally or we can pre-book this for you. You may also like to go quad biking or sand boarding through the dunes for an exhilarating end to your trip. Cape Cross, just north of Swakopmund, is also worth a visit to see its large seal colony which can number around 200,000 members.
Best Time To Visit Namibia
Best time to go: Namibia is a year-round destination, but remember that since it's a desert environment, you can get a big shift any day of the year, from very hot to very cold. Pack both warm-weather and cool clothes.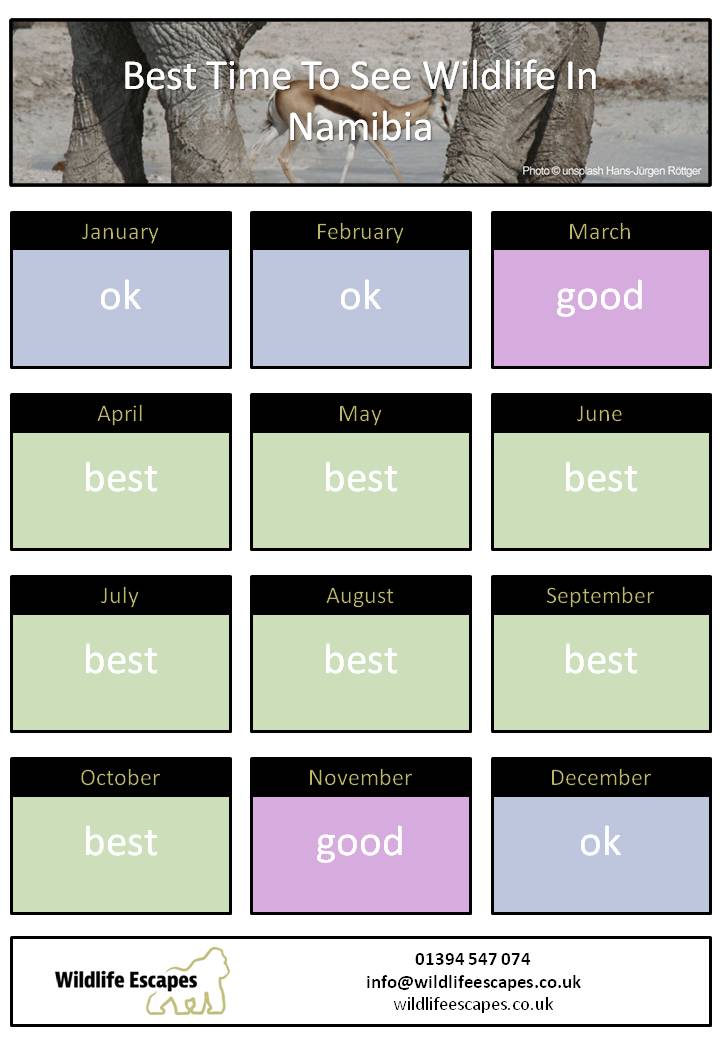 Why We Love Namibia
Namibia is one of our favourite places to visit in Africa. It's vast, it's interesting and there's really nowhere else on earth like it.
Namibia is a destination in Africa that is often overlooked. Whilst it may not have the plethora of wildlife that the east or southern African destinations have, it has dramatic scenery and space and lots of it. Having said that, at first glance the country may seem lifeless, but the reality is astonishing with 650 bird species and 80 large mammal species, of which, 14 birds and 15 mammals are almost entirely endemic to the country. There are around 240 reptile species too! In the far north, the wildlife is concentrated around the Kunene River where a large population of Nile crocodiles' dwell. Moving south, the wildlife rich Etosha National Park is home to high densities of game. To the west, the dry, remote and isolated wilderness boasts desert-adapted wildlife. Here you will find good elephant populations as well as giraffe, lion and brown hyena amongst others. It is in this area that the largest free-ranging population of black rhino in Africa survive.
Namibia really is an extraordinary place – magnificent, magical and mysterious. You will struggle to find more striking natural landscapes or bigger, clearer skies anywhere in Africa. Inland there is the drama of Damaraland with its endangered desert elephant and rhino, while at Sossusvlei, one of Namibia's iconic destinations, climbing to the top of the highest sand dunes is a must. Then there are the famous salt pans of the Etosha National Park with their abundance of game, and the Fish River Canyon in the south – second only to the Grand Canyon in size. There is also the Skeleton Coast, a vast, desolate stretch of coastline littered with shipwrecks due to the tempestuous seas. Although seemingly endless and hostile, it hosts incredibly adapted fauna and flora which flourish there.
When travelling around Namibia you are almost certainly escaping the crowds. It's population density is one of the lowest, so once you leave the towns and national parks, you'll have the feeling of being the last person on earth. It's not unusual to see no other cars on the road. The people of Namibia are welcoming and invite you to share their country and explore the rugged, natural, soulful, liberating place they call home and it is certainly worth taking time to visit the Himba and San tribespeople who will give you an insight into their culture, their way of life and their noble and ancient wisdom. It is not surprising that Namibia is considered one of the safest countries in Africa.
There are no big hotels outside Windhoek and game lodges and guest farms are usually found in the middle of nowhere, catering for only a handful of guests. If adventure is your thing, why not hike the Fish River Canyon or quad bike through the country's boundless expanse of sand dunes. If you prefer to take things at a more relaxed pace why not take to the skies at sunrise in a hot air balloon and witness the awe-inspiring views of Sossusvlei or take a light aircraft for a birdseye view of the incredibly dramatic landscape of Namibia's Skeleton Coast.
Namibia is a haven for photographers and nature lovers. Its natural beauty has to be seen to be believed. Home to massive sand dunes, other-worldly rock formations shaped by centuries of intense weathering, and endless expanses of grasslands and rocky mountains, Namibia is a land of incredible contrasts and colours.
Whilst there is plenty to see and do on Namibia, why not twin your visit with a stay in vibrant Cape Town, with its colourful houses and access to world-class dining in Michelin-starred restaurants, stylish bars, a fascinating arts scene and the unforgettable Table Mountain.
The National Parks Of Namibia
Namibia's national parks offer some of the greatest diversity on the continent. Vast sand dunes, never-ending deserts, canyons, salt pans and more. These national parks can be explored on foot, by 4WD or by air and make for a truly unique experience. The parks comprise of almost 20% of Namibia's landmass, so there are plenty of these breathtaking landscapes to visit!
Here are some of the best national parks that make Namibia a must-see destination.
Etosha National Park
Etosha is Namibia's national park highlight as it is the epicentre of Nambia's wildlife experience. It is located in the north of the country and one of Africa's largest game reserves. It comprises of nearly 23,000 kilometres of woodland, grass plains and saline desert. The wildlife viewing is incredible and the scenery diverse. It is an easy park to explore and navigate either on self-drive or guided safari.
Etosha National Park is home to numerous waterholes, which are great places to observe the animals in their natural habitat. Thanks to these, the park is home to many animals such as the African bush elephant, rhinoceros, Cape buffalo, giraffe, lion, leopard, cheetah, serval, Cape wild dog, mongoose, warthog, wildebeest, zebra, hyena and dik-dik. The Park contains 114 mammal, 110 reptile species in total and during summer, bird watching is ideal as there are some 340 bird species in the park.
The Etosha pan covers almost a quarter of the park and can even be seen from space! This was originally a lake but the climate changes over time forced the rivers feeding it to flow into the Atlantic Ocean. The pan is vast, arid and there is little vegetation.
Etosha has six camps that offer accommodation, game drives and many other exciting activities. Lions, elephants, giraffes and many other animals roam freely, while over 340 bird species can be found here – NOTE: all plastic bags have been banned in the park.
The dry season (winter: May to October) is a great time to visit and famous for the abundance of wildlife and the dramatic landscape.
Ongava Reserve
Ongava is a private reserve adjoining Etosha National Park and consists of 3 properties offering different standards of lodging: Ongava Lodge, Little Ongava and Ongava Tented Camp. These properties offer the only access into the private reserve itself offering a much more private and exclusive experience. Spread over 125 square miles, Ongava Reserve is vast. The reserve manages to convey an intimate and personal feel by limiting the numbers of visitors who can enter and in turn offers a much more personal level of service and attention. It is also one of the few places in Southern Africa where it is possible to catch sight of both black and white rhino, when tracking within this private game reserve. There are huge densities of giraffe here as well as the rhinos and its large flocks of flamingos are quiet unique. Night drives are also permitted here if you are staying within the reserve.
Namib-Naukluft National Park and Sossusvlei
The Namib-Naukluft National Park comprises the oldest desert on Earth, the Namib Desert, which extends along the Atlantic coast of Angola, Namibia and South Africa. Spanning over 49,768 sq. km (19,216 sq. miles) Namib-Naukluft National Park is the largest game park in Africa and the world's fourth. This park has jaw-dropping scenery with gravel plains, mountains, canyons and of course the dramatic dunes of Sossusvlei itself. Sossusvlei, is the most famous part of the park and is also Namibia's main tourist attraction. These towering sand dunes can reach up to 300 meters in height. The colour of the dunes changes as they age – the older the dune, the brighter the colour. The sand dunes are formed by the same winds that also bring in the fog. This is caused by cold currents in the Atlantic Ocean that cool the air just above the water and then the wind blows the fog inland. As the day gets warmer, it burns away. But for a brief time, it's just enough moisture for the animals and plants to survive. Surprisingly, a number of creatures survive here, including snakes, geckos, jackals, gemsboks, black rhinoceros and hyenas. Lions and elephants have also adapted to the life in the desert and can also be found here.
The desert dunes that surround Sossusvlei are some of the highest in the world. The spectacular impact of this mesmerising area of Namibia is undeniable. For many it is perceived as the highlight of any trip to this fascinating country. You can visit all year round but it's cooler during the day from May to September.
Skeleton Coast
Another highlight of Namibia's national parks, the Skeleton Coast lives up to its name. The wild, ravaged coastline, winds whipping up sand dunes, seal colonies galore, and of course the eerily broken shipwrecks that dot the shoreline. Namibia's Skeleton Coast has been listed as one of the world's last greatest wilderness, with an area of 16,845 sq. km (6,504 sq. miles). It is home to animals such as the desert elephant, dolphins, cheetah and 360 bird species including flamingos. The experience of venturing into this wilderness via private flying safari is unlike any other on the continent, as you pass over extraordinary lunar-like sand formations, with expert guides that take you into remote areas where it feels pristine and unchartered; silent yet intriguingly powerful.
The park is divided into two sections: the northern and southern parts. The northern section is the most attractive area, and can only be accessed with a tour operator holding the concession and qualification. The southern part is freely accessible, but a permit needs to be purchased (it can be obtained from the gate).
Arguably one of the most appropriately named natural wonders of the world, the Skeleton Coast is a barren coastline that comprises striking landscapes that are at once inhospitable and stunning. It is famous for the beaches littered with shipwrecks, bones, and other debris. The Benguela Current, dense coastal fog and strong sea breezes are the reason so many ships meet their demise here which is why is it so unique and truly is a 'must see' destination: October to March is probably the best time to visit.
Other National Parks And Areas To Explore
Windhoek
Windhoek is calm, laid back and has some great places to stay and unwind either before or after your safari. A short drive from the airport, make sure you spend 24hrs in this capital city that is often overlooked for the wilder sides of Namibia. The city is clean, safe and well-organised, with a colonial legacy that is reflected in its many German eateries and shops, and the widespread use of the German language. Windhoek has an interesting mix of historical architecture and modern buildings.
Swakopmund and Walvis Bay
Known as the adrenalin capital of Namibia, Swakop (as it is sometimes referred to) is worth an overnight stop. There are some great lodge options and good restaurants and it is an opportunity to rest up and relax before setting off on the next stage of your adventure. Steeped in Germanic history and almost like a quaint European outpost on the west coast of Africa, Swakopmund is Namibia's second biggest town and is flanked by the vast Namib Desert and the treacherous Atlantic Ocean. With many Bavarian buildings, a surprising amount of greenery with many palm-lined streets, flower gardens and lawns, it makes for a pleasant resting spot. However it is perhaps mostly known for being a hub for adventure sports enthusiasts and the country's main beach resort.
There are opportunities to spot dolphins, pink flamingos and pelicans here and the Namib desert which surrounds the town is great for hot air ballooning, quad biking, sky diving and camel rides. Walvis Bay is a popular destination for bird watchers with around 50 species of bird recorded here.
Caprivi Strip
Caprivi Strip nestles in the far northeast section of the country in the heart of Africa. Here you will find a Namibia of a different kind: wide tropical rivers flow fervently, vegetation thrives on river banks and in luscious national parks and wildlife sightings shift from desert-adapted animals to the grazing mammals more commonly found in the neighbouring countries of Zambia, Botswana and Zimbabwe.
There are a total of five national parks here: Mahango, Popa Falls Reserve, Bwabwata, Mudumu and Mamili. Mahango borders the Okavango River to the east and is the best park in Namibia for spotting a wide variety of birds. Mudumu covers riverine forest bordering Kwando River, whilst Bwabwata is highly undeveloped with less tourism infrastructure and roads for game viewing. Popa Falls are a series of rapids that give rise to the Okavango, which then spreads out across the Kalahari.
Bwabwata National Park was crated by merging the Caprivi Game Park and Mahango Game Reserve with the aim to rehabilitate the wildlife population that was lost to poachers.
The park's landscape consists of low vegetated sand dunes and is also an important migration route for the African elephant as well as other species, going between Botswana, Angola, Namibia and Zambia. Several types of large animals can be found here, aside from the elephant: Cape buffalo, hippopotamus, antelope, zebra, wildebeest, crocodile, lion, leopard, cheetah and hyena. The best time to visit is from June to September (dry season).
Damaraland
Perfectly demonstrating the dramatic contrast that draws people to Namibia, Damaraland is a place of barren plains, petrified forests, flat-topped mountains, ancient valleys and rocky outcrops. The main attraction along with its scenic beauty is tracking the rare desert-adapted elephant. Here you get a real sense of how powerfully adaptable animals can be when you first witness these dust-blown animals in such a harsh environment, as they usually rely so heavily on bountiful food and water. Black rhino has also survived on communal land without any conservation status here – a world first! Tracking on foot with one of our expert guides comes highly recommended.
Twyfelfontein
An important archaeological and UNESCO World Heritage Site that contains some of the finest examples of Bushman paintings and rock engravings in southern Africa that date back some 10-20,000 years. There are also Jurassic sites located in the area, and some of the unusual rock formations such as the Organ Pipes and Burnt Mountain add to the intriguing landscape.
Fish River Canyon
Slightly off the beaten track in the southern half of Namibia in the Karas Region is Fish River Canyon. The canyon was formed by the erosion of the Fish River, the country's longest interior river, which started 500 million years ago. If the canyon itself wasn't impressive enough, visitors are also treated to a variety of animals that roam the nearby plains including antelope, zebra, kudu and baboons.
Kaokoland
One of Namibia's most pristine and untouched regions nestled in the northwest corner of the country, Kaokoland is sparsely populated with scattered settlements of semi-nomadic Himba tribes. There are a variety of ecosystems from desert terrains to the west and mopane savannah to the east, with mountain ranges to the north near the Kunene River. Wildlife in this region is mostly centred on the desert elephants, and it is possible to see herds roaming the desert plains. Due to the remoteness of these parts, they are usually visited through fly-in safaris.
Luderitz & Kolmanskop
Once thriving cities, Luderitz & Kolmanskop are now some of Namibia's most famous ghost towns.
The port town of Luderitz lies in the southwest of Namibia on what is one of the continent's least hospitable coastlines. Founded in 1883, it was in 1909 that diamonds were discovered in the region and a surge of popularity ensued, creating a boom town in the nearby Kolmanskop, where the diamond mining settlement burgeoned as German miners were attracted to the region. The village saw grand mansions spring up out of the desert, as well as facilities such as a hospital, school, casino and theatre, reminiscent of a small German town in the middle of the desert, also with a rail link to Luderitz.
Following World War I, the diamond field slowly diminished, and the town started heading into decline, and was ultimately abandoned in 1954, becoming one of Namibia's most infamous ghost towns.
Waterberg Plateau Park
One of Namibia's oldest national parks, Waterberg Plateau Park is located in central Namibia. Both the plateau and the park are named after the prominent table mountain that rises from the plateau, the Waterberg. Waterberg Plateau Park is home to rare species of small antelopes, back and white rhinoceros, leopard, cheetah, wild dog, and over 200 species of birds.
Dorob National Park
Dorob National Park includes the area that was previously known as the National West Coast Tourist Recreation Area. It forms the link between the Skeleton Coast National Park in the north and Namib-Naukluft National Park in the south. Dorob National Park has a spectacular coastal dune belt and vast gravel plains. It is an area of hyper-arid desert. Some 270 species of birds flock to this central Namibian coast area, with a total of 1,6 million birds recorded on the coast. Also, expect to see ostrich, dolphins and oryx. It is famous for its birds and you can visit all year round.
Namibia Top Tips
You shouldn't go to Namibia expecting to see the kind of game you are likely to see in Kenya's Masai Mara or Tanzania's Serengeti. You will see some amazing sightings and very unique game in the north in Etosha and Ongava reserves. Elsewhere the game is much more sparse and often a trip advised for a second time visit to Africa
Namibia is a year-round destination, but remember that since it's a desert environment, you can get a big shift any day of the year, from very hot to very cold. Pack both warm-weather and cool clothes
Big cats can be seen in Etosha but the best place is the AfriCat Foundation, especially for cheetah
For the sand dunes you must go to Sossusvlei, with its unique red sand. The stretch of coast south between Swakopmund and Sossusvlei is spectacular, where the desert meets the ocean
You can get excellent elephant sightings in Etosha National Park and the Ongava Reserve
The whole of Namibia is impressive but the wild Skeleton Coast, stunning sand dunes at Sossusvlei and Damaraland for its rocky mountains and grass-covered plains are some of the country's best photographic landscapes
Explore Fish River Canyon, one of the largest canyons in Africa
Prepare to marvel at some of the tallest sand dunes in the world in the Namib Desert
Visit Swakopmund, a picturesque town with quaint German Architecture tucked between the ocean and desert
See desert adapted wildlife, fauna and flora, and desert species such as the Oryx and Desert elephant
We suggest climbing the dunes at Sossusvlei to watch the sunrise over the stark, crimson dunes – this is a 'don't miss' activity while here