Tanzania Safaris | Wildlife in Tanzania | Types of safari holidays | Tanzania holiday schedules | Our Favourite Tanzania safari | Best time to visit Tanzania | Why we love Tanzania | National parks | Top tips
The vast Serengeti in Tanzania conjures up the images of the annual migration of the wildebeest stampeding across vast savannah; rain forests teeming with monkeys, birdlife and great plains brimming with legions of game; the Ngorongoro crater, the largest volcanic crater in the world; and the majestic Mount Kilimanjaro – one of the great bucket-list hiking destinations for so many – all of which have long been an enormous draw to Africa.
All these natural wonders and more are on offer in this exceptionally diverse African nation, but the country also boasts less celebrated areas with equally rich ecosystems and dense wildlife… and fewer guests. The lesser-known parks and reserves in the south of the country like Selous offer a more remote safari experience; and the spectacular range of wildlife encounters extends to the best chimp viewing in Mahale in the west of the country. And if this wasn't enough, the turquoise seas on the picturesque island paradise of Zanzibar in the Indian Ocean beckon for some incredible marine experiences. Notably these gorgeous Spice Islands, famed for their beauty, are teeming with coral reefs, rich sea-life and have some of the world's most renowned dive sites.
With epic safari adventures, stunning sunsets and starry nights that will take your breath away, this diverse country is the perfect place to create magical memories, offering something for everyone. The most difficult part of your Tanzanian holiday experience is undoubtedly deciding where to go!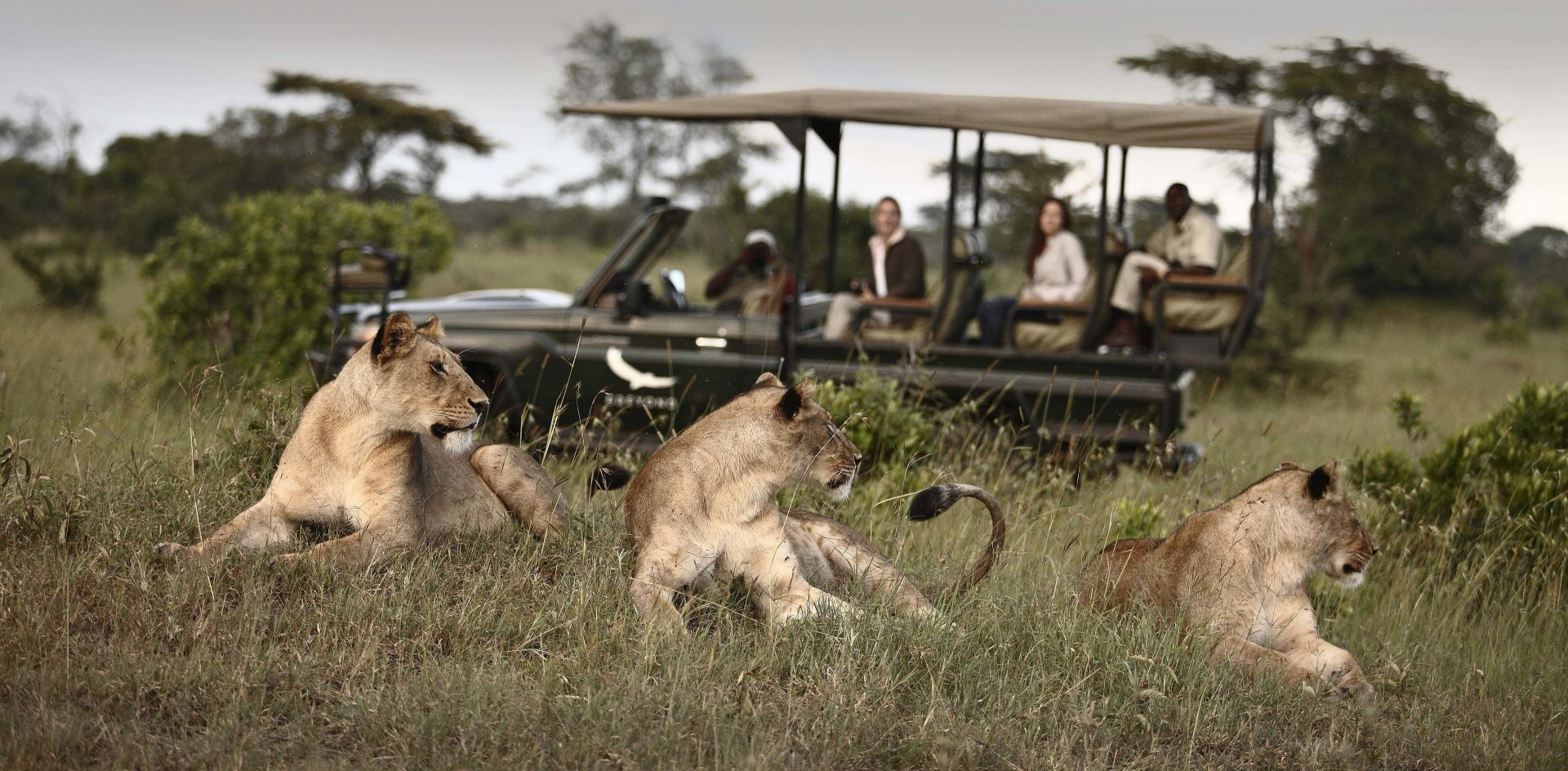 Wildlife in Tanzania
Home to some of the most breath-taking wildlife viewing and tracking in Africa, if not the world with a quarter of Tanzania protected by national parks. The world-renowned Serengeti is extraordinarily vast (approx. ten times larger than the Masai Mara) and is widely considered as one of the most prime locations to see throngs of wildlife, including the 'Big Five' as well as cheetah and crocodile. It also plays host to the famed Wildebeest Migration and its millions of thundering hooves of wildebeest, zebra, and gazelle as they make a migratory circle into the Serengeti, eagerly tracked by hungry predators.
The Ngorongoro Crater forms part of a conservation area and is known to many as the 'eighth wonder of the world'. It is the largest intact collapsed caldera on earth – 20km-wide with walls of up to 600 metres. The crater itself has its own ecosystem with its floor filled with virtually every animal species in East Africa, giving the wildlife enthusiast an unprecedented up close and personal view of wildlife in action. Further south, the more undeveloped riverine parks of Selous and Ruaha offer more remote adventure, including both boating and walking safaris operated from intimate and luxurious lodges, whilst the Mahale Mountains offers exciting alternatives and is home to habituated chimpanzees.
Even if you don't go to Tanzania during the migration you will still see impressive wildlife. It's not uncommon to see 50 elephants in a herd, or to see the Big Five (lion, rhino, cape buffalo, elephant and leopard) on your first game drive. Relax in the unspoiled peace & tranquillity of Tanzania, escape the stress of modern day life and experience a real walk on the wild side…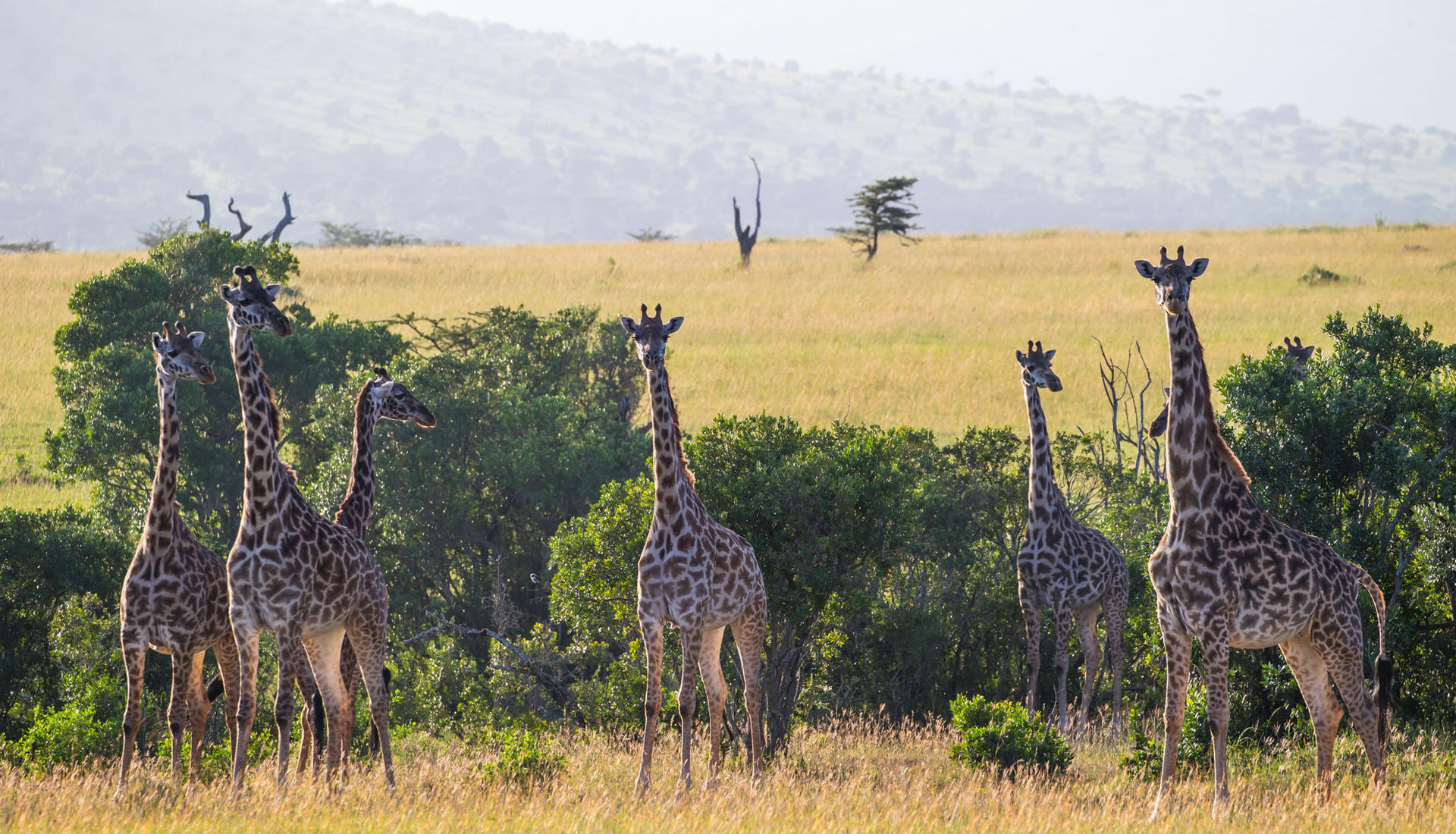 Tanzania Safaris Holidays
There are several options available when planning a safari holiday in Tanzania including small group tours, independent/private tailor-made safari, or fly-in safaris. Tanzania has two main safari circuits, and each one of them would make Tanzania a top wildlife destination. The popular Northern circuit with the Serengeti and Ngorongoro Crater offers one of the best classical safaris in Africa, especially if timed with the annual wildebeest migration.
Tanzania Small escorted group safaris
Small group safaris offer a relaxed experience with insightful local driver/guides and quality accommodation. Your vehicle is exclusively for your group and usually has a maximum of six guests, all guaranteed a window seat. Mileages can be quite long and road conditions can be poor on occasion, but you'll get to see much more of the country and soak up the scenery. If you like the look of one of our small group safaris but would prefer to have your own driver/guide, you can opt to follow the same itinerary on a private basis. You can also upgrade to a 4 x 4 which is more comfortable than a minibus and you are able to cross rivers more easily, which is particularly beneficial in the green season.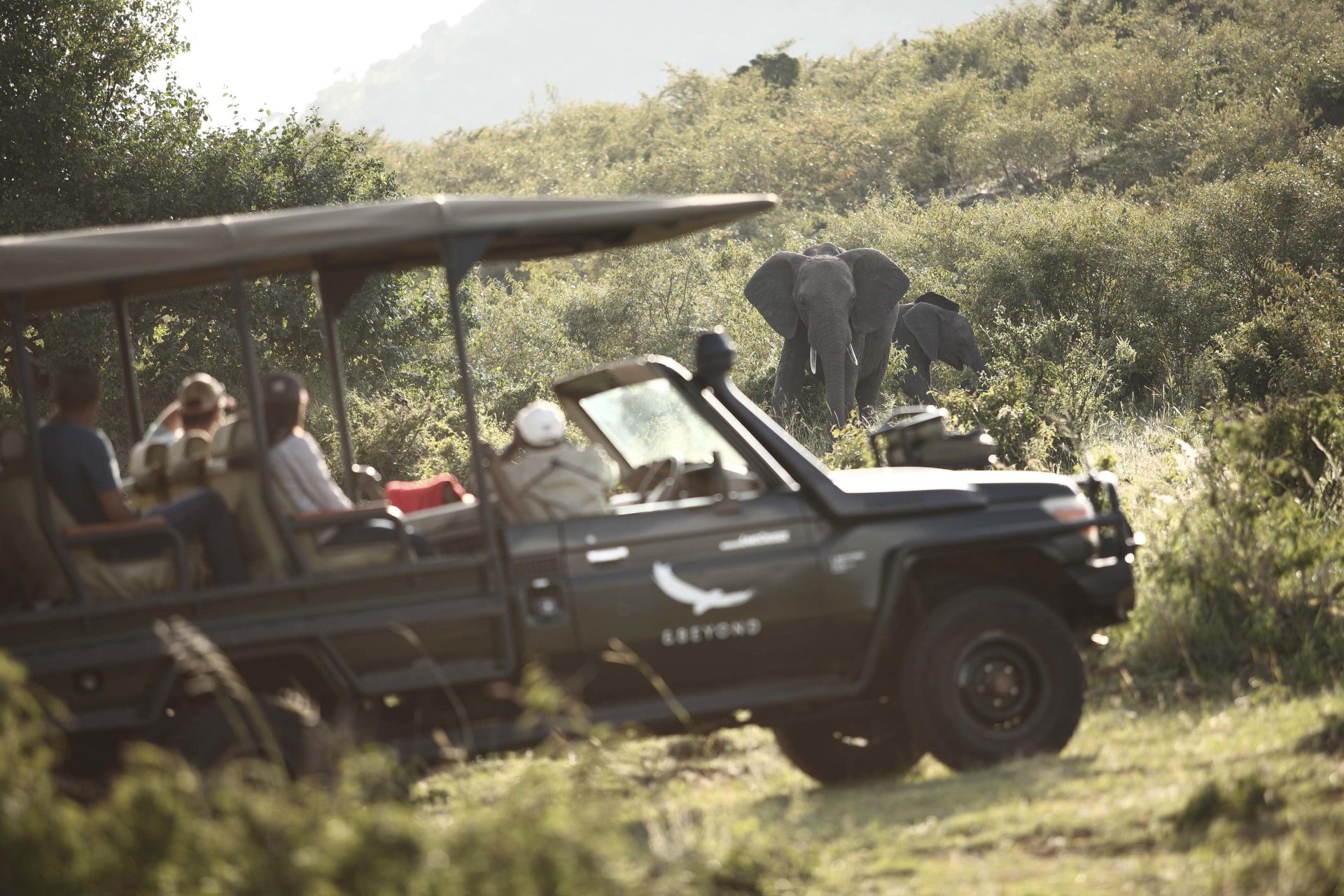 Tanzania Independent/Private tailor-made safari.
On a tailor-made or independent safari, you can choose your own camps and lodges and we can create a bespoke itinerary on a private basis. We will be able to make recommendations based on your preferences and requirements. Please be aware that you may be travelling with like-minded guests on light aircraft flights and some game drives unless you take the vehicle on a private basis. Stay in a luxurious safari lodge that offers excellent dining inspired by local cuisine or for an a more exclusive experience, take the family to Thanda, an award-winning private island in the Tanzanian archipelago where you'll have your own personal chef.
Tanzania Fly-in Safari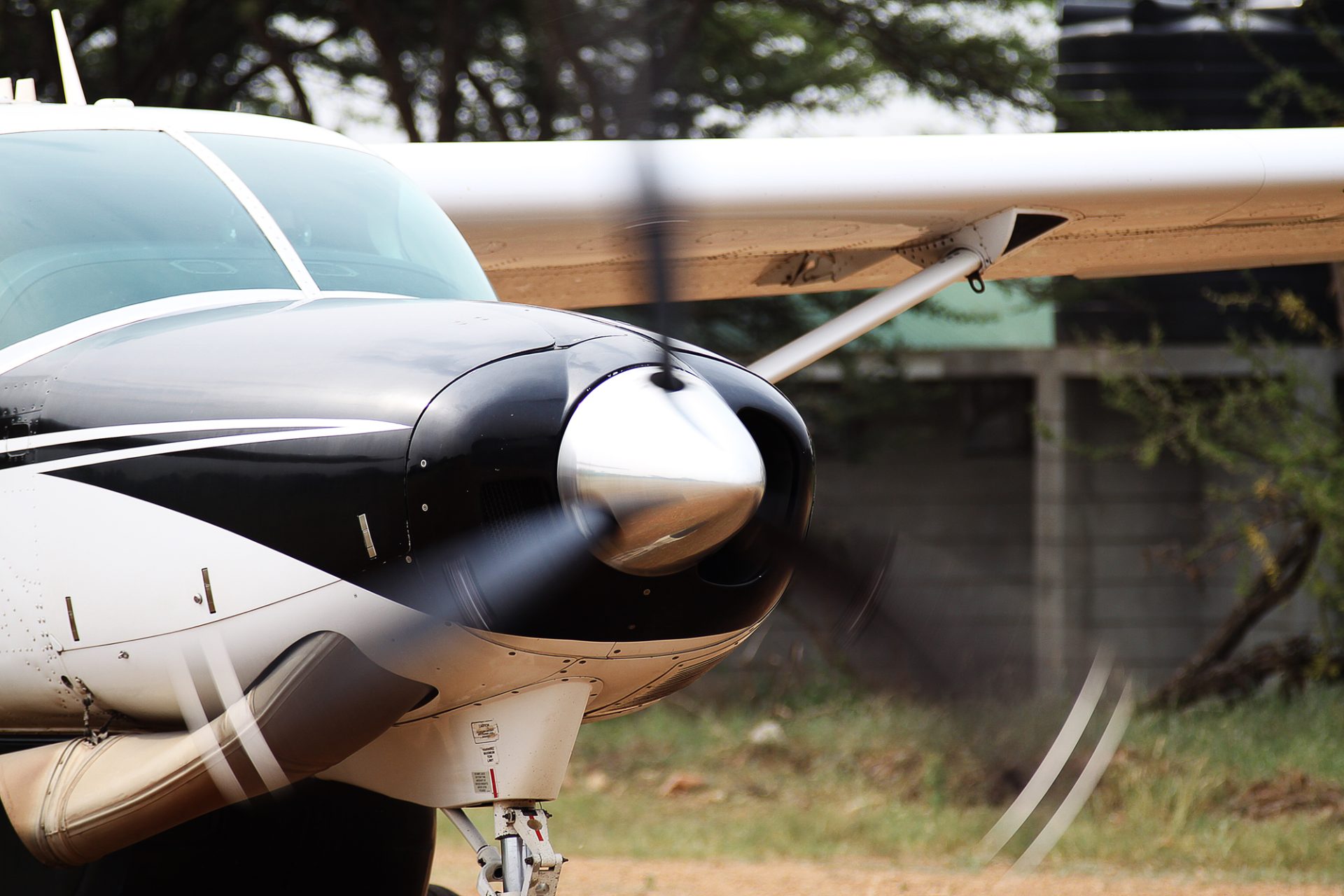 A fly-in safari makes use of light aircraft to transfer you between parks and will give you more time to relax.  A fly-in option is sometimes available as part of a small group itinerary but is mainly arranged on a private basis. However, you may be travelling with other guest on these flights and possibly staying in some of the same camps or lodges.
Our Most Popular Tanzania Safari Holidays
We offer an exceptional choice of safari experiences from mobile camps, tented accommodation and luxury lodges visiting Tanzania's iconic parks as well as some of the lesser-known gems.
Whether you are looking for a short fly-in safari, a full week's circuit safari, a safari and beach combination, or you would like to extend your time to visit a neighbouring country at Wildlife Escapes we can help make this happen.
Our Most Popular Tanzania Safari Holidays
We offer an exceptional choice of safari experiences from mobile camps, tented accommodation and luxury lodges visiting Tanzania's iconic parks as well as some of those little gems we have up our sleeve. Whether you are looking for a short fly-in safari, a full week's circuit safari, a safari and beach combination or you would like to extend your time to visit a neighbouring country we can help make this happen.
Tanzania Holiday Schedules
These itineraries are ones we have arranged for many of our clients and will give you the very best wildlife holiday experiences. Where possible we have included other highlights of the country, to make the most of your precious holiday time, but ultimately everything revolves around the wildlife. However, nothing is cast in stone, as we can tailor-make the perfect wildlife holiday to suit your interests, the time you have, the standard/quality of the accommodation you prefer and of course, your budget. No two people are the same, so we will listen to your individual requirements, find out what your expectations and aspirations are and accordingly make suggestions and recommendations, to give you the most memorable wildlife holiday experience.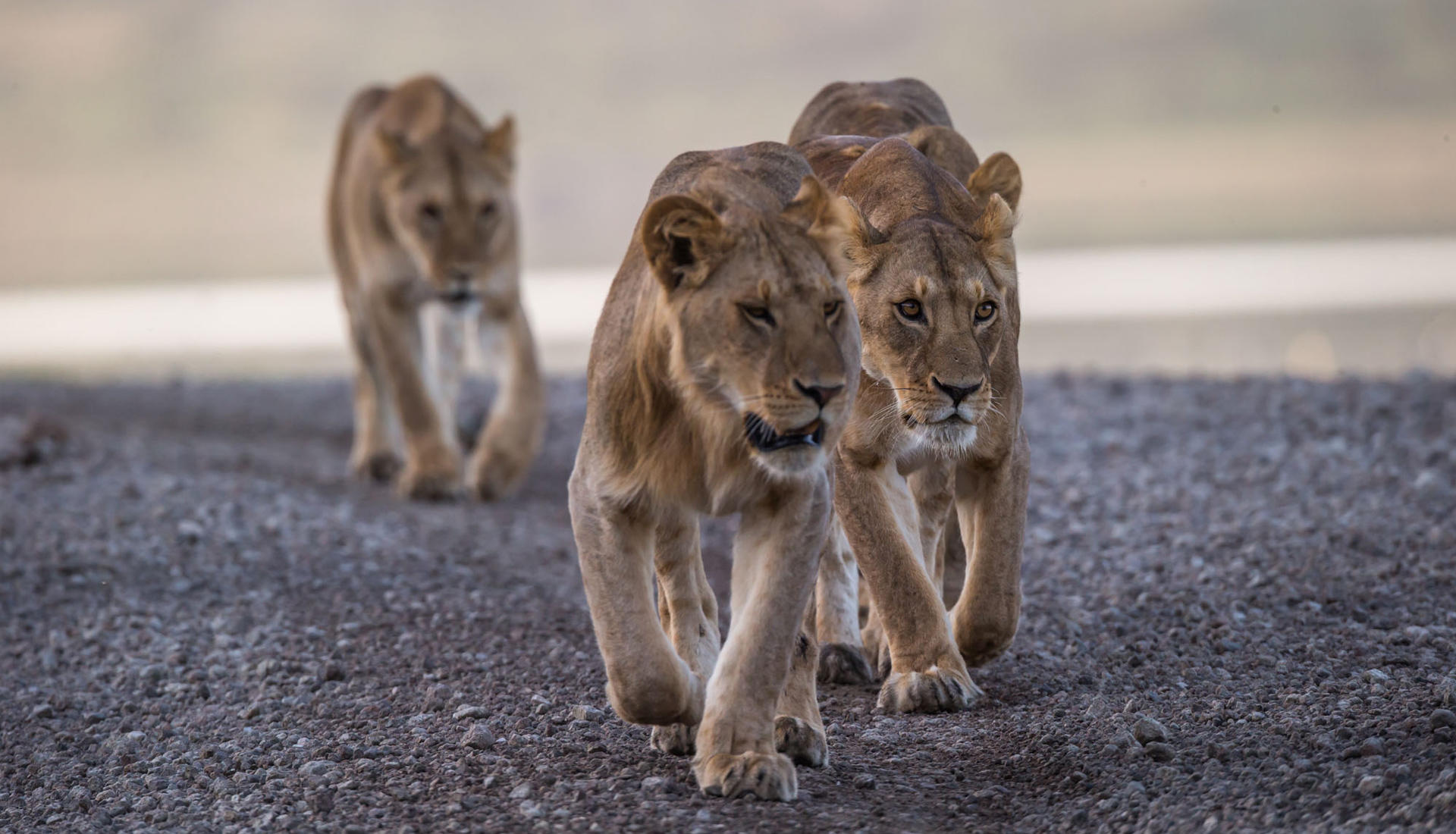 Our Favourite Tanzania Safari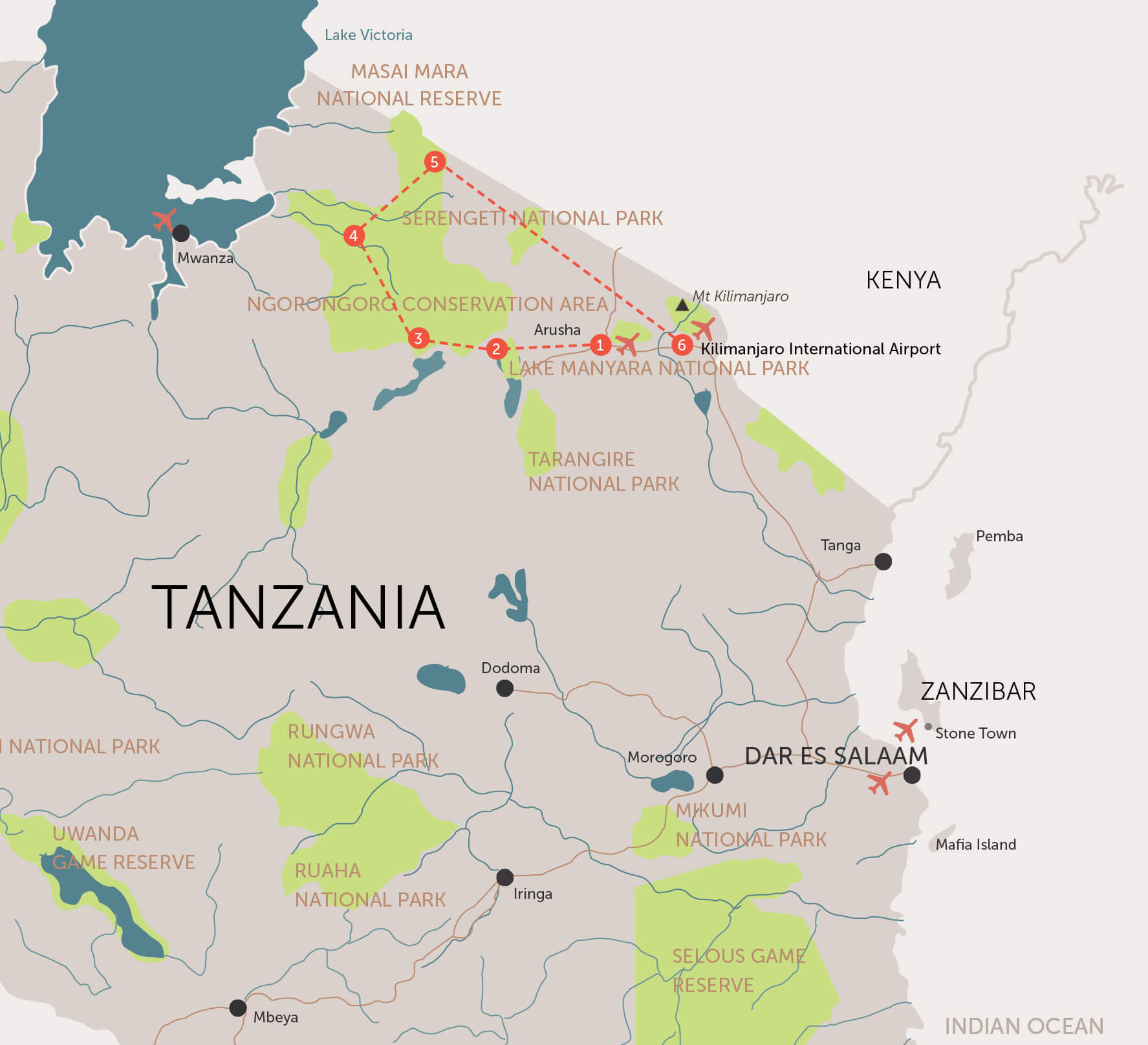 DESTINATION
ACCOMMODATION
DURATION
BASIS
Overnight Travel
Flight
1 night
Lake Manyara
Lake Manyara Tree Lodge
2 nights
AI
Serengeti
Grumeti or Klein's Camp
3 nights
AI
Nogorongoro Crater
Ngorongoro Crater Lodge
2 nights
AI
Arusha/Niarobi
Various Options Available
1 nights
BB
Overnight Travel
Flight
1 night
Optional Extension
Masai Mara
Angama Mara
2/3 nights
HB
Zanzibar
Zuri Zanzibar
7 nights
HB
Pemba
Mnemba Island Lodge
7 nights
BB
This 6-night Tanzania flying safari is one of our favourites and offers a breath-taking journey into Northern Tanzania with stays in some of the most exclusive lodges you will find in Africa.
Day 1 Lake Manyara
Met by a representative who will assist with your onward light aircraft flight to Manyara. On arrival at Manyara, met by the team from Lake Manyara Tree Lodge and enjoy a game drive en route to your lodge. Your stay includes game drives and all meals and drinks. At Lake Manyara Tree Lodge there are ten stilted tree house suites with large windows, contemporary furnishings, overhead fans, mosquito nets and earthy understated features.
Overnight Lake Manyara Tree Lodge
Meals : All Inclusive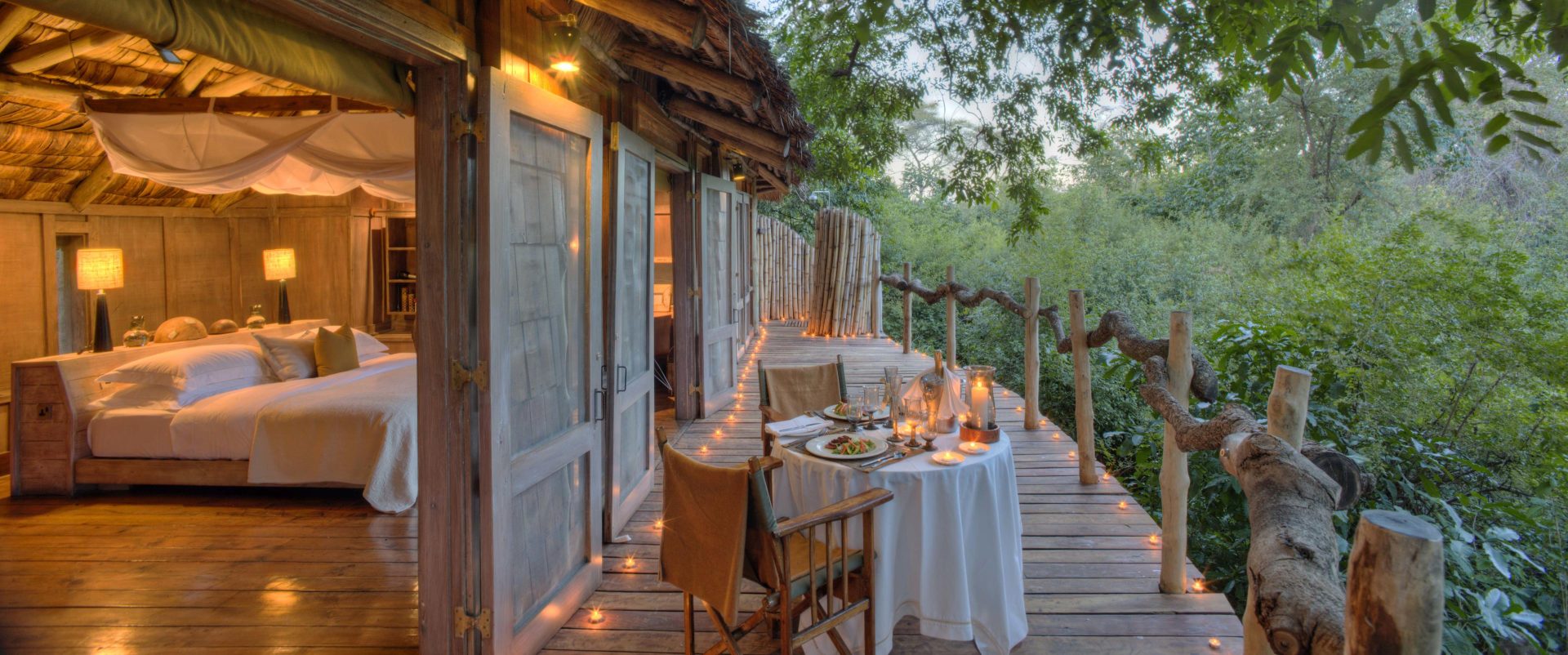 Day 2 Lake Manyara
Spend a full day in Lake Manyara National Park, with morning and afternoon game drives.
Overnight at Lake Manyara Tree Lodge
All Inclusive
Days 3-5 Serengeti
After breakfast, transfer to Manyara airstrip for onward light aircraft flight to the Serengeti National Park. You will fly either into Grumeti Airstrip or Lobo Airstrip depending on which accommodation you wish to stay at. There is a choice of Grumeti Serengeti Tented Camp or Klein's Camp. Your stay here is for three nights and includes game drives in the open savannah plains of the Serengeti with all meals and drinks.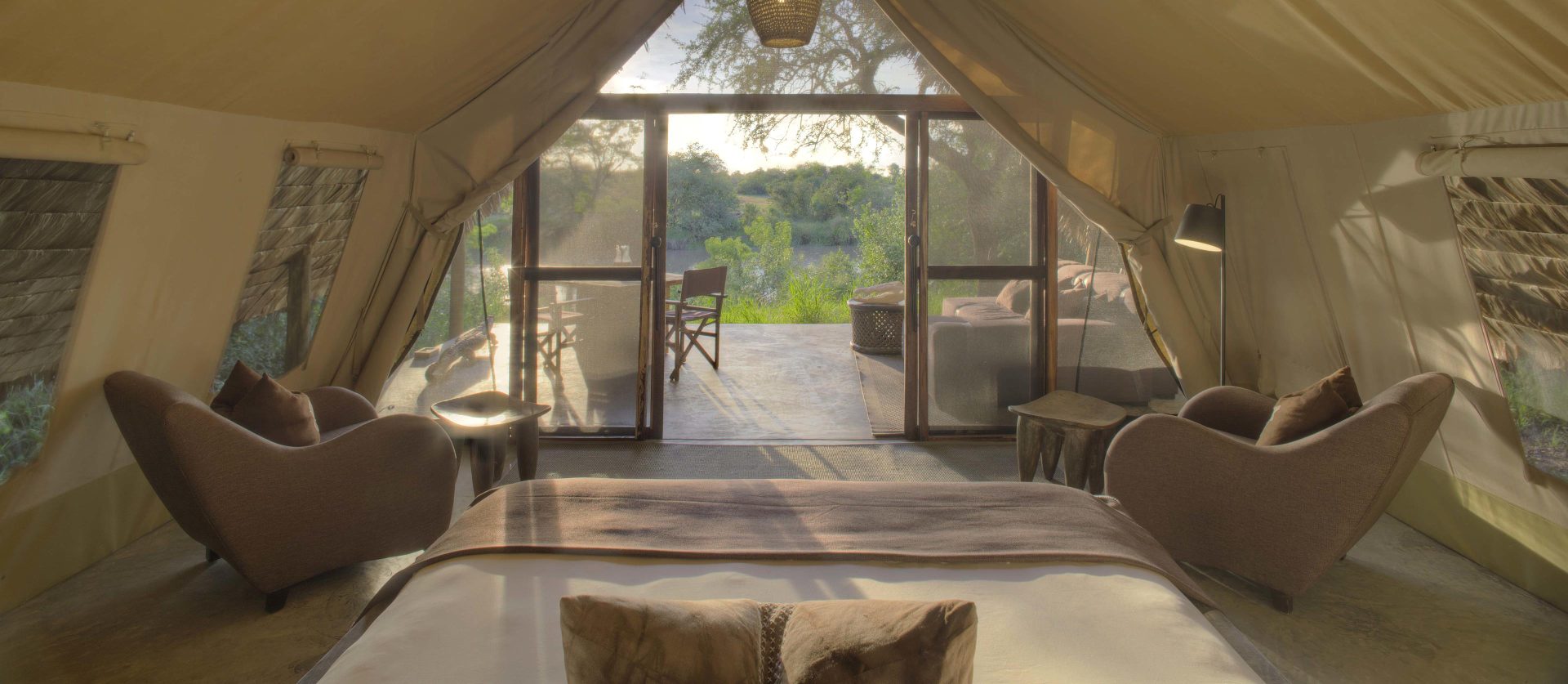 Grumeti Serengeti Tented Camp is situated in a remote valley in the western corridor of the Serengeti. This flamboyant camp, of ten spacious tents under makuti canopies, overlooks a bywater of the Grumeti River.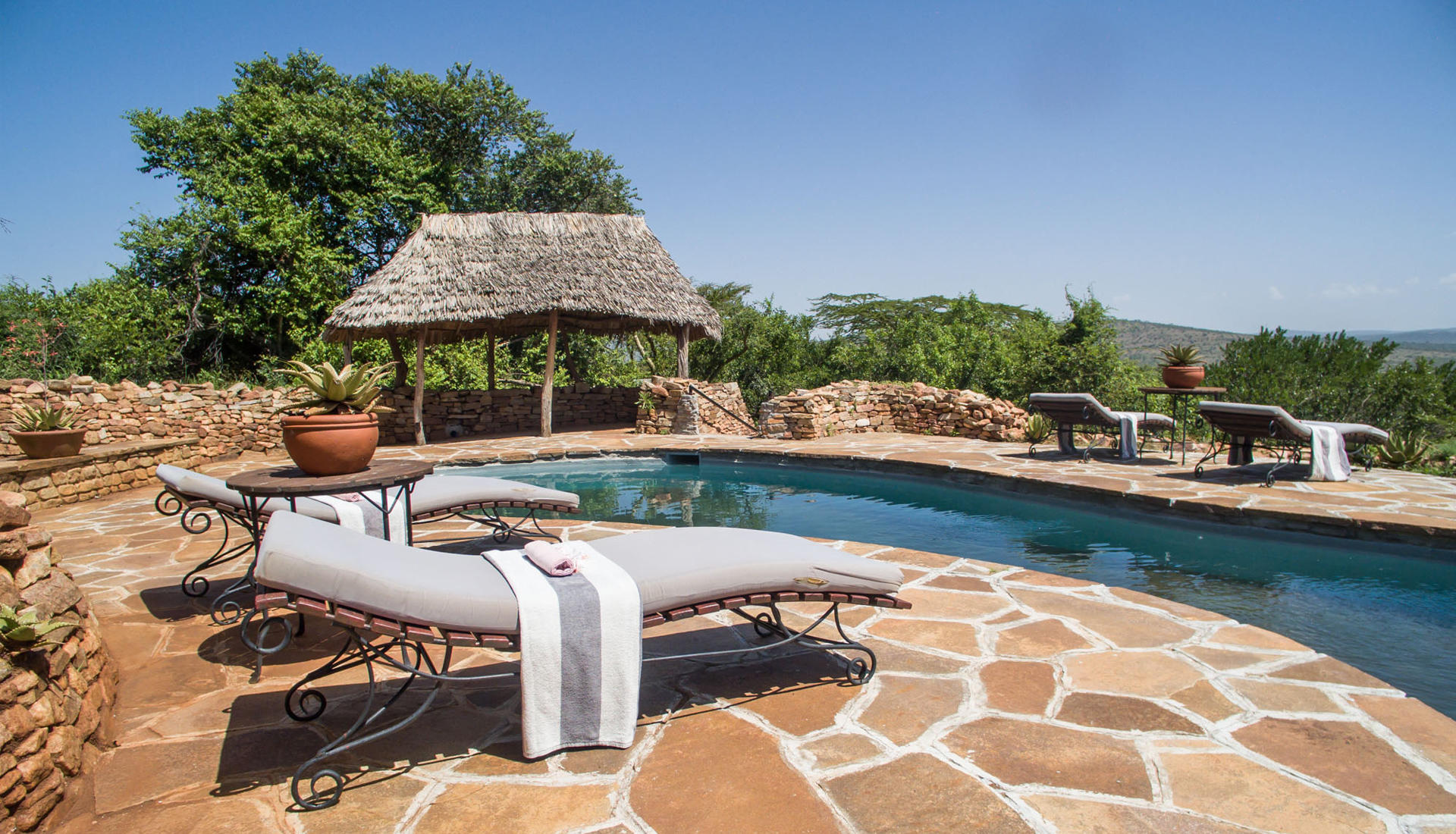 Klein's Camp is a small, elegant safari lodge set deep in the heart of Masai territory in the buffalo-rich northeastern Serengeti. Ten intimate rock and thatch cottages, with rich wooden floors and serene classic interiors.
(Optional balloon ride over the Serengeti is available).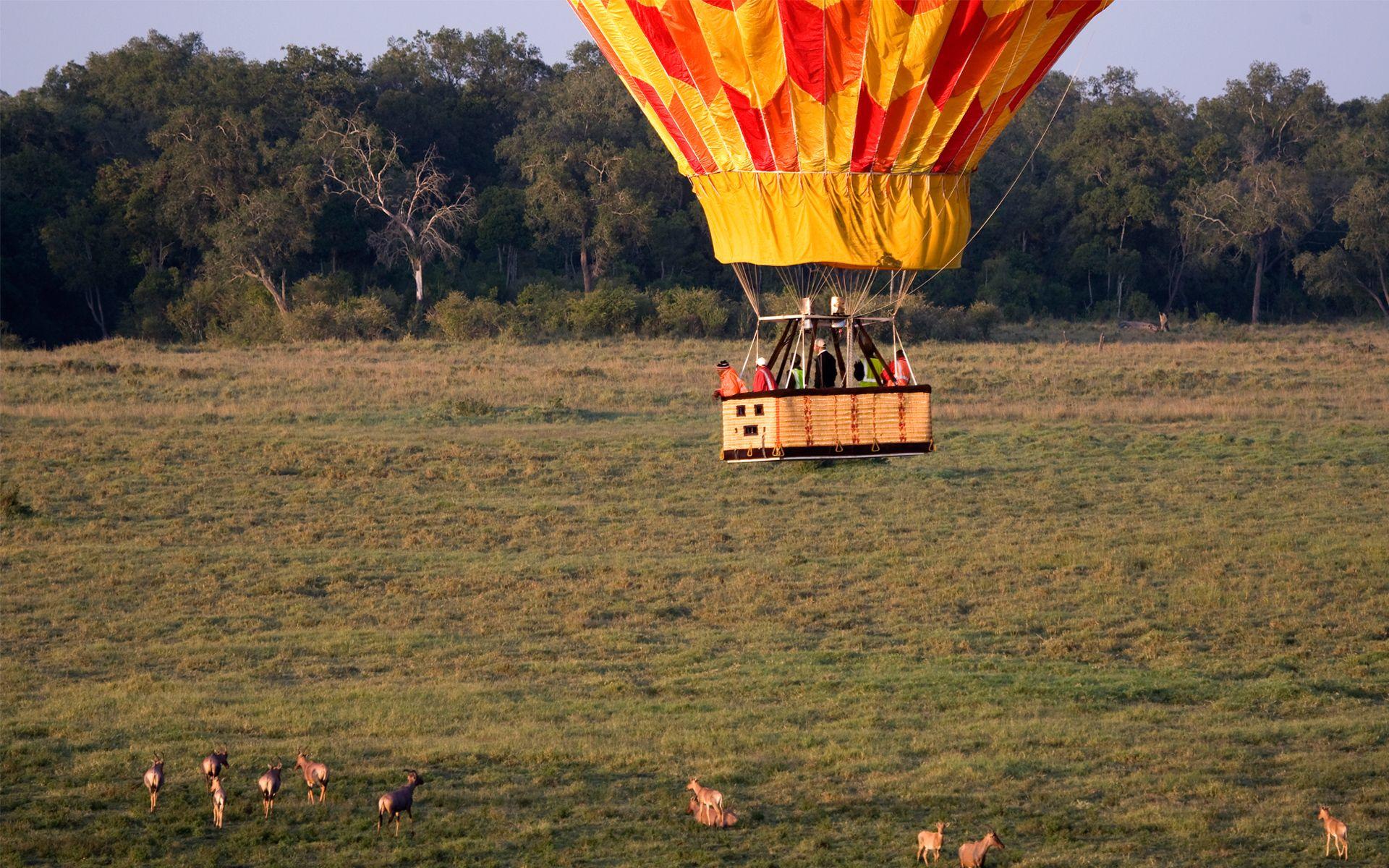 Overnight Grumeti Serengeti Tented Camp or Klein's Camp.
Note:
There is also an option to stay at the Serengeti Under Canvas. This is a luxury semi-permanent tented camp which moves around the Serengeti following the Great Migration.
All Inclusive
Days 6-7 Ngorongoro
After breakfast, transferred to the airstrip for light aircraft flight to Manyara, here you will be met by the team from Ngorongoro Crater Lodge and transferred to your lodge on the rim of the Ngorongoro Crater. Stay two nights on full board with drinks and game activities. Ngorongoro Crater Lodge, perched on the edge of the world-famous Ngorongoro Crater is one of the most architecturally spectacular safari lodges in Africa.
Overnight Ngorongoro Crater Lodge
All Inclusive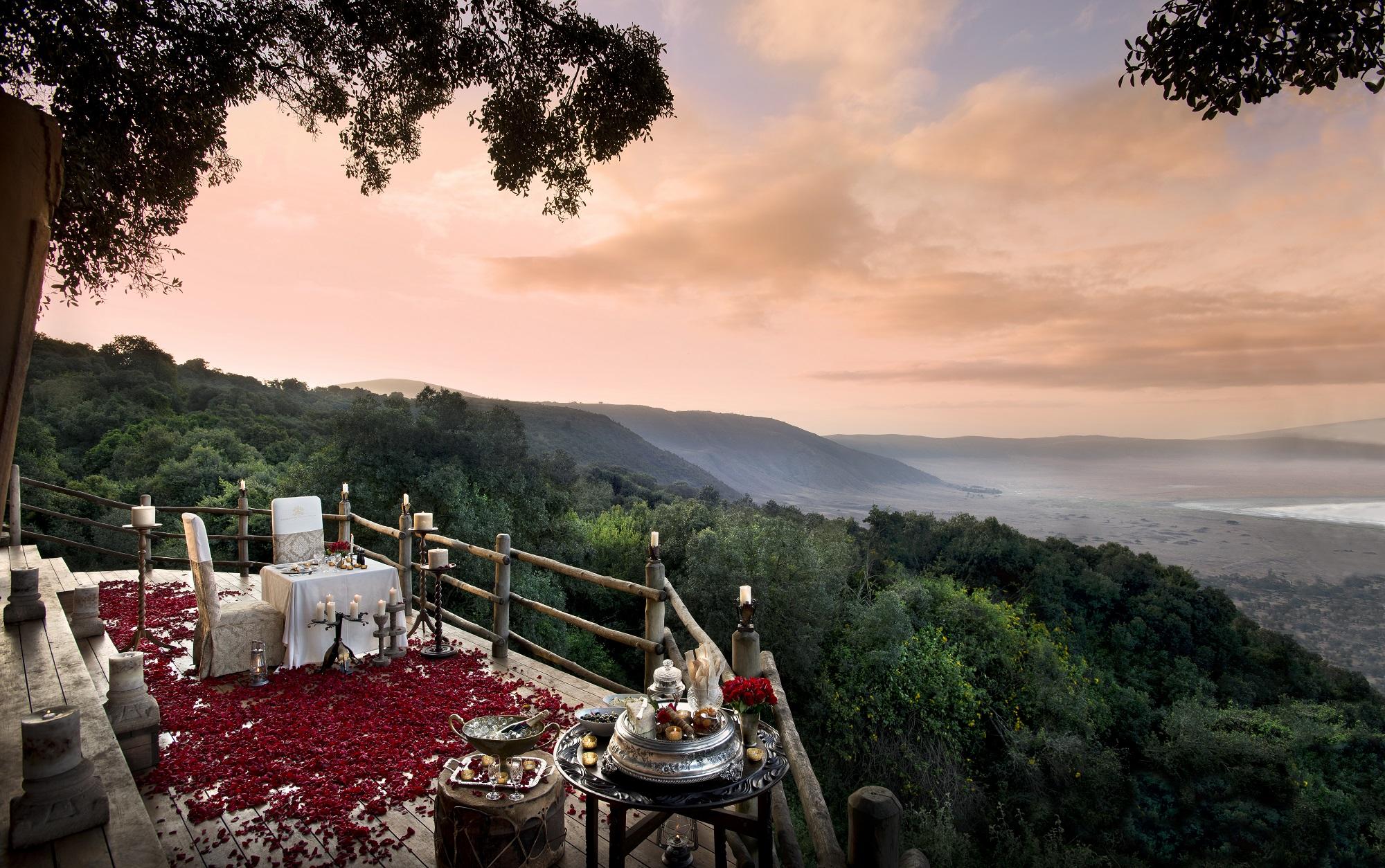 Day 8 Arusha
Fly back to Arusha from Manyara, option to have lunch in Arusha before your overnight flight back to the UK.
PRICE: from £9,959pp based on twin share for travel in September 2022
Package does not include International Flights or any extensions or alternative accommodation suggested.
Options to extend your trip:
Mara Extension available: Overnight in Nairobi. Fly to the Masai Mara for two nights at the lodge or camp of your choice, including game drives.
Return by light aircraft to Nairobi.
OR
You can extend to the warm waters of the Indian Ocean at Mnemba Island Lodge for a relaxing beach stay for the duration of your choice.
Breakfast included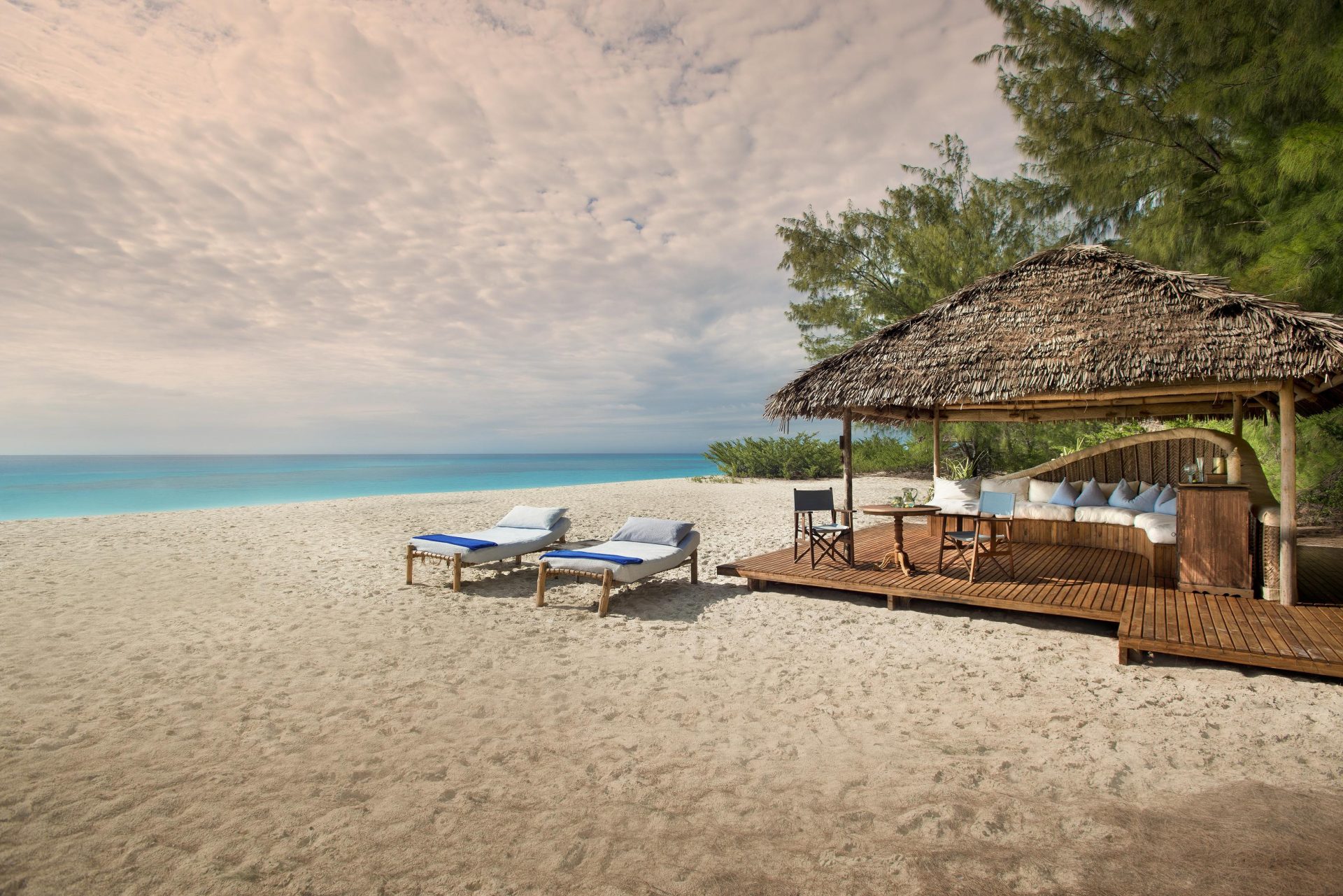 More of Our Favourite Tanzania Safaris
Classic Tanzania SkySafari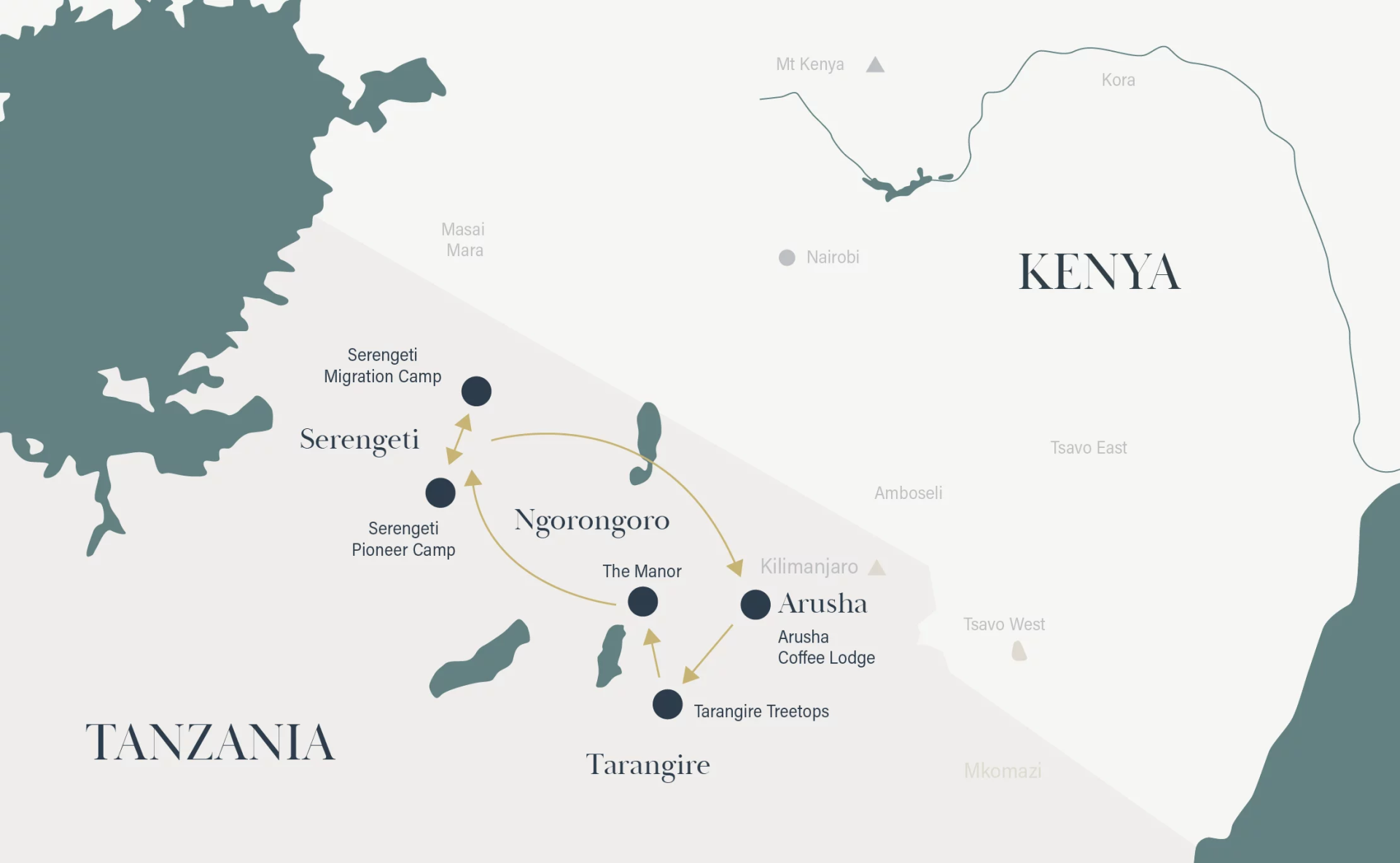 DESTINATION
ACCOMMODATION
DURATION
BASIS
Overnight Travel
Flight
1 night
Arusha
Arusha Coffee Lodge
1 night
AI
Tarangire
Tarangire Treetops
2 nights
AI
Nogorongoro Crater
The Manor At Ngorongoro
3 nights
AI
Serengeti
Serengeti Migration Camp
2 nights
AI
Arusha
Day Room
0 nights
Overnight Travel
Flight
1 night
Optional Extension
Masai Mara
Sand River Mara
2/3 nights
HB
Zanzibar
Zuri Zanzibar
7 nights
HB
Pemba
Mnemba Island Lodge
7 nights
BB
This is a true 'Out of Africa' experience, travelling through contrasting landscapes with stays in some of the finest accommodation on the safari circuit.Travel in style and comfort in a Cessna Grand Caravan light aircraft, with nine executive club class seats on this amazing 9-night safari. Road transfers and game drives are in safari cruisers equipped with binoculars, guide and reference books, bottle coolers, bush lunch awnings and power point to charge your camera.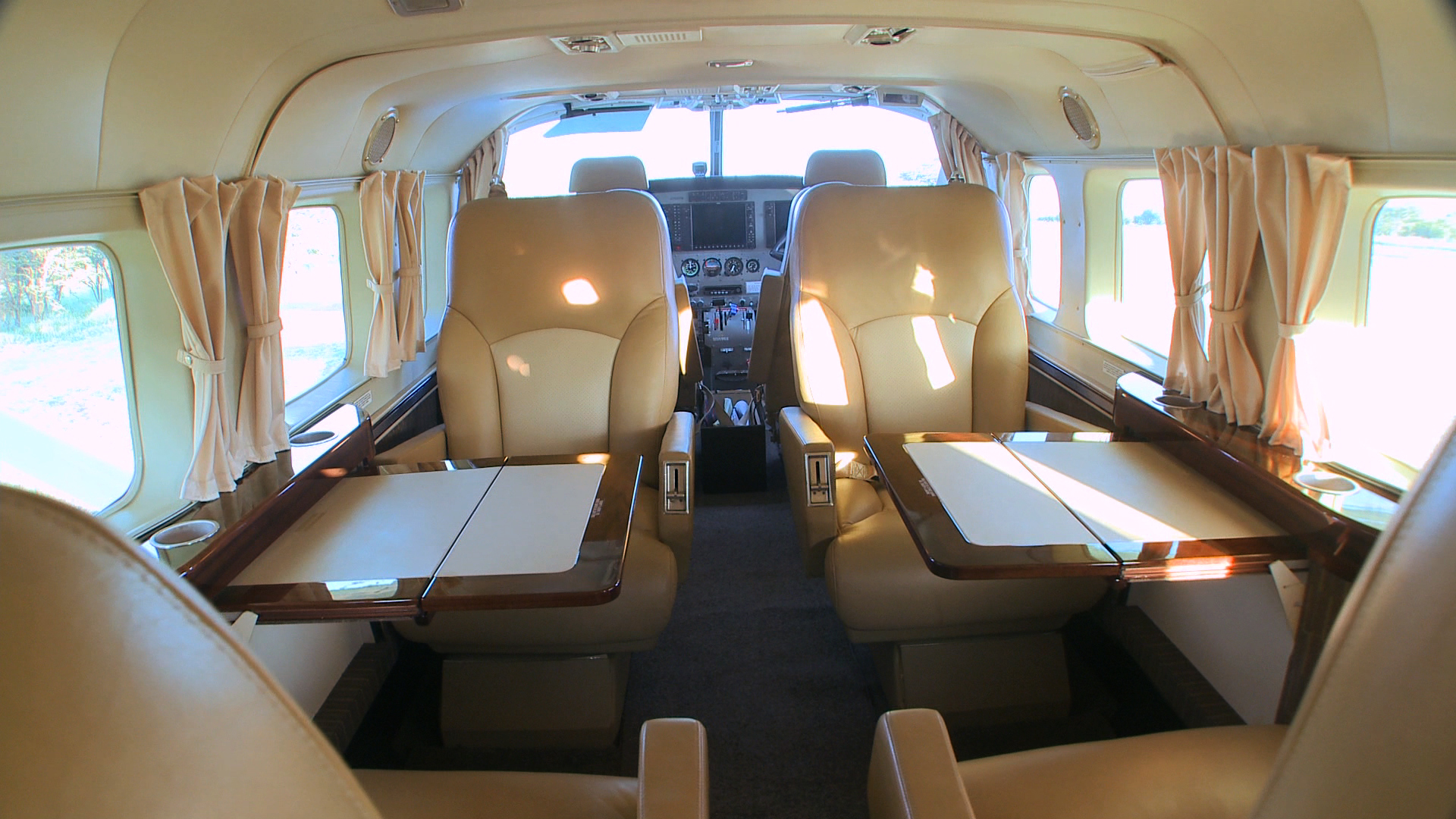 Day 1 Arusha
Arrival at Kilimanjaro, where you will be fast-tracked through Kilimanjaro International Airport. VIP transfer to Arusha Coffee Lodge.
Overnight:  Arusha Coffee Lodge
Lunch and Dinner
Day 2 Tarangire
Breakfast at Arusha Coffee Lodge. Bean-To-Cup coffee estate private tour followed by a Shanga cultural experience. Briefing and lunch at the lodge. SkySafari flight to Kuro Airstrip in Tarangire National Park. Game drive through Tarangire National Park en route to Tarangire Treetops. A traditional Masai boma dinner at the camp.
Overnight Tarangire Treetops
Breakfast, Lunch and Dinner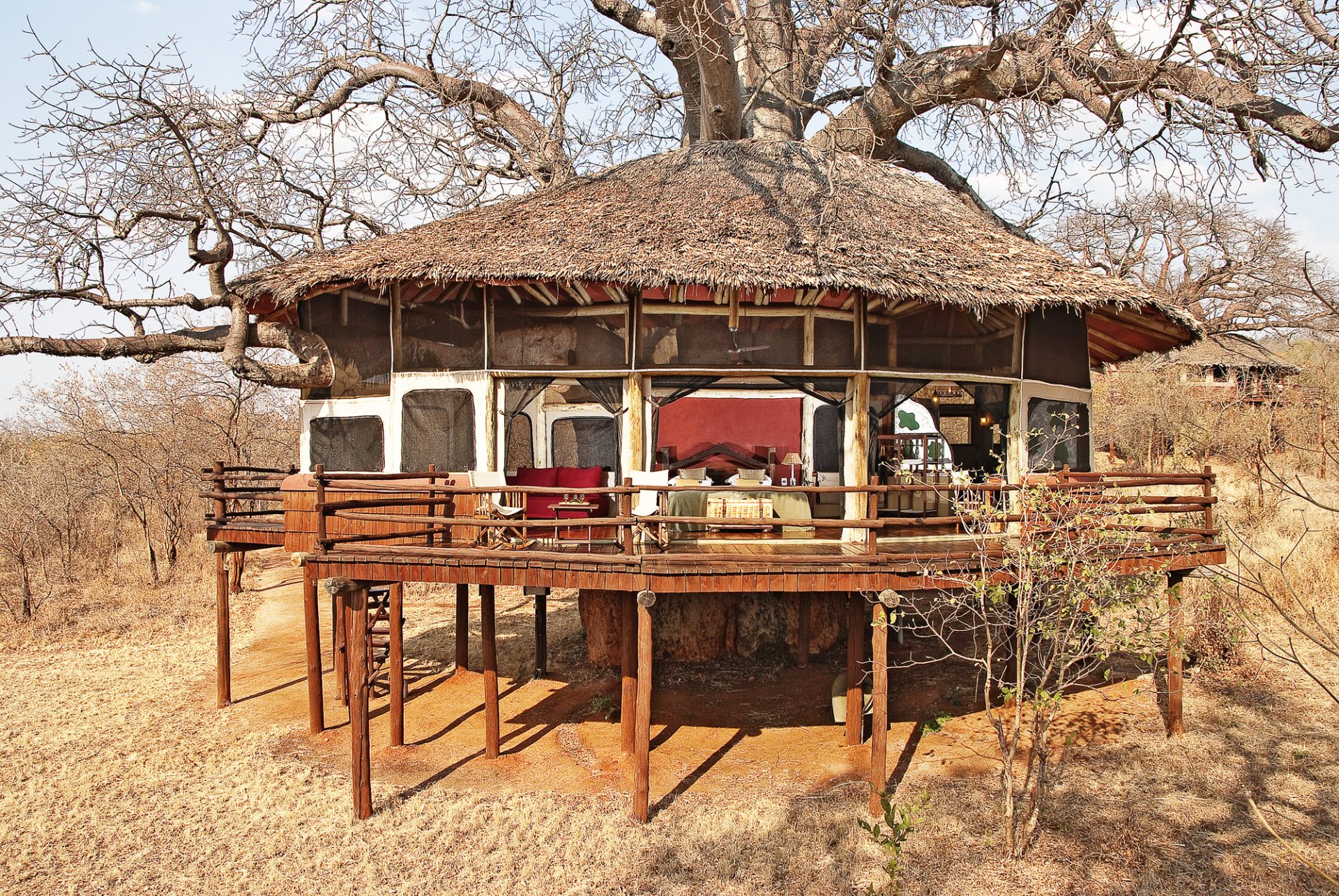 Day 3 Tarangire
Breakfast at the camp followed by a game drive. Lunch at camp and then a bush walk, Masai village visit and sundowners in the bush. Dinner at camp.
Overnight Tarangire Treetops
Breakfast, Lunch and Dinner
Day 4 Ngorongoro
Breakfast at camp. Morning game drive en route to airstrip. Picnic lunch in Tarangire National Park. SkySafari flight to Manyara airstrip and then a transfer to The Manor at Ngorongoro for high tea. Dinner at The Manor.
Overnight The Manor At Ngorongoro
Breakfast, Lunch and Dinner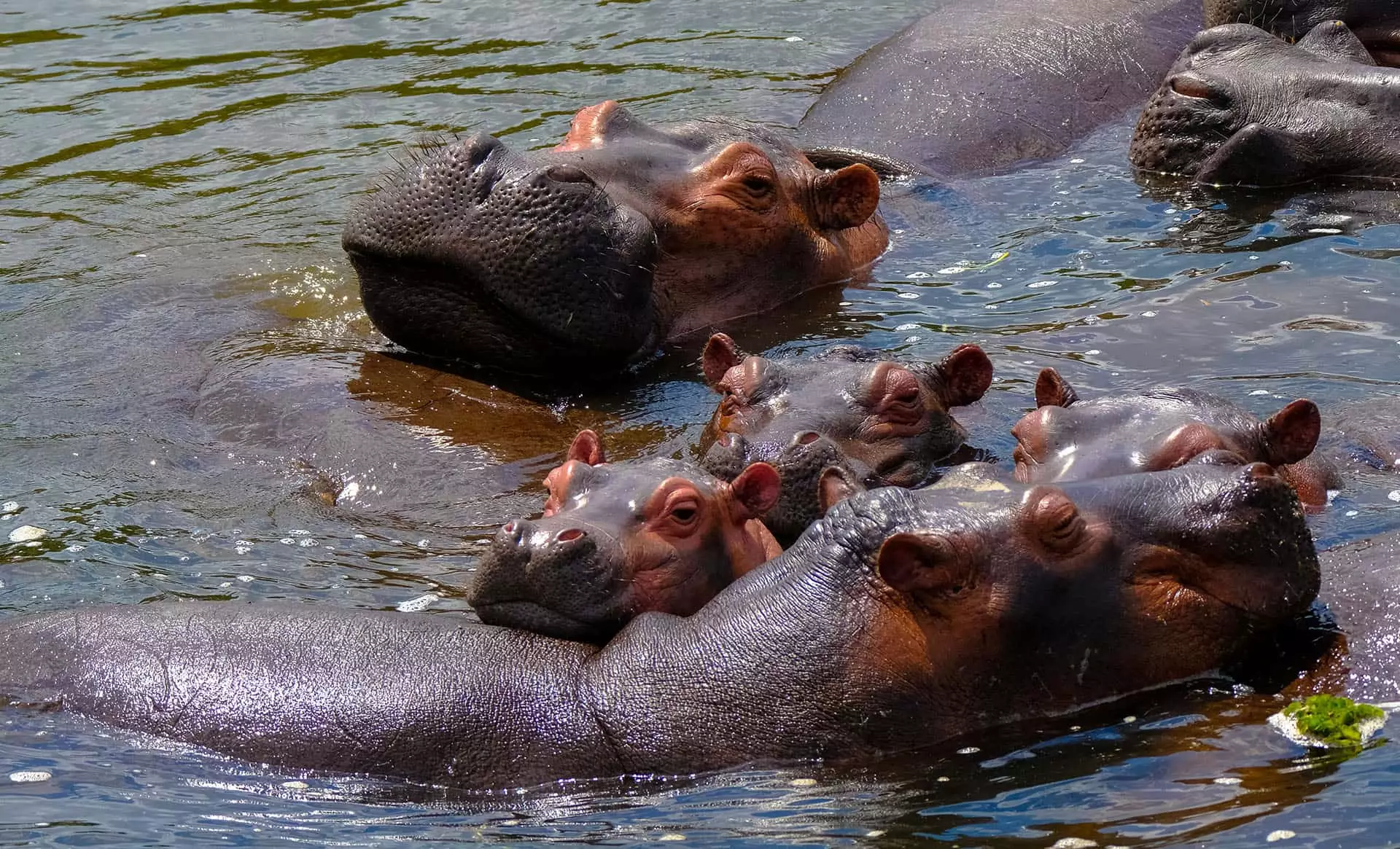 Day 5 Ngorongoro
Breakfast at The Manor. Game Drive to Lake Manyara National Park. Picnic lunch in Lake Manyara National Park or return for lunch at The Manor. Free afternoon for relaxing, swimming in the pool, horseback riding, a spa treatment and more. Dinner at The Manor.
Overnight The Manor At Ngorongoro
Breakfast, Lunch and Dinner
Day 6 Ngorongoro
Early breakfast at The Manor before a full day Ngorongoro crater tour. Picnic lunch in the crater. Dinner at The Manor.
Overnight The Manor At Ngorongoro
Breakfast, Lunch and Dinner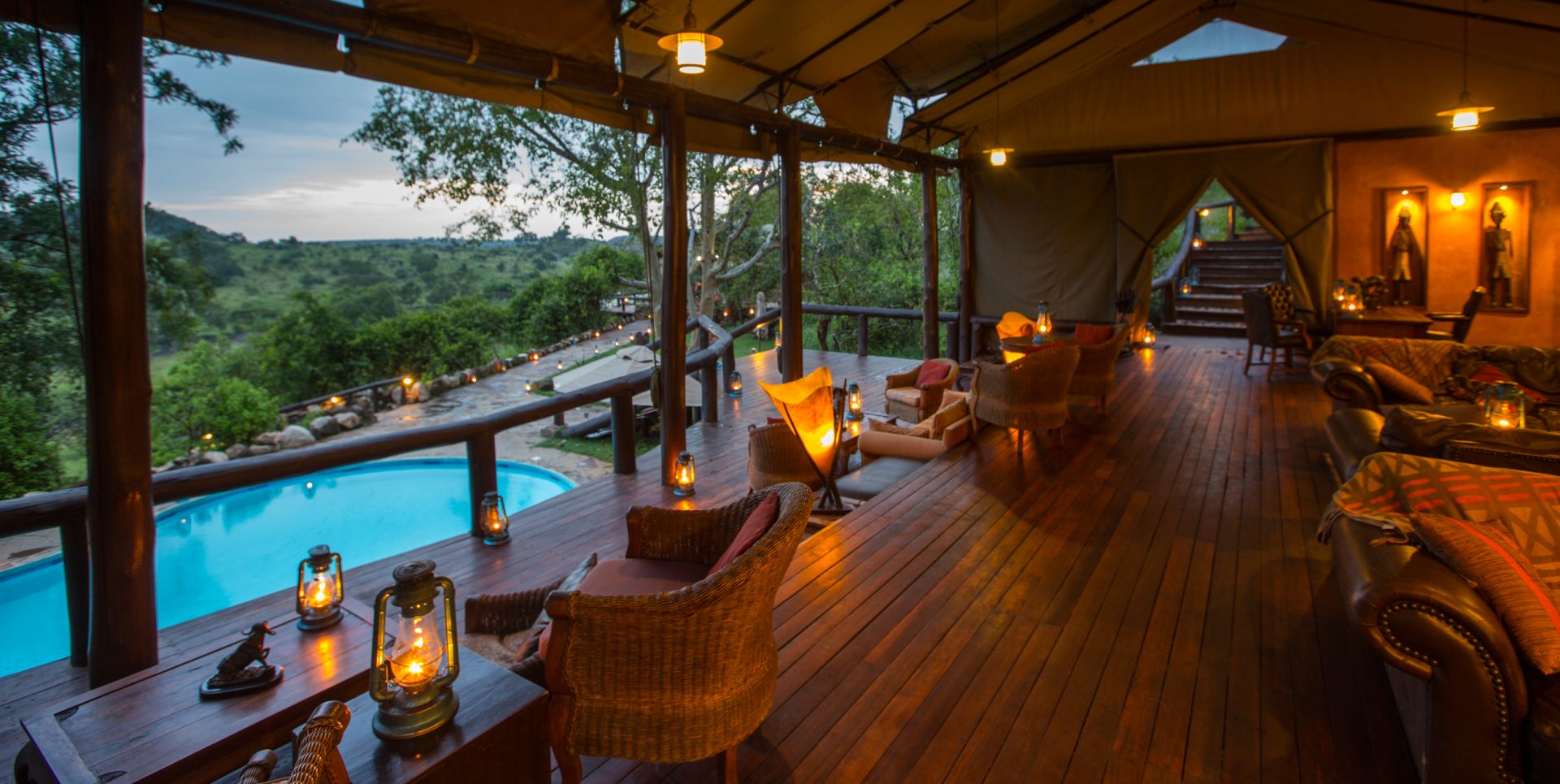 Day 7 Serengeti
Breakfast at The Manor. SkySafari flight to Serengeti National Park and lunch at camp. Afternoon game drive. Dinner at camp.
Overnight Serengeti Migration Camp
Breakfast, Lunch and Dinner
Day 8 Serengeti
Breakfast at the camp and a full day game drive in Serengeti National Park with Lunch in the bush. Dining under the stars.
Overnight Serengeti Migration Camp
Breakfast, Lunch and Dinner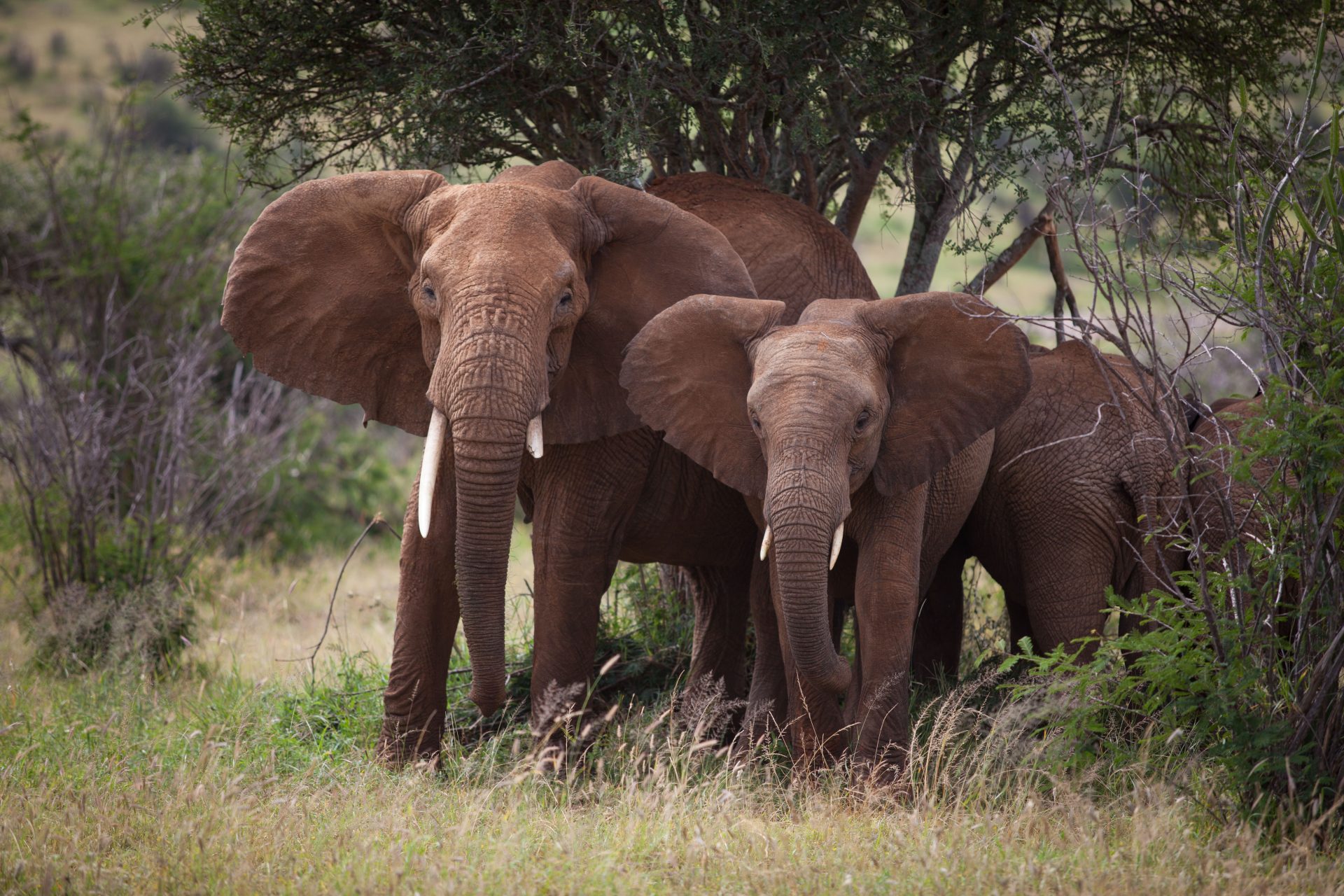 Day 9 Serengeti
Early breakfast at camp and then a full day game drive. Picnic hamper lunch served in the bush. Sundowners in the bush. Dinner at camp.
Overnight Arusha Coffee Lodge
Breakfast, Lunch and Dinner
Day 10 Arusha
Breakfast at camp. Game drive en route to Airstrip. SkySafari flight to Arusha Airport. SkySafari private ground transfer to Arusha Coffee Lodge. A day room will be available depending on your outbound flight followed by a road transfer to Kilimanjaro International Airport and departure.
Breakfast and Lunch
Alternatively, there is the option to fly from Arusha to Zanzibar on days 9 or 10 for your beach extension.
This itinerary is based on full board with drinks (excluding Champagne, exclusive cellar wines and premium brands). Light aircraft baggage allowance – 15kg – extra luggage can be stored at Arusha Coffee Lodge.
Note: Safari routings and/or lodges used may vary for operational reasons.
PRICE: from £8,959pp based on twin share for travel in late June 2022
Package does not include International Flights or any extensions or alternative accommodation suggested.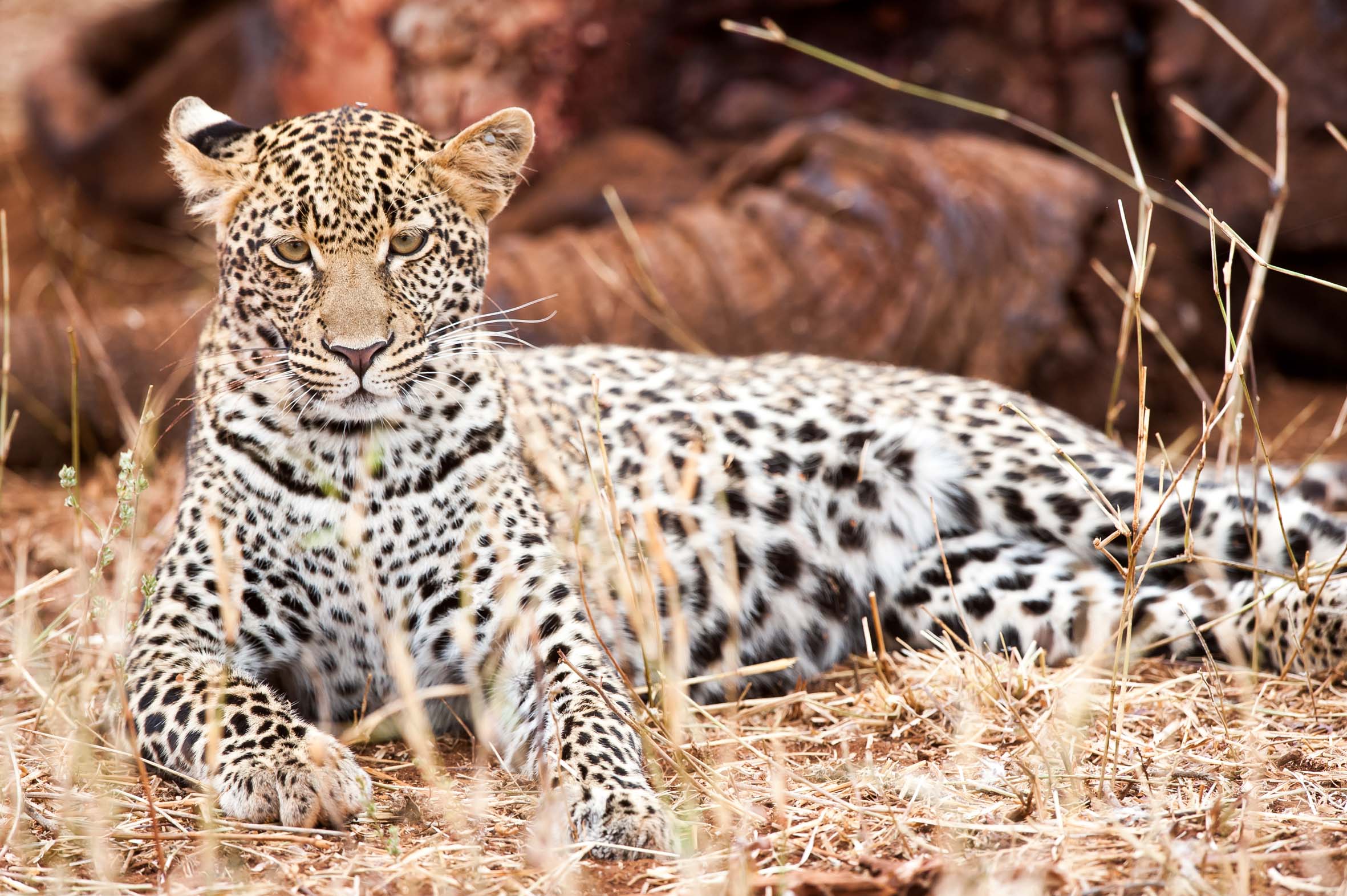 Other Safari Holidays in Tanzania
DESTINATION
ACCOMMODATION
DURATION
BASIS
Overnight Travel
Flight
1 night
Arusha
African Tulip
1 night
HB
Tarangire National Park
Ndovu Tented Lodge
2 nights
FB+
Nogorongoro Crater
Ngorongoro Sopa Lodge
2 nights
FB+
Northern Serengeti
Kaskaz Mara Camp
1 nights
FB+
Overnight Travel
Flight
1 night
Optional Extensions
Lake Manyara
Mandhari Lodge
2 nights
FB+
Central Serengeti
Naona Moru Camp
2 nights
FB+
 Zanzibar
Breezes Beach Club
7 nights
BB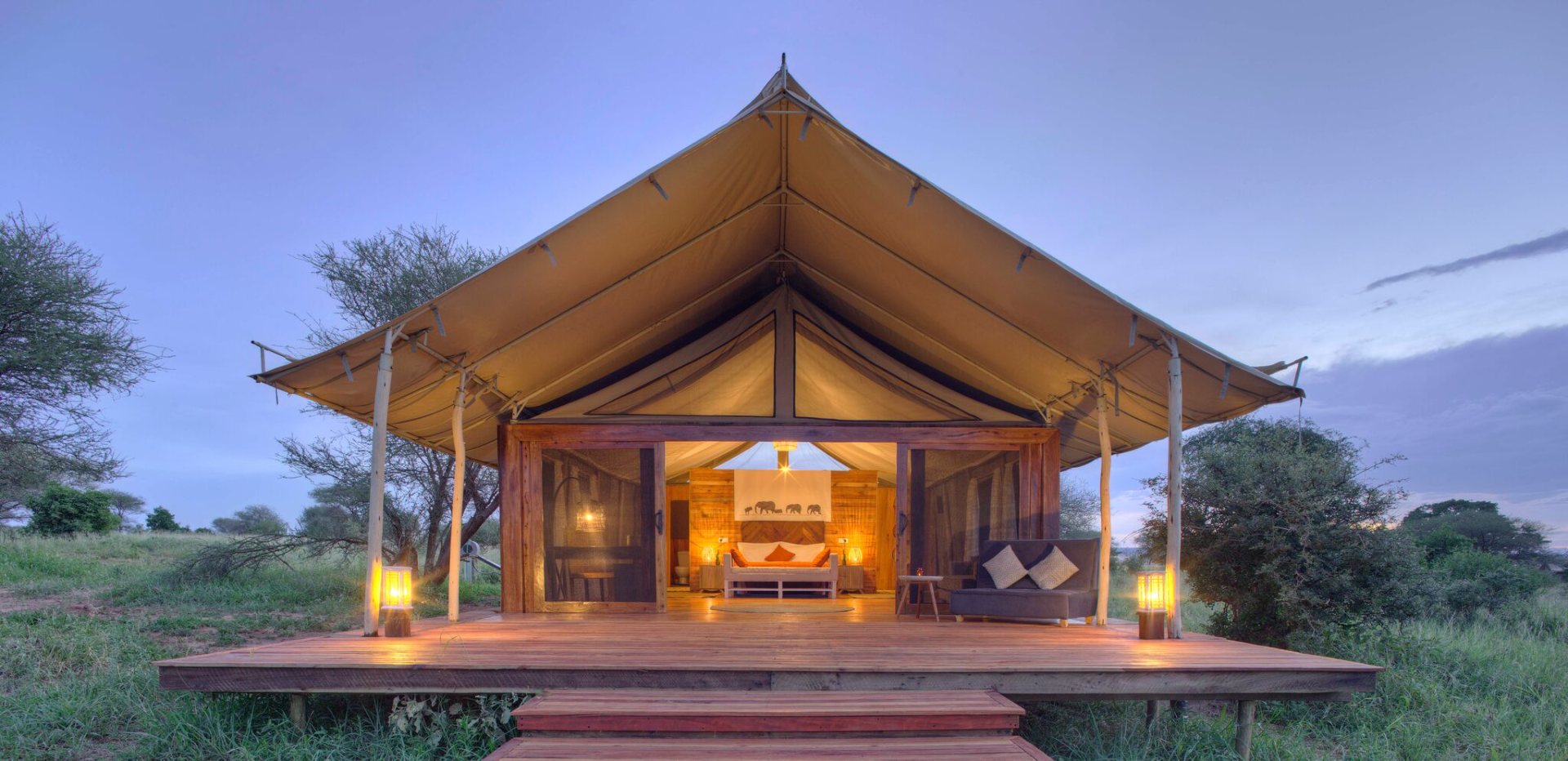 Photo © Serena Hotels
| | | | |
| --- | --- | --- | --- |
| DESTINATION | ACCOMMODATION | DURATION | BASIS |
| Overnight Travel | Flight | 1 night | |
| Dar es Salaam | Serena Hotel | 1 night | B&B |
| Selous/Nyerere | Serena Mivumo River lodge | 4 nights | FB+ |
| Zanzibar | Ocean Paradise Resort & Spa | 7 night | FB+ |
| Overnight Travel | Flight | 1 night | |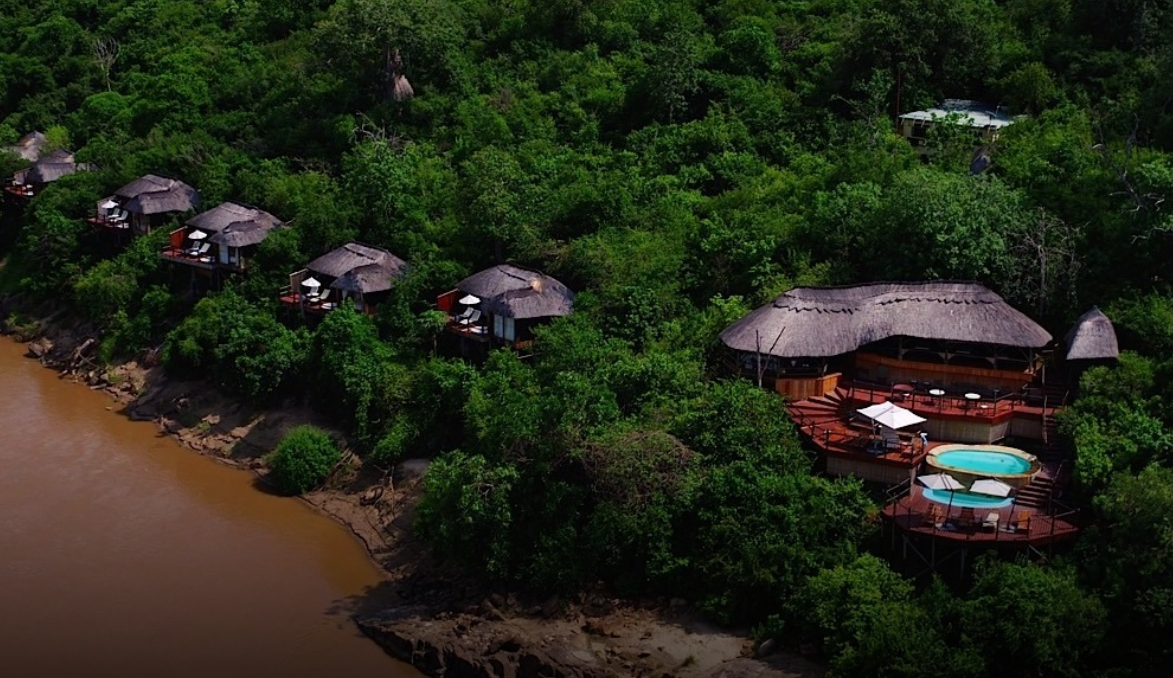 Best time to visit Tanzania
The best time to visit Tanzania is during the dry season, when wildlife viewing is generally at its best between late June to October. The wildebeest migration in the Serengeti is usually during June and July whilst wildebeest calving is late January to February. The Serengeti and the Ngorongoro Crater offer good wildlife viewing throughout the year.
You may want to avoid the long-rains of March and April.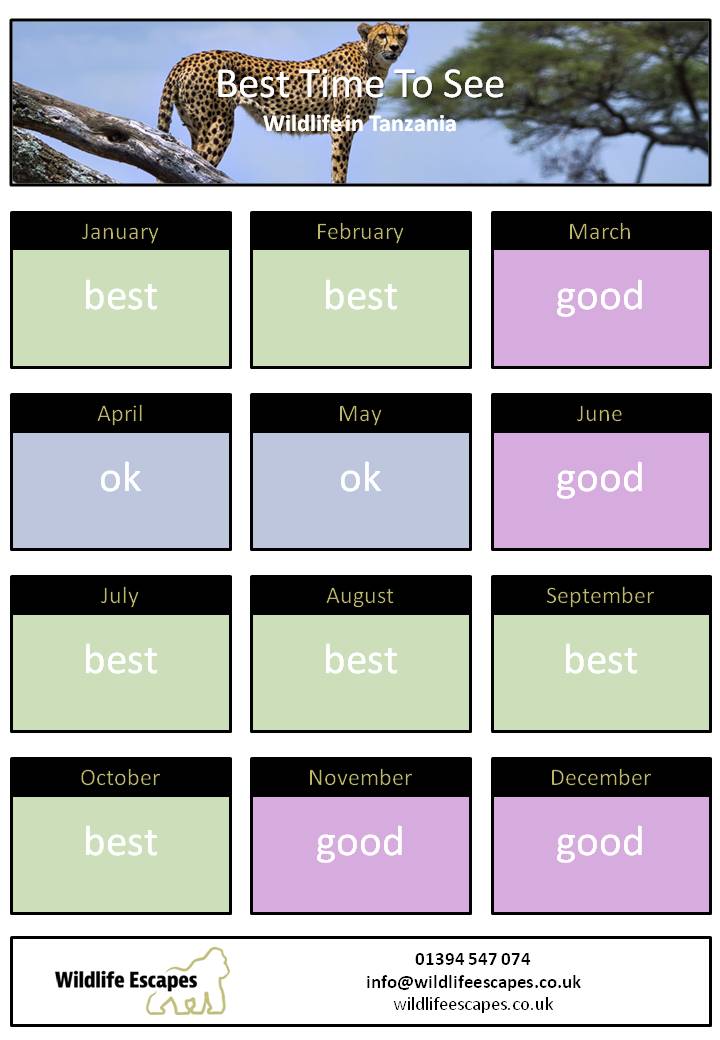 The National Parks of Tanzania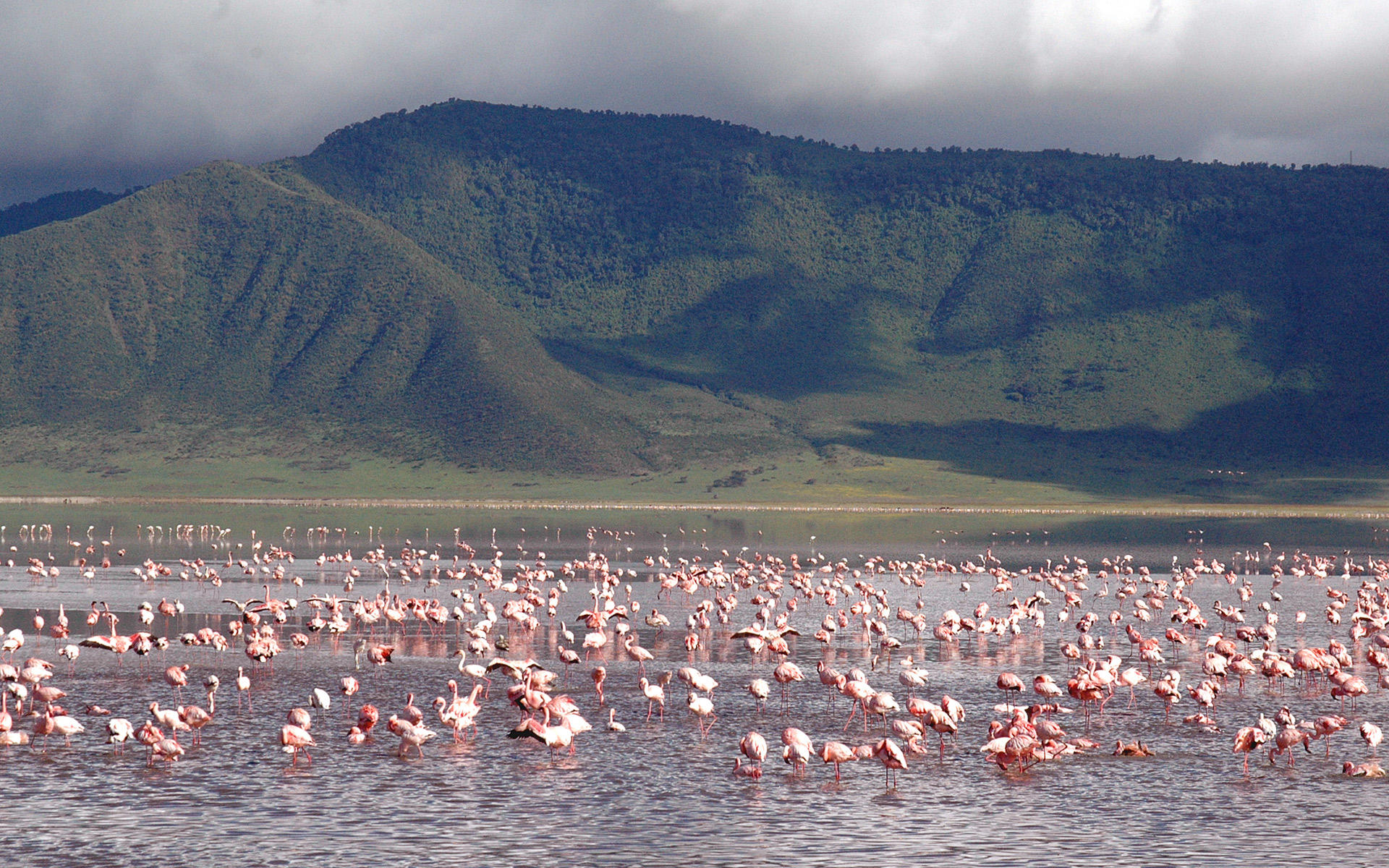 Tanzania's national parks and game reserves provide unforgettable destinations for viewing abundant wildlife amid spectacular scenery. Here is our guide to the best national parks and when to visit them.
Serengeti National Park
The Serengeti is probably the most famous game reserve in the world. The best time to visit is late June to September, when the Great Migration reaches the plains of North Serengeti when literally millions of wildebeest, zebras and gazelles pound the plains in search of fresh pasture to feed on. The plunging mass of heads and horns pour down riverbanks and across endless grasslands, picked off by predators as they travel. Lions, leopards, cheetahs, giant crocodiles. Hyenas pull down the exhausted animals, while jackals, vultures and other carrion eaters feast in their wake.
From October to May the grasslands are teeming with wildlife and in the calving grounds of the southern Serengeti during January and February, half a million calves are dropped in three weeks of synchronized birthing which overwhelms predators by sheer numbers and gives the jaunty new-borns the best chance to survive as they are nudged to their feet within minutes of their emergence into a hostile world. The Serengeti National Park is a UNESCO World Heritage Site and offers superb game viewing throughout the year and is home to more than 500 bird species. Approx. 4hrs drive from Arusha and Ngorongoro Crater or a 1hr 30 minutes flight from Arusha.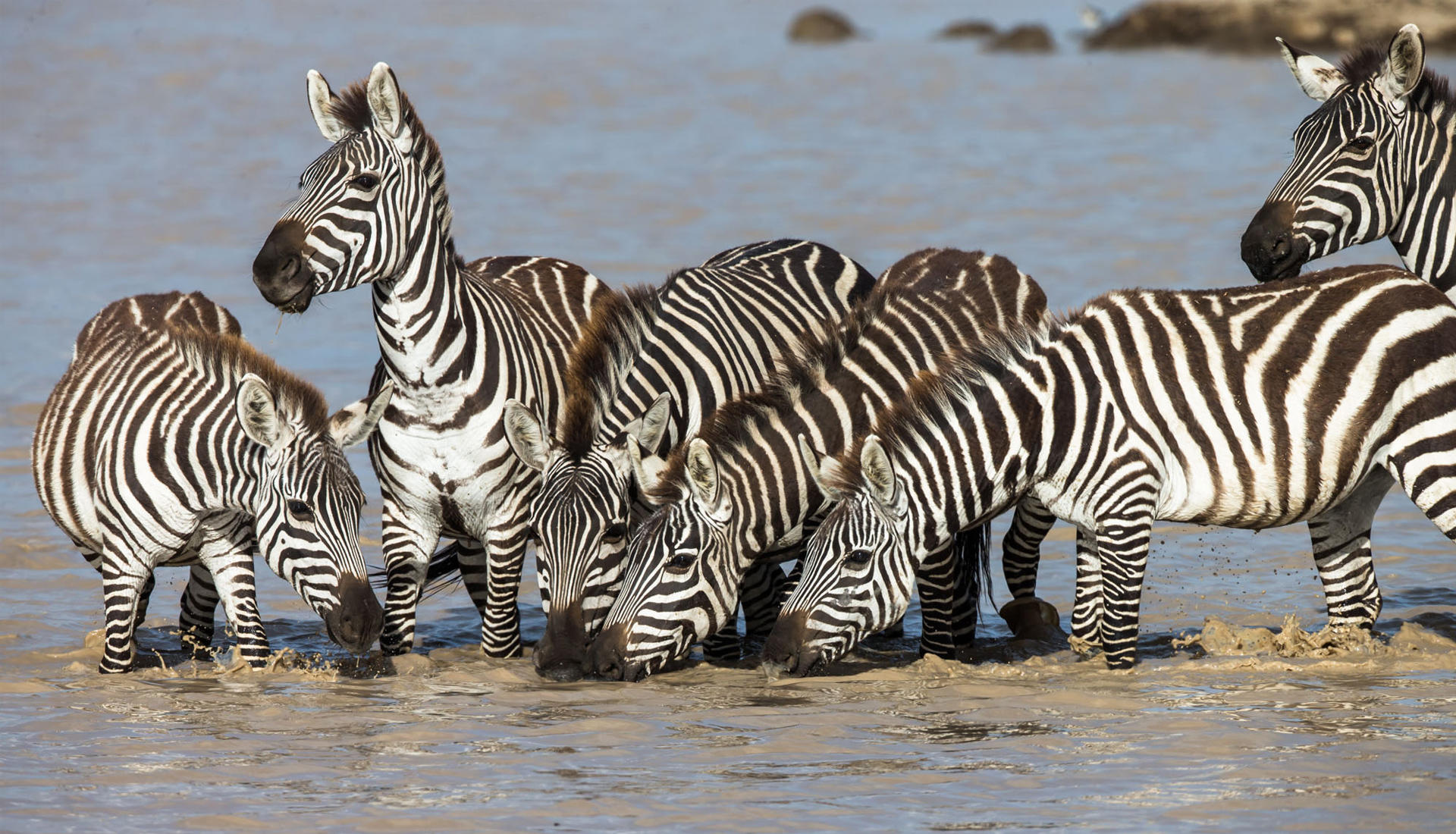 Ngorongoro Crater
Ngorongoro is one of the most extraordinary destinations on the continent and can be visited all year round but the peak is mid-June to October. Located in the Crater Highlands of northern Tanzania, one of 'Africa's' seven wonders, is home to a remarkable abundance and diversity of wildlife. It's named after the mighty Ngorongoro Crater, an ancient volcanic crater spanning 260 square kilometres, surrounded by a 600 metre high crater wall. It's the world's largest intact and unfilled caldera and home to over 25,000 large game animals. You'll have the chance to see the 'big 5', the endangered black rhino, spotted hyenas, slinking cheetah, the elusive leopard, large herds of buffalo and gazelle, and even the critically endangered African wild dog. Head to the lakes, and spot hippos and huge flocks of pink flamingo.
If you arrive during the Great Migration, you'll witness nearly two million wildebeest, zebra and antelope making their thundering mass movement to the Masai Mara. Approx 4hrs drive from Serengeti or 3hrs drive from Arusha or a short flight Approx. 35/40 minutes from Arusha or Kilamanjaro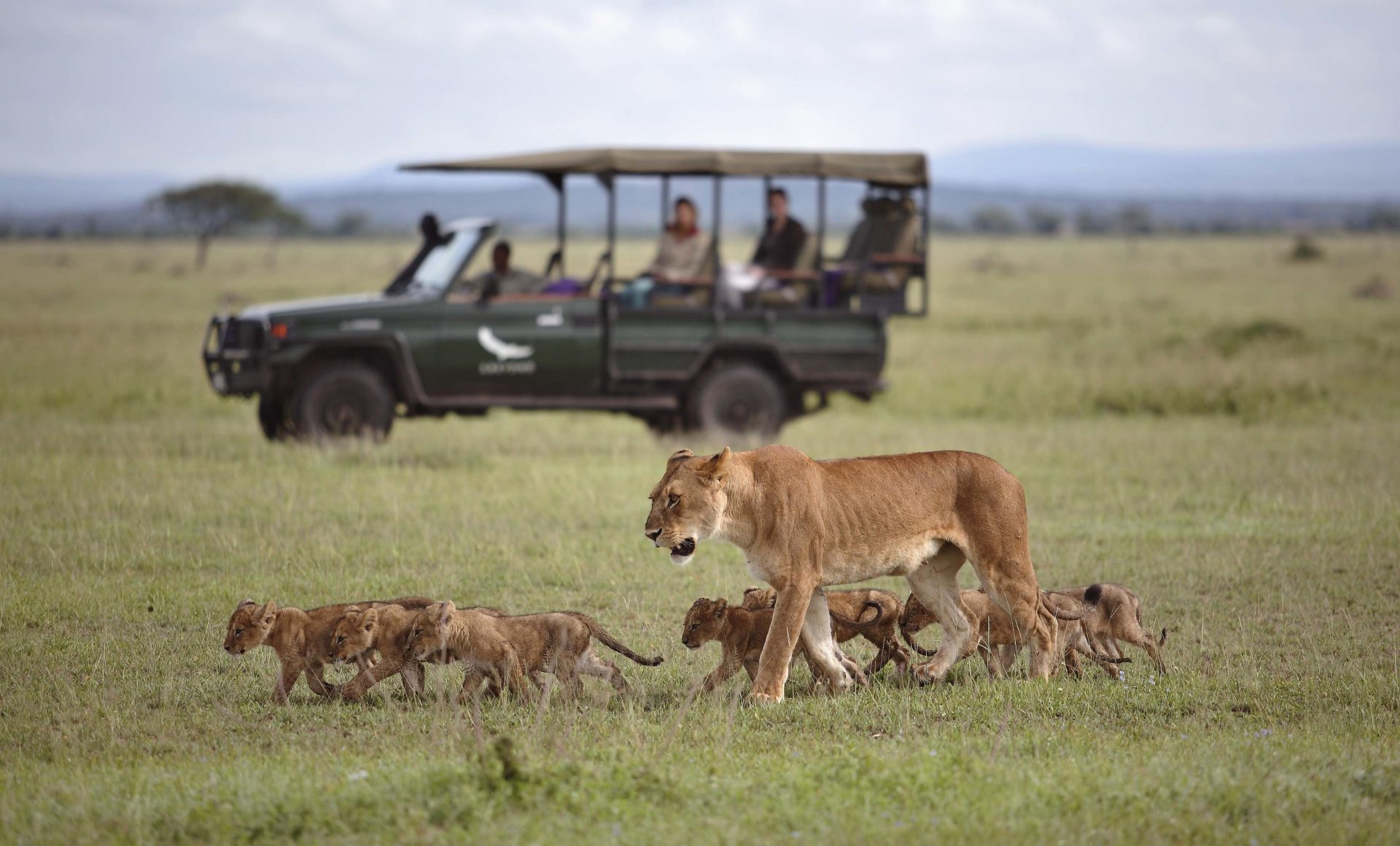 Lake Manyara National Park
Lake Manyara National Park is one of the prettiest, most interesting and compact game-rich parks in the country. Expect to see troops of olive baboons and Sykes' monkeys playing beside the road, and elephants often crossing your path as they avoid the struggle through the undergrowth. Lions here often take to the trees to relax, and there are also plenty of leopards in the park. There is also a dazzling array of birds found in Manyara, including the giant silvery-cheeked hornbill. The best time to visit is the dry season July to October for mammals, whilst the wet season November to June is great for birding. Lake Manyara was a personal favourite of Ernest Hemingway.
Approx 4 hour drive from Ngorongoro Conservation Area, 5 hour drive from Tarangire National Park, and a 6hour drive from Serengeti National Park. You can also reach Lake Manyara in 55 minutes flights from Arusha.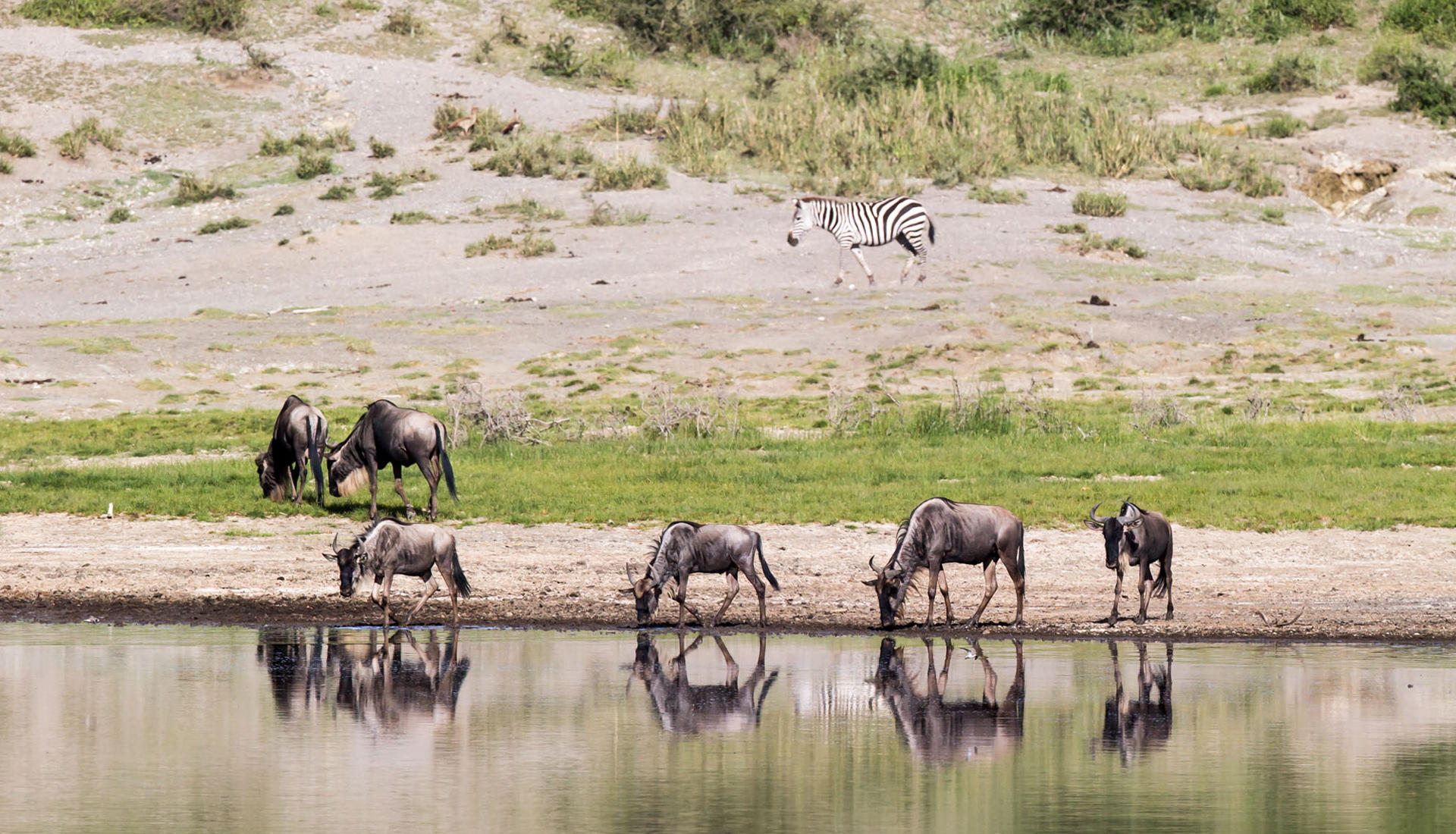 Tarangire National Park
Head to the quieter Tarangire National Park between July and October, renowned for its incredible concentration of wildlife, and stunning natural scenery. Tarangire is famed for its breath-taking landscapes, with ancient baobab trees, acacia woodlands, and massive termite mounds (home to dwarf mongoose), dotting the plains. The park can often get overlooked due to the popularity of some of the other well know national parks – we recommend staying for at least two days to take full advantage of this fantastic destination. The Tarangire River during the dry season of June to October, becomes the only water source for scores of animals. It draws large herds of elephants sometimes 200 to 300 strong, along with zebra, giraffe, impala, eland and warthog to drink. Predators, including lions and spotted hyena, gather around the river ready to strike, while leopards, cheetahs and even tree-climbing lions, can also be found in certain areas of the park. You will have the chance to spot over 550 species of bird here as Tarangire is one of Tanzania's best birding destinations, including the chance to see the ashy starling, northern pied babbler, bushveld pipit and yellow-collared lovebird.
Approx. 5 hour drive from the Ngorongoro Conservation Area, a 7 hour drive from Serengeti National Park or a 35 mins flight from Arusha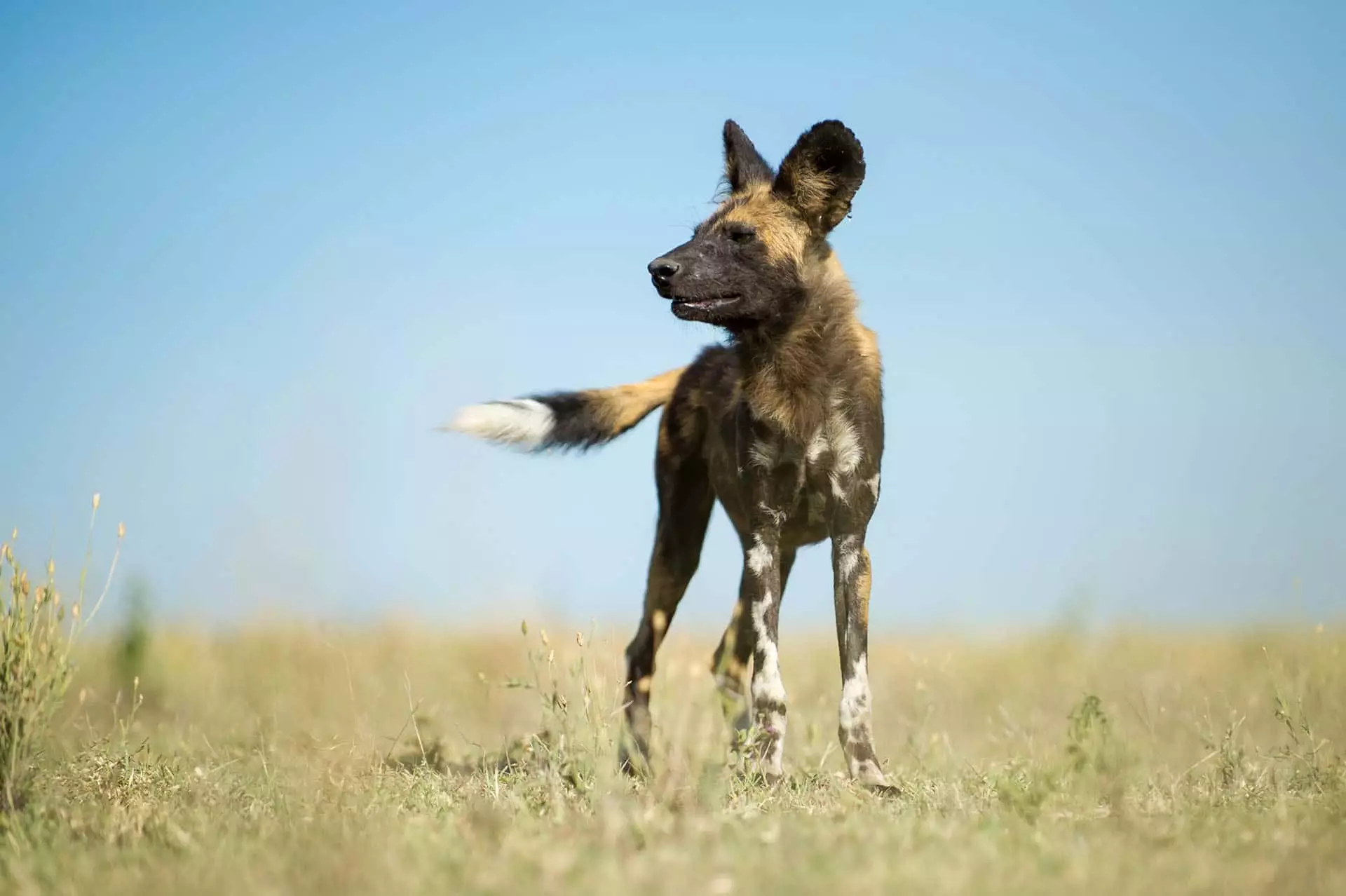 Arusha National Park
Most travellers pass through Arusha on their way to the more famous national parks, but it is worth stopping for a few days to soak up the fantastic sights around the region if you have time. Arusha National Park is a small, yet rich in wildlife, and can be accessed with an easy day trip from the city centre. There are few predators in the park, so it's a great place to take a walking safari. Visitors will be treated to one of the country's largest populations of giraffe, along with populations of buffalo, zebra, waterbuck, bushbuck and other species of antelope. You may catch a glimpse of the handful of elephants, hippos and shy dik-diks and red forest duikers which roam the region as well as a population of primates in the Ngurdoto Forest, including blue monkeys and black-and-white colobus monkeys. This park offers over 400 different bird species including the bright pink flocks of flamingos that cover the Momella Lakes. Mount Meru – Tanzania's second highest mountain – is close by a too and an easier climb that it's big Mount killi brother.
Approx. 1.5 hour drive to Arusha National Park from the airport.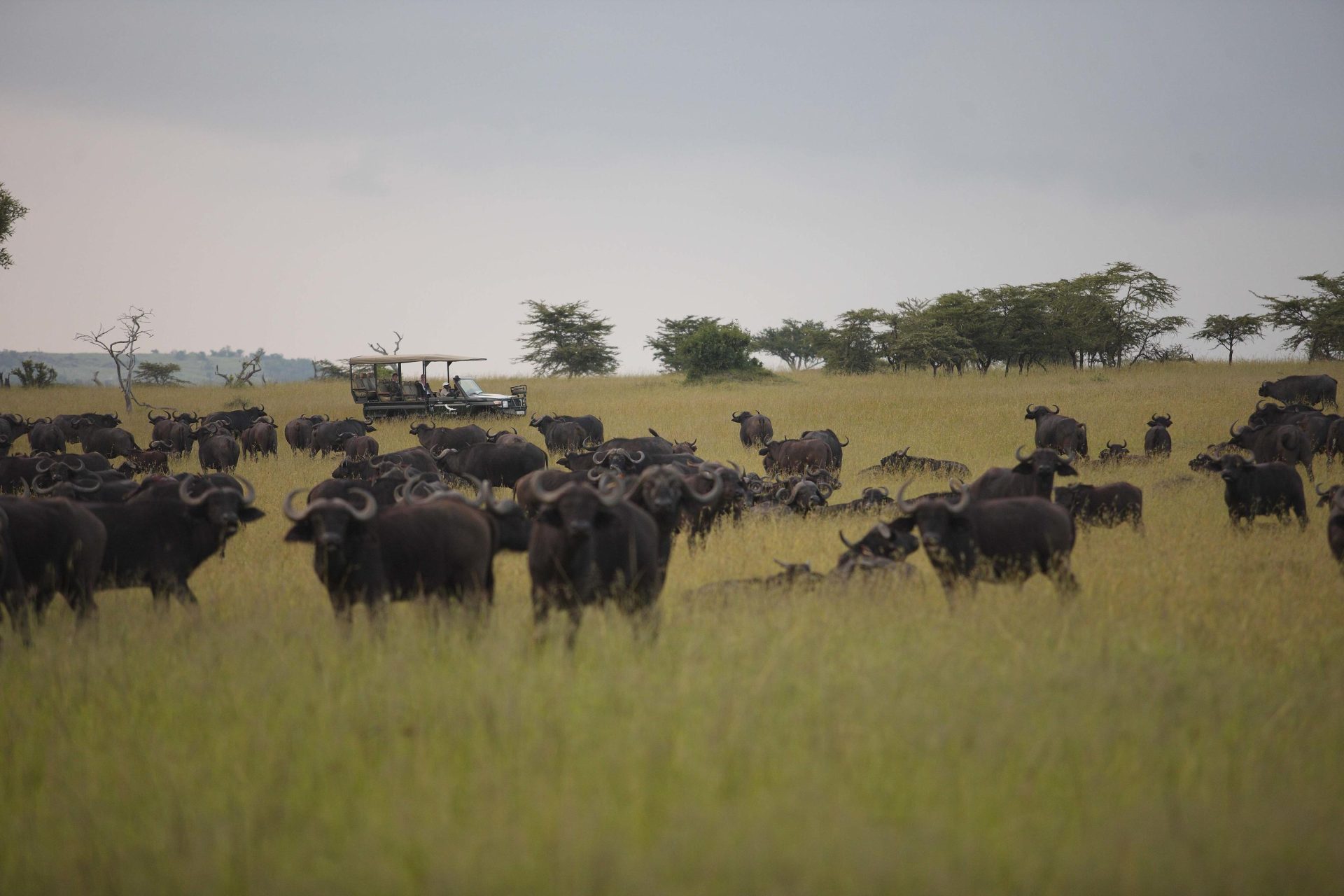 Selous Game Reserve
The dry season July to October is the best time to visit the Selous Game Reserve in southern Tanzania. Approximately only one percent of tourists visit this vast – Africa's largest game reserve – magnificent wilderness, inhabited by a huge range of animals. The park is dominated by the sluggish brown Rufiji, a riverine wilderness supporting immense numbers of hippos, crocodiles and water birds. It is best explored on one of the motorboat trips offered by most of the Selous camps.
The sandbanks are not only lined with outsized crocodiles, but elephants wander through the swampy islets, waterbucks graze nearby and you will see congregations of zebra, giraffe and antelope quench their thirst during the dry season. As you meander the network of game-viewing roads that connect the lakes, the opportunities for wildlife viewing are from vehicle boat or on foot are immense. The odds of seeing a kill here are unusually high too: the lions of Selous seem to prefer to laze quietly in the lakeshore woodland by day, waiting for lunch to venture within pouncing distance.
The easiest way to reach the Selous is by flying from Dar es Salaam 2.15 hours.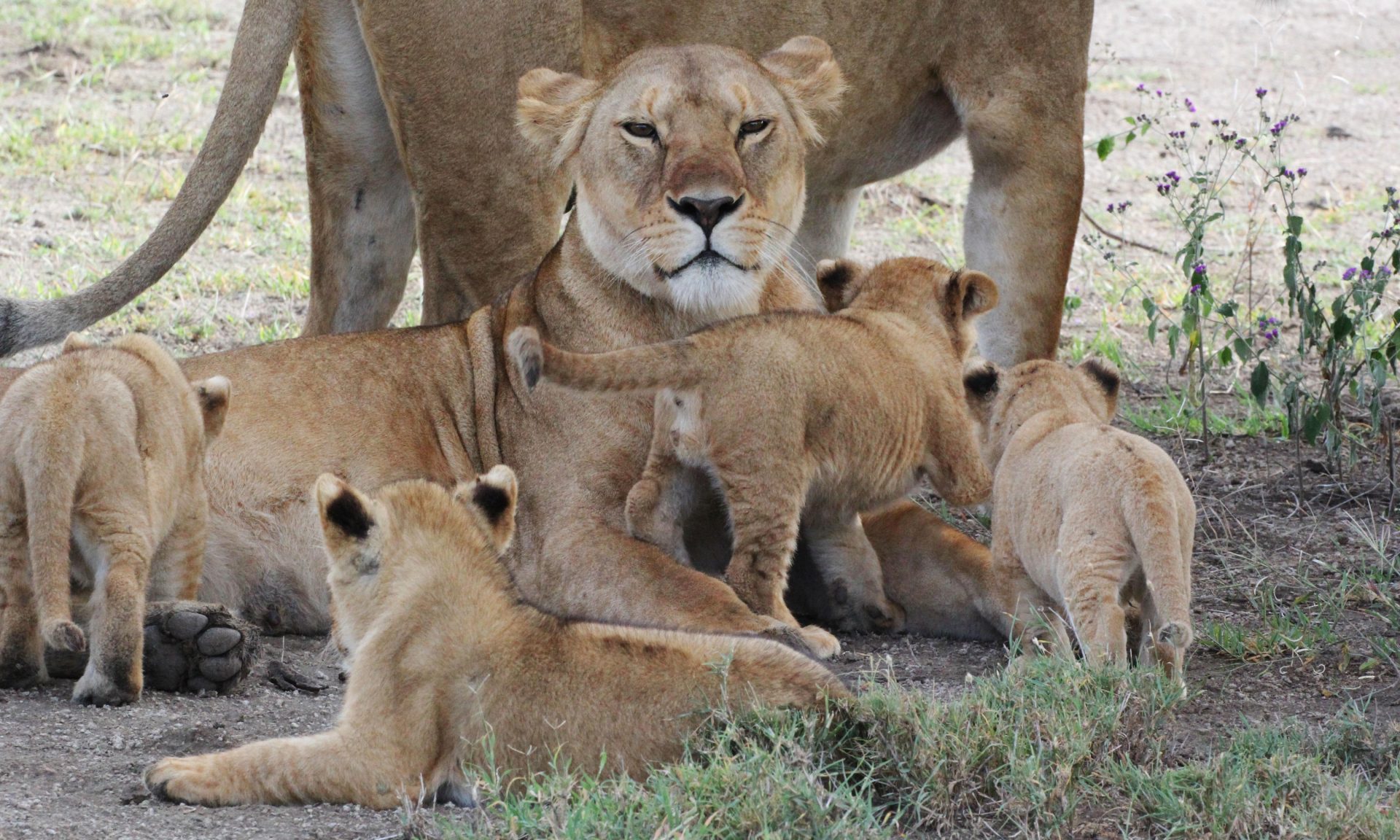 Ruaha National Park
Ruaha has remained essentially unchanged for centuries. As Tanzania's second largest national park Ruaha is one part of a massive ecosystem. It is home to high concentrations of elephant, as well as large herds of buffalo, Grant's gazelle, wild dogs, ostrich and more than 500 types of birds. Cheetahs pace the open savannah and in the southerly areas of the park you find the shy striped hyena, as well as endemic birds including the Ruaha red-billed hornbill. The parks plains also harbour a trio of antelope: the horned greater kudu, sleekly handsome sable and roan antelope. Near the Mwagusi River, prides of more than 20 lions can reduce a freshly killed buffalo or zebra to skin and bone in a couple of hours. The terrain is varied, with wild fig trees, baobab forests, and gorges of glowing orange sandstone. The Ruaha River has swirling rapids and deep pools that are inhabited by crocodiles and hippos. The best time to visit is June to October and if making the trip to Ruaha, one should stay for several days, allowing time to explore and soak in the enormity of it all – it is likely you can drive for hours without encountering another soul and just the wonderful wildlife.
There are direct flights available from Dar es Salaam to Ruaha Game Reserve 1.10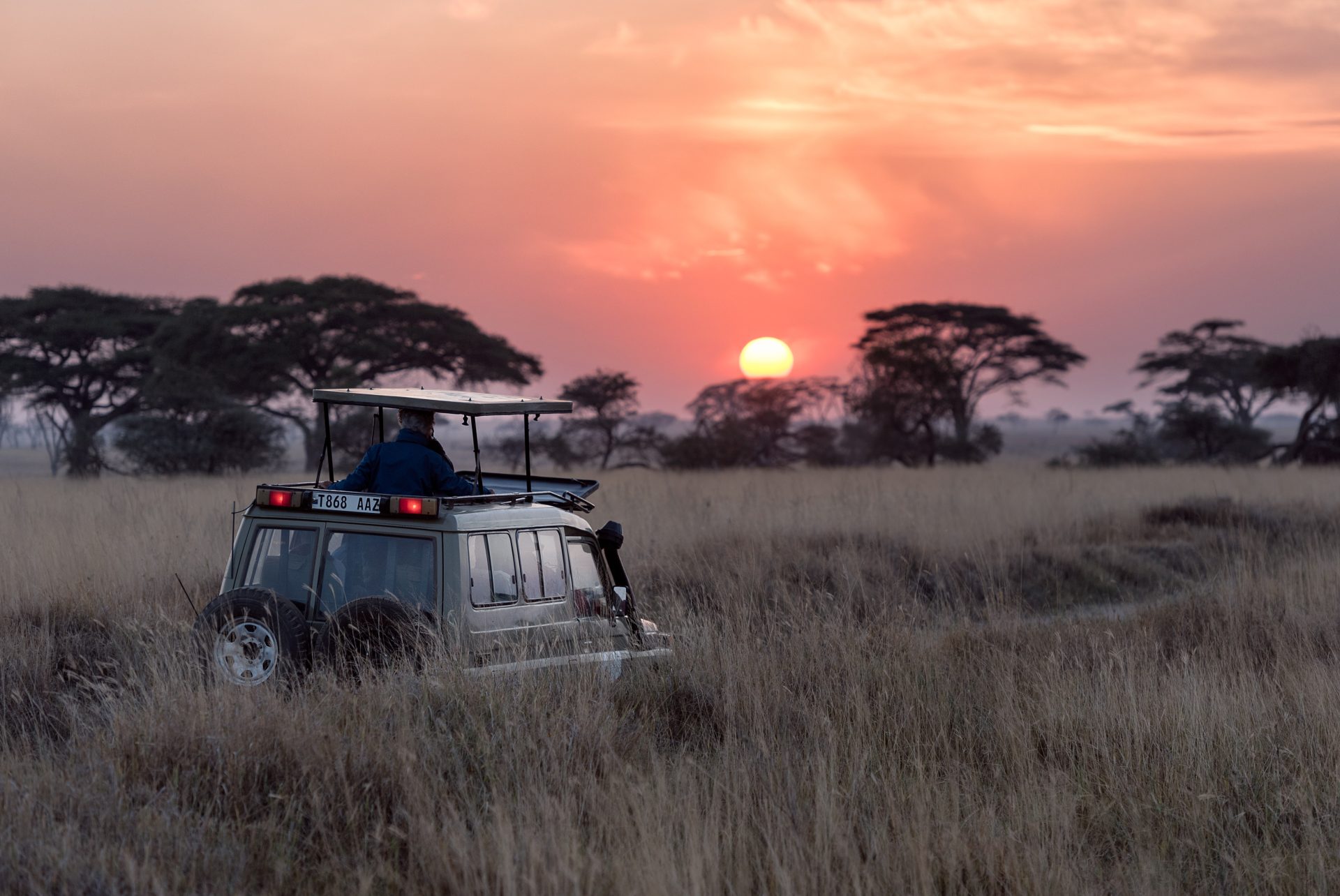 Gombe Stream and Mahale Mountains National Parks
These two national parks in western Tanzania on the shores of Lake Tanganyika are among the best places in the world to track chimpanzees in their natural environment. Most visitors arrive from the lakeside town of Kigoma by charter boat. Guided forest walks can be easily arranged on arrival, with a near-certainty of encountering chimps in the mornings. Tracking chimpanzees is considerably easier at the tail end of the Dry season from July to October, when the steep slopes are less slippery underfoot, and the chimps tend to stick to lower, more easily accessible altitudes. In the wetter months, the chimps are harder to find. That said, brimming waterfalls and an explosion of butterflies make an exploration at this time worthwhile.
To the south, Mahale Mountains National Park extends across a peninsula of rugged, forested mountains that rise sharply from sandy beaches, through tangled woodland and grassland, to the 2,462-metre-high Nkungwe Peak.
Mahale Mountains National Park – to the south – is most famous for its chimpanzees, which are usually seen at close quarters on daily tracking expeditions. Smaller primates, such as red colobus monkeys, red-tailed monkeys and yellow baboons can also be encountered. There is no road access to the park – most travellers arrive by charter flight from Arusha.
Approx 2.10 hours from Dar es Salaam to Kigoma airport or 3 hours to Mahale (depending on schedules)
Why we Love Tanzania
Tanzania is thought by many as the pinnacle of East African safari holidays. It is teeming with diverse wildlife and is undoubtedly a must visit safari destination. It has seven official World Heritage Sites with Ngorongoro being the largest unbroken and unflooded volcanic caldera in the world. Here among the plethora of wildlife you can also sing and dance with the joyful Maasai tribes. The sweeping plains of the Serengeti is the breathtaking outback venue of the annual migration of millions of wildebeest. Combine this with an evolutionary trip to Olduvai Gorge, Laetoli and the Kondoa Rock Art Cave Sites which take you back to your human origins. Selous and Ruaha are unspoiled remote wildernesses, home to thousands of elephants and bovines, and packs of rare African wild dogs and other diverse predators. Why not sleep under the stars on fly camping treks in remote Katavi, or return to the opulent self-indulgence of a Hemingway-style safari with every luxury and personal service in Tarangire. Lake Tanganyika is among the most beautiful lakes in the world and lake Manyara was a personal favorite of Ernest Hemingway.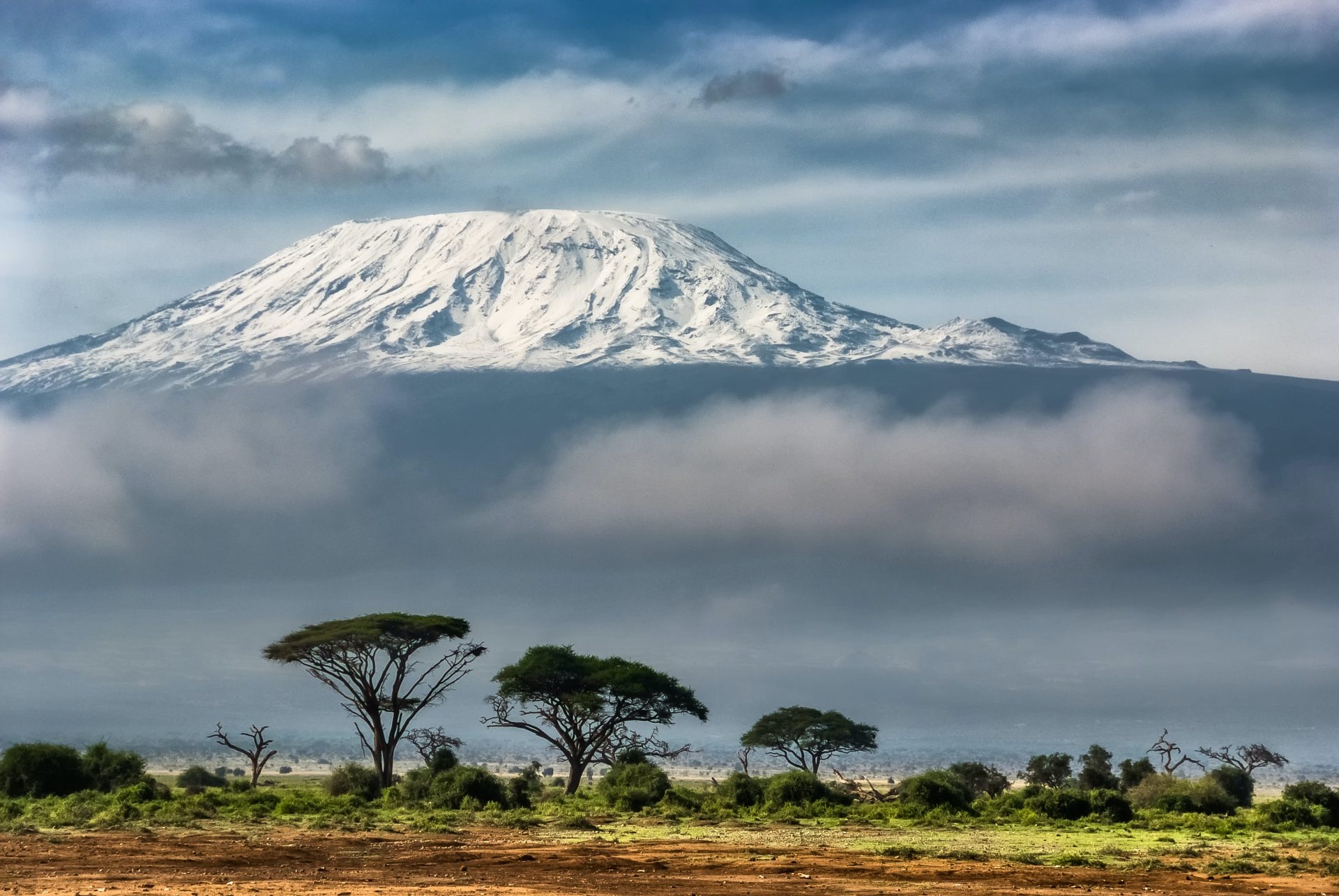 Whilst Africa's highest mountain, Kilimanjaro, needs little introduction and looms proudly with brightly snow-capped peaks, shinning in the morning sun above a pedestal of cloud. A personal challenge, would be to take an uphill strenuous stroll where you will trek past its glaciers to the highest peak, or peer into the magma pits of the Mountain of God – Ol Doinyo Lengai by Lake Natron – certainly worth the experience if you have the time and great to combine with a top safari!
The spice island of Zanzibar tantalises with crystal clear seas, white shimmering sands and UNESCO heritage. Stone town offers the opportunity to show off its wonderful Swahili architecture, the importance of it's significant trading port, its heady blend of cultures and focus of the abolition of slavery. Take a history trip to Bagamoyo or even Kilwa to see the ruins of Kisiwani and Songo Mnara. Revel in a barefoot beachfront holiday by the Indian Ocean with its endless miles of unspoiled white, sandy beaches backed by lush tropical forests are lapped by the clear azure waters. Dive at the Mnemba coral atoll alive with jeweled fish, turtles and dolphins or snorkel at the pristine Chumbe Island Coral Park. Sail the sparkling deep seas of Pemba and Mafia, the perfect place for discovering diverse marine life, including sharks and spectacular reefs or be pampered at one of the sophisticated chic-beach lodge offering massages, spa treatments and superlative cuisine amongst beautifully manicured but wild lush gardens.
The kaleidoscopic variety and the inimitable richness of Tanzania is alluring for any African safari enthusiast, or first timer – it's no wonder we love it!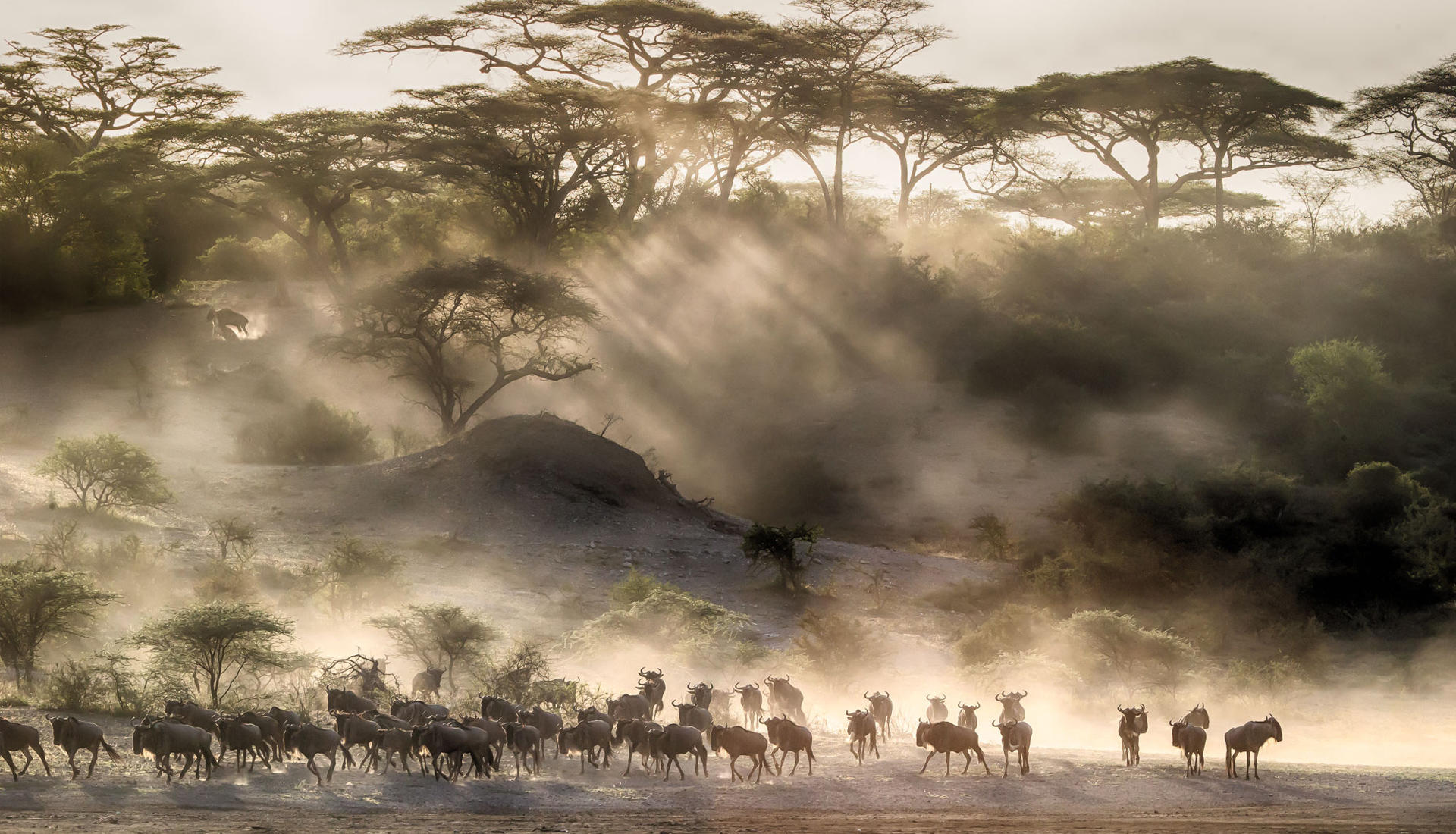 Tanzania Top Tips
• You may want to avoid the long rains of March and April
• Time your trip to travel July through September to coincide with the 'great annual wildebeest migration' and explore the Serengeti in search of the 'Big Five'
• Stay in a luxury safari lodge that looks out across the dusty savannah and indulge in locally inspired dining
• Mahale Mountain National park on the shores of Lake Tanganyika is one of the best places to go Chimpanzee trekking
• Tanzania is great for birders all year round
• See the calving grounds of the southern Serengeti during January and February when half a million calves are dropped in three weeks of synchronized birthing
• Lake Tanganyika is among the most beautiful lakes in the world
• Visit lake Manyara a personal favourite of Ernest Hemingway
• Take an evolutionary trip to Olduvai Gorge, Laetoli and the Kondoa Rock Art Cave Sites which take you back to your human origins
• Take a history trip to Bagamoyo or even Kilwa to see the ruins of Kisiwani and Songo Mnara
• See the tree climbing lions in Manyara
• Explore the Olduvai Gorge, one of the most important archaeological sites on earth
• Combine your trip to climb Mount Kilimanjaro, the highest mountain in Africa
• Tanzania is perfect for combining the best of African wildlife with the stunning powdery white sands and stunning sunsets of Zanzibar's coastline