Zambia might just be Africa's most underrated safari destination: raw and 'real' blessed with jaw-dropping scenery and some of the best big game viewing on the continent. Truly exceptional in its safari offering and deemed unsurpassable for many safari aficionados once it has been experienced. Surprisingly it is often pitched as a second time safari-goer's destination, behind the more 'iconic' options of the Masai Mara, the Serengeti or the Okavango Delta. However, Zambia is second to none and not to be missed is the stunning Victoria Falls, one of the seven natural wonders of the world, on the southern border so the country lends itself to combining excellent wildlife, action & adventure and spectacular landscapes.
Zambia focuses on fantastic walking safaris in wonderful national parks like South Luangwa and the Lower Zambezi. In the latter, you can also do canoeing and fishing as well as the game drives and walks. Plus when you reach Victoria Falls, the largest waterfalls in the world and one of the seven wonders, you can go white water rafting down the Zambezi river, chock-full of crocs and hippos (it's an amazing experience and one I would highly recommend.
Wildlife in Zambia
Technically Zambia has all the Big Five, but rhino are extremely rare and confined to the Mosi-oa-Tunya (Victoria Falls) and North Luangwa National Parks. Elephant, buffalo and lion are common across multiple parks however, and Kafue, South Luangwa and the Lower Zambezi are all well-known for leopard. Look beyond the Big Five and you'll find Zambia full of fascinating rare and endemic species such as black lechwe, Crawshay's zebra and Thornicroft's giraffe. Liuwa Plain National Park hosts Africa's second largest wildebeest migration in November each year, and Kasanka National Park's 10 million fruit bats take to the skies from October to December. Zambia is one of the wettest countries in Southern Africa and the rivers and lakes offer excellent fishing alongside thriving populations of hippo and crocodile. The Zambezi River is famous for its tigerfish and numerous fishing lodges can be found all along its length.
Zambia Safaris Holidays
We are aware that whilst some guests enjoy a more sociable experience when they travel, others prefer a more private experience. Therefore, there are several options available when planning a safari holiday in Botswana including small group tours, independent/private tailor-made safari, or fly-in safaris.
Zambia Small escorted group safaris
Small group safaris offer a relaxed experience with insightful local driver/guides and quality accommodation. Your vehicle is exclusively for your group and usually has a maximum of six guests, all guaranteed a window seat. Mileages are quite long and road conditions can be poor on occasion, but you'll get to see much more of the country and soak up the scenery.
If you like the look of one of our small group safaris but would prefer to have your own driver/guide, you can opt to follow the same itinerary on a private basis. You can also upgrade to a 4 x 4 vehicle which are more comfortable than a minibus and are able to cross rivers more easily, which is particularly beneficial in the green season.
Zambia Independent/Private tailor-made safari.
On a tailor-made or independent safari, you can choose your own camps and lodges and we'll create a bespoke itinerary on a private basis, just for you! We will be able to make recommendations based on your preferences and requirements and your budget. Please be aware that you may be travelling with like-minded guests on light aircraft flights as well as some game drives, unless you take the vehicle on a private basis.
Zambia Fly-in Safari
A fly-in safari makes use of light aircraft to transfer you between locations within Zambia, saving you time moving between parks and gives you more time to relax. You also gain an aerial overview of the landscapes that you will explore on the ground.
A fly-in option is sometimes available as part of a small group itinerary but is mainly arranged on a private basis. However, you may be travelling with other guest on these flights and possibly staying in some of the same camps or lodges.
Our Most Popular Zambia Safari Holidays
We offer an exceptional choice of safari experiences from mobile camps, tented accommodation and luxury lodges visiting Kenya's iconic parks as well as some of the lesser-known gems. Whether you are looking for a short fly-in safari, a full week's circuit safari, a safari and beach combination, a balloon experience or you would like to extend your time to visit a neighbouring country we can help make this happen.
Our favourite Zambia safari
Luxury Zambian Odyssey
| | | | |
| --- | --- | --- | --- |
| Destination | Accomodation | Duration | Basis |
| South Luangwa National Park | Luangwa National Park | 2 Nights | AI |
| Lower Zambezi National Park | Sausage Tree Camp | 2 Nights | AI |
| Victoria Falls, Zambia | Sanctuary Sussi & Chuma | 2 Nights | AI |
Day 1: South Luangwa National Park
You'll be met at Livingstone airport in Zambia and assisted with your connecting flight to Mfuwe airport, where you'll be met and driven (approximately 90 minutes) to your lodge inside the South Luangwa National Park. The rest of the day will be at leisure. If you arrive in time, you could join the afternoon game drive. Overnight at Luangwa River Camp, with meals, select drinks and game activities included.
Day 2: South Luangwa National Park
Join an early morning game drive to see some of the 60 mammals in the South Luangwa, including elephant, buffalo, lion, leopard, Thornicroft's giraffe, Crawshay's zebra and the puku antelope that the camp is named after. After lunch and a nap to cool off in the middle of the day, go on a late afternoon drive where you have a good chance of seeing elephant coming for a drink. This is also a good time to try to spot the elusive leopard when it's not sleeping away the heat of the day. Overnight at Luangwa River Camp, with meals, select drinks and game activities included.
Day 3: Lower Zambezi National Park
After your morning game activity and breakfast, you'll be transferred to the nearby airstrip for your scheduled flight to a camp on the banks of the Zambezi River in the best game viewing area of the Lower Zambezi National Park, where you'll arrive in time for lunch. Relax and watch elephant, hippo and buffalo from the deck or join the late afternoon game drive. Overnight at Sausage Tree Camp, with meals, select drinks and game activities included.
Day 4: Lower Zambezi National Park
Make the most of the game activities offered at the camp – perhaps an early morning bush walk with a trained guide or a day or night game drive for a chance to see lion, leopard, wild dog, hyena, zebra, waterbuck, bushbuck and kudu. Go on a canoe trip or boat cruise on the river, try your hand at tiger fishing or simply relax at the pool and let the animals come to you at the river below. Overnight at Sausage Tree Camp, with meals, select drinks and game activities included.
Day 5: Victoria Falls, Zambia
Today you'll be flown back to Livingstone Airport, where you'll be met and driven (about 20 minutes) to your lodge, which is built on a bend of the Zambezi River in the Mosi-Oa-Tunya National Park, 12 kilometres from the Victoria Falls. Spend the rest of the day at leisure, or enjoy a bush walk or game drive in the afternoon. Overnight at Sussi & Chuma Tree Lodge, with meals, select drinks and game activities included.
Day 6: Victoria Falls, Zambia
No trip to Livingstone is complete without seeing the Victoria Falls, and that's where you'll be going today. Enjoy a walking tour of the Falls – the most expansive curtain of water in the world and a Unesco World Heritage Site. If you'd like to participate in some of the other activities at the Falls – such as bungy jumping, white-water rafting, abseiling or a helicopter trip to see the Falls from above – your guide can arrange these at an additional cost. Overnight at Sussi & Chuma Tree Lodge, with meals, select drinks and game activities included.
Liuwa Plain National Park
This remote Park in the far west of Zambia is a pristine untouched wilderness. Game is widespread on the plains. This is a land of dramatic storms and is good for photography. The park has notable large herds of wildebeest in November. Antelope species, Wild Dog, Lion, Hyena, Jackal, Serval and Wildcat live here. Prolific birdlife can be seen here also. Its not advisable to visit without a guide as there are no visitor facilities or roads, and probably best seen with a mobile safari operator.When to go: August to December.
Sioma Ngwezi National Park
This Park is located in the south west corner of Zambia and is completely undeveloped. No visitors have been really until recently. It is surrounded by a Game Management Area; there are no fences so game can roam freely between these 2 areas. This is home to herds of Elephant, Wild Dog, Roan and Sable, Cheetah, Zebra. Poaching has been a problem but plans may be in the making to open the Park to private management. There are very few roads and no permanent facilities at all. It is not recommended without a guide or mobile safari operator.When to go: April to December
Kafue National Park
Zambias oldest and largest park, the 2nd largest in the world, its about the size of Wales. Underdeveloped until recently, the Park has a great diversity of landscapes and 3 large rivers run through it. Its teaming with wildlife including a wide variety of antelope species such as Hartebeest, Zebra, Buffalo and Red Lechwe also the Sitatunga.

Accompanying predators are Lion, Leopards, Cheetahs and smaller carnivores. There are a great many Hippo herds that love the river habitat. This is also a bird lovers haven. The Kafue and Lunga Rivers provide excellent fishing spots as well as the Itezhi Tezhi Dam, a 370 square km anglers delight.When to go: Best game viewing is from April to October the heat is most intense in October. There is spectacular scenery after the rains.
Blue Lagoon National Park
Situated on the Kafue flats, this Park is undiscovered and quite stunning; the vast plains change from dry grass flatland in the dry season to a water wonderland in the wet season. It has only recently been opened to the public. Fantastic birdlife can be seen which includes migratory species. The Park has Acacia woodland on the fringes.

Incredible herds of Kafue Lechwe can be seen here, also smaller numbers of Zebra, some Buffalo, Eland, Roan, Hartebeest, Wildebeest, Oribi, Sitatunga to mention a few and lots of waterbirds. Huge river pythons are attracted by the Lechwe and birds. The Park has very flat landscapes which are in huge contrast to other parks. It is in close proximity to Lusaka.When to go: Perfect for a quick getaway from Lusaka, but birdwatchers will find the rainy season from November to April the best.
Lochinvar National Park
Located on the southern edge of the Kafue Flats (a floodplain of the Kafue River), Lochinvar is a very beautiful, small park with wetlands and outstanding birding (428 species, truly amazing in this small area, almost 1 type of bird per kilometre). A small national park, just over 410 square kms, Lochinvar is located, north of Monze, 235kms (146.03 miles) from Lusaka, on the south side of the Kafue Flats in the Southern Province. The National Park is divided into three distinct zones; the northern floodplain (part of the Kafue Flats), the central grasslands and the southern woodlands.

Larger mammals are not abundant here but Blue Wildebeest, Buffalo, Kudu, Oribi and thousands of Kafue Lechwe love the waterlogged environment. In the south of the Park visitors will find woodlands and hot springs at Gwisho, which is one of the oldest archaeological sites in Central Africa. Walking in the park is permitted.When to go: For game viewing the dry season is best, but the Park is accessible all year with care after heavy rains, birding is best in the rainy season.
Mosi-O-Tunya National Park
This Park is situated on the upper Zambezi and includes the Victoria Falls. It is very small and has a lovely circular drive along the river which takes a couple of hours, various animals can be clearly seen en route. There are no predators in this Park so other animals are relaxed which is excellent for good close up game viewing and photography. Animals include antelope species, Zebra and Giraffe. Elephants can also be spotted.When to go: Popular all year round because of the Victoria Falls and abundance of exciting activities. The falls are at their most spectacular between April and May after the rains but the spray is heavy and its difficult to see the full width of the falls. To appreciate the gorges and magnificent rock formations the end of the dry season from October to December is also good.
Lower Zambezi National Park
This is Zambia's newest Park; it is still quite underdeveloped but a fantastic wilderness area. There is very good game viewing around the Zambezi channels. The Park lies across the river from the Mana Pools Reserve in Zimbabwe and the 2 areas form a huge wildlife sanctuary. Most game can be found on the valley floor. Large herds of Elephant are present, also Buffalo, Lion and Leopard in this area. See wonderful birdlife along the river banks.When to go: The Season is from April to November with June to September being the best, angling season is best September / October.
South Luangwa National Park
Prolific game is attracted to the scenic Luangwa River and its ox bow lagoons. There is a wide variety of wildlife and birds that can be found here. This area is perfect for Walking Safaris which have become a speciality here. This Park is home to Elephant, Buffalo, Hippo, Zebra, Giraffe and antelope species (14 in total), also Hyena, Leopard, Lions and Giraffe.When to go: Very distinct seasons experienced but it is dry April to October, October is the hottest month and game at their most concentrated. Fabulous colours change the landscapes in the rainy season.
North Luangwa National Park
This is a remote and wild Park with very few roads, a wonderful truly wilderness experience; visitors are unlikely to see any other travellers. Access is very limited and only to designated operators for walking only. Some rivers run through the Park to join the Luangwa, one of these is the Mwaleshi trickling its clear mountain water down the escarpment, it recedes in the dry season and many pools are left which draw the game from the bush. Vegetation is varied from riverine forest to woodland, grasslands and acacia thicket. The Park has big herds of Buffalo, Lion, Elephant, Leopard, Wildebeest and Hyena. When to go: Impossible in the wet season, the best time is June to October.
Nyika Plateau National Park
On the eastern tip of Zambia this Park is located on the Malawian border, actually an extension of the National Park on that side. Nyika has a beautiful montane highland area. There are awesome views from 2 000 metres above sea level here. It experiences a pleasant warm climate compared to the heat of the valley.

Landscapes consist of open rolling grasslands with valleys, green protea bushes, slopes of wild flowers and green hills. There are also rocky outcrops and small tropical forests. Wonderful views and walking here is a pleasure because of the wild flowers especially in October and November.

The Chisanga Falls are located in the Park. Its a birdwatchers haven. Animals living here include Zebra, Roan, Eland and Reedbuck also Leopard and various nocturnal animals that can be seen on night drives.When to go: Anytime of the year, the dry season is best for game viewing, gorgeous wild flowers after the rains from November to March. It can get very chilly at night even in summer, winter is June to August.
Bangweulu Floodplains National Park
The lake is beautiful with a productive lakeside population, and together with the wetlands (a protected area) lies in a shallow depression in the North Zambian Plateau. 17 rivers flow in to the basin and only one drains it, the Luapula. Higher sections of the Park have woodland and grassland vegetation, the vast floodplain has grasslands depending on the intensity of annual flooding.

This is swamp territory. Game and birdlife are at their most diverse in the woodland and on the grasslands. The Shoebill Stork and other fairly rare birds can be found here. The Black Lechwe is unique to the floodplains and the shy Sitatunga can walk on the reed beds. Other animals such as Elephant and Buffalo come only when the water has receded. All trips around the swamps are made by boat.When to go: In the rainy season November to March birdlife is amazing but lots of insects too. The floodplain generally starts to dry out in late April. By June / July there is better access to the swampland and its floating mats of vegetation. August is mid winter with pleasant days but very cold nights.
Kasanka National Park
Kasanka National Park is located north of Lusaka, approximately a 6 hour car journey, on the edge of the vast wetlands of Lake Bangweulu. It is one of Zambias smallest parks but with rivers, lakes and wetlands, lagoons, forests, meadows and grasslands. There is wide variety of animal and birdlife and fish. Its not known for prolific animals, but for its beauty and rarer birds and wildlife.

Kasanka National Park is one of the only privately managed National parks in Zambia. Careful steps have been taken to preserve the wild environment, with the revenue from visitors going to conservation and local community projects.

There's an excellent variety of mammals, and birds found within the park including Elephant, Hippo, range of Antelope species, Warthog, Bushpig, Baboon, Leopard, the rare Blue Monkey seen in the forests and the seldom seen Shoebill Stork has been spotted on the Kasanka's wetlands. There are no less than 8 lakes and 4 rivers, the largest being the Luwonbwa, which offers great opportunities for anglers. When to go: Open all year round with game sightings in the dry season and good birding in the wet season from November to March.
Sumbu National Park
Located in the most northern tip of Zambia, on the shores of Lake Tanganyika, Sumbu has 100km (62 miles) of some of the most pristine shores of this massive lake. The lake has excellent angling and some scuba diving. Stunning landscapes and sandy beaches, cliffs, coves and bays with valleys and rocky hills.

The Lufubu River makes its way through the Park in a valley with 300 metre escarpments on both sides. There are sizeable Game Management Areas in the north western boundaries of this Park, forming a network of protected areas. The Park has suffered declining wildlife numbers in the past, but they are recovering. Sightings are not guaranteed but animals in the Park include Buffalo, Elephant, Lion and Leopard, also Zebra and Spotted Hyena to mention only a few. Hippos are active at night. Birdlife is prolific with migrant species such as the flamingo also present. There are some sacred areas shrouded in mystery which are important to the local Tabwa people.When to go: Warm weather all year round, with warmest temperatures in September and October, evenings and mornings are coolest from May to August. Game viewing is best in the dry season.
Other Smaller Parks in Zambia
Luambe: Situated between north and south Luangwa Parks on the east bank of the Luangwa River, its a beautiful area with an increasing animal and bird population. Lavushi Mandla: No longer a wildlife reserve due to poaching, Tsetse flies are rife here. No infrastructure at all. Located in the Mpika vicinity Isangano: Also does not have any infrastructure and a devastating history of poaching, it can be reached by turning west off the Mpika / Mpulungu road, at Chambeshi.Mweru Wantipa: In the far north surrounding Lake Mweru, its similar to the Bangweulu swamps. There are few animals left and no development at all. Lukusuzi: On the eastern escarpment between North and South Luangwa Parks, no development and game numbers not determined.
Best Time to Visit: 
The best time to visit Zambia is during the dry season between June and November. The skies are cobalt blue, the days are hot, and the nights are cool. Temperatures can sit anywhere from 23°C to 36°C across the country. Wildlife-spotting opportunities are plentiful during this time too.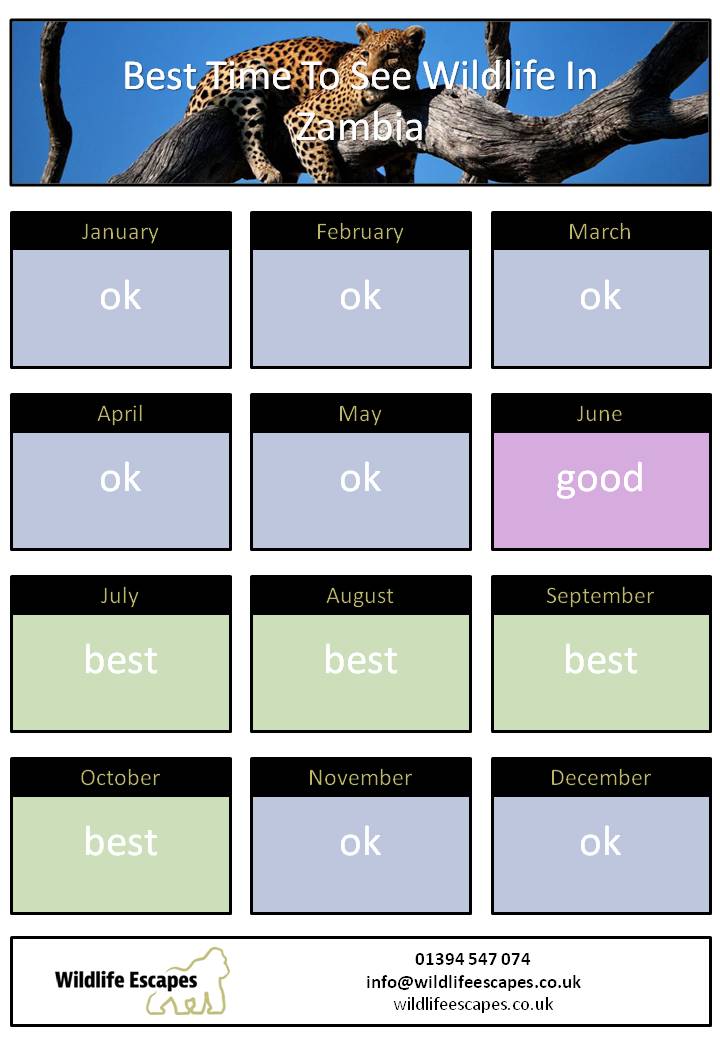 Why we love Zambia
From breathtaking walking safaris and white-water rafting to seeing one of the world's largest waterfalls, a holiday in Zambia bursts with adventure and natural beauty. A trip to Zambia isn't complete without experiencing the thundering clash of its magnificent Victoria Falls. Touted as one of the world's largest waterfalls, the tumbling cascading curtain of water that stretches along the Zambia and Zimbabwe border is truly spell-bounding. It's also a fantastic playground for adrenaline sports such as white-water rafting, kayaking, river boarding and jet boating. Whichever way you choose to experience it, the famous Victoria Falls should be at the top of your Zambia holiday's must-see list.
Zimbabwe Top Tips
Get off the Beaten Track: Enjoy a walking safari in South Luangwa National Park and discover Africa from the dust upwards…
Boating Cruises and Fishing: Always spectacular on the Lower Zambezi at sunset, or even in the company of hippos!
Distance Yourself from Modern Life: Take some time out to relax and absorb your incredible surroundings in the South Luangwa Valley.
Zambia Migrations: Visit Liuwa Plains National Park, one of Africa's most pristine parks where thousands of wildebeest migrate from the northwest to the south each year.
Kasanka Bat Safari: Millions of straw-coloured fruit bats come to Kasanka to feast on the fruiting trees, starts at the end of October.
Relax and Unwind: Take some time out at one of the wonderful lodges on the Zambezi just upstream from Victoria Falls.
Why not see more of Africa in one trip by twinning your Zambia holiday with a visit to Cape Town or Zimbabwe?