Best Time to see Polar Bears | Winter Polar Bear watching | Summer Polar Bear watching | Silversea Expedition Cruise | Hurtigruten Expedition Cruise
Polar Bear Holiday Schedules
These itineraries are ones we have arranged for many of our clients and will give you one of the very best wildlife holiday experiences. Where possible we have included other highlights of the country, to make the most of your precious holiday time, but ultimately everything revolves around the wildlife. However, nothing is cast in stone, as we can tailor-make the perfect wildlife holiday to suit your interests, the time you have, the standard/quality of the accommodation you prefer and, of course, your budget. No two people are the same, so we will listen to your individual requirements, find out what your expectations, and aspirations, are and accordingly make suggestions, and recommendations, to give you the most memorable wildlife holiday experience.
| ACCOMMODATION | DESTINATION | DURATION | BASIS |
| --- | --- | --- | --- |
| Daylight Travel | | | |
| The Hilton Suites, or similar | Winnipeg | 1 night | B&B |
| Lazy Bear Lodge | Churchill | 3/4 nights | B&B+ |
| The Hilton Suites, or similar | Winnipeg | 1 night | B&B |
| Overnight Travel | | 1 night | |
| Suggested Extensions | | | |
| Niagara Falls | Hilton Niagara Falls | 1/2 nights | RO |
| Montreal | Delta Montreal | 2/3 nights | RO |
| Ottawa | Sheraton Hotel | 2/3 nights | RO |
| Toronto | Double Tree by Hilton | 2/3 nights | RO |
| Quebec City | Manoir Victoria | 2/3 nights | RO |
| Tremblant | Fairmont Tremblant | 2/3 nights | RO |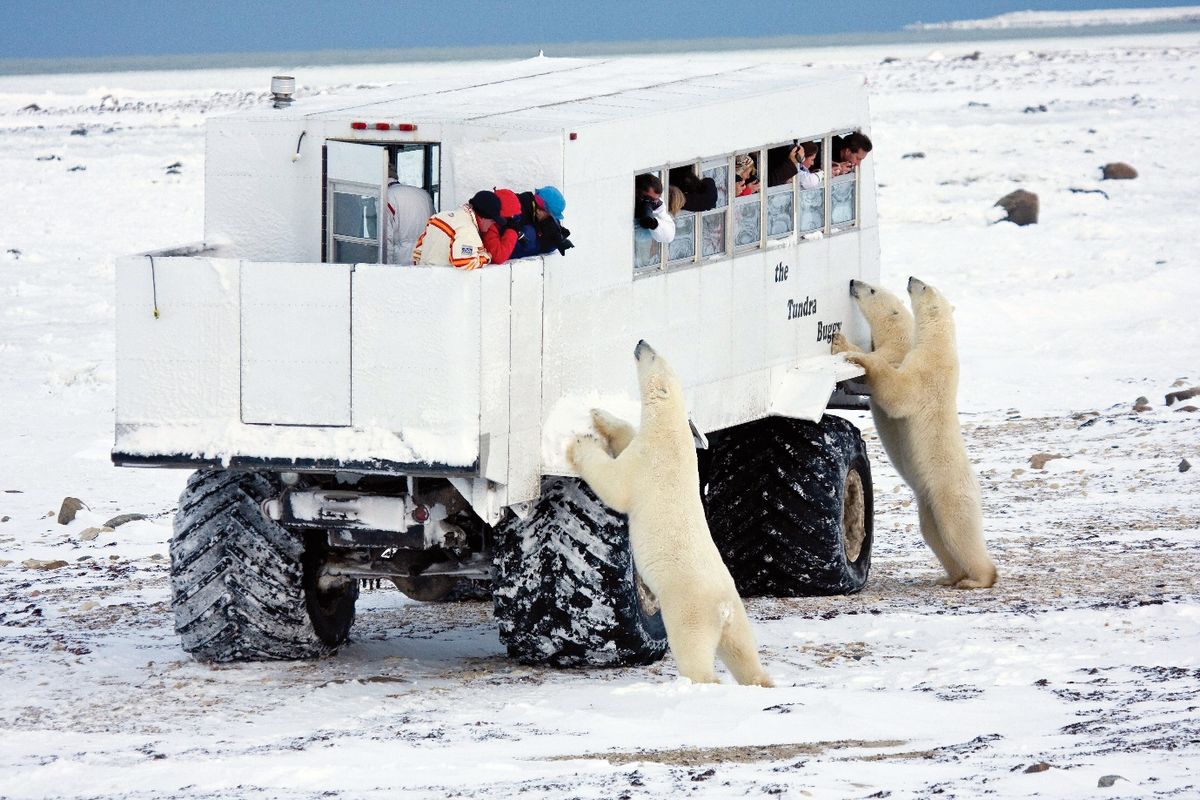 Winter Polar Bear Viewing Tour Following the Migratory Path (October & November)
Round trip from Winnipeg – 6 days
On this Churchill Town & Tundra Experience tour you will spend two full days on the tundra for polar bear viewing from the comfort of a Tundra Buggy: a unique experience providing memories to last a lifetime.
Day 1 – On arrival in Winnipeg check into your hotel. This evening join a 'meet and greet' held by your guide which will provide you with more information on your adventure and also the chance to ask questions.
Day 2 – Churchill: after an early breakfast with your guide, as part of your group, you'll be transferred to a private hanger where your aircraft will depart for Churchill. The flight time is around 2 ½ hours. On arrival, you will head straight out on a Churchill area tour, seeing various points of interest including Manitoba Conservation's Polar Bear Holding Facility for a great photo opportunity. After lunch you visit the Interpretive Centre and there will be a short talk on the bears themselves. At the Parks Canada Visitor Centre, you will see in-depth displays and exhibits that reveal the history of Churchill. Then, head to your hotel and freshen up before joining your guide and group for dinner.
Day 3 – Polar Bear Viewing: after breakfast your group will be picked up and taken to the Tundra Buggy Dock. Here you will board a Tundra Buggy and head out to the Churchill Wildlife Management Area in search of polar bears. Lunch is served on the Tundra Buggy while you continue to look for more polar bears and other wildlife such as Arctic fox and ptarmigan. At the end of the day return to your hotel before joining your group again for dinner.
Day 4 – Dog sledding: after breakfast enjoy a dog sledding adventure. You will learn about these incredible animals before taking a dog-sled ride through the boreal forest. After lunch you visit to the Itsanitaq Museum, which is home to a vast collection of Inuit artefacts. Here you will learn more about their Indigenous culture and history. Return to the hotel before another group dinner.
Day 5 – Polar Bear Viewing: another day of polar bear viewing onboard a Tundra Buggy including lunch. Late afternoon you'll be taken to the airport for the return flight to Winnipeg, where, after checking into your hotel the evening is yours at leisure.
Day 6 – End of Tour: arrangements end once you have checked out from the hotel.
PRICE: from £4,910pp based on twin share
DEPARTS: various dates from early October to mid-November
PACKAGE INCLUDES:
2 nights' accommodation in Winnipeg
3 nights' accommodation in Churchill
Meals as detailed
Return airfare between Winnipeg and Churchill
2 days polar bear viewing on a Tundra Buggy
Churchill and area tour
Entrance to the Itsantiq Museum
Cultural presentation
Dog sledding excursion
Please note that we have not included international flights as there is a choice of airlines and class of travel to suit your specific requirements. We will, of course, include international flight information and price these as part of any quote we provide to you.
Our Summer Polar Bear Viewing Tour July & August
Round trip from Winnipeg – 7 days
The wildlife comes out to play in Churchill during the Summer months.
The highest concentration of beluga whales in the world descends upon Hudson Bay. Around 3,000 visit the Churchill River Basin to feed on the schools of capelin, char and brook trout, whilst polar bears are leaving the melting sea ice to hunt along the shore. The area is also home to caribou, moose, Arctic and red fox, Arctic hare, ptarmigan and geese. At this time of year (if you're lucky!) you may even see the Aurora Borealis.
Day 1 –Arrive at Winnipeg and transfer to your hotel for an overnight stay.
Day 2 – This morning fly to Churchill and on arrival, transfer to Lazy Bear Lodge your base for a 4-night stay. Tour the Cultural and Heritage Churchill area including historic Cape Merry and an outside tour of the polar bear Jail.  Also included is one dinner at the Lazy Bear Café which you can take at any time during your 4-night stay.
Day 3 – Polar Bear Viewing: today enjoy a Hudson Bay Coastal Tour (by boat) in search of polar bears and arctic wildlife in an area on the west side of Hudson Bay. Bears can often be seen swimming to keep cool or wandering around the rocks.  Pack lunch included.
Day 4 – Whale watching: this morning, enjoy an excursion in search of beluga whales. Known as 'the canaries of the sea' due to their song-like sounds, beluga whales are social, playful, and highly communicative. During this 3-hour excursion you will also go ashore for a walking tour of the historic Prince of Wales Fort.
Day 5 – A day at leisure in Churchill to explore at your own pace or take an optional kayaking, dog mushing (on wheels) or Aqua Gliding excursion.
Day 6 – Wildlife viewing: after breakfast enjoy a 3-hour tundra tour onboard an Arctic Crawler vehicle. Look out for polar bears that roam around as well as fox, hare and a variety of birds. You will then transfer to the airport for your return flight to Winnipeg where you'll check in for an overnight stay.
Day 7 – End of Tour: after breakfast your arrangement end upon check out from the hotel.
PRICE FROM: £3,758pp based on twin share
DEPARTS: mid-July to end of August
WHAT'S INCLUDED
Return airfare between Winnipeg and Churchill
Arctic Summer Adventure
2-night stay in Winnipeg
4-night stay in Churchill at Lazy Bear Lodge
6 breakfasts, 1 lunch to-go and 1 dinner
Services of a naturalist tour guide
Churchill town and area tour
6-8 hour Hudson Bay Coastal Boat Tour
3-hour beluga whale viewing tour
3-hour tundra tour
Please note that we have not included international flights as there is a choice of airlines and class of travel to suit your specific requirements. We will, of course, include international flight information and price as part of any quote we provide to you.
About the Polar Bears
Polar Bears roam the coldest environments on our planet. They are listed as a vulnerable species, and face an uncertain future, which is why there is such a demand to see them.
Polar bears are huge, powerful, and very strong swimmers. Their large front paws are slightly webbed, which they use to paddle. They have a thick coat of fur that is insulated, which also grows on the bottom of their paws. This gives them a strong grip on the ice and protects them from the artic conditions.
Females give birth to their cubs in snow dens around November or December and emerge from the den four to five months later. The cubs will stay with their mother for about two years, while they learn the skills needed to survive in the Arctic.
Facts About the Polar Bears
Vulnerable Species
COMMON NAME: Polar Bear
SCIENTIFIC NAME: Ursus maritimus
TYPE: Mammal
DIET: Carnivore
AVERAGE LIFE SPAN IN CAPTIVITY: 25 to 30 years.
SIZE: Head and body: 7.25 to 8 feet. Tail: 3 to 5 inches
WEIGHT: 900 to 1,600 pounds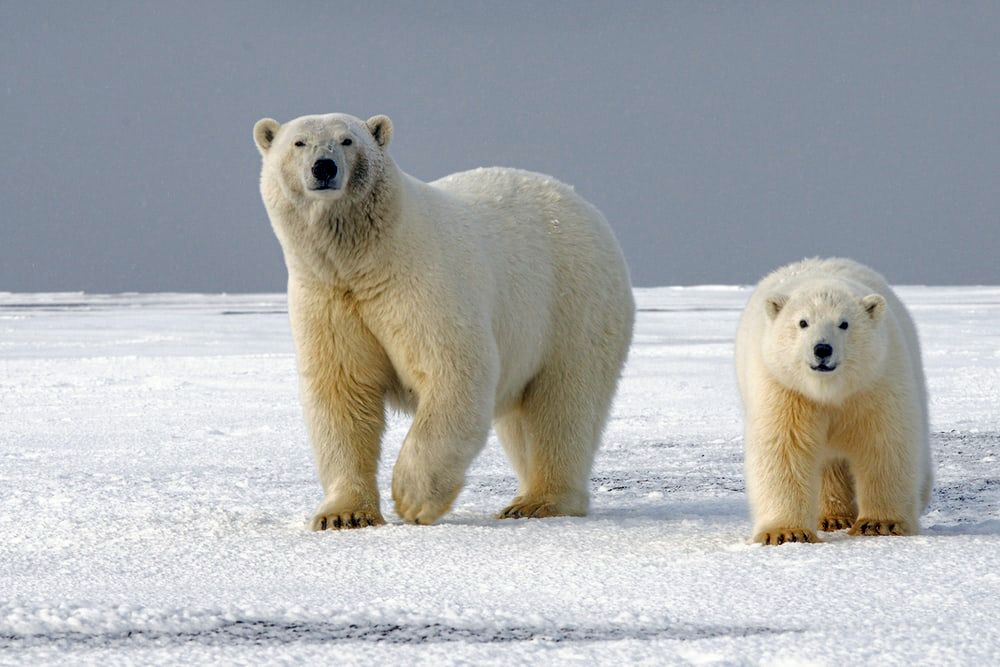 Best Places to See Polar Bears
Churchill, Northern Manitoba, Canada
Churchill is not proclaimed to be "The Polar Bear Capital of the World" for nothing!
Set in the pristine wilderness area of Northern Manitoba, Canada, Churchill is nestled between the Churchill River and the shore of Hudson Bay. Churchill lies on the bear's migratory path, meaning every autumn an abundance of polar bears congregate near Churchill every year without fail. This remote coastline is the only human settlement where the polar bears can be observed in the wild and the unchanged landscape attracts travellers and photographers from around the world.
Whilst it is undoubtedly the best place to see the polar bears, especially in the Autumn, during the summer months other wildlife comes out to play. This includes caribou, moose, Arctic and red fox, Arctic hare, ptarmigan, and geese to name just a few! The world's largest concentration of roughly 3,000 beluga whales descend at the mouth of the Churchill River Churchill in the summer too. Plus, as a bonus you can often see the Aurora Borealis at this time of year.
Svalbard, Spitsbergen, Norway
Found between Norway and the North Pole amongst the stunning glaciers of the Svalbard archipelago there is an array of wildlife including thousands of polar bears. During the winter (February to May) you can go in search of the polar bears by snowmobile on the main island of Spitsbergen or take an expedition cruise during the summertime which is more likely to give you a better chance of seeing the polar bears (usually June to August/September)
Greenland
Polar bears are rarely seen on land so our expedition cruises offers the best chance to see them. Typically, June through September are the best months to travel.
Wrangel Island, Russia
Probably the least visited reserve, Wrangel Island lies approx. 140km off the northeast coast of Siberia. Hundreds of mothers land here to give birth and raise their young. An expedition cruise offers the best chance to see them along with walrus, grey whales, reindeer, and other Arctic animals.  August and September are the best months to travel here.
Why We Love Arctic Canada
Arctic Canada is a land of stunning icy landscapes, polar bears, migrating beluga whales', arctic fox, moose, caribou, snowy owls and not forgetting of course, the infamous phenomenon of the Northern Lights.  This part of Canada is a real treat, visited by few people and one that should certainly be high up on your bucket list.
The Arctic North of Canada is a fairy tale place, and you will fall in love with the world's largest land carnivore (which looks much cuter than its fierce nature would have you believe!). In the winter, explore some of the most impressive ice formations on the planet either on foot under the midnight sun, or by adapted buggies.  The region really comes alive during the summer months, when it is carpeted with colourful flowers and the wildlife of the region, of which when the indisputable 'King of the Arctic' emerges.
There are a host of excursions in this region available to ensure your trip is the once in a lifetime event it should be, from dog sledding, tracking polar bears on foot and swimming with narwhal, to kayaking on the Churchill river (wetsuits are available) and of course an evening adventure in search of the Aurora Borealis
If you want to extend your holiday you can easily combine your adventurous arctic experience with other regions of Canada.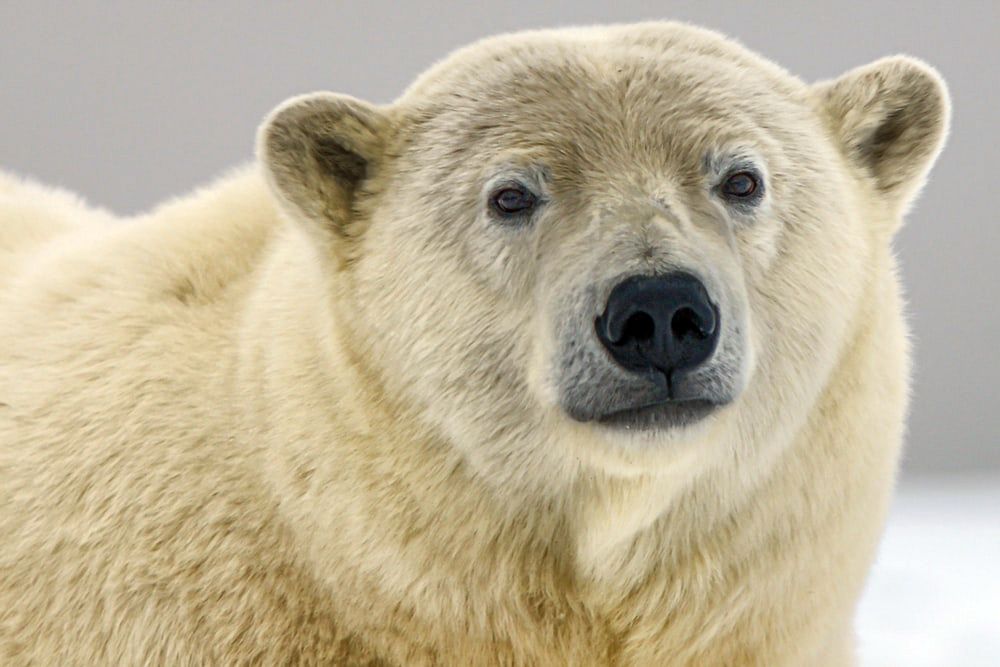 Top Tips 
Churchill lies beyond the northernmost extent of the boreal forest, its climate is sub arctic and is very cold in the winter with temperatures ranging from approx. -1°C to -12°C. Lots of layers of clothing, including an insulated parka/waterproof jacket, insulated boots, gloves, woollen hat, neck snood, snow boots and snow/ski trousers are recommended.
Polar bears are a must but don't miss out on a Dog sledding excursion.
In the summer (June to August) sees temperatures range from approx. 6°C to 12°C. A waterproof jacket, warm layer, hiking boots, shorts, trousers, sun cream, insect repellent, a hat and neck snood are recommended.
Polar bears are a must in summer too, but don't miss out on a beluga whale viewing tour.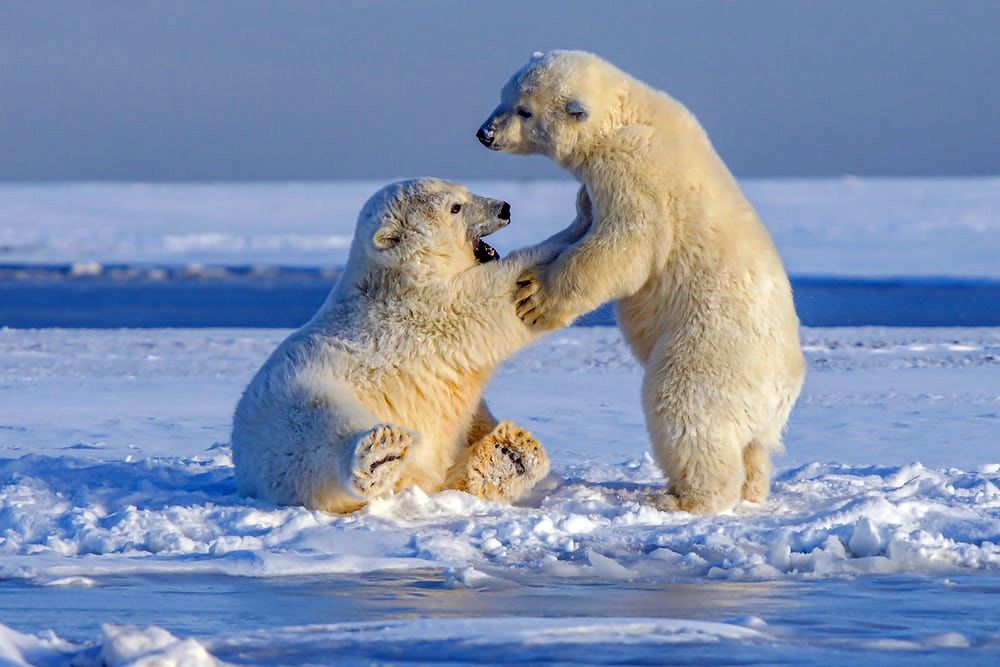 Best Time to see the Polar Bears
October and November are the best months for you to go polar bear watching.
June to September sees temperatures rise and fall, where there is good chance to see the bears out on the tundra or along coastal rocks. Alternatively, you should get to see the polar bears on a cruise in other regions such as Svalbard in Arctic Norway.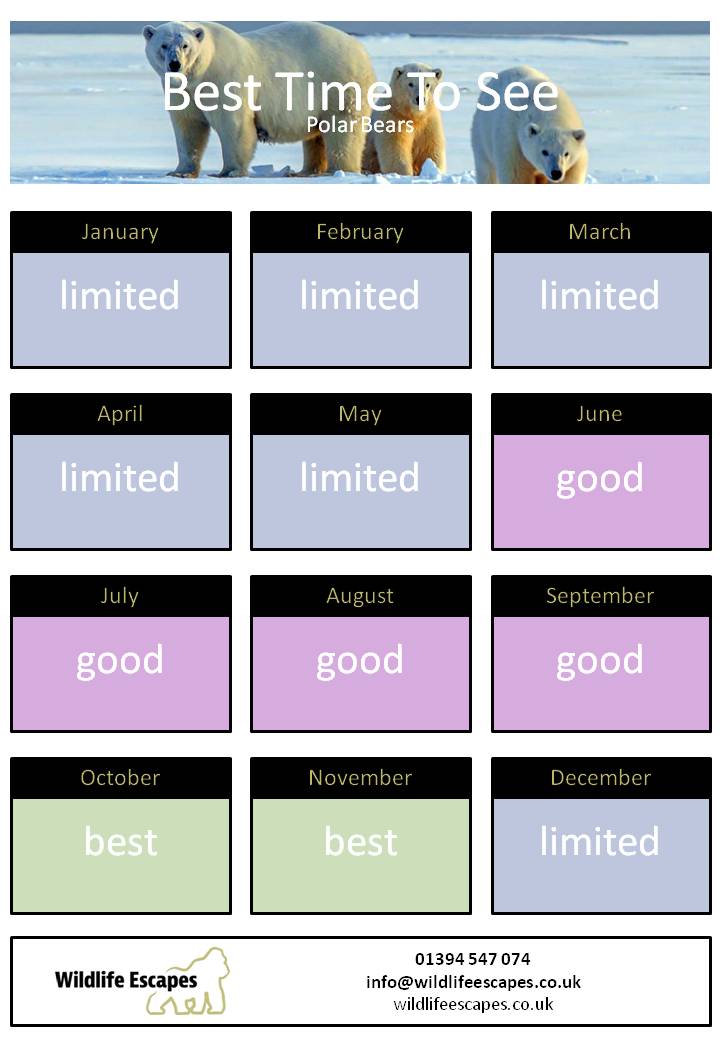 Polar Bear Tips
Winter Polar Bear Viewing in Churchill:
It is cold in October and November so plenty of layers of clothing are recommended. However, the most popular way to view the bears in winter is by tundra vehicle with a guide and the vehicles are well heated, so you don't need to worry about the sub-zero temperatures outside. Tundra buggies are giant six-wheel vehicles that have no trouble rumbling across the wild landscape. The buggies cover more ground than on foot, so you're likely to see more bears.
The tundra buggies are built tall, with extensive windows with openings set over 10 feet high. Tall bears can occasionally stand vertically on the side of the vehicle, which can be a thrilling experience, but guests are well out of reach and safe and the extremely robust tundra vehicle is designed to withstand any bears' strength. The buggies have an outdoor platform at the back, so you can grab some fresh air and get some great photos!
You are generally out in the vehicle for most of the day and your guide will be with you telling you about the lives and traits of polar bears as well as other wildlife you may encounter. The guides are the most experienced and highly trained and their knowledge and enthusiasm is second to none. A packed lunch is provided and all the vehicles are equipped with a toilet.
Top Tip: Take an evening excursion in October and November as the darker evenings mean you are more likely to see the Northern Lights shimmer across the sky.
Summer Polar Bear Viewing in Churchill:
The bears are more spread out in the summer (July to August), but your guides will know where to find them based on where they were last seen, so there is usually no trouble spotting them.
Be prepared for an early morning start when you're led by an experienced guide out onto the tundra in a small group to find the bears. Guides are trained to read bears' body language. They are experts at knowing how to protect visitors. (They are armed only as a precaution.)
Polar bears are notoriously powerful predators, so rest assured every precaution is taken to ensure your safety which includes being vigilant in case a bear is hiding among the foliage. Your guide will tell you exactly where to walk and what to do when you encounter a bear – but be aware that the bears are usually more wary of you than we are of them.
It is always best to check with your guides, lodge staff and local residents if you want to walk around town unaccompanied as bears, on the odd occasion, has been known to wander onto the streets.
Being out on foot sharing the same space as these bears is a very different experience than seeing them from a vehicle. You're exposed to this powerful predator, but there's a mutual respect that makes you feel safe being within a few steps of it.
In Search of the Polar Bear
Summer Expedition Cruising in the Artic with Silversea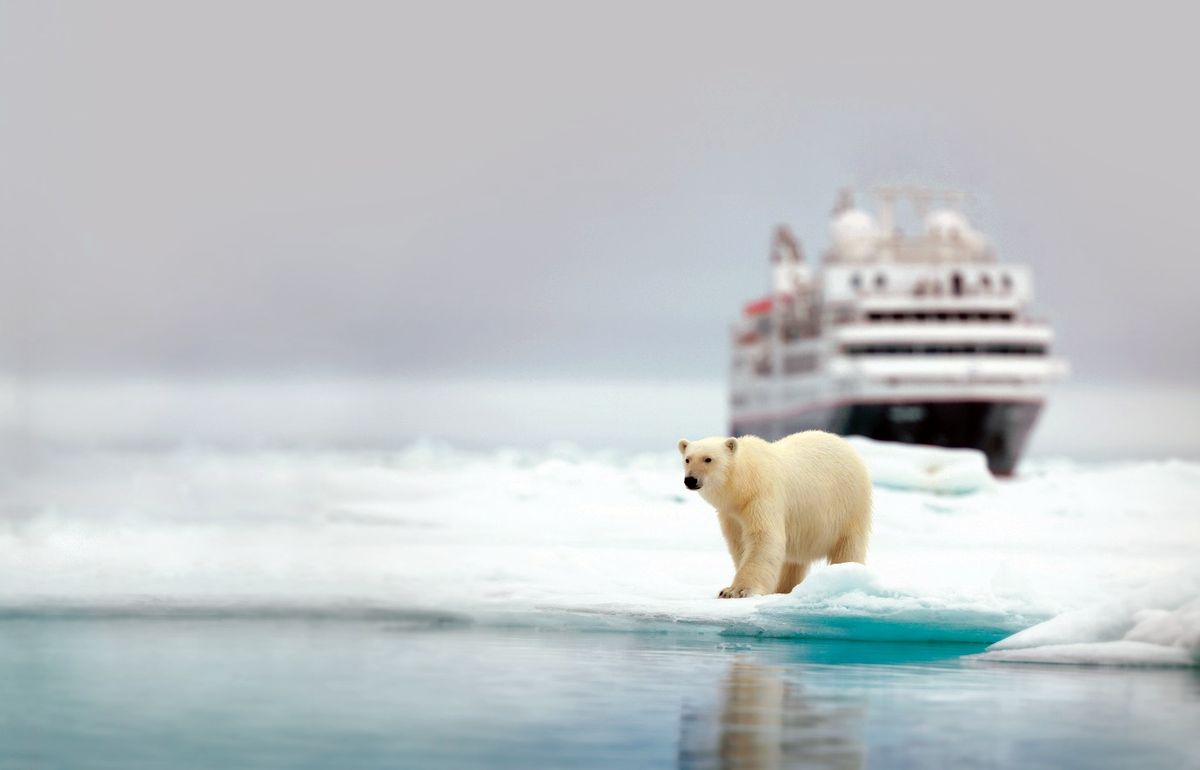 DISCOVER THE WILDLIFE CAPITAL OF THE FAR NORTH ON A LUXURY SILVERSEA EXPEDITION CRUISE
Experience an unprecedented 6-day expedition of the Svalbard Archipelago. Explore the Far North and realm of the polar bear with multiple Zodiac outings and learn all about the region from our established team of experts.
CRUISE LONGYEARBYE to LONGYEARBYE
20 JULY 2022
6 DAYS ON SILVER CLOUD
FROM £5670 PER PERSON
(INCLUDES ECONOMY CLASS FLIGHTS FROM THE UK AND 10% EARLY BOOKING BONUS – please ASK for more Details)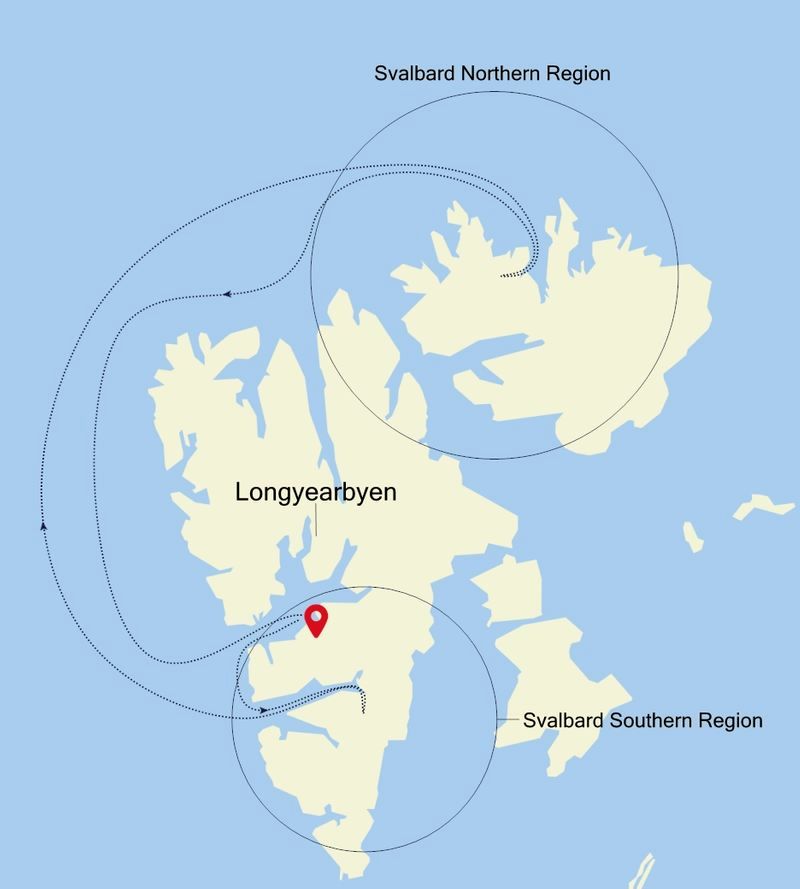 VOYAGE HIGHLIGHTS
Fly to the northernmost commercial airport – Longyearbyen – surrounded by steep mountains and towering glaciers.
Go beyond the Arctic Circle and explore the realm of the polar bear.
Take advantage of our multiple Zodiac outings and walk ashore to get close to the mystical Make the most of your exploration thanks to the extensive destination knowledge of our experts.
Experience the famous midnight sun and enjoy a week of daylight during the fabled white nights.
Explore the southern region of Svalbard, where you will enter fjords, searching the ice and the shores for seabirds, walruses, seals, and polar bears.
Admire the polar desert landscape in the northern region of Svalbard, with mountains peaks and glaciers stretching down to the Here 60% of the islands are covered by glaciers.
With our expedition ships and under the guidance of our Expedition Team, you will have the perfect platform to search for walrus and polar bears.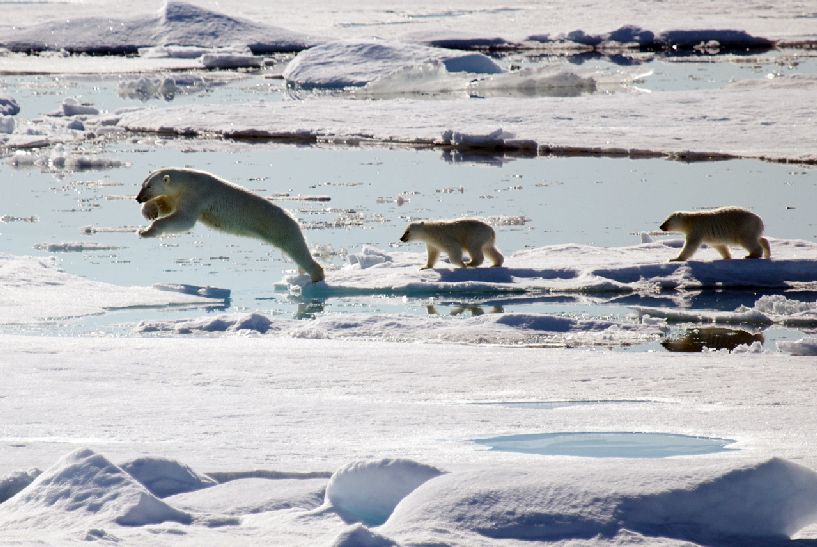 WILDLIFE WATCH LIST
Polar Bears, Svalbard reindeer, Arctic fox, a variety of seals, walrus, Humpback whales, minke whales, and more.
INCLUDED IN YOUR EXPEDITION VOYAGE
Roundtrip flight between Oslo and Longyearbyen
Guided Zodiac, kayak, land and sea tours, and shore- side activities
Personalised expedition experience (1 to 9 expert to guest ratio)
Highly-qualified Expedition Team, comprising experts in their field
Enrichment lectures by our Expedition Team
Complimentary parka in cold water regions
Complimentary backpack and water bottle
All-inclusive lifestyle with butler service in every suite category, multiple restaurants with open-seating dining, beverages in-suite and throughout the ship, onboard gratuities and more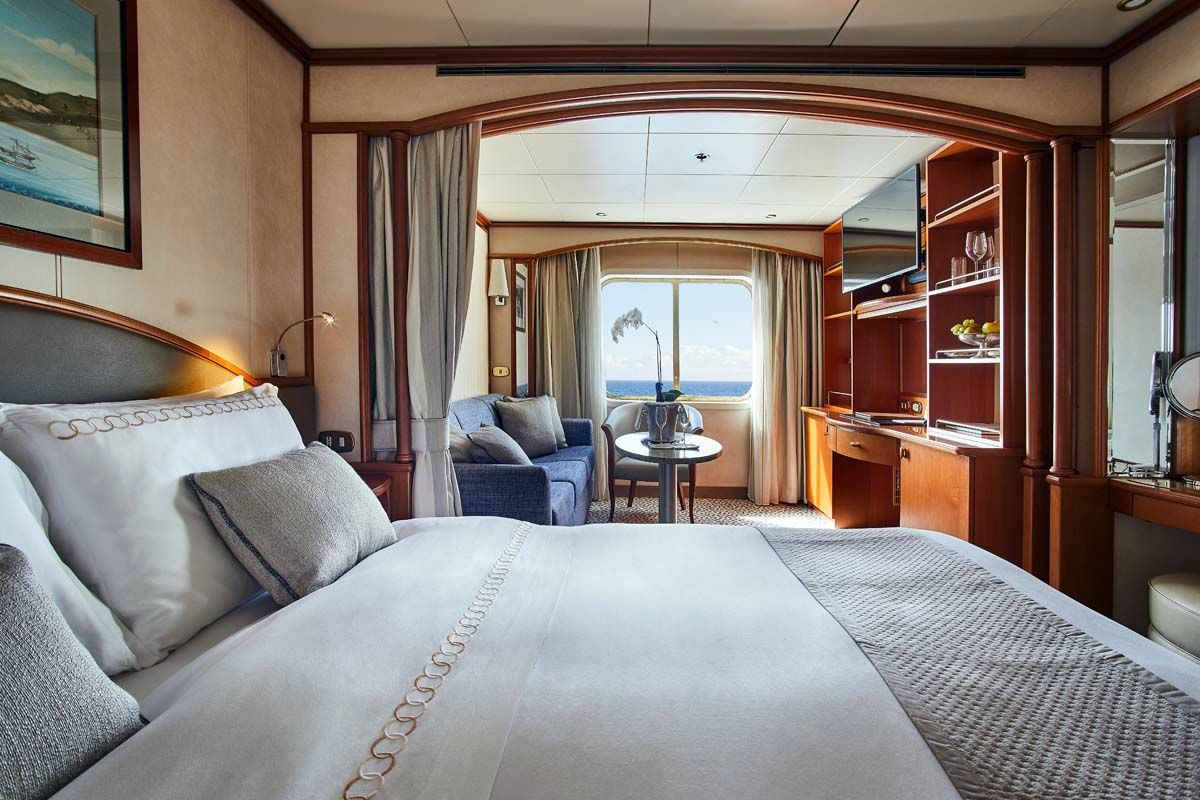 Vista Suite
A quiet sanctuary to escape to on your cruise. The sitting area has plenty of room to relax. Large picture windows frame panoramic ocean views. The perfect backdrop for breakfast in bed. Silver Wind Vista Suites accommodate three guests.
One bedroom: 240 ft² / 22 m²
Other suites are available. Please contact us for more information
Artic Adventure on a Hurtigruten Expedition Cruise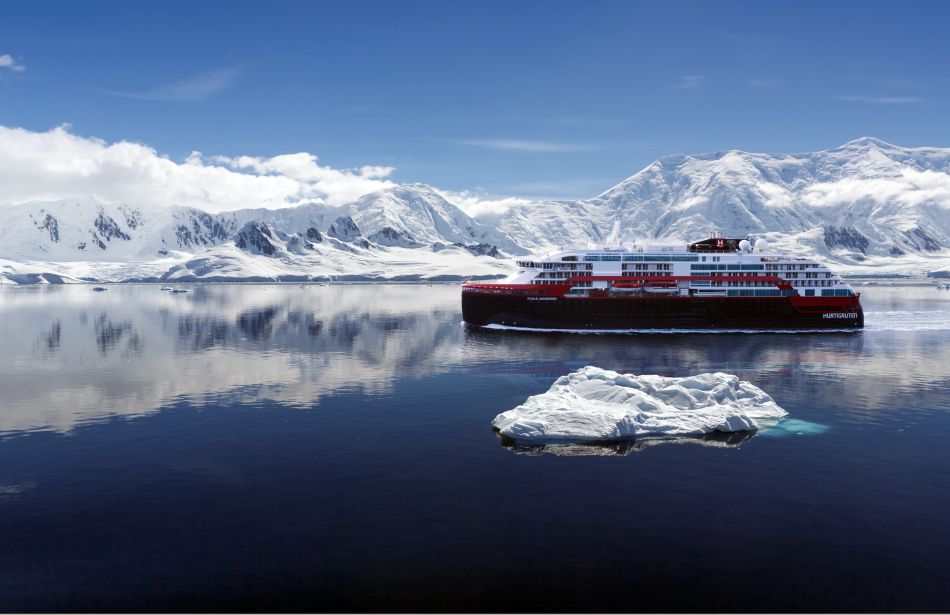 Circumnavigating Spitsbergen – In the Realm of the Polar Bear
This voyage on MS Fram or MS Spitsbergen s the essential Spitsbergen adventure. This epic voyage will see us attempt to find a way through the Arctic's ever-changing sea ice and venture above the 80th parallel north. Our goal is to successfully complete a circumnavigation of the island of Spitsbergen, if the ice allows us and scan for magnificent wildlife in search of the King if the Artic: the mighty polar bear.
Comfortable and intimate expedition cruise experience.
Attempt to sail above 80°N and fully circumnavigate the island of Spitsbergen.
Summertime offers good chances of sighting polar bears hunting on the sea ice.
See beautiful fjords, glaciers, and icebergs in the pristine Arctic wilderness.
CRUISE LONGYEARBYE TO LONGYEARBYE
EXPEDITION CRUISE
VARIUS SUMMER 2022 DATES
10 DAYS ON MS FRAM OR MS SPITSBERGEN
FROM £5845 PER PERSON OUTSIDE DOUBLE
(INCLUDES ECONOMY CLASS FLIGHTS FROM OSLO – SOME ITINERARIES INCLUDE FLIGHTS FROM THE UK AND EARLY BOOKING BONUSES – PLEASE ASK FOR MORE DETAILS)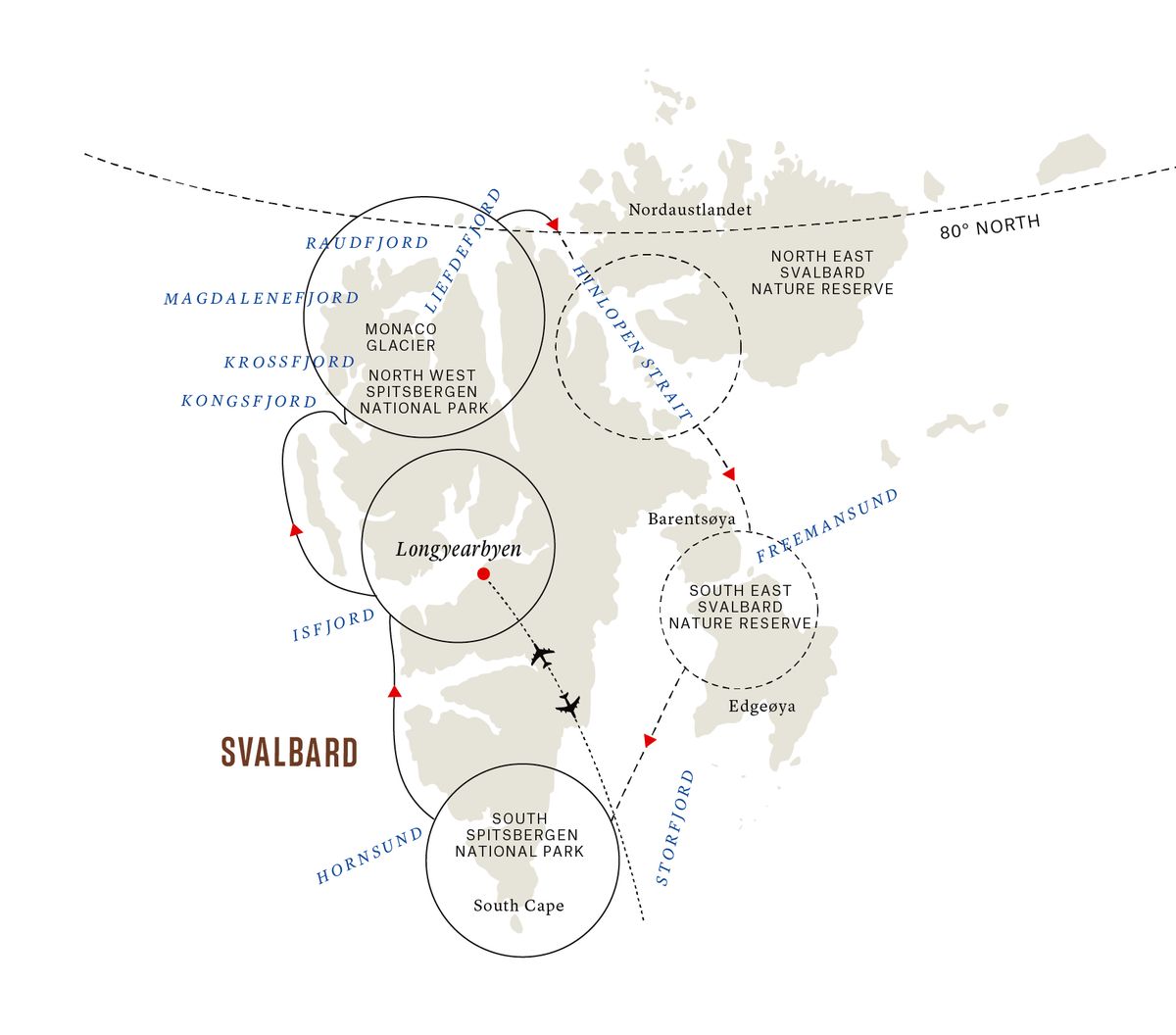 DAY 1
OSLO / LONGYEARBYEN
From 59º N to 78º N
Your trip starts with a flight from Oslo in the evening. Before your flight, enjoy the museums, parks and cafés of the Norwegian capital. On arrival in Longyearbyen, you will set foot in an entirely different world; a tiny town perched on the edge of the Arctic wilderness. Transfer to your hotel and stay overnight.
DAY 2
LONGYEARBYEN
The Norwegian Stronghold in the High Arctic
Estimated time of departure is 20:00
After an overnight stay, you can explore the colourful frontier outpost of Longyearbyen before boarding your ship in the afternoon. An excursion after lunch is included in your voyage – or, choose from a selection of optional adventures before your voyage begins.
DAY 3-4
NORTH WEST SPITSBERGEN NATIONAL PARK
Exploring Amazing Fjords with Fascinating History
The North West Corner is scattered with lovely islands, fjords and beaches, but such majestic sights can be blocked by heavy sea ice. We use all our expertise and 120 years of experience in these waters to try and navigate the ice in order to access areas for you to explore. One such site is Kongsfjorden, one of the most beautiful fjord areas in Spitsbergen, with mighty glaciers calving icebergs into the sea, framed by stunning mountain formations. We also plan to call on the former mining settlement of Ny-Ålesund, now an international centre for research, with a picturesque mix of old and new buildings. There will likely be many other exciting landings and scenic kayaking opportunities if we are able to move past the ice and go further north.
DAY 5-7
EASTERN SVALBARD NATURE RESERVE
Enjoy Expedition Days in the Arctic
Eastern Svalbard boasts the highest population of polar bears in the archipelago. You will also be exploring the area in summertime, which is when polar bears and their cubs will be out hunting for seals on the ice floes. We therefore have high hopes that you'll spot one or more during this journey.
The Arctic Ocean in this part of Svalbard is also full of drifting ice and its frozen seascape changes constantly. Being modern-day explorers, the captain and the Expedition Team will be carefully analysing the density and movements of the sea ice using advanced sonar and live satellite imagery. They will then discuss together and decide where we can safely sail or land. This is what makes this cruise an expedition; it is a true, suspense-filled adventure into the Arctic's great wilderness, negotiating and adapting to whatever elements nature challenges us with.
Ultimately, it is the sea ice that will determine whether we can cross the 80th parallel before we attempt to sail through the Hinlopen Strait and continuing towards Edgeøya, the third largest island in the archipelago.
DAY 8
SOUTH SPITSBERGEN NATIONAL PARK AND THE AREA OF BELLSUND
The Expedition Continues
Our aim for these days is to navigate any sea ice and reach the southernmost tip of Spitsbergen. The varied geology here at Hornsund has created a dramatic and photogenic landscape. Ice pushed into the fjord early in the season also attracts polar bears that hunt on the floes, so with a bit of luck, we may spot this magnificent predator.
DAY 9
THE ISFJORD
Fjord, Wilderness
We will spend the day exploring the Isfjord, the most prominent fjord system on Svalbard. In the inner parts of Isfjorden, the landscape changes constantly. The immense U-shaped valleys, carved out of the mountains by the giant glaciers that covered the area some ten thousand years ago, are home to large populations of the Svalbard reindeer.
DAY 10
LONGYEARBYEN / OSLO
End of the Expedition
Estimated time of arrival is 06:00
Our return to the colourful town of Longyearbyen marks the end of a remarkable voyage that brought us just a few hundred miles from the Geographical North Pole. Transfer to the airport for your flight back to Oslo.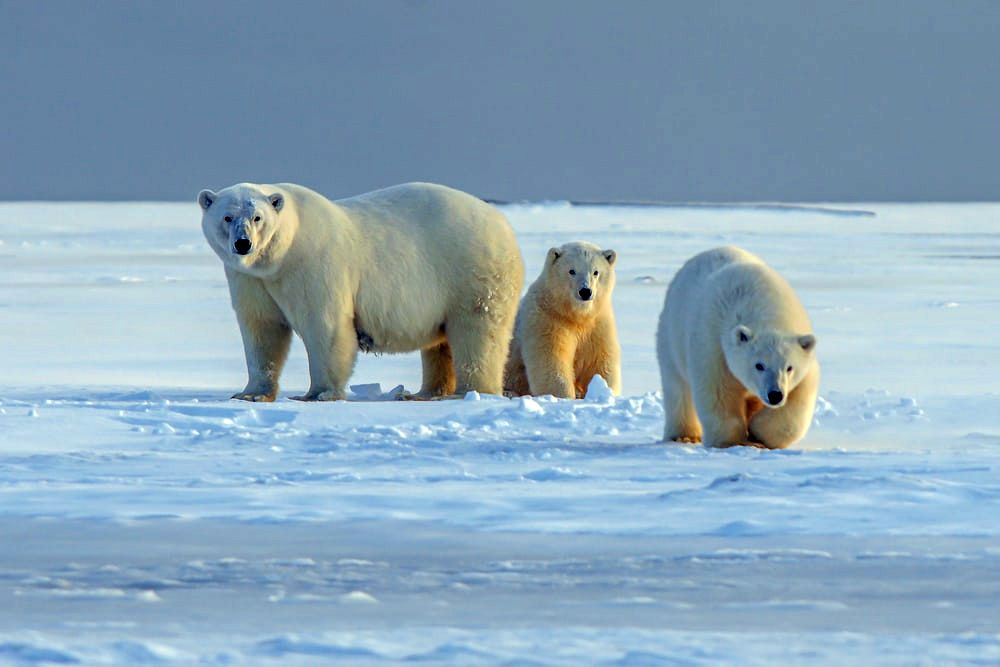 What's Included in your voyage
Flights
Return flights in economy class between Oslo and Longyearbyen
Hotel
Overnight in Longyearbyen before the expedition cruise, including breakfast and lunch
Transfers
All transfers in Longyearbyen including an excursion before the expedition cruise
Expedition Cruise
Expedition cruise in a cabin of your choice
Breakfast, lunch and dinner including beverages (house beer and wine, sodas, and mineral water) in restaurant Aune
Complimentary tea and coffee
Complimentary Wi-Fi on board. Be aware that we sail in remote areas with limited connection. Streaming is not supported.
Complimentary reusable water bottle to use at water refill stations on board
English-speaking Expedition Team who organise and accompany activities on board and ashore
Range of included excursions
Onboard Activities
Experts on the Expedition Team deliver in-depth lectures on a variety of topics
Use of the ship's Science Centre which has an extensive library and advanced biological and geological microscopes
Citizen Science program allows guests to assist with live scientific research
Professional onboard photographer gives top tips and tricks for the best landscape and wildlife photos
Use of the ship's hot tubs, panoramic sauna and indoor gym
Informal gatherings with the crew such as daily recaps and preparation for the day to come
Landing Activities
      Escorted landings with small expedition boats
      Loan of boots, trekking poles, and all equipment for activities
      Complimentary wind and water-resistant expedition jacket
      Expedition Photographers help with your camera settings before landings
Not included in your voyage
International flights (Occasionally there are special offers which will include these)
Travel insurance
Luggage handling
Optional shore excursions with our local partners
Optional small-group activities with our Expedition Team
All planned activities are subject to weather and ice conditions
Excursions and activities are subject to change
Please ensure you meet all visa entry requirements
No gratuities expected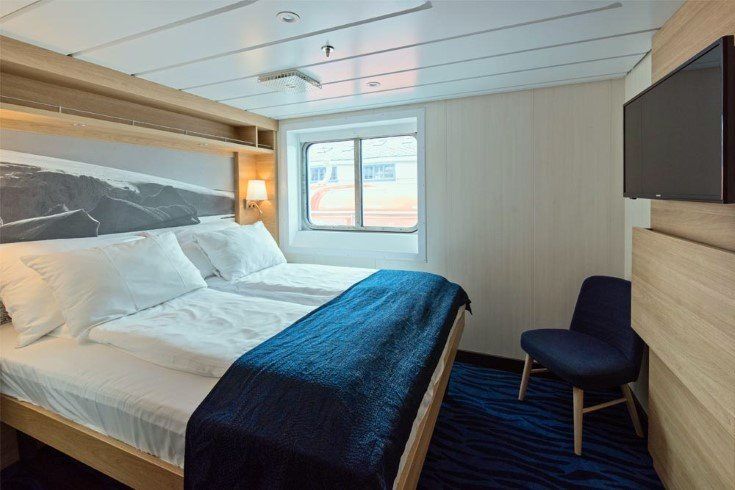 Polar Outside
Our Polar outside cabins are situated mostly on the middle or lower decks and all have bathrooms with shower/WC. Most have double beds, while others offer separate beds (one of which is a sofa bed) or upper berths. All the cabins have individual specifications.
Outside cabin for 2 travellers
Outside cabin with double bed, TV and limited/no view for up to two people.
Cabin grade: J2D
11 – 12 m2
Window – limited view
Bathroom
TV
Double bed
Other cabins are available. Please contact us for more information